Move over sashimi, Tuna Crudo just claimed the #1 spot here. We love, love, love all foods Italian and this Tuna Crudo is at the top of the Italian appetizer list!
These Tuna Crudo appetizers have a firm, velvety smooth texture with a lemony vinaigrette drizzle. They are served with crisp cucumber slices in little Belgian endive boats.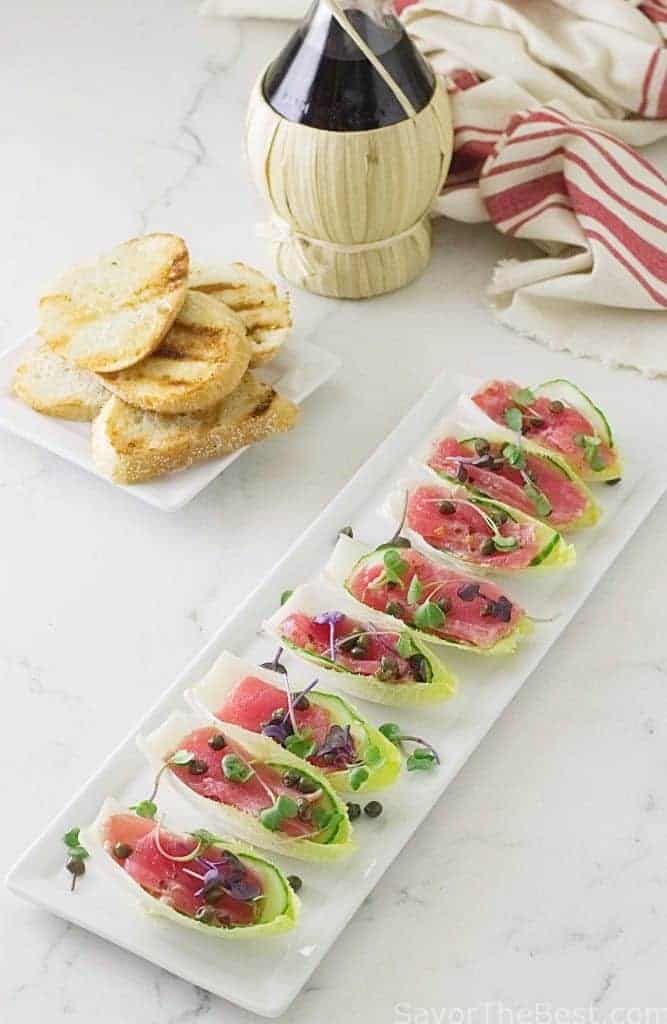 The Italian definition of 'crudo' is 'raw' and our tuna crudo is created with the very freshest Ahi tuna. It is thinly sliced and a light lemon-olive oil vinaigrette is drizzled over it.
All you need to make this tuna crudo are some bottled capers, red pepper flakes and sea salt. The rich flavor of the luxurious tuna will shine if you keep things simple.
Ingredients for Tuna Crudo
First on the list is Ahi tuna. Purchase sushi-grade tuna and stick it in the freezer to get it partially frozen. That will make it easier to slice. You will also need:
Olive oil.
Lemon juice.
Capers berries (and the brine from the capers)
Cucumbers.
Red pepper flakes and black pepper
Belgium endive
Tips for preparing raw fish:
When preparing this raw fish delicacy, tuna crudo, it is essential to purchase the freshest and best quality tuna. It helps to know your supplier and where they purchase their tuna.
We buy our Ahi tuna loin at a market where there is a Japanese deli and a variety of sushi, sashimi and many delicacies of their cuisine.
This fresh tuna came from the waters off Hawaii and we know from experience that their products are super-fresh and top quality.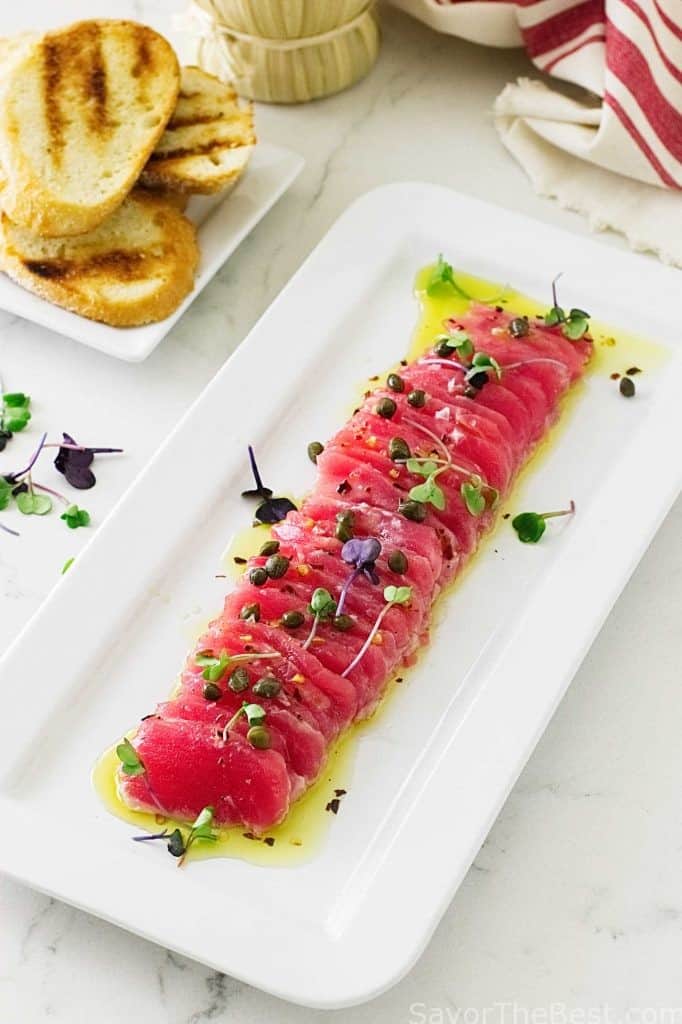 Is raw fish safe to eat?
As soon as we get this fresh tuna home it goes straight into the freezer until ready to thaw and prepare.
Freezing the tuna serves two purposes.
First, although we have been assured that eating raw fish from developed countries is perfectly safe. But, for a precaution, we like to freeze the fish ourselves for that extra peace-of-mind.
Second, freezing the tuna first and slicing it while partially frozen will make it much more easy to slice thinly.
About Belgian endive:
We used Belgian endive to serve with these appetizers. Belgian endive is a leafy vegetable from the chicory family. They are small and torpedo-shaped, with lightly formed leaves that when separated resemble little boats.
We love how Belgian endive can make the perfect finger-food vehicle for these appetizers.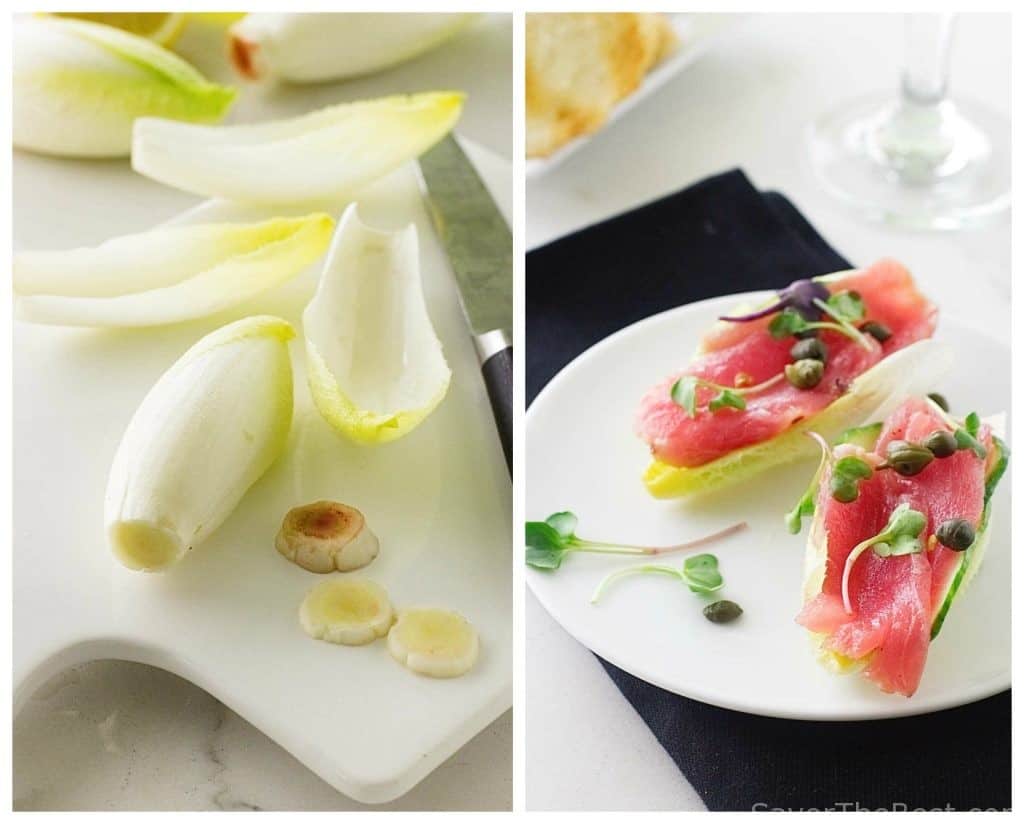 Belgian endive has a strange growing process:
The growing process for Belgian endive is a little strange because they begin their life as a chicory seed that grows into a leafy plant.
When ready to harvest the plant is cut off and ready for our salad bowl. The root is dug up, put into a dark, cold storage area where it has a 28-day second- growth and becomes these little torpedo shaped delicacies.
Since the endive does not get any light to turn it green the leaves are either light yellow or light yellow with red-colored edges. They are mild-tasting, a soft texture with a little crunch to them.
How we served the tuna crudo:
To present the tuna crudo appetizers at their very freshest we prepared the lemon vinaigrette, cucumber slices and Belgian endive in advance just before the tuna loin was ready for slicing.
We cut off he brownish-colored end of the Belgian endive, separated the spears into boats for our tuna crudo.
When the tuna loin was sufficiently thawed we used our sharpest knife to slice it across the grain into thin slices. Finally, we drizzled the vinaigrette over the top to lightly season it.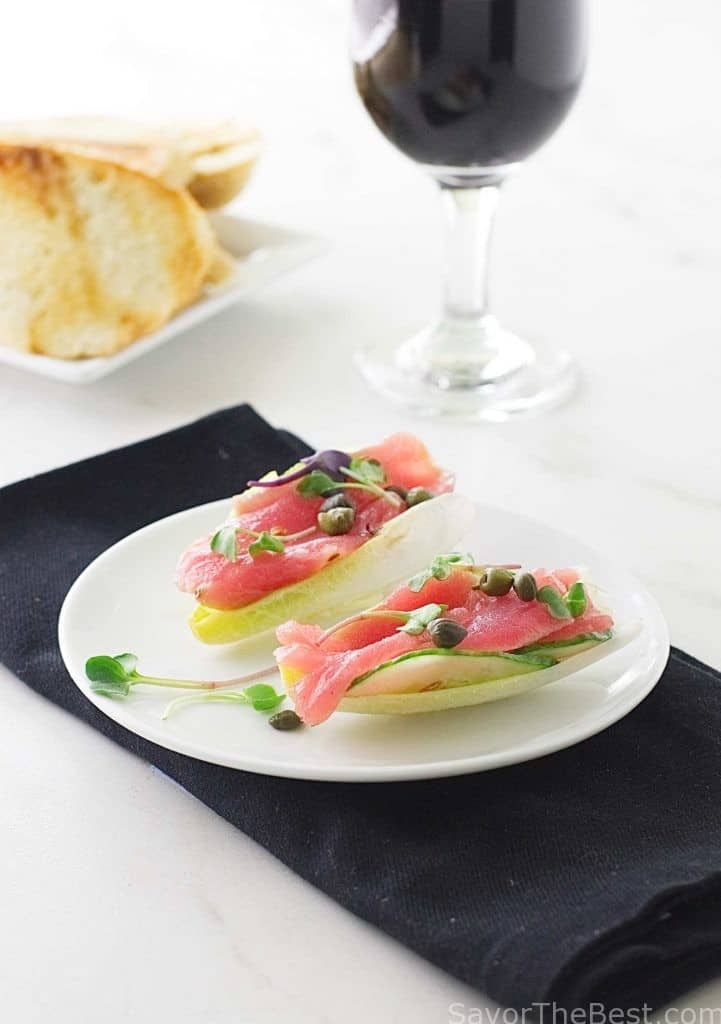 We served these delicate appetizers in endive leaves on a serving platter with crisp cucumber slices.
We added portions of the tuna to each boat. A little of the vinaigrette was dribbled on then they were garnished with fresh herbs.
Serve these tuna crudo appetizers as soon as possible.
Check these recipes out:
Connect With Savor the Best:
Please follow us on our social media accounts
Facebook * Instagram * Pinterest * Youtube * Twitter
Did you make this recipe? We would love to hear from you. Drop us a comment below.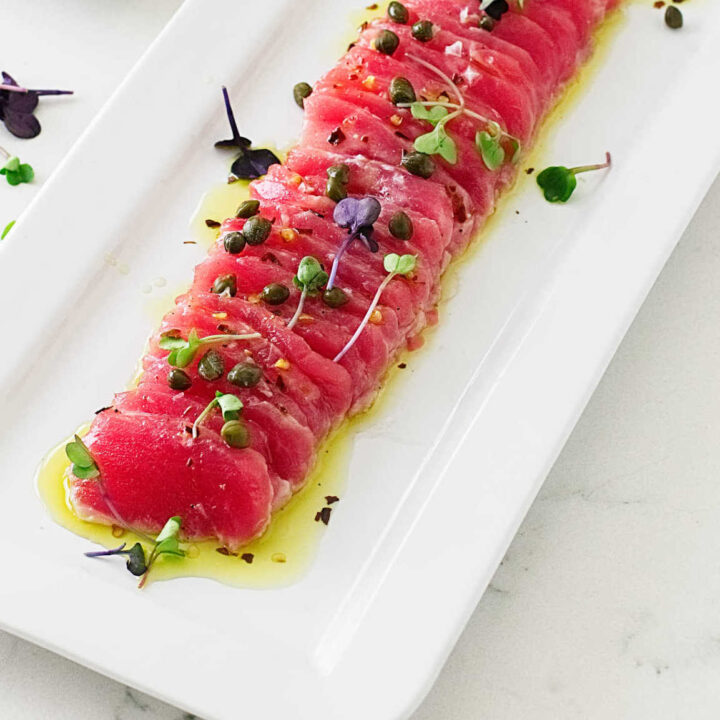 Tuna Crudo
Tuna Crudo appetizers are delicate slices of raw tuna, drizzled with a light lemon vinaigrette and served with cucumber slices in Belgian endive boats.
Ingredients
One 10-ounce sushi-grade Ahi tuna loin, partially thawed
2 tablespoons Extra Virgin olive oil (see Notes)
1 tablespoons lemon juice
1 tablespoon caper berries
1 tablespoon brine from capers
1/4 teaspoon red pepper flakes
Freshly ground black pepper
1/2 long green seedless cucumber
3-4 Belgian endive torpedoes, depending on their size
Instructions
Combine the olive oil, lemon juice, caper brine, and red pepper in a small bowl. Set aside.
Slice the cucumber into thin slices and add to a bowl of ice water. With a sharp knife, slice the brown cut end from each endive and carefully remove a layer of leaves. Slice off the end again to release the next layer of leaves. Continue the process until you have about 20 leaves approximately the same size. Reserve any unused portions of the Belgian endive for another purpose.
Remove the partially thawed tuna from the refrigerator and place on a clean work surface. Using a very sharp, thin-blade knife, cut the tuna into 1/4-inch slices. Add the sliced tuna to a plate and drizzle the vinaigrette over it. Allow to marinate for 5-minutes while preparing the serving plate.
Remove the cucumber slices from the cold water and place on an absorbent kitchen towel, blot dry with paper towels.
Arrange the Belgian endive 'boats' on a serving platter, add a slice of cucumber and then two slices of the tuna to each boat with a tiny drizzle of vinaigrette. Garnish with capers and fresh herbs.
Notes
If the tuna loin has not been frozen, place it into the freezer for 15 minutes to partially freeze. It will be easier to slice.
Extra Virgin olive oil will vary in taste depending if the olives are ripe or green when they are pressed. Oil from the ripe olives yields a milder, aromatic flavor while green olives will be more pungent and a little bitter. Use an Extra Virgin olive oil that you know tastes good
We prefer the long green cucumbers that are sealed in plastic wrap (English cucumbers) as they are mild and practically seedless. Also, a mandoline will give perfectly uniform thin slices. Placing the slices in cold water crisps them up nicely.
The remaining Belgian endive can be used in salads, roasted with olive oil and salt or sauteed and served as a side dish.
Nutrition Information:
Yield:

10
Serving Size:

2 pieces
Amount Per Serving:
Calories:

206
Total Fat:

6g
Saturated Fat:

0.7g
Cholesterol:

63mg
Carbohydrates:

2.6g
Fiber:

1.6g
Sugar:

0.5g
Protein:

34g