Salmon gravlax is Swedish in origin and a favorite on their smorgasbords. Gravlax is a cured salmon that is made by adding a mixture of dill, sugar and salt to raw salmon, wrapping it well and refrigerating it for several days. The mixture draws out the moisture in the salmon producing a delicate taste and fine texture to the flesh.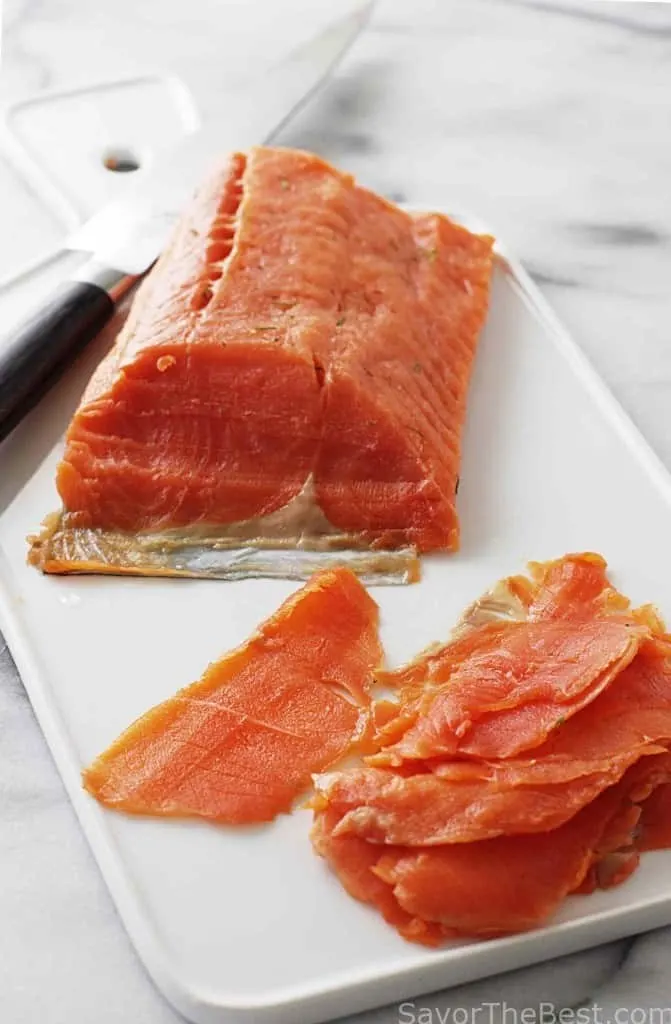 Salmon gravlax is a delicacy and is usually served as an appetizer with either pumpernickel or dark rye bread or as a first course on a smorgasbord. Traditionally, it is accompanied with a sweet mustard-dill sauce.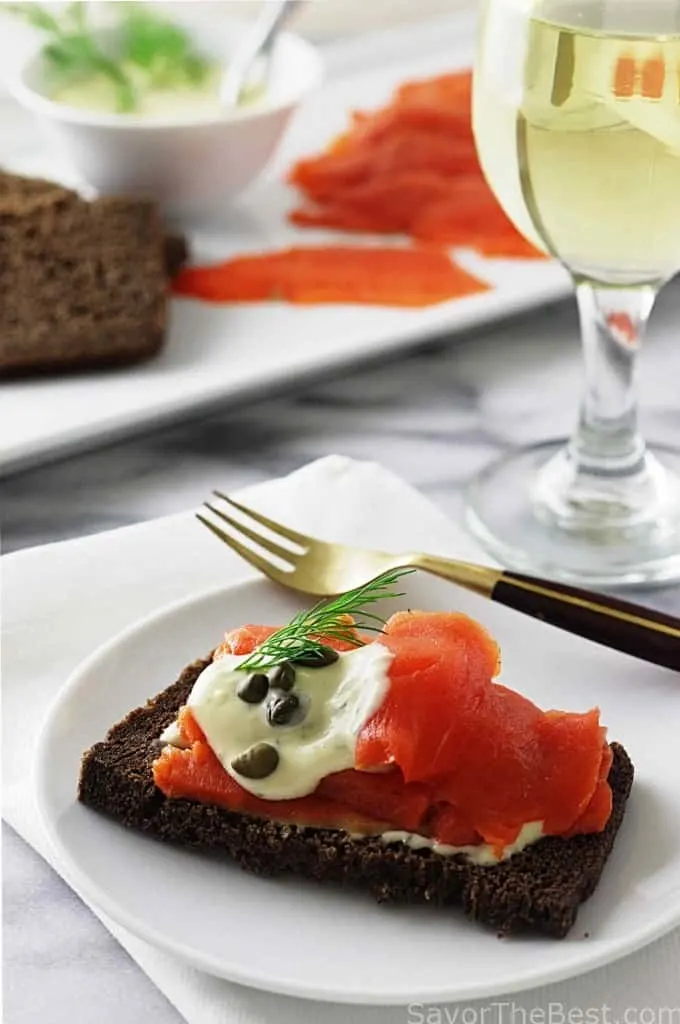 We began this easy cured salmon project with two pounds of fresh sockeye salmon. The fishmonger matched up the large portions of two salmon fillets so they could be sandwiched together for making this salmon gravlax.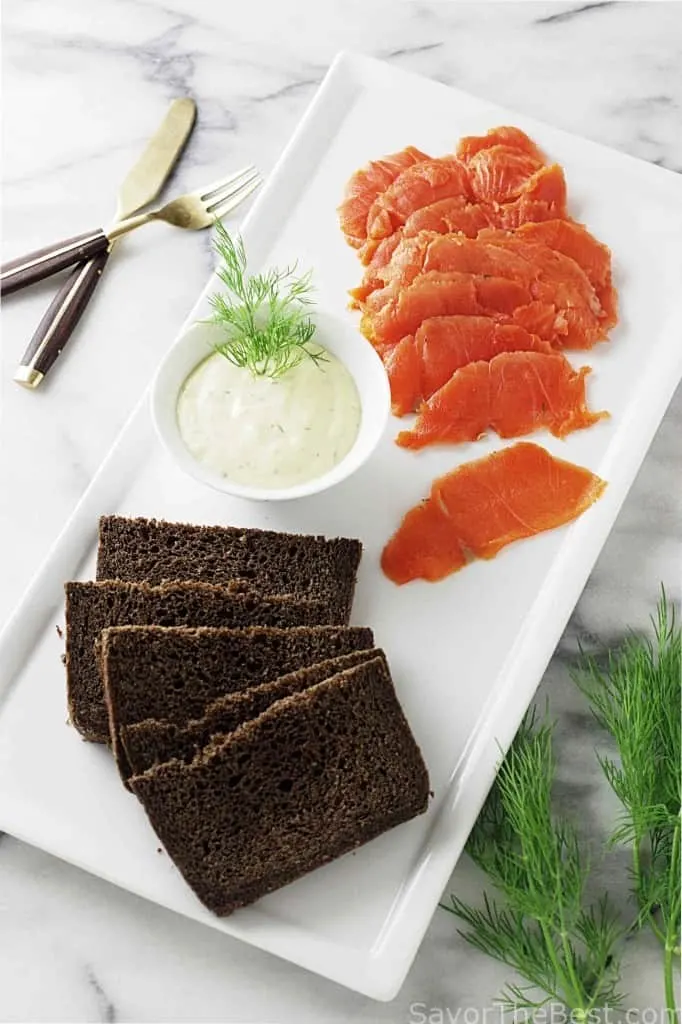 After removing the small pin bones left in the salmon, the thin portions along the belly part were sliced off, which was a total of six-ounces, a mix of sea salt, sugar and white pepper was lightly rubbed into the flesh of each piece and a thick layer of chopped dill was added on one piece of the salmon.
The two sections of fish were sandwiched together so the dill was in the middle, then it was wrapped with several layers of plastic wrap.
The wrapped gravlax was refrigerated for two and one-half days, weighted down with a 2×4 piece of wood. Every morning and night the wood was removed, liquid in the dish was discarded, the fish turned over and the wood was replaced on top.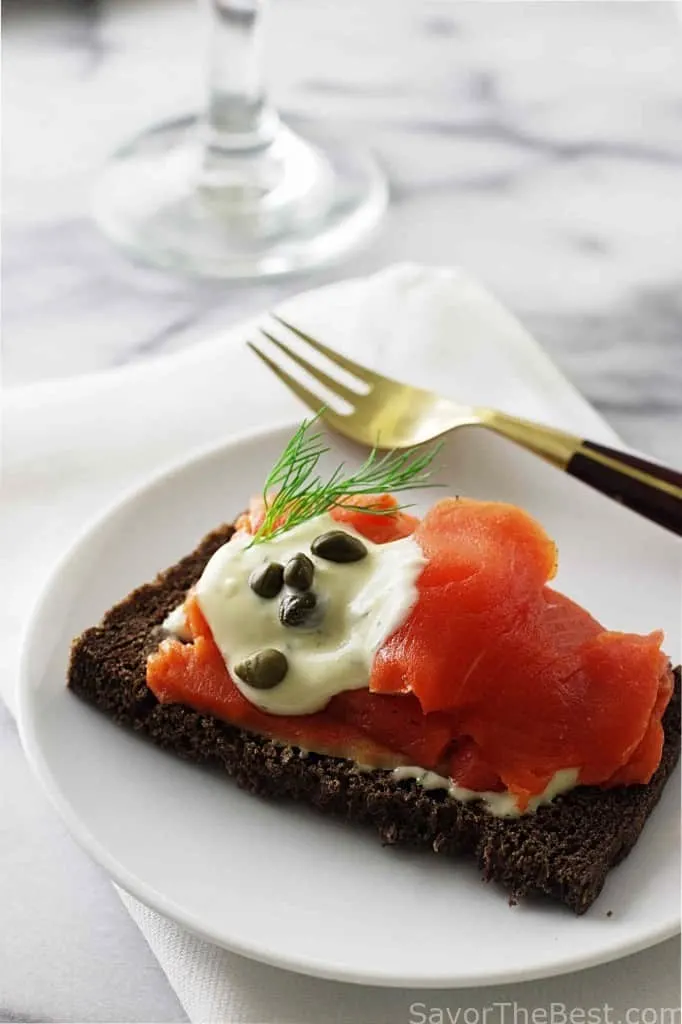 The amount of salt and sugar is a personal preference and can be adjusted accordingly, but it doesn't take much salt to draw the moisture out of the salmon.
I have tasted some gravlax that was so salty that all I could taste was salt. This recipe is a not-too-salty cure and lets the delicate flavors of the gravlax shine through.
Salmon gravlax will keep in the refrigerator, covered with plastic wrap, for several days and frozen for several months. To vacuum seal the gravlax for freezing, freeze the fish first, then vacuum seal it. Otherwise, the vacuum sealer will vacuum out the juices in the salmon and ruin your good gravlax.
We served this salmon gravlax with our homemade sprouted rye bread and our lemon-dill aioli sauce and I tell you this was delicious! A recipe for a mustard-dill sauce is also provided.
More salmon recipes:
Honey-Lemon Glazed Salmon with Lemon-Dill Butter
Sweet Potato Waffles, Duck Eggs and Smoked Salmon
Connect With Savor the Best:
Please follow us on our social media accounts
Facebook * Instagram * Pinterest * Youtube * Twitter
Did you make this recipe? We would love to hear from you. Drop us a comment below.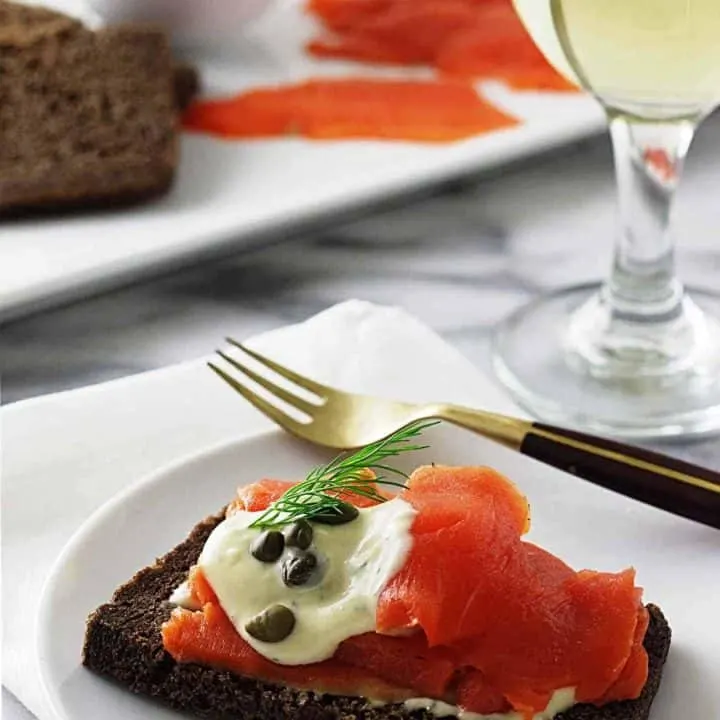 Salmon Gravlax
Cook Time:
2 days
12 hours
Total Time:
2 days
12 hours
15 minutes
Salmon Gravlax is a Swedish specialty of raw salmon that is dill and salt cured. It is light-cured and has a delicate taste with a fine texture. This delicacy is usually served as an appetizer with either pumpernickel or dark rye bread or as a first course on a smorgasbord. Traditionally it is accompanied with a mustard-dill sauce.
Ingredients
2 pounds fresh salmon fillets, skin on
4 teaspoons fine grain sea salt
4 tablespoons granulated sugar
1/4 teaspoon freshly ground white pepper
1 bunch fresh dill, about 1 ounce—chopped finely
For the Dill Mustard Sauce:
1/4 cup Dijon mustard
2 tablespoons brown sugar
2 egg yolks
1/2 cup olive oil
Salt and pepper to taste
3 tablespoons chopped fresh dill
Instructions
For the Gravlax:
Rinse the salmon in cold water and pat dry with paper towels. Remove as many of the tiny pin bones as possible and trim away the thin belly part of the fillets.
Unroll a long section of plastic wrap and position the salmon pieces on about a 1/3 portion of it with long ends extended which will be used to wrap the fish.
In a small dish, combine the salt, sugar and white pepper and sprinkle liberally over the flesh of both fillets and rub gently.
Add the chopped dill to one of the fillets, heaping it on and pressing slightly. Add the second fillet, stacking it flesh side next to the dill, matching it up sandwich style.
Bring the shorter end of the plastic wrap up over the top of the stacked salmon, stretching it not too tightly and then continue wrapping with the longer portion of the plastic wrap, pulling in at both long sides to make a tight, compact package.
Re-wrap again with two additional layers of plastic wrap, place the salmon package in a rimmed dish, as there will be moisture draining from the salmon. Weight the fish down with something that is the same length as the fish providing equal pressure to the package, it does not need to be heavy. (I raided my husband's garage for a piece of wood 2-inches thick and 4-inches wide and as long as the fish). Transfer everything to the refrigerator and turn twice daily, morning and night for 2 1/2 days. (60 hours) Drain off and discard accumulated moisture each day but do not unwrap the fish during the curing process.
Finally, unwrap the salmon, scrape off and discard the dill and wipe the salmon with a dry paper towel. Using a very sharp slicing knife, slice the gravlax diagonally, as thinly as possible. Arrange the salmon gravlax slices on a serving plate with thin slices of rye or pumpernickel bread and a mustard-dill sauce or our lemon-dill aioli sauce. a sprig of dill, lemon wedges and capers are nice as garnishes.
For the Mustard-Dill Sauce:
In a blender, combine the mustard, brown sugar, egg yolks, salt and pepper. Process for 15 seconds. With the blender running, pour the oil in a steady stream through the feed tube. When the mixture begins to thicken, pour the oil a little more quickly, processing until it is all incorporated. Transfer to a dish and stir in the chopped dill.
Notes
Nutrition for 1 Tablespoon Gravlax Mustard Sauce:Cals: 121, fat: 12.1, Sat Fat: 1.86, Chol: 42, Sod: 77.4, Sugar: 2.67, Pro: 0.865
Nutrition Information:
Yield:

8
Serving Size:

4 ounces
Amount Per Serving:
Calories:

213
Total Fat:

9g
Cholesterol:

70mg
Sugar:

6g
Protein:

24g