This amazing Lemon-Dill Aioli Sauce is smooth and creamy with a pronounced dill flavor that is the perfect accompaniment for fish.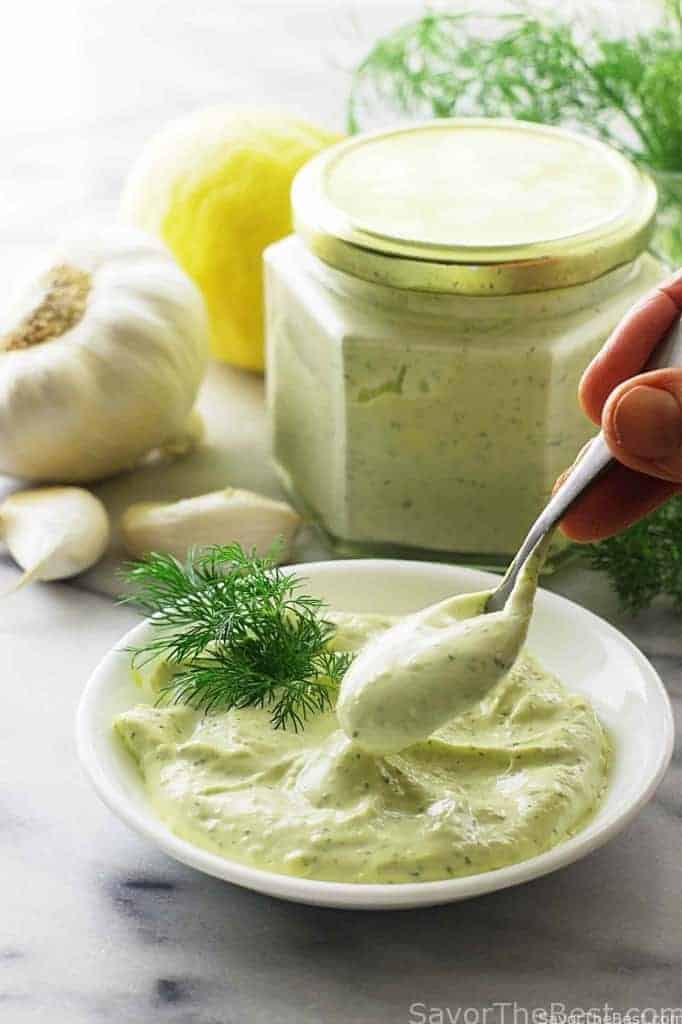 The first time I saw aioli sauce on a menu with a fish entrée I did not know what to expect and was surprised to find that is was similar to a mayonnaise.
It is basically made in the same way as mayonnaise with garlic and any herbs that you want to jazz it up with. I chose dill here as it is a great accompaniment to fish.
This lemon-dill aioli sauce was also delicious mixed in with my tuna salad for a sandwich.
Oil choices when making Lemon-dill aioli sauce:
We all like the fresh taste of a rich, extra-virgin olive oil but save that good stuff for dipping your sourdough bread in and your fresh salads.
For this aioli recipe, you will want a mild-tasting oil that will not dominate but allow the full flavor of the other ingredients to shine.
We have used avocado oil which has a very neutral flavor. Other choices would be:
Grapeseed oil
Light olive oil
Sunflower oil
Peanut oil
Canola oil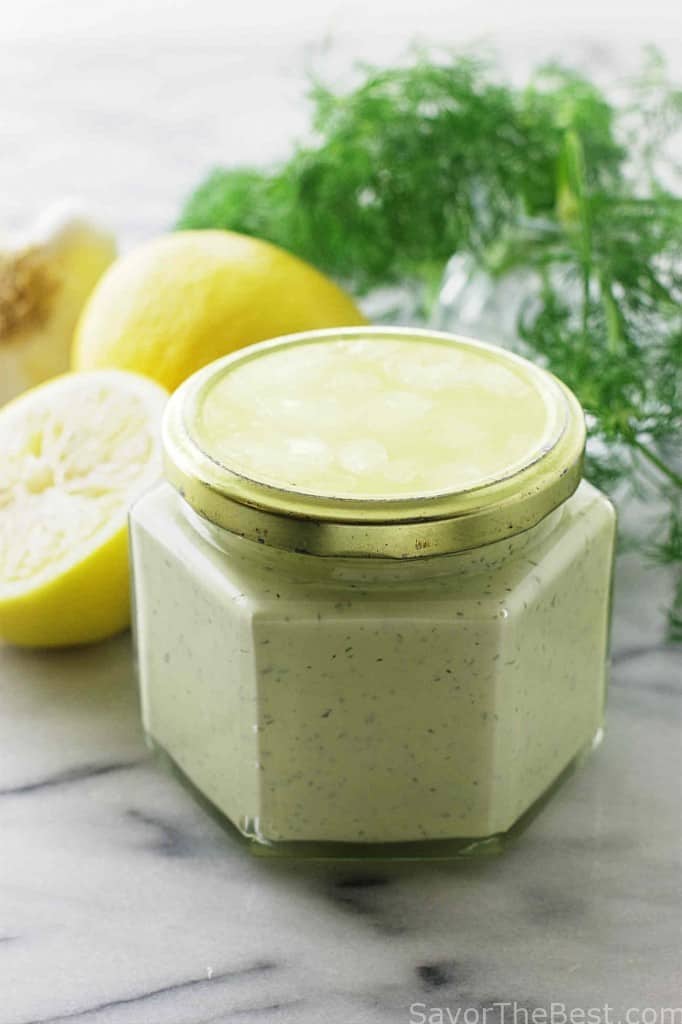 Does Lemon-Dill Aioli Sauce use raw eggs?
The straight answer is, yes, it does. If you have a concern about salmonella when using raw eggs, pasteurized egg yolks may be substituted.
We like to use Safe Eggs which are purchased locally at Albertsons . Check your local grocery store for these eggs.
You can be assured these eggs have been pasteurized by the company stamp of a on each egg which identifies them as pasteurized.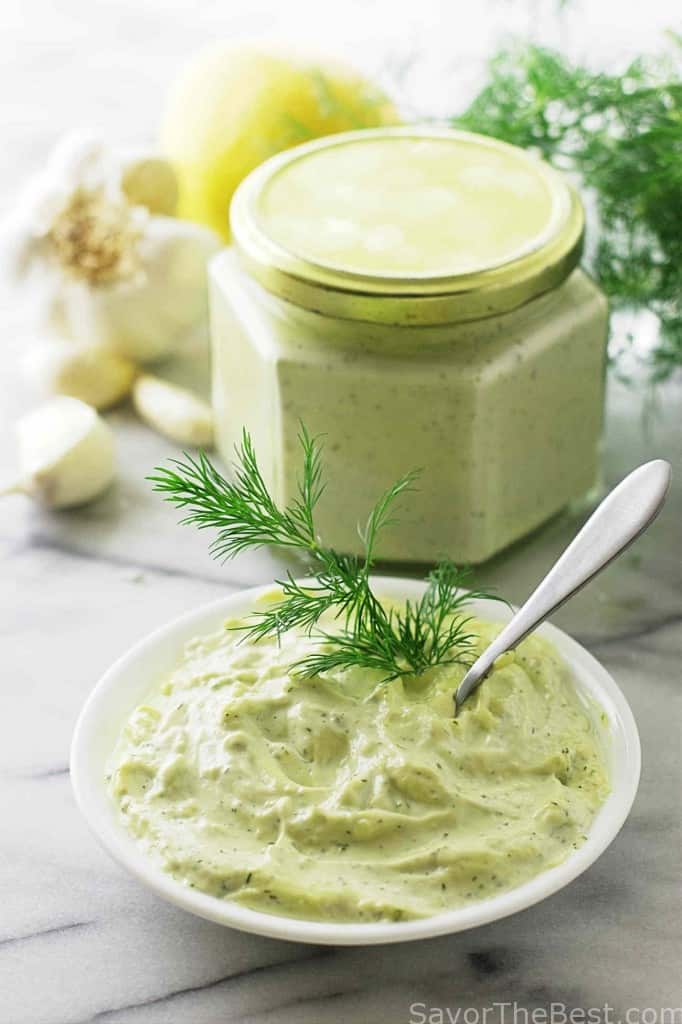 Tips for making Lemon-Dill Aioli Sauce:
A mini-food processor is ideal for this sauce as it has a small hole in the lid that keeps the oil dribbling in at a steady stream. It also is just the size for a small batch. A hand held immersion blender or a standard blender will also work very well for this recipe.
There are two very important steps to the success of this lemon-dill aioli sauce: use room temperature ingredients and drizzle the oil in slowly.
If your egg yolks are still cold from the fridge, you will have trouble getting the mixture to emulsify and end up with a runny mess. A quick trick to bring eggs to room temperature is to place them (while still in the shell) in a dish of warm water for about five minutes. After you crack the eggs and separate them, make sure they are not still cold. If they are cold, then let them sit on the countertop a bit longer.
Starting with cold ingredients is one of the main reasons for a failed aioli sauce.
Another key to success is to drizzle the oil in slowly. You will notice the recipe says to add the oil in a thin stream over two minutes. This is not a typo. Seriously, take two minutes to add the oil in a thin stream.
The first 30 seconds to 1 minute are the most critical. Start very slowly and try not to add more than 1/4 cup of oil in the first 30 seconds. By the time 1 minute has gone by, you should not have used more than 1/2 cup of oil so pace yourself and go slow.
How to save a 'failed' aioli sauce:
If you do happen to miss the mark on this and end up with a broken, curdled-looking mess, don't throw it out. You can fix a broken aioli with a new egg yolk.
Pour the broken aioli into a bowl and place a fresh, room temperature egg yolk in the food processor or blender.
Start processing the egg yolk then slowly add the broken aioli back into the processor. You can add a bit more oil after the broken aioli has been added.
If you find the aioli is too thick then you can drizzle in some water to thin it down.
This recipe has been adapted from The Joy of Seafood, by Patrice Boely and makes about one and one-half cups and will keep in the refrigerator for about one week.
Check out some great fish recipes to go with this sauce.
Video:
Check out our video and see how easy it is to make this Lemon Dill Aioli Sauce.
If you like this aioli sauce, check out our
CONNECT WITH SAVOR THE BEST!
Be sure to follow us on our social media accounts
Facebook | Twitter | Youtube | Pinterest | Instagram
If you make one of our recipes, snap a photo and tag it @savorthebest on Instagram and hashtag it #savorthebest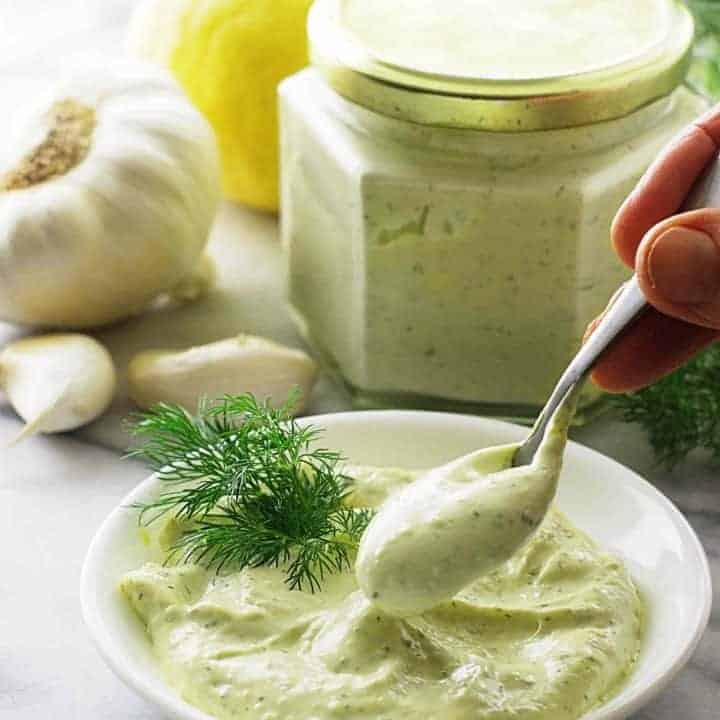 Lemon-Dill Aioli Sauce
Yield: 16 servings
Prep Time: 10 minutes
Cook Time: 10 minutes
Total Time: 20 minutes
A smooth creamy lemon dill sauce that is the perfect accompanyment with fish.
Ingredients
2 medium garlic cloves
1 teaspoon Dijon mustard
2 large egg yolks (room temperature)
1-1/2 tablespoons chopped dill
1 cup avocado oil (or olive oil or any combination of oils)
¼ cup freshly squeezed lemon juice
Salt and white pepper to taste
Instructions
Place the garlic, mustard, egg yolks and dill in a mini food processor or a work bowl for an immersion blender.
Process until evenly combined, about 10 seconds.
With the motor running, slowly add the oil in a thin stream until completely combined. Take about 2 minutes to completely add the oil and don't add more that 1/4 cup in the first 30 seconds.
Once you have a thickened sauce, stop the motor and add the lemon juice then season with salt and pepper.
Start the motor again and combine until well combined.
Refrigerate in a covered container for up to one week.
Notes
For the best success, start with room temperature ingredients.
Recommended Products
As an Amazon Associate and member of other affiliate programs, I earn from qualifying purchases.
Nutrition Information:
Yield: 16
Serving Size: 1 tablespoon
Amount Per Serving:
Calories: 86
Total Fat: 9.6g
Saturated Fat: 1.1g
Cholesterol: 12.7mg
Sodium: 27mg
Protein: 0.7g