One of the great bennies of living in the Puget Sound area is the fact that there is such an abundance of seafood. And, seafood is very high on my 'love list', especially Dungeness Crab Cakes. What a surprise that those ugly, prehistoric looking crabs could taste so sweet and delicious!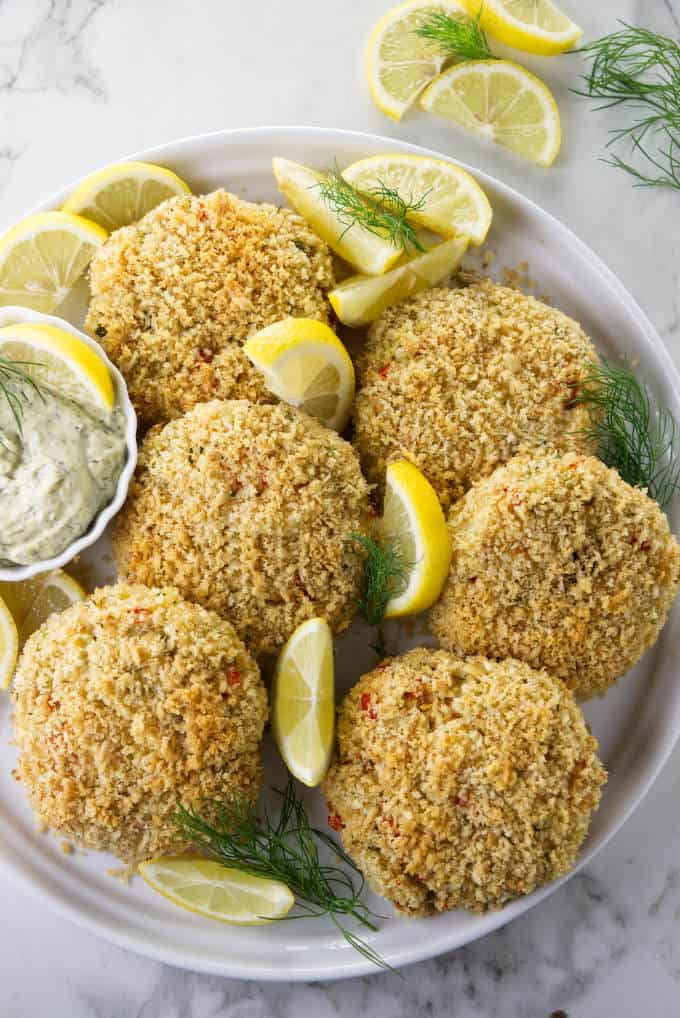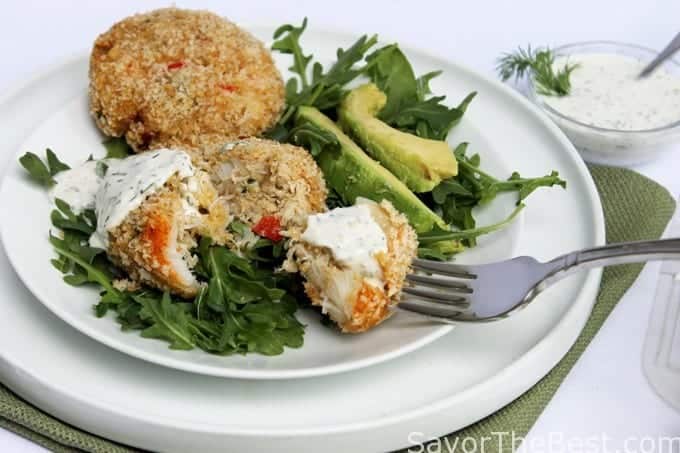 We live an hour or so from Port Angeles, WA on the Olympic Peninsula, where the long Dungeness Spit extends out into the gulf for five miles. The Dungeness crab gets it's name from the town of Dungeness, Washington, which is now called Old Town Dungeness. It seems more reasonable to me that the crabs should be named after the Dungeness Spit rather than the town of Dungeness. I bet the Spit was there long before the town.
Traditionally, crab cakes are fried in oil to give them a crisp coating, it also adds a considerable amout of fat calories. This is a recipe for baked Dungeness crab cakes that are a little lighter but still nice and crispy with toasted Panko bread crumbs. Each crab cake has only 4.05 fat grams and 151 calories but packed with 16 grams of protein.
Dungeness crabs are native to the West Coast and have a sweeter taste than the snow crab and the king crab. I love the taste of fresh crab meat but I lack the patience to pick through a whole crab to get to the good stuff. This recipe for baked Dungeness crab cakes uses fresh Dungeness crabmeat but you still need to pick through the meat for any missed cartilage. That is a minor effort as compared to sitting down with a whole crab in front of you.
These cakes are very 'crabby' with a minimal of flavor enhancers and some egg and bread crumbs to shape them and hold them together. They are baked for 20-minutes and served hot with either lemon quarters or a fish tartar sauce, however, they are delicious with my homemade Lemon-Dill Aioli Sauce.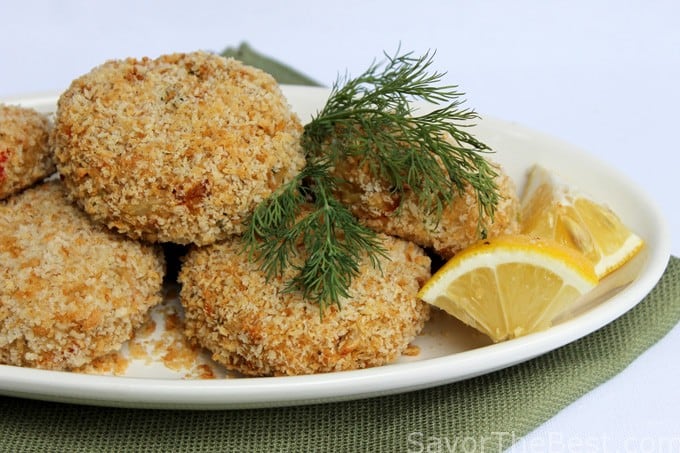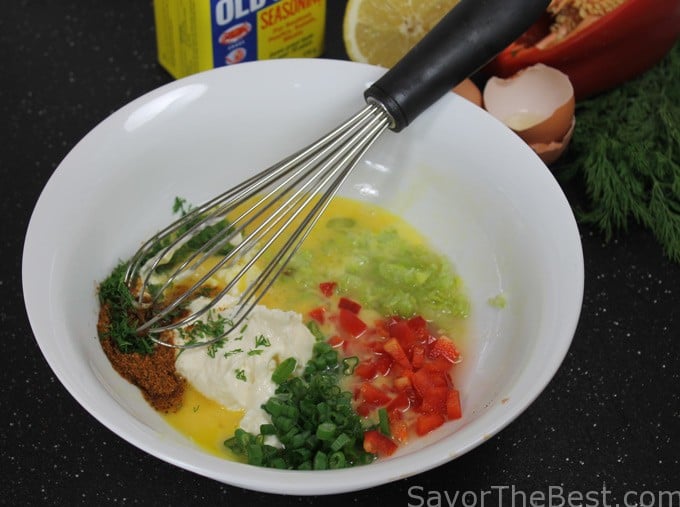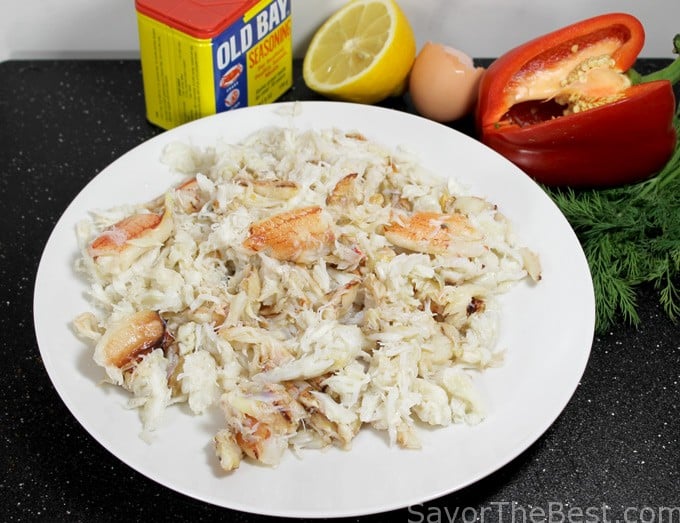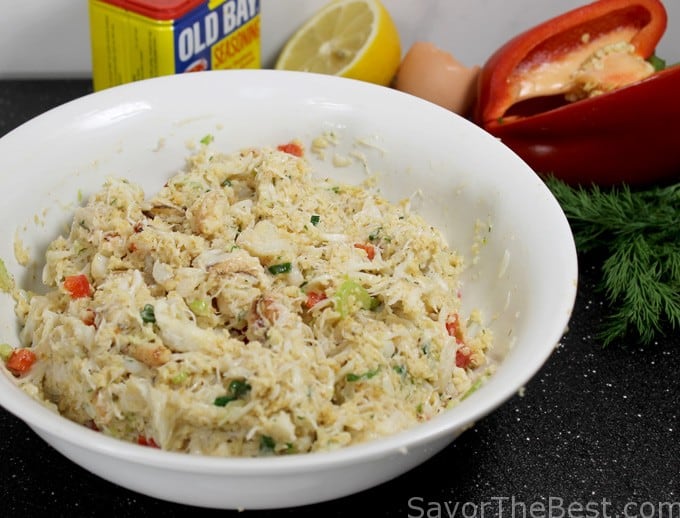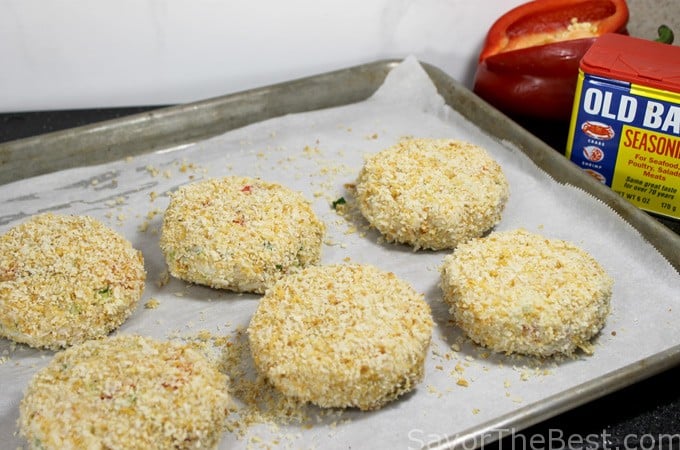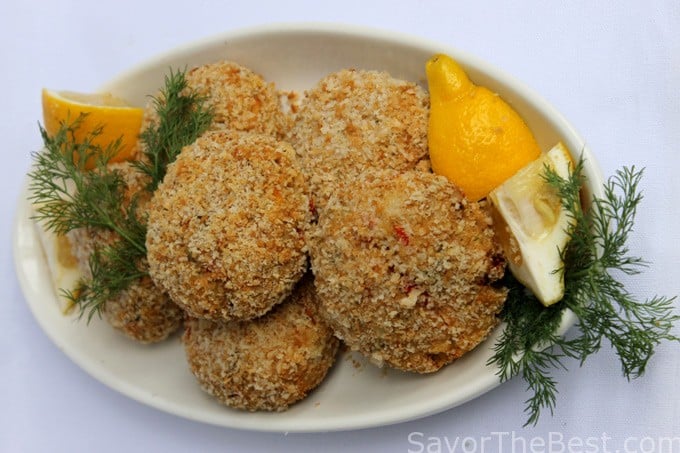 Adapted from: Ivar's Seafood Cookbook
CONNECT WITH SAVOR THE BEST!
Be sure to follow us on our social media accounts
Facebook * Instagram * Pinterest * Twitter * Youtube
Did you make this recipe? We would love to hear from you. Drop us a comment below.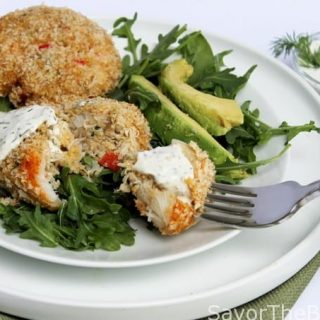 Dungeness Crab Cakes
Yield: 6 servings
Prep Time: 35 minutes
Cook Time: 20 minutes
Total Time: 55 minutes
Dungeness crab cakes, filled with succulent, juicy dungeness crab meat, herbs and seasoning, then coated in toasted Panko crumbs and baked. No frying here, and just plain delicious!
Ingredients
1 whole egg
1/3 cup mayonnaise
2 tablespoons finely chopped chives or scallions
2 tablespoons finely diced red bell pepper
2 tablespoons finely diced celery
1 tablespoon finely copped fresh dill
1 teaspoon Old Bay seasoning mix
juice of half a lemon
1 pound fresh Dungeness crab meat, picked over with any cartilage removed
1/2 cup panko bread crumbs plus additional
1 cup toasted panko bread crumbs for breading
1 tablespoon olive oil
Instructions
Preheat the oven to 375°F
Line a baking tray with parchment paper
Add the egg to a medium-size mixing bow and whisk to combine. Add the mayonnaise,scallions, red bell pepper, celery, dill, Old Bay seasoning mix and the lemon juice. Mix together and add the crab meat and 1/2 cup of panko bread crumbs, adding additional bread crumbs if needed in order that the mixture holds it's shape when squeezed together.
Divide the mixture into six equal portions and shape each portion into a small cake about 3-inches in diameter and 3/4 inch thick. Place on a plate and refrigerate for 30 minutes.
Meanwhile, add the 1 cup of bread crumbs to a bowl and toss with the olive oil, spread the crumbs out on the lined baking sheet and toast them in the oven just until golden. Remove and cool.
Coat each cake in a shallow dish of bread crumbs, pressing the crumbs firmly into the surface.
Place the cakes on the same parchment lined baking sheet used for the crumb toasting and transfer to the middle rack of the oven and bake for 20 minutes. Remove from the oven and transfer to a serving plate.
Nutrition Information:
Yield: 6
Serving Size: 1
Amount Per Serving:
Calories: 150
Total Fat: 4g
Cholesterol: 89mg
Sodium: 265mg
Carbohydrates: 12g
Protein: 16g