These Alaskan King crab cakes are filled with meaty chunks of sweet Alaskan King crab and just enough filling to hold them together. The crab is definitely the star of the show in these crab cakes. Serve them as an appetizer or as a main meal or use them in sandwiches.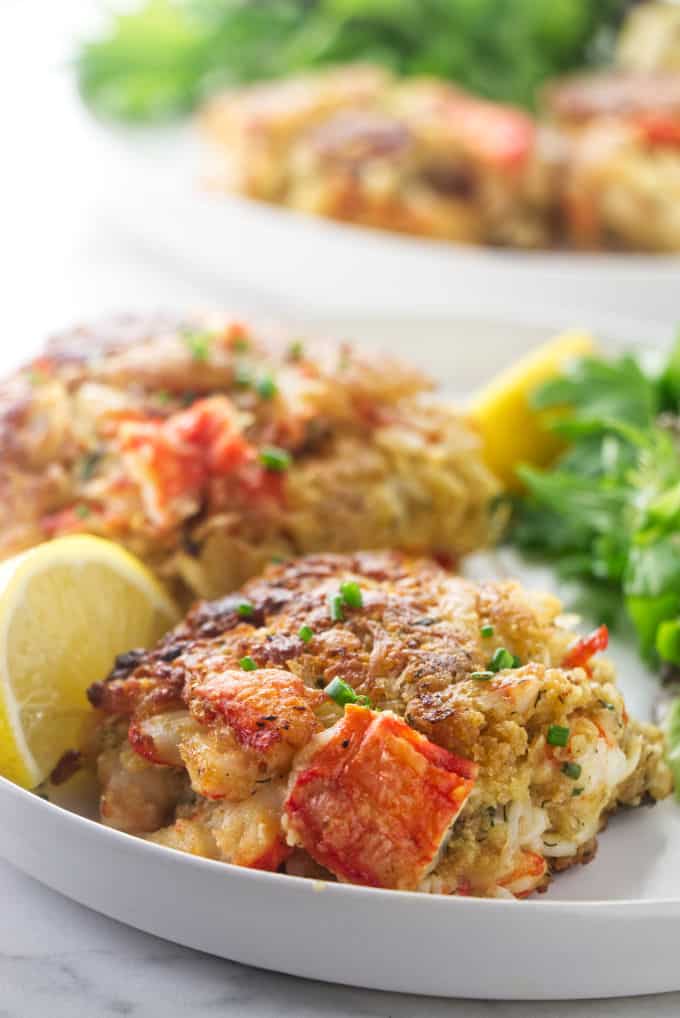 These crab cakes are pan-fried until golden brown and they are so easy to make. This recipe makes 10 large patties as a main meal or you can shape them into 20 small patties and serve them as an appetizer.
Serve them with garlic butter sauce or lemon dill aioli sauce for a spectacular meal.
If you're looking for more crab recipes check out our Dungeness crab cakes, our hot crab dip or a fancy salmon and crab Wellington.
Ingredients you need for Alaskan King crab cakes.
Here is a quick shopping list of the ingredients you will need for these crab cakes.
Mayonnaise. Helps bind the crab cakes.
Egg yolk. Another binder that also adds richness to the crab cakes.
Dijon mustard. Dijon has a complex flavor and a little bit goes a long way.
Lemon Juice. Just enough acid and tang to balance the flavors.
Worcestershire sauce. Another ingredient that adds complexity and an umami flavor the these
Tabasco sauce. Just a small dash adds a bit of a kick but doesn't create too much heat.
Old Bay Seasoning. This seasoning blend has a melody of flavors that enhances the sweet and savory flavors of the King crab.
Alaskan King crab meat. The sweet taste of Alaskan King crab is unbeatable.
Saltine crackers. This is the filler for the crab cakes and they add a great flavor without overwhelming the crab.
Chives. Finely chopped chives add a hint of oniony, garlicky flavor and compliment the crab.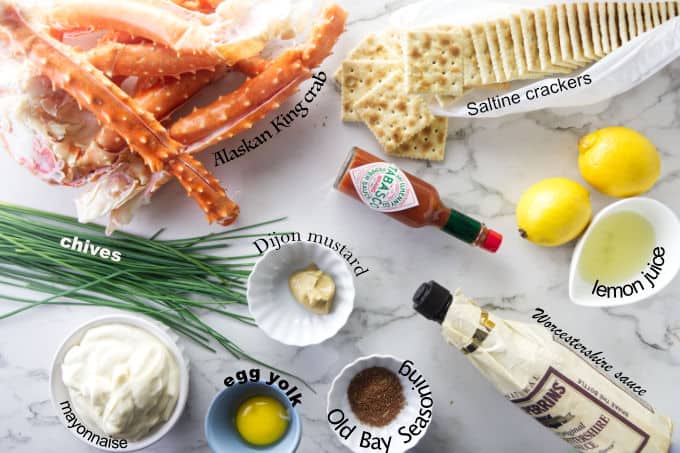 How to make Alaskan King crab cakes.
Here is a basic run-down of the recipe and some tips for success. Make sure to scroll down to the printable recipe card.
Combine the wet ingredients. Whisk the egg yolk, mayonnaise, and the seasoning ingredients in a bowl.
Fold in the binder and crab meat.
Form the mixture into patties.
Chill the raw crab cakes.
Pan-fry the patties until golden brown.
Serve.
Tips for success
Process the cracker crumbs very finely. The finer the crumbs are, the better the crab cakes will hold together. We used a food processor. You can also use a blender.
Fold in the crab meat gently so you don't break up the large lumps.
Refrigerate the raw patties before you pan fry them. If you skip this step the crab cakes will fall apart easily. Cold crab cakes will hold together better while they cook.
Use an ice cream scooper to measure out the crab mixture. We heaped a rounded scoop into a ball then patted it into a round cake.
Don't smash the crab cakes down when you cook them. Leave them nice and thick so the crab meat stays juicy and sweet. Smashing them as they cook will squeeze the crab juices out.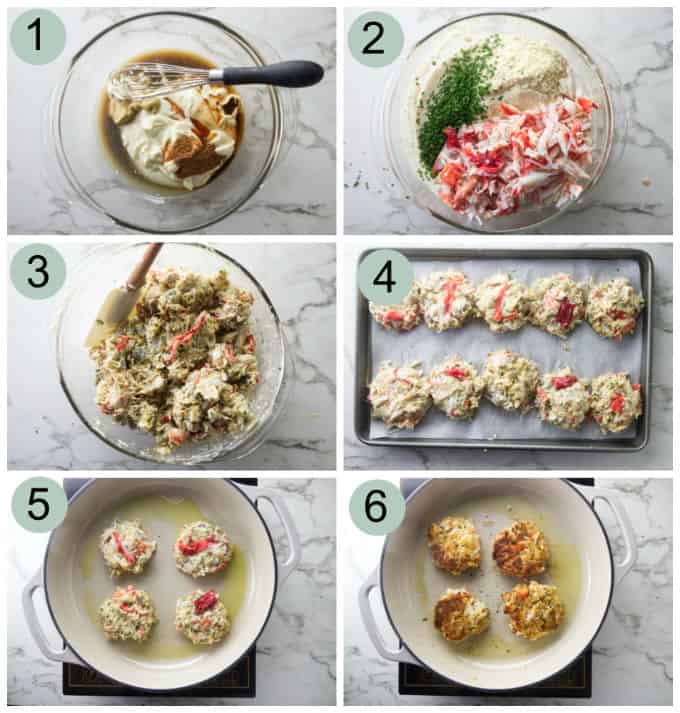 What to serve with crab cakes.
If you serve these sweet crab cakes as an appetizer then keep it simple with a dipping sauce. You can also use them in a sandwich with lettuce, aioli, and a tomato. If you serve them as a main course, two crab cakes make a great serving size. Here are some recommended sides to serve them with: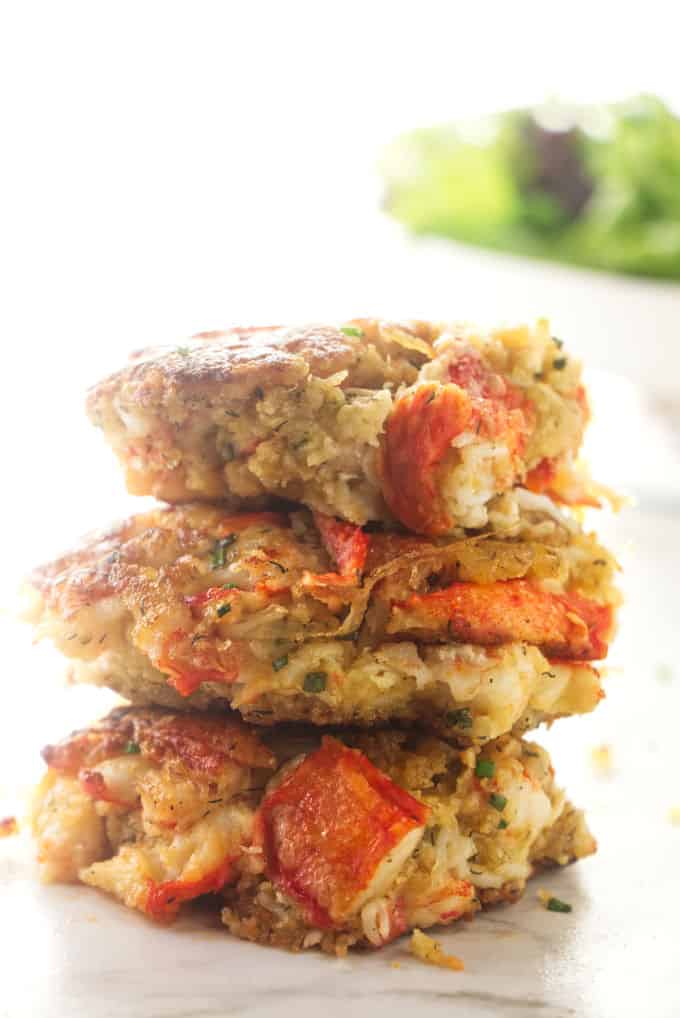 SOME OTHER RECIPES WE ARE SURE YOU WILL LOVE:
This broiled Copper River Salmon makes a special dinner. We show you a special tip to salmon perfection in this recipe.
Who doesn't love a good ole steak and lobster dinner. Make any night special with steak done right.
Dukkah roasted duck legs are tender and succulent. They have a nutty crust from the dukkah seasoning and get served with a sweet fig sauce. So good!
CONNECT WITH SAVOR THE BEST!
Be sure to follow us on our social media accounts
Facebook * Instagram * Pinterest * Twitter * Youtube
Did you make this recipe? We would love to hear from you. Drop us a comment below.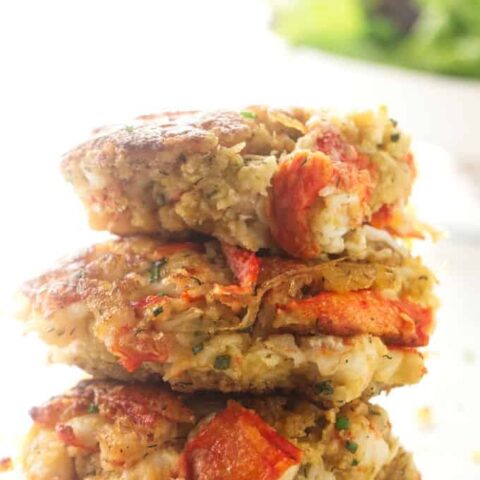 Alaskan King Crab Cakes
Yield: 10 crab cakes
Prep Time: 15 minutes
Cook Time: 8 minutes
Total Time: 23 minutes
Easy, pan-fried crab cakes made with large chunks of Alaskan King crab. Perfectly seasoned and full of sweet crab flavor, these crab cakes are good as an appetizer or a main dish.
Ingredients
3/4 cup mayonnaise
1 egg yolk
3 tablespoons lemon juice
1 tablespoon Dijon mustard
1 tablespoon Worcestershire sauce
1 teaspoon Tabasco sauce
1/2 teaspoon Old Bay seasoning
1-1/2 pounds Alaskan King crabmeat
20 Saltine crackers ground very finely
2 tablespoons chopped chives
4 tablespoons vegetable oil
Instructions
Combine mayonnaise, egg yolk, lemon juice, Dijon, Worcestershire, Tabasco sauce, and Old Bay in a mixing bowl.
Fold in the crabmeat, saltines, and scallions.
Form 10 patties. Cover with plastic wrap and let the patties sit in the fridge for 30 minutes.
Heat the oil in a large skillet over medium-high heat. Add 3 to 4 crabs cakes and cook until golden brown, about 3 to 4 minus per side.
Transfer to a plate and repeat with the other crab cakes.
Notes
Grind the saltine crackers very finely. A food processor or blender will do the best job.
We used an ice cream scooper to measure out the crab mixture.
Recommended Products
As an Amazon Associate and member of other affiliate programs, I earn from qualifying purchases.
Nutrition Information:
Yield: 10
Serving Size: 1
Amount Per Serving:
Calories: 282
Total Fat: 20g
Saturated Fat: 3g
Trans Fat: 0g
Unsaturated Fat: 16g
Cholesterol: 113mg
Sodium: 650mg
Carbohydrates: 8g
Fiber: 0g
Sugar: 0g
Protein: 18g
Nutrition information is a guideline only, is calculated automatically by third-party software, and absolute accuracy is not guaranteed.