Appetizers and snacks are a must at any party and a fun way to welcome your guests. This hot crab dip recipe is bound to knock your socks off. Every creamy and delicious bite will have you wanting more. As an added bonus, it's also easy to put together.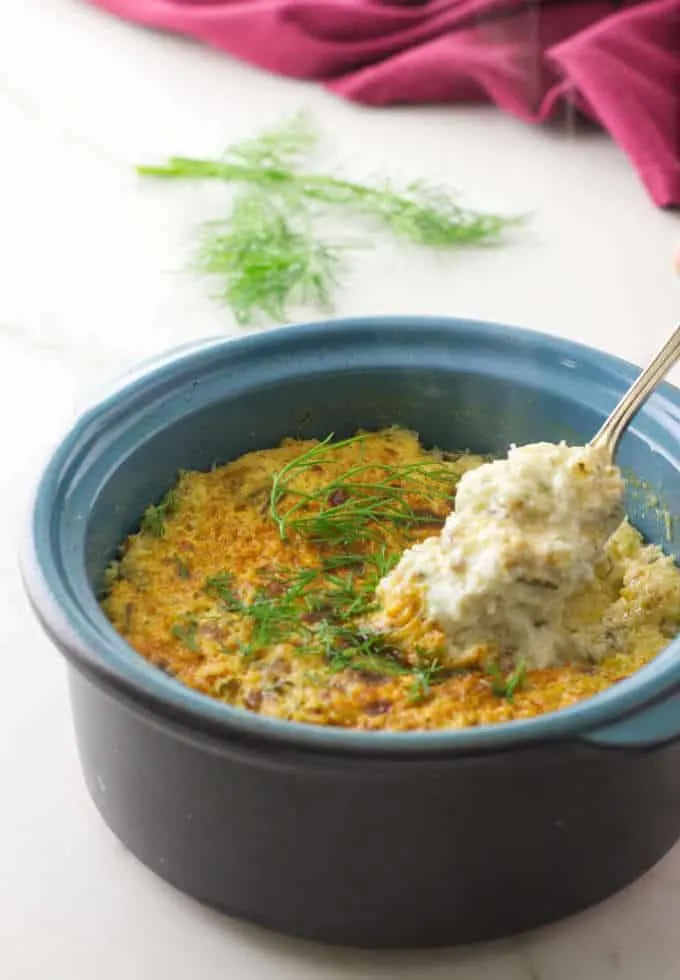 While there are many varieties of hot dip recipes out there to choose from, nothing beats a hot crab dip. This hot crab dip is cheesy, creamy and has an entire pound of delicious crabmeat in it!
A hot crab dip is a delicious appetizer for any get together you may host, any potluck you may attend or simply, any snack you may have. In fact, this hot crab dip recipe is perfect for the big game too. You can quite literally enjoy this recipe at any time, any season for any meal, for any reason.
About Crab Meat:
Crab meat is a high-end ingredient whether it is fresh, frozen or canned. But the flavor is well worth an occasional price splurge.
Imitation crab meat (Krab meat) is definitely more budget-friendly. The downside of using imitation crabmeat is in the flavor. It just does not compare to the natural, real-deal, crab taste. It isn't even crab meat!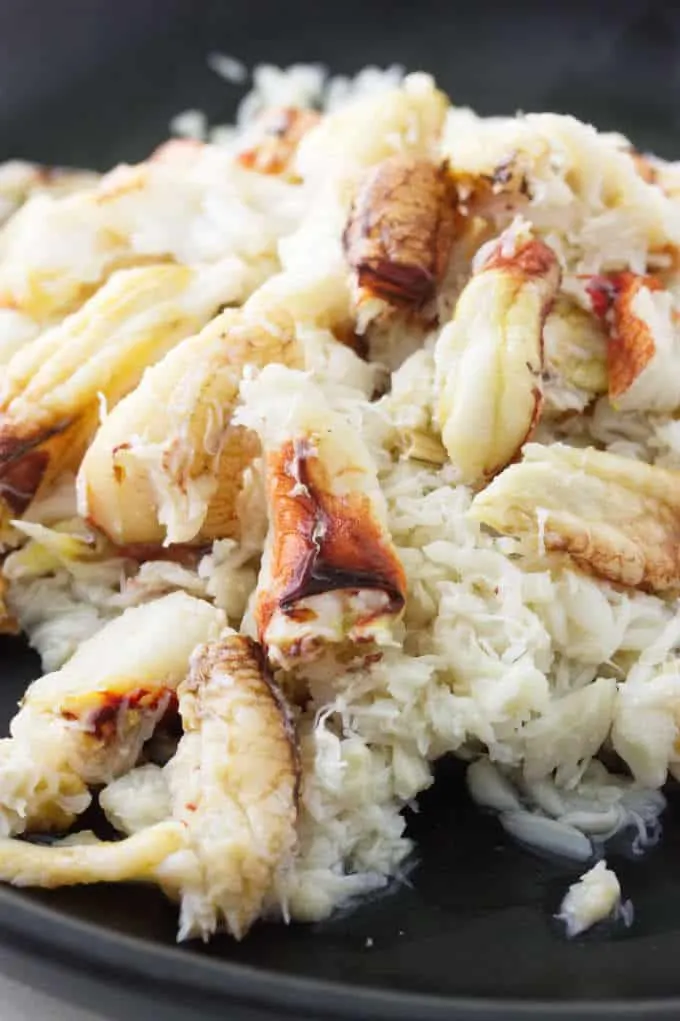 We used fresh Dungeness crab meat in our recipe. Dungeness crabs live in Washington State on the Dungeness Spit on the Olympic Peninsula, just a two-hour drive from our house. Other species of crab meat to choose are:
King crab

Snow crab

Blue crab

Stone crab
? More Crab Recipes
Living in the Pacific Northwest, we frequently have an abundance of crab meat. We have classic dishes like Dungeness crab cakes with garlic butter sauce to a simple crab melt sandwich, we have many more selections for you. Here are a few.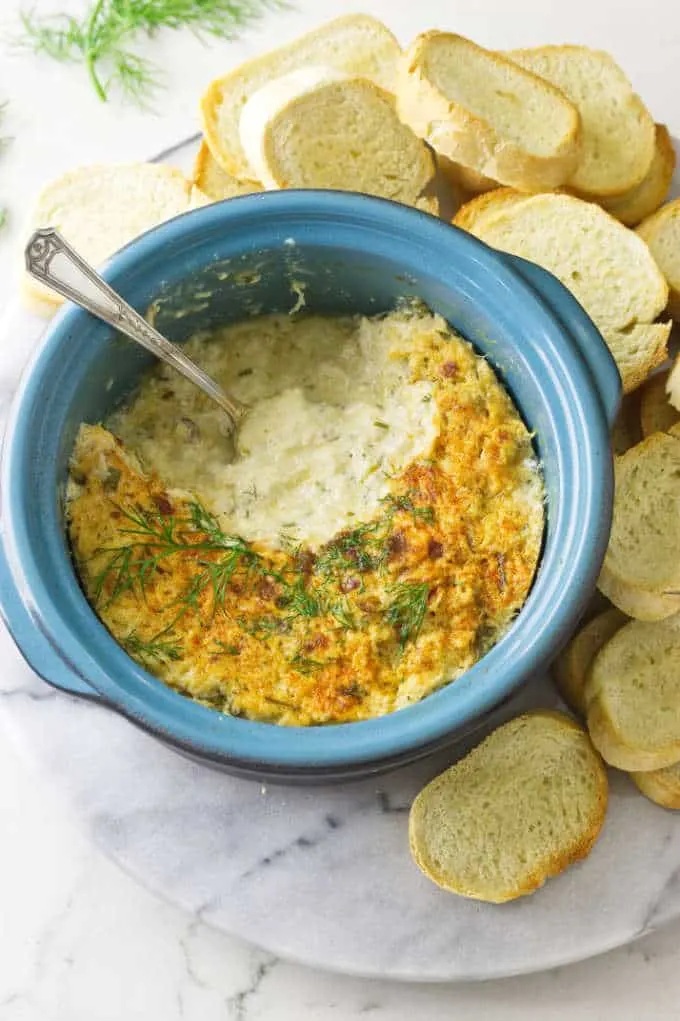 How to Make Hot Crab Dip:
We blended the cream cheese with mayo, sour cream, lemon juice, lemon zest and fresh dill. Our favorite locally-made seafood seasoning added a punch of flavor. Next we mixed in a cup of shredded cheese.
We wanted a mild cheese that would melt smooth and creamy without over-powering the delicate crab flavor. Gouda was our choice. Here are a few other cheese options that are mild and smooth melters:
Gouda

Asiago

Fontina

Provolone

Taleggio
With the base all mixed together, now it is time to add the star ingredient; the crab meat! We have found that manufacturers package crab meat with the smaller pieces on the bottom and a few large, pretty pieces on top.
That's okay for this recipe though as smaller pieces will ensure a creamy texture to this hot crab dip and you will not be disappointed! So go ahead and break up those few large chunks of crabmeat. You won't want large chunks in the dip, but you also don't want them to be too small either. Handle the crabmeat with care and gently fold it into the mixture.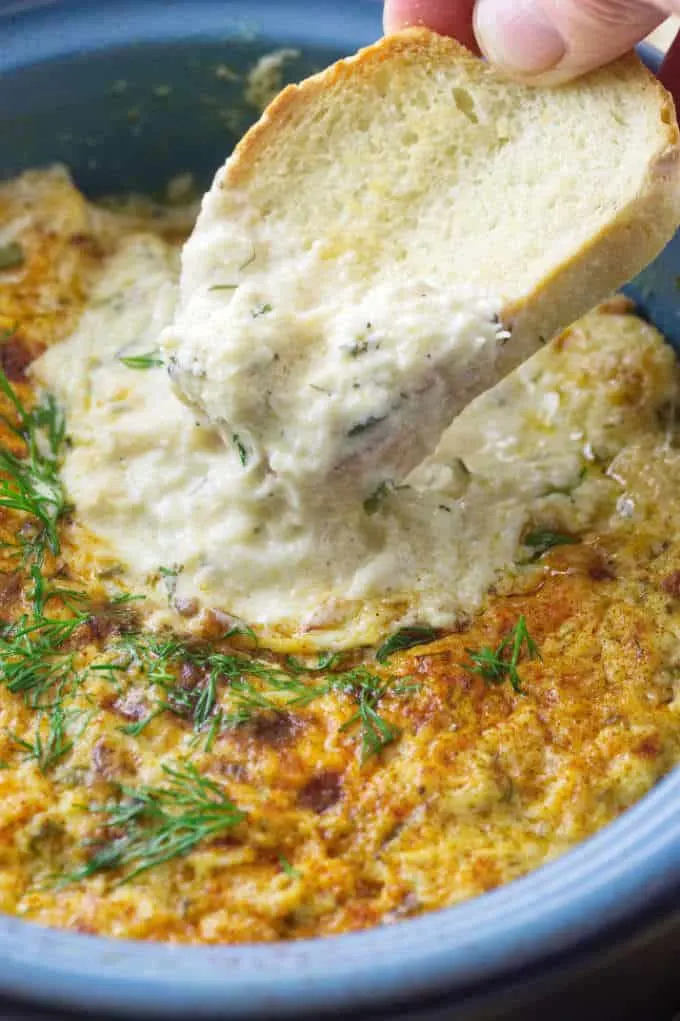 Transfer the mixture to a small oven-proof casserole dish. For a fancy flair bake it in a small sourdough bread bowl. Bake the hot crab dip for 35 to 40 minutes or until it is bubbly and golden on top.
Serve this dip as soon as it comes out of the oven, garnished with fresh dill sprigs and chopped fresh dill. We served this hot crab dip with crisp, toasty sourdough rounds. And serve with cold, crisp glasses of Sauvignon Blanc wine. Yum!
More Recipes We Are Sure You Will Love:
Connect With Savor the Best:
Please follow us on our social media accounts
Facebook * Instagram * Pinterest * Youtube * Twitter
Did you make this recipe? We would love to hear from you. Drop us a comment below.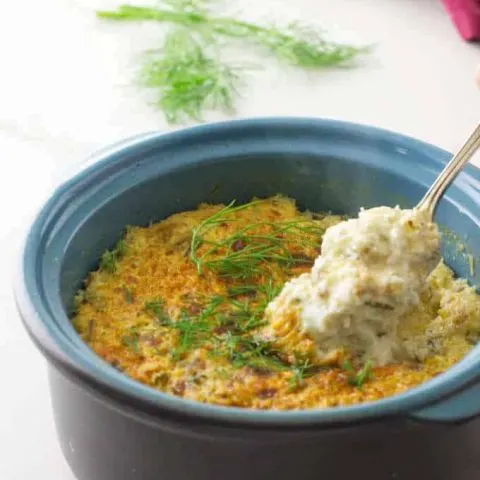 Hot Crab Dip
If you are planning a holiday party this hot crab dip will be a big hit for sure. This is a rich and creamy seafood dip that is wonderful with toasted sourdough bread slices or crunchy crackers.
Ingredients
8 ounces cream cheese
1/2 cup mayonnaise
1/4 cup sour cream
1 garlic clove, grated
2-3 tablespoons lemon juice, (about 1/2 of a lemon)
1 tablespoon lemon zest
1/4 cup chopped fresh chives or green onion tops
1/4 cup chopped fresh dill
1/2 teaspoon seafood seasoning
Freshly ground white or black pepper
1 cup (4 oz) freshly grated Gouda cheese
1 pound crabmeat, picked free of shell and cartilage
Smoked paprika for garnish
Fresh dill sprigs for garnish
Instructions
Preheat oven to 325°F
In a large mixing bowl, combine the cream cheese, mayonnaise, sour cream, garlic and lemon juice. Beat with an electric mixer until smooth. Stir in the lemon zest, chives or onion tops, dill, seafood seasoning and pepper. Combine well.
Add the grated Gouda cheese and the crabmeat. Carefully fold until well combined.
Transfer the mixture to a small casserole dish and bake for 35-40 minutes. Garnish with chopped dill and sprigs of dill.
Notes
Crabmeat is a mild-flavored shellfish, select ingredients that will compliment the crab.
Avoid adding spicy ingredients that will overwhelm and detract from the rich crab flavor. After all, you paid a lot for that crabmeat taste!
We use fresh Dungeness crabmeat in our recipe. Choose what ever is available in your area.
If using canned crab meat, read the label to be sure you are getting what you want. Some brands are 'fishy' tasting with a weird taste from the tin can.
The crabmeat will mostly be in small pieces break up any extra large chunks of crabmeat.
We used Seattle' Pike Place Northwest Seafood Seasoning. Another choice would be Old Bay Seafood Seasoning.
Choose a cheese that is a smooth melters and will not overpower the delicate crab flavor such as: Gouda, Fontina, Asiago, Taleggio, Provolone and Gruyere
Nutrition is based on 1/4 cup per serving
Recommended Products
As an Amazon Associate and member of other affiliate programs, I earn from qualifying purchases.
Nutrition Information:
Yield:

16
Serving Size:

1/4 Cup
Amount Per Serving:
Calories:

141
Total Fat:

10.3g
Saturated Fat:

5.3g
Cholesterol:

33mg
Sodium:

411mg
Carbohydrates:

7.3g
Fiber:

.03g
Sugar:

2.5g
Protein:

5.4g