Whenever you need a delicious appetizer that you can pull together in a hurry, go for this classic Italian Herbed Olive Oil Dip! All you need are some fresh herbs, garlic, seasoning, good olive oil, and a crusty loaf of sourdough bread. That's it, a taste of Italy!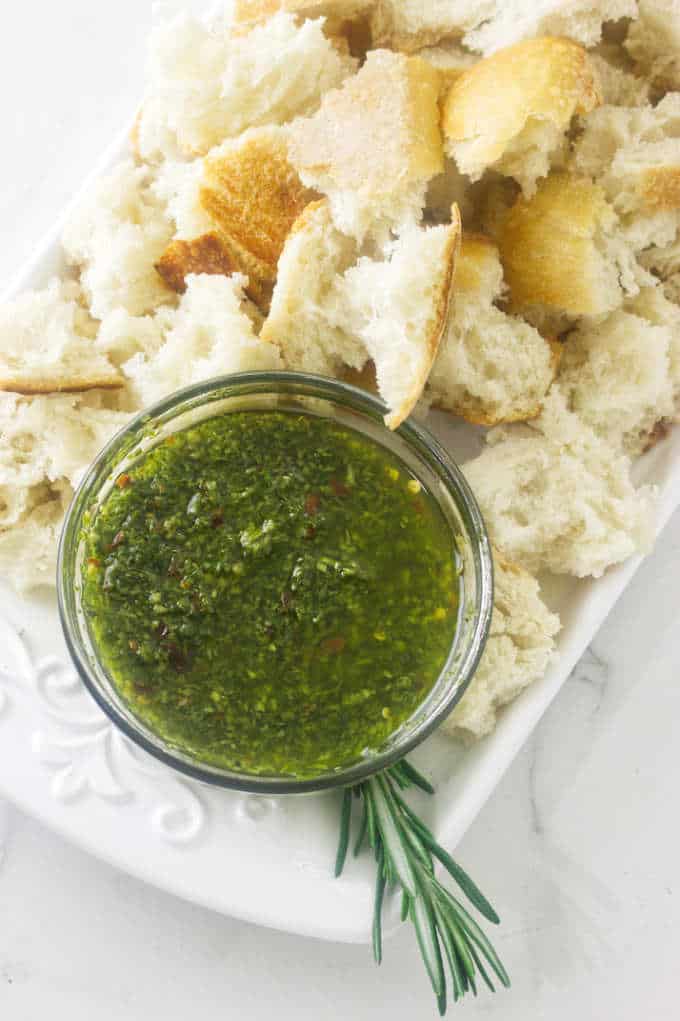 Many Italian restaurants will serve a complimentary dish of olive oil and bread to nibble on and keep you happy as they prepare your entree. We finished off a basket of warm sourdough bread with our meal and practically licked the bowl of dip clean.
Focaccia and French bread are two other favorite dippers with this herbed olive oil dip but you don't have to stop at bread. Here are a few ideas to use this herbed olive oil dip.
Toss with vegetables
Season your chicken before or after it gets cooked.
Use it as a sandwich spread.
Mix it into some mayonnaise for a quick herbed aioli.
Use it as a pizza sauce.
Drizzle it on your scrambled eggs.
Really the possibilities are endless with this herbed olive oil dip. It brings flavor to anything you put it next to. It is incredibly versatile and will dress up any dish.
Adjust the ingredients for this no-fuss olive oil dip to accommodate as many servings as you need. Make it a couple of hours in advance and let it sit for a while so the flavors can mingle and intensify.
Fast Facts On Olive Oil:
The extraction of olive oil is from the olive fruit and not the seed/pit.



The phrase "extra virgin" refers to olive oil that has not been refined, or treated and contains no additives or chemicals.


Extra virgin olive oil is the highest grade of olive oil. It comes from the first pressing of the fruit and is rich in polyphenols.




After making extra virgin olive oil, the pulp left over is often pressed again to make virgin olive oil. Manufacturers need to use heat to extract the oil at this stage.




A third pressing of the pulp is called "pure olive oil." Manufacturers need to use chemicals to extract the oil from the third pressing.



Some manufacturers toss in old or rotten olives and make poor-quality oil.
Buy olive oil from a reputable brand that takes pride in quality control. We like this olive oil (affiliate link) for its quality and price.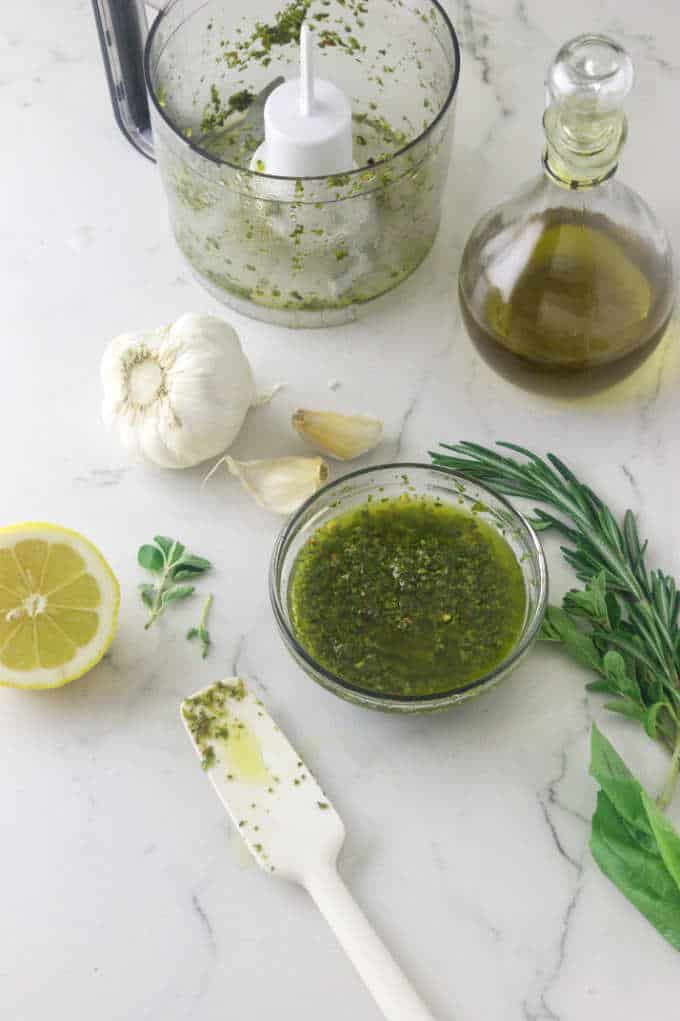 How to Make This Olive Oil Dip:
Add everything but the oil to a mini-prep food processor and process until it is a thick paste.

Transfer the mixture to a small serving dish and whisked in the olive oil.
We love our mini-prep food processor for this dip but a blender will also work. The trick is to have enough of the herbs and garlic in the bowl to reach the blades.
Some standard food processors might have the blades sitting a bit too high. If that is the case with your food processor then try a blender. It is a bit more stop-and-go with a blender because you will need to scrape the sides down more frequently but it works.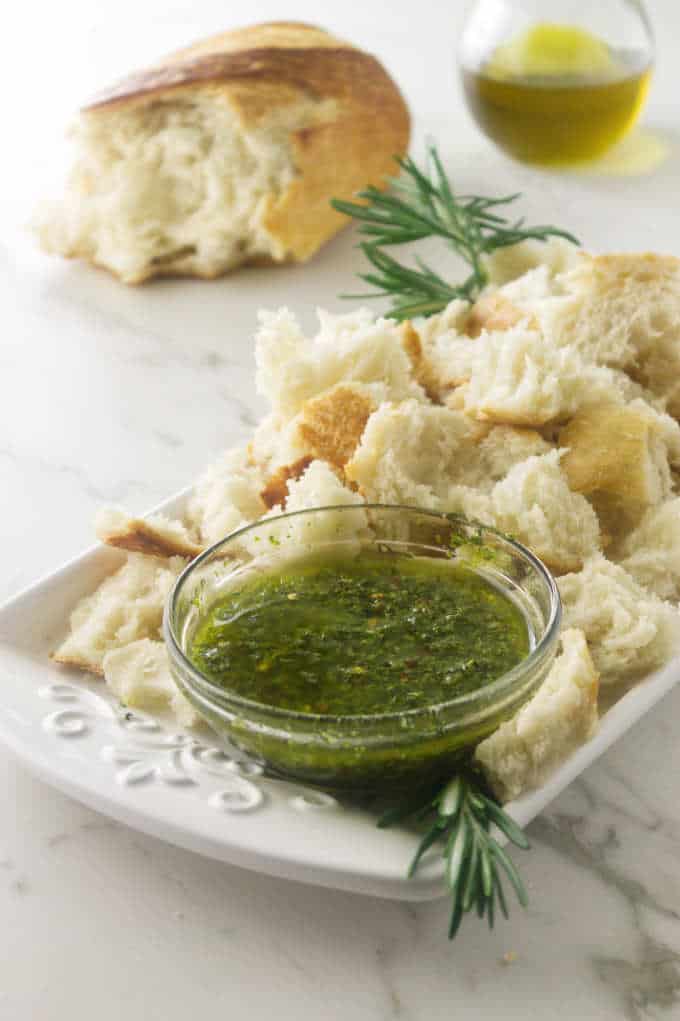 How Long Will This Olive Oil Dip Last?
This dip is best when used within a couple of hours of preparation. Store any leftover dip in a covered container in the refrigerator for up to 3 days or in the freezer for 3 months.
When you store the oil in your fridge it will solidify and look different. Don't let that worry you. After it sits on the counter for a few minutes it will return to a liquid state and be ready to dip your bread into.
If you store the oil in the freezer, freeze it in ice cube trays. The small blocks of frozen oil thaw out quickly.
Is infused olive oil safe to eat?
Infused olive oil is safe to eat as long as you follow the FDA guidelines for safe handling and storage. The low acid and anaerobic environment of flavored olive oil make it susceptible to bacterial growth, particularly botulism.
This is why it is important that you do not store infused olive oil at room temperature.
Here are the best ways to store this infused olive oil:
In the refrigerator for three days.
In the freezer for up to three months.
You may be wondering about the infused olive oil on the shelves of your local grocery store. How do they get away with storing the oil at room temperature?
Those shelf-stable oils are preserved most commonly with an acidifying agent like citric acid or phosphoric acid. By adding an acid, the pH of the infused oil changes enough to prevent much of the harmful bacteria from growing. With that being said, even when we do purchase a store-bought infused oil, we store it in our fridge.
This article shows how you can acidify infused oil for safe storage at room temperature.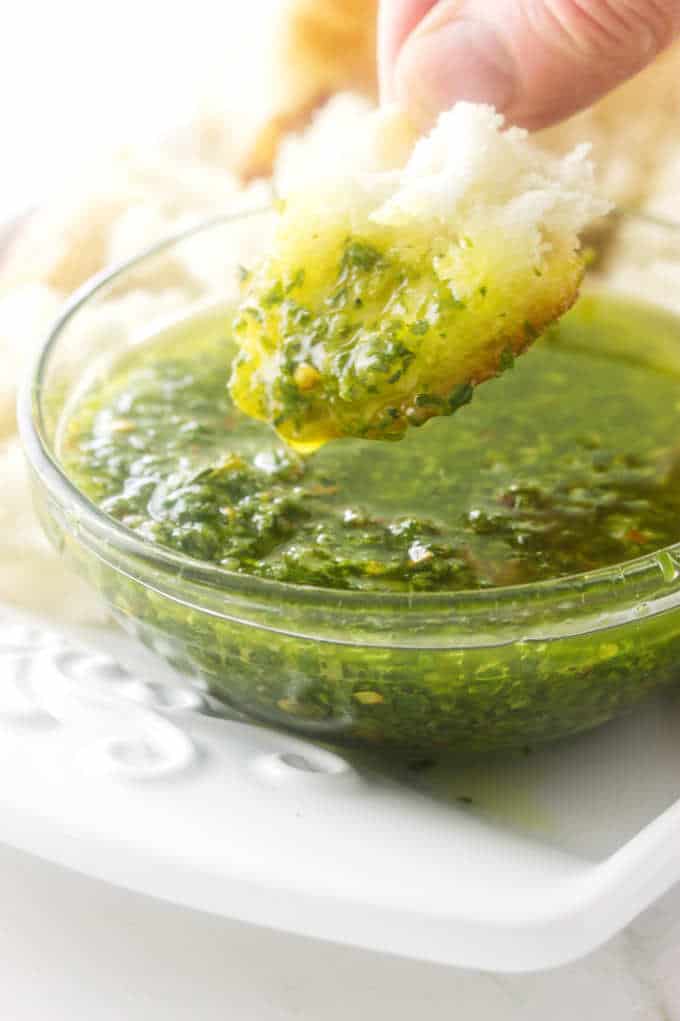 Whether it is for a casual snack with a glass of wine, a before-dinner appetizer or part of a spectacular party tray, this easy, classy dip will be appreciated!
Check Out These Appetizers:
Connect With Savor the Best:
Please follow us on our social media accounts
Facebook * Instagram * Pinterest * Youtube * Twitter
Did you make this recipe? We would love to hear from you. Drop us a comment below.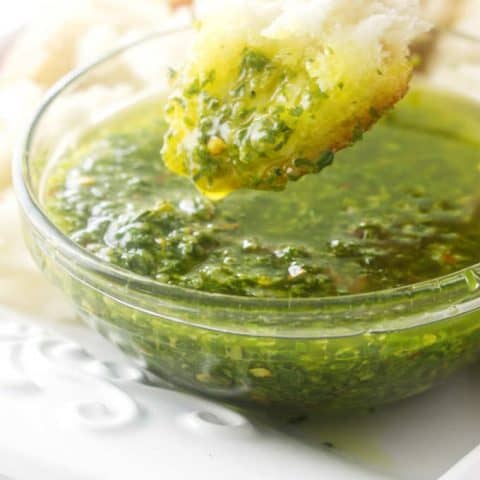 Herbed Olive Oil Dip
A quick and impressive Herbed Olive Oil Dip made with fresh herbs, garlic and seasoning. Serve with crusty Italian or foccacia bread as dippers.
Ingredients
4 cloves garlic, grated
2 tablespoon fresh oregano leaves
2 tablespoon fresh rosemary leaves
2 tablespoon fresh flat-leaf parsley leaves
2 or 3 large fresh basil leaves
1/4 teaspoon red pepper flakes
1/4 teaspoon salt
1/8 teaspoon freshly ground black pepper
Instructions
To the bowl of a mini-prep food processor or a blender, add all the ingredients except for the olive oil. Process until the herbs and garlic are blended into a paste.
Transfer the herb mixture to a small serving dish and whisk in the olive oil.
Notes
Buy a really good Extra Virgin olive oil for this treat
Adjust ingredients for this no-fuss olive oil dip to accommodate as many servings as you need.
Make the dip a couple of hours in advance and let it sit for a couple of hours so the flavors can intensify.
Nutrition Information:
Yield:

8
Serving Size:

2 tablespoons
Amount Per Serving:
Calories:

125
Total Fat:

14g
Saturated Fat:

2g
Trans Fat:

0g
Unsaturated Fat:

11g
Cholesterol:

0mg
Sodium:

67mg
Carbohydrates:

1g
Fiber:

1g
Sugar:

0g
Protein:

0g
Nutrition information is a guideline only, is calculated automatically by third party software, and absolute accuracy is not guaranteed.