These brown butter blondies are rich and decadent with a deep butterscotch flavor. The secret ingredient is the brown butter which brings the flavor over the top. So good!! Our recipe has a generous amount of vanilla to complement the nutty brown butter and butterscotch flavors.
What is the difference between a blondie and a brownie?
A blondie is very similar to a brownie except it has a vanilla-butterscotch flavor instead of a chocolate flavor. It is generally sweetened primarily with brown sugar which gives the blondie its deep butterscotch character. The brown sugar also helps keep this decadent dessert moist and fudge-like in texture.
What is brown butter?
Brown butter is simply regular butter that gets cooked until the milk solids get toasty brown. Butter consists of water, fat, and milk proteins. When you cook the butter long enough, the water evaporates and the butter foams and spatters.
If you continue cooking it, the milk solids that are at the bottom of the pan begin to brown. Those little bits of browned milk solids is what makes the butter brown. This process creates a richer taste than regular butter. It is nutty-toasty-silky-yumminess.
What's the difference between ghee and brown butter?
While ghee and brown butter are essentially made the same way, brown butter is cooked a bit longer allowing the milk solids to caramelize. This gives brown butter that wonderful nutty-like taste. Ghee has a deeper flavor than regular butter but it does not have the same depth of flavor that comes from the caramelized milk solids in browned butter.
Now that you've learned a bit more about blondies and brown butter, let's get started making this delicious dessert bar.
How to make brown butter blondies:
You can make these yummy little pieces of heaven in 5 simple steps. Check out our printable recipe below but first read through the steps and tips.
1. Brown the butter
The magic in this recipe begins with the butter. Butter is a beautiful thing in baking but brown butter is a game changer.
All you have to do to get beautiful brown butter is heat the butter until the milk solids turn golden brown.
First, the butter will melt, then it will spatter a bit and start to foam, then little brown specks will begin to form on the bottom of the pan. The brown specks will change from a light golden tan to a deep gold pretty quick. As soon as you see a deep gold color, pour the butter into a dish to stop the cooking process and prevent it from burning.
The secret to making brown butter is to keep swirling it around or stirring and watch it closely. Those little bits of milk solids like to sit on the bottom of the pan and burn. It can go from a lovely golden brown to burnt in seconds.
2. Beat the brown butter with the sugar and eggs
When the brown butter has cooled down, beat in the sugar until it is completely moistened then add the eggs and vanilla extract.
3. Combine the dry ingredients
Now whisk the flour, salt, and baking powder together then stir them into the batter. Don't stir the mixture too much. Once the flour gets blended into the mixture, stop stirring it.
The reason you want to combine the dry ingredients before you stir them into the batter is to prevent over-mixing the batter. It will also distribute the salt and baking soda throughout the batter. If you plop a teaspoon of salt on top of the wet batter and then stir it in, you are much less likely to get that small bit of salt completely distributed.
4. Fold in the chocolate chips and pecans.
Once the batter is blended, all you have to do is fold in the chocolate chips and pecans. As you can see in the pictures, we used a mixture of white chocolate chips and semi-sweet but we have made these with milk chocolate chips and we have even left out the chocolate chips.
To be honest, my favorite way to make these brown butter blondies is to leave out all the chocolate chips and load them up with nothing but toasted pecans. That might sound strange coming from a chocolate addict but it really makes the nutty flavors pop without the chocolate. I add the chocolate because it makes everyone else happy.
5. Bake the blondies.
Now spread the batter into a prepared baking pan and pop them in a pre-heated oven. Make sure you pre-heat the oven first or the bake time will be all messed up. You will notice that there is a pretty large range in the recommended bake time of 28 to 34 minutes. That is because blondies can be pretty darn good when they are just barely under-baked. But for those who like a more well-done blondie, we have extended the bake time.
The blondies in these photos were baked only 28 minutes. They are super moist and a bit ooey-gooey in texture. If you love your chocolate chip cookies slightly under-baked, you will love your blondies this way too.
If you want the blondies more well done, bake them closer to the 34-minute mark. But don't over-bake them or they will get dry.
Tips for amazing brown butter blondies.
Brown the butter. It makes the blondies taste AMAZING.

Make sure the butter cools down a bit before adding eggs to it.

Toast the pecans. Toasted nuts taste better than raw nuts.

Do not over-bake the blondies.

Let the blondies cool down completely before slicing.
That last point is difficult to do. You're going to want to slice into that beauty as soon as you open the oven and smell all the goodness. But you need to give the blondie some time to cool or else it will just be a gooey mess.
SOME OTHER RECIPES WE ARE SURE YOU WILL LOVE:
CONNECT WITH SAVOR THE BEST!
Be sure to follow us on our social media accounts
Facebook * Instagram * Pinterest * Twitter * Youtube
Did you make this recipe? We would love to hear from you. Drop us a comment below.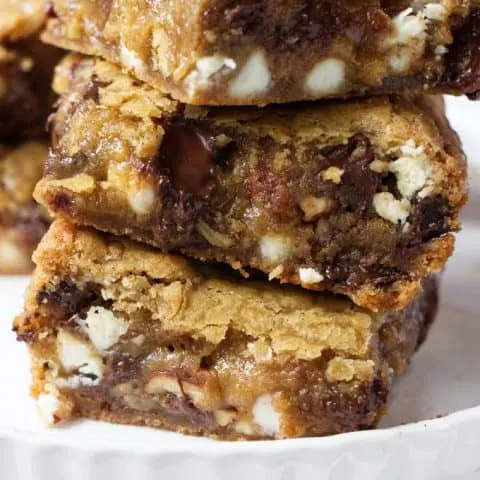 brown butter blondies
Yield:
makes 9 large or 16 small slices
Brown butter blondies are rich, decadent, chewy bar cookies that taste almost like butterscotch. The brown butter adds a toasty, nutty flavor that brings this dessert over-the-top.
Ingredients
1-1/2 sticks butter (12 tablespoons)
1-1/4 cups brown sugar
2 large eggs
1 tablespoon vanilla extract
1-1/2 cups all-purpose flour
1 teaspoon salt
1 teaspoon baking powder
1/2 cup semi-sweet chocolate chips
1/2 cup white chocolate chips
1/2 cup chopped toasted pecans
Instructions
Preheat the oven to 350°F and spray an 8 x 8 inch pan with baking spray.
Place the butter in a sauce pan and heat it over medium heat. After it melts, it will start to bubble and foam. Stir the butter occasionally so it heats evenly and keep an eye on it. The color will start to get golden brown and little brown bits will start to form on the bottom of the pan. As soon as it turns light to deep golden brown, remove it from the heat and pour it in a mixing bowl. (The darker you cook the butter solids, the deeper and nuttier the butter will taste but watch carefully so you don't burn it.)
Allow the browned butter to cool down a bit then add the brown sugar to the butter and mix it with an electric mixer.
Add the eggs and vanilla extract and beat until well combined.
Whisk the flour, salt, and baking powder together then stir them into the batter.
Fold in the chocolate chips and toasted pecans.
Spread the batter into the pan and bake for 28 to 34 minutes.**
When finished baking, allow it to cool completely before slicing.
Notes
The blondies in these photos were cooked for 28 minutes giving them a gooey, fudge-like and slightly underdone texture. If you like your blondies more well-done, cook them for up to 34 minutes.
Recommended Products
As an Amazon Associate and member of other affiliate programs, I earn from qualifying purchases.
Nutrition Information:
Yield:

16
Serving Size:

1
Amount Per Serving:
Calories:

261
Total Fat:

15g
Saturated Fat:

8g
Trans Fat:

0g
Unsaturated Fat:

6g
Cholesterol:

47mg
Sodium:

249mg
Carbohydrates:

30g
Fiber:

1g
Sugar:

20g
Protein:

3g
Nutrition information is a guideline only, is calculated automatically by third party software, and absolute accuracy is not guaranteed.