Chocolate pecan pie is the perfect pie recipe for a special occasion. With a tender flaky crust and a rich chocolate and pecan filling, this pie is a definite winner.
I hope I can control my sweet tooth next year, as much as I enjoy desserts and all things sweet, I try to keep it to a minimum and remind myself of the unhealthy and toxic effects of sugar. This time of the year I really struggle with moderation. There are so many things that I only eat once per year but cramming them all in at the end of the year is just too much. Pecan pie is one of those "only once per year" treats. It is an irresistible sweet indulgence that I justify because I take 'just a sliver'. Really a sliver is all you need because it is an incredibly sweet and rich dessert. Adding chocolate to it just brings it to an all-new level so I could not pass on this chocolate pecan pie.
I use an all butter crust that I pre-bake. You could skip this step but it really does make a difference to have the crust baked before baking the filling. It keeps the bottom of the crust crisp and flaky. The trick to pre-baking a piecrust, especially an all-butter crust, is to freeze the dough-lined pie plate for at least an hour.
I have seen many recipes that instruct you to place it in the refrigerator or freezer for 10 or 20 minutes but that is often just not long enough to rest the dough and 'set' its shape. If you plan ahead, you could make the crust, line it in the pie plate, cover it with plastic wrap, and freeze it for 2-3 weeks until it is time to make the pie.
More delicious 'special' desserts:
Chocolate Amaretto-Espresso Mousse Cake
Vanilla, Rose and Pistachio Cake
Adapted from Ghiradelli.com
HAVE YOU MADE THIS RECIPE FOR CHOCOLATE PECAN PIE? TAG US!
If you made this or any of our other recipes we would love to see it. Snap a picture and tag us on Instagram and Facebook.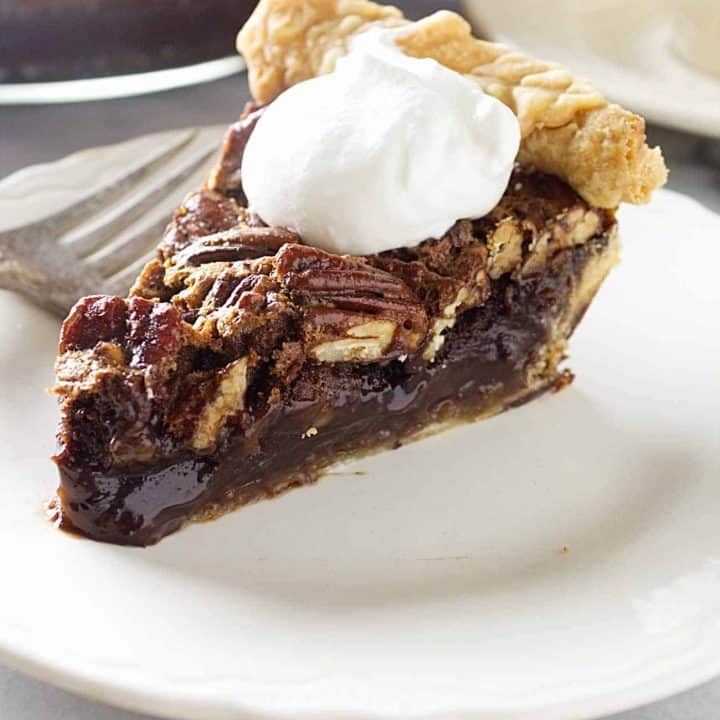 Chocolate Pecan Pie
Yield: 8 to 10 servings
Prep Time: 30 minutes
Cook Time: 1 hour
Total Time: 1 hour 30 minutes
Chocolate pecan pie is the perfect pie recipe for a special occasion. With a tender flakey crust and a rich chocolate and pecan filling, this pie is a definite winner.
Ingredients
Pie crust for single crust pie
1 ¼ cups (162 g) flour
10 tablespoons (255 g) very cold butter, cut into cubes
½ teaspoon salt
3 -4 tablespoons ice cold water
Chocolate Pecan Filling
4 ounces (113 g) semi sweet dark chocolate
2 tablespoons (28 g) butter
3 eggs
1 cup corn syrup
½ cup (105 g) light brown sugar, packed
1 ½ teaspoons vanilla extract
¼ teaspoon salt
1 ½ cups (255 g) pecan halves
Instructions
Pie Crust
Place the flour, butter, and salt in a food processor and pulse with the blade attachment until the mixture is the size of peas. Slowly add the ice water ½ tablespoon at a time, pulsing the blade. After 3 tablespoons are added, pour the mixture out on the counter that has been covered with plastic wrap. The mixture should seem dry but will hold together when gently squeezed in your hand. Use the plastic wrap to fold the dough onto itself and shape it into a round disk. Add additional ice water if needed but don't get it too wet or the crust will be tough.
Once a round disk is formed, cover it in the plastic wrap and place it in the refrigerator for at least 1 hour.
Remove the dough from the refrigerator and let it sit for 5-10 minutes to soften up a bit. Roll the dough out on a floured surface to about 12 inches in diameter (check the dough occasionally as you roll to ensure it is not sticking to the surface, adding more flour as needed).
Grease a 9-inch pie plate with butter and transfer the dough to the pie plate. Freeze it for 1 full hour (this step will prevent the dough from shrinking when the crust gets pre-baked)
Pre-heat the oven to 350°. Line the frozen piecrust with parchment paper and fill it with pie weights or dry baking beans. Bake the crust with the weights for 20-30 minutes. Tent the edges with tin foil to prevent them from over browning. Allow to cool slightly before removing the pie weights. Cool completely before filling.
Chocolate Pecan Filling
Pre-heat oven to 325°. In a microwave proof bowl, melt the chocolate and butter in 30 second intervals, stirring between intervals. Set melted chocolate aside.
In a large mixing bowl, combine the eggs, corn syrup, brown sugar, vanilla extract, and salt. Mix on medium speed until well combined. Beat in the chocolate mixture then stir in the pecans. Pour into the pre-baked piecrust and place in the oven. Bake for 50-60 minutes. The filling will puff up slightly and be set on the edges and slightly jiggly in the middle when shaken.
Let pie cool completely before slicing
Notes
To prevent your pie crust from shrinking when you pre-bake it, do not over work or stretch the dough and give it an hour to rest before baking it.
Nutrition Information:
Yield: 10
Serving Size: 1
Amount Per Serving:
Calories: 412
Total Fat: 20g
Saturated Fat: 6g
Trans Fat: 0g
Unsaturated Fat: 13g
Cholesterol: 66mg
Sodium: 235mg
Carbohydrates: 56g
Fiber: 3g
Sugar: 41g
Protein: 6g
Nutrition information is a guideline only, is calculated automatically by third party software, and absolute accuracy is not guaranteed.