WooHoo! It's party time! Don't you just love all the parties during the Christmas season? Who can resist a table spread with platters of every tantalizing appetizer variation. Plus, desserts galore! I am convinced these Garlic Shrimp and Butternut Party Bites will be a huge hit at our up-coming party.
This is a Spanish tapas type appetizer with large, spicy, garlic shrimp and roasted butternut cubes skewered together. These classy appetizers will be devoured in minutes!
Is it a shrimp or a prawn?
That is the question….but is their a difference and does anyone care? Not me! All I know for sure is I love them both. They are delicious and they taste the same to me. I do know that prawns live in fresh water and shrimp live in salt water. In general, prawns are larger than shrimp, however, I have seen some shrimp as large as a prawn.
Fresh or Frozen?
In my opinion, fresh is always the better choice but they are not as easy to come by. Shrimp are very perishable so when they are caught they need immediate attention by freezing. Most shrimp are delivered to the market as frozen.
Our shrimp have also been beheaded, peeled and deveined. That is a huge time-saver and another key point in the preparation of our garlic shrimp and butternut party bites.
In our appetizers for garlic shrimp and butternut party bites we are using large shrimp. The fishmonger has assured me there are twenty-four shrimp to a pound and I bought one pound for these yummy bites.
How to cook shrimp and prawns:
The most important thing to remember when cooking shrimp or prawns is to not over-cook them. Properly cooked shrimp or prawns, either by grilling, boiling or sautéing should be cooked only until they are uniformly pink and their shape is still open. By that I mean they should look like the capital letter "C" with a space between the headless area and the tail. If they close up like an "O" they are overcooked.
These appetizers are pretty easy to put together and they are so worth it! I sautéed the shrimp in olive oil, butter and a lot of garlic. Plus, red pepper flakes were added to give them a little kick. The Spanish paprika adds a bit of smoky flavor.
Assembling the
Garlic Shrimp and Butternut Party Bites:
After being peeled, the butternut squash was cut into uniform cubes. Olive oil was drizzled on the cubes, then they were roasted in a hot oven. They roasted until charred on the bottom and just barely tender.
Meanwhile, as the squash roasted I sautéed the shrimp. When both the squash and shrimp had cooled to room temperature they were skewered together. Easy peasy! Each party bite was garnished with a sprig of oregano and they were arranged on a serving plate. I like using these bamboo knotted picks but there are other options such as:
Colored Cellophane Tipped Club Picks
Boat Oar Picks
Bamboo Hors D'oeuvres Forks
Skewers
This is an easy and impressive appetizer to add to the party fare. It can also be a nice addition to a tapas meal with a variety of small Spanish dishes.
Check out these party treats:
Have you made this recipe? We would love to see a picture. Tag us on Instagram.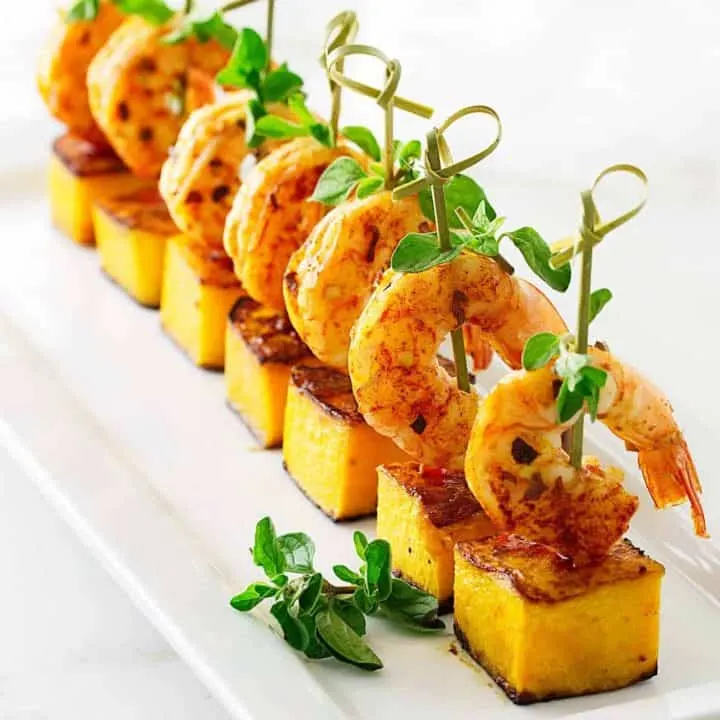 Garlic Shrimp and Butternut Party Bites
Try our Garlic Shrimp and Butternut Party Bites. They are large shrimp sautéed in garlic, butter and Spanish smoky paprika are skewered together with chunks of sweet butternut squash.
Ingredients
Roast the Butternut Squash:
2 pounds butternut squash, peeled and cut into 1-inch cubes
1 tablespoons olive oil
2 tablespoons butter
1 tablespoon honey
1/2 teaspoon salt
For the Garlic Shrimp:
1 pound large raw shrimp, peeled, heads removed, tails on
1/4 cup olive oil
4 tablespoons butter
1/4 teaspoon red pepper flakes
6 garlic cloves, grated or finely minced
1 teaspoon Spanish smoked paprika
Juice of 1/2 lemon
1/4 teaspoon salt
To Assemble:
Bamboo picks for assembling
Fresh herbs for garnish (oregano, rosemary or parsley)
Lemon wedges
Instructions
For the Butternut Squash:
Preheat oven to 400 degrees F. Lightly coat a baking sheet with oil spray.
Place the prepared butternut squash cubes in a large shallow bowl and set aside
Add the olive oil, butter and honey to a small saucepan set on low heat, stirring until warm and syrupy. Remove from the heat and cool to room temperature.
Drizzle the butter mixture over the butternut cubes and gently toss together to coat all sides of the cubes. Tip the cubes onto the baking sheet and spread them in a single layer with space between them. Sprinkle generously with salt.
Place in oven and bake for 18-20 minutes. The cubes should have a slight char to the edges and still a little firm when pierced with a toothpick. Do not over cook them as they will continue to cook a bit from residue heat.
Remove the baking sheet from the oven and immediately transfer the cubes to a plate and allow to cool to room temperature while preparing the shrimp.
For the Garlic Shrimp:
In a large skillet, set over medium heat, add the olive oil, butter, red pepper flakes and garlic. Cook for 30 seconds just until the garlic becomes fragrant.
Stir in the paprika and lemon juice. Working in batches, add only enough shrimp to cover the bottom of the pan without crowding them. Sprinkle with salt and pepper. Cook the shrimp for about 2 minutes, turning with tongs as they begin to pink up. As they become uniformly pink and in a 'C' shape, transfer them to a paper towel lined plate to drain.
Proceed cooking the remaining shrimp in batches, adjusting the heat as necessary. Allow to cool to room temperature.
To Assemble:
Insert a bamboo pick into each shrimp and then into a butternut cube. Add a fresh herb sprig to each appetizer. Arrange the appetizers attractively on a serving plate with lemon wedges.
Notes
There will be some pieces of butternut that are not suitable for the project, save them for soup or another use.
Nutrition Information:
Yield:

12
Serving Size:

2 party bites
Amount Per Serving:
Calories:

162
Total Fat:

12g
Cholesterol:

72mg
Sodium:

247mg
Carbohydrates:

6g
Fiber:

1g
Sugar:

2g
Protein:

8g