Mmmm, these little bites of Bacon Wrapped Stuffed Figs are so good! A sweet fresh fig stuffed with blue cheese and thyme leaves then wrapped with salty bacon. Top that off with a brushing of clover honey and broil until the bacon is crispy. These easy appetizers are ready for the party!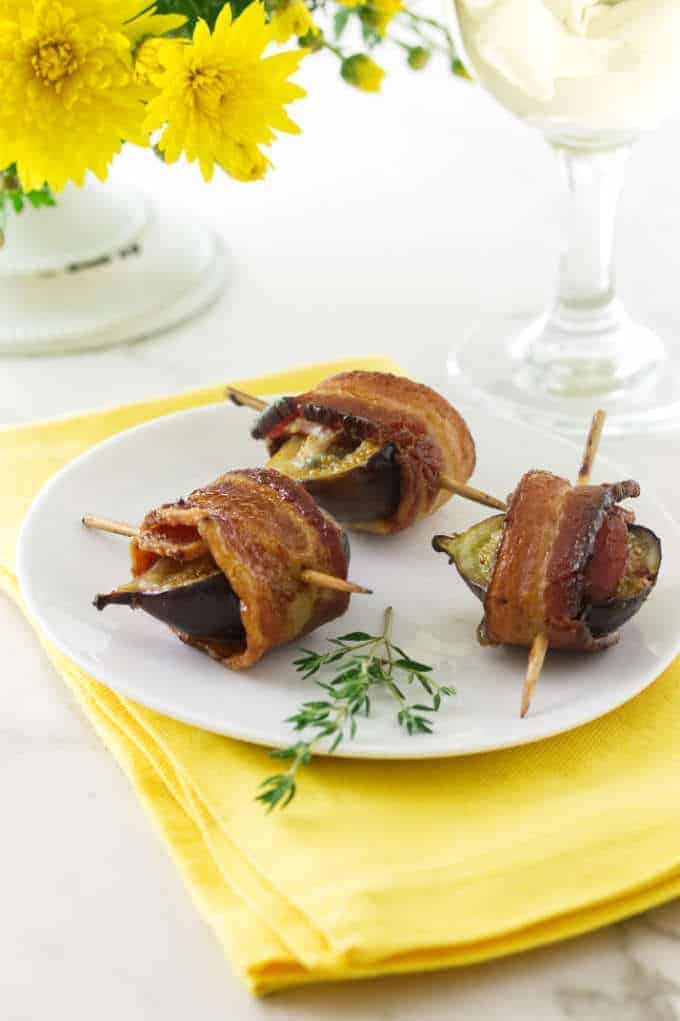 Crispy, salty, creamy and sweet all in one bite. The savory tastes and textures of these bacon wrapped stuffed figs are a delight to the tastebuds.
You can enjoy these bacon wrapped stuffed figs hot, straight from the oven or at room temperature. These savory appetizers are really easy to put together. Read on and we will tell you how.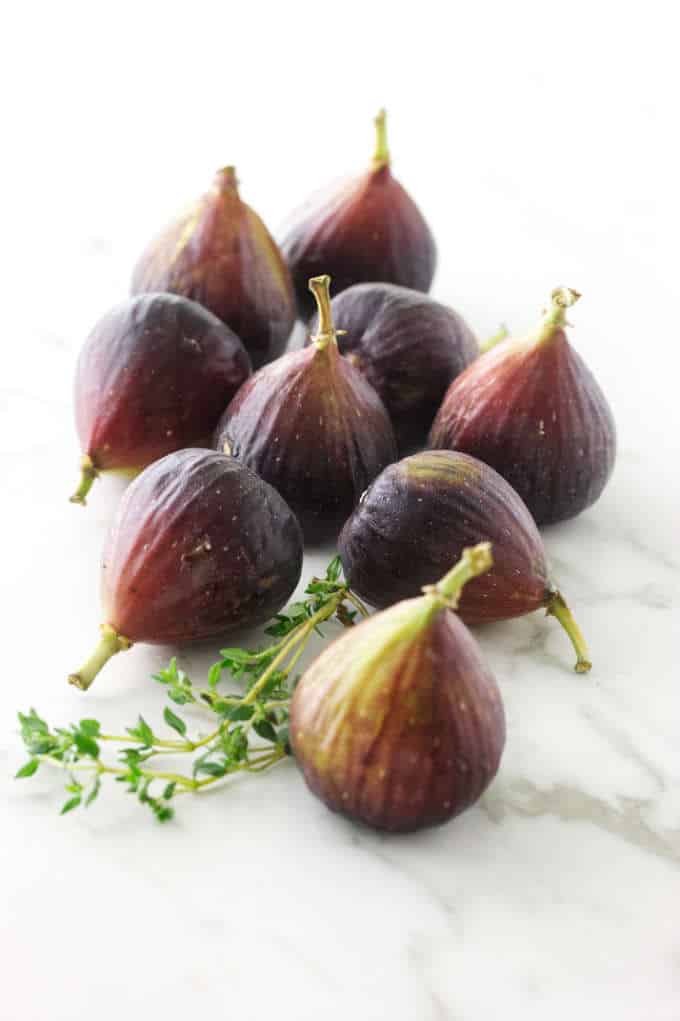 Fig Facts:
Figs are one of the very first plants cultivated by humans. Throughout 11,000 years of documented history, figs have been a food source.

Adam and Eve used the leaves from the fig tree to cover their nakedness and their shame of disobedience.

There are almost two hundred cultivars of figs, thus they grow in a wide range of shapes, colors and textures.

The Brown Turkey fig is one of the best growing variety of figs.

Brown Turkey fig trees bear two crops a year, once in the spring then again in the fall.

The Brown Turkey figs are originally from Provence, France.

Brown Turkey figs require full sun to ripen. They grow especially well in the Mediterranean.

Brown Turkey figs can also grow in some regions of the United States and do best in Southern California.
How To Make Bacon Wrapped Stuffed Figs: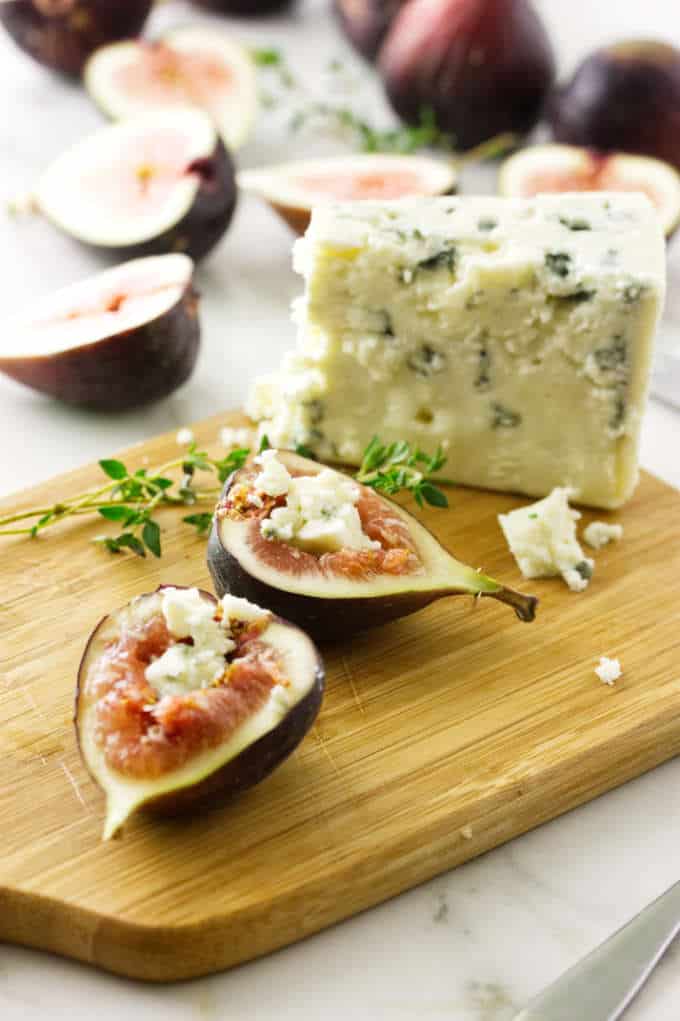 The Brown Turkey figs are plump and just the right size for our bacon wrapped stuffed figs. That is what we used but you can use any fresh fig. Choose some figs that are ripe and reasonably soft but not mushy.
This is a simple and easy appetizer that is almost exotic. We simply cooked up some thin-sliced bacon until it was nearly done then set it aside to drain and cool. The slices should still be flexible in order to wrap the figs
We sliced those beautiful figs in half and pushed the centers aside to create some space. We filled the space in each fig with a sprig of fresh thyme and a small chunk of blue cheese. Then we wrapped a slice of the pre-cooked bacon around it, secured the overlap with a pick and clipped off the excess bacon. How easy is that!
You will have a collection of small two-inch pieces of bacon left. Save them for breakfast or a yummy BLT. I know you will find a use for them :).
Next, these little guys were placed on a wire rack, brushed with warm honey and broiled until the bacon was crisp. The figs are warmed through and the blue cheese soft and melty. They taste just as good hot or at room temperature.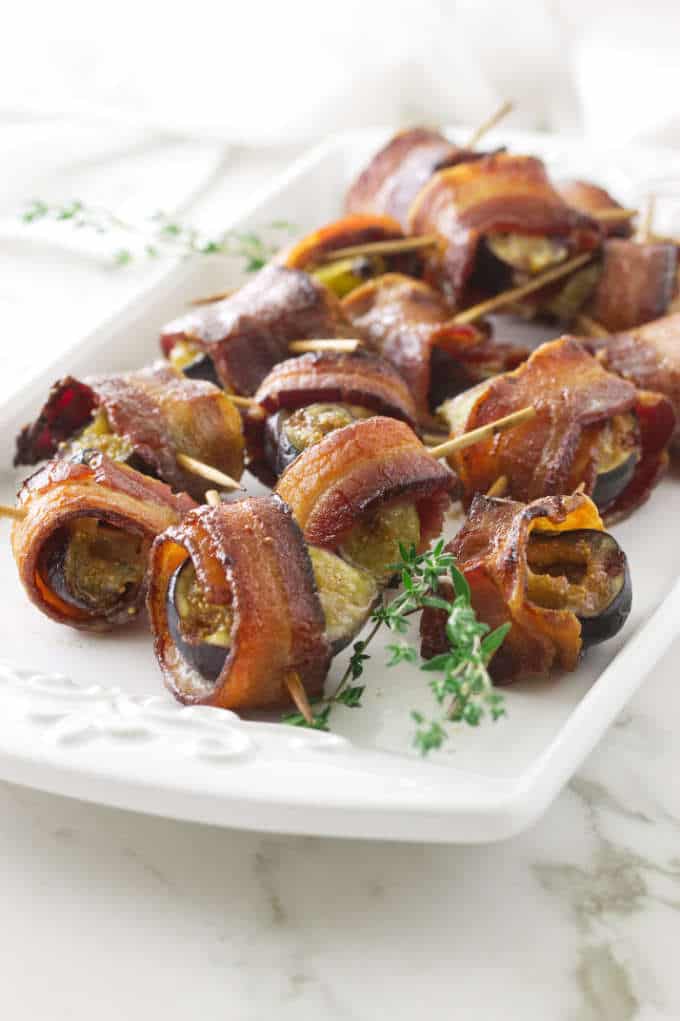 Try these quick and easy bacon-wrapped stuffed figs for your next party. They are also delicious made with sweet plump dried figs and pit-free dates if fresh figs are not in season.
Some Other Recipes We Are Sure You Will Love:
Connect With Savor the Best:
Please follow us on our social media accounts
Facebook * Instagram * Pinterest * Youtube * Twitter
Did you make this recipe? We would love to hear from you. Drop us a comment below.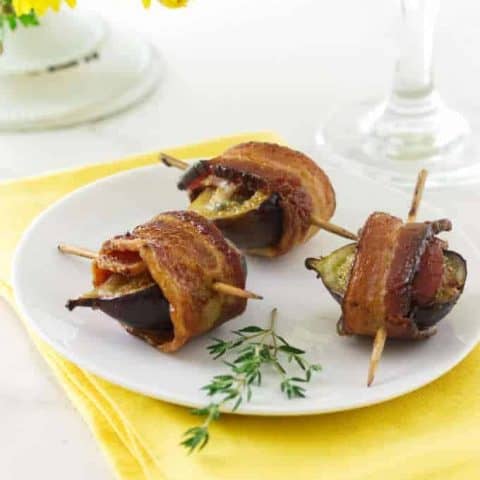 Bacon Wrapped Stuffed Figs
Crispy, salty, creamy and sweet all in one bite. The savory tastes and textures of these bacon wrapped stuffed figs are a delight to the tastebuds.
Ingredients
16 slices thin-cut bacon
8 firm, ripe fresh figs, halved lengthwise
2 tablespoons fresh thyme leaves or 16 small sprigs
6 ounces creamy blue cheese, cut into small cubes
1/3 cup honey, warmed in microwave
Flaky salt, such as Maldon, for sprinkling
Instructions
Preheat the broiler and set oven rack in top position. Place parchment paper or aluminum foil on a rimmed baking sheet. Set a wire rack over the baking sheet.
Add the bacon slices to a large skillet set over medium heat. Fry the bacon just until the fat has been released and the bacon is partially cooked. Do not fry crisp, the bacon should be flexible. Transfer the bacon to a paper towel-lined plate to drain and cool.
Using a small appetizer spoon or the tip of a paring knife, push aside the pulp in the center of each halved fig to create a small hollow area. Drop a few thyme leaves or a thyme sprig into each hollowed fig half and place a piece of blue cheese on top. Press the cheese down slightly into the fig.
Wrap a strip of bacon around each filled fig half. Secure with toothpicks and trim off the excess bacon. Place on the wire rack of the prepared baking sheet.
Brush the warm honey over the top of each bacon-wrapped fig. Broil until the bacon gets crisp and brown, about 4 minutes. Sprinkle lightly with coarse sea salt and serve warm or room temperature
Notes
This recipe works best with thin-cut bacon. The thin-slices of bacon will crisp up in the broiler and keep the cheese from dripping out.
The bacon should be flexible and long enough to overlap by 1/2-inch in order to secure with a pick. Trim off the excess bacon with kitchen shears.
Excess bacon pieces can be stored in a small closable bag or lidded container for future use. Store in the refrigerator or freezer.
We used the large plump Brown Turkey figs but any fig can be used.
If using dried figs, soften them by simmering in water for a few minutes, then drain and pat dry. Cut an opening in the side, fill and wrap as per recipe.
This recipe works with dried pit-free dates as well.
Nutrition Information:
Yield:

16
Serving Size:

1 appetizer
Amount Per Serving:
Calories:

120
Total Fat:

7.1g
Saturated Fat:

3.5g
Cholesterol:

23mg
Sodium:

389mg
Carbohydrates:

8.7g
Fiber:

.4g
Sugar:

6.9g
Protein:

7.4g