The sky is the limit when it comes to creating that crunchy Italian bruschetta. Our Sun Dried Tomato Bruschetta is just one variation of Italy's antipasto. This quick and easy treat is perfect while waiting for the backyard BBQ to heat and catching up with the party guests.
These crunchy bread toasts are topped with a feta cream mixture and chopped sun-dried tomatoes. We added a sprinkle of chopped fresh oregano to give it an extra touch. This is so, so simple to make and will be a huge hit with the gang.
We recently published our Feta Cream Dressing and Dip recipe. It was so good we have been putting it on everything. Putting it on these yummy sun-dried tomato bruschetta toasts makes a fast and easy appetizer.
The tangy cheese mixture has a creamy texture and is fantastic with the sun-dried tomatoes and snipped fresh oregano.
How To Make Our Sun Dried Tomato Bruschetta:
First, slice and toast a long sourdough baguette.
The feta cream mixture is so easy to make. Just toss the ingredients into a food processor and blend until creamy. Thin to the consistency for the specific use. This creamy spread is great on our sun-dried tomato bruschetta. Also, it is terrific as a dip for veggies, and we loved it with our watercress and roasted beet salad.
We used the oil-packed sun dried tomatoes for our sun dried tomato bruschetta which we drained in a fine-mesh strainer and then blotted off the excess oil with paper towels.
Tip: Oil-Packed Sun Dried Tomatoes
Here is a tip to remove more of that excess oil: After straining the oil off, run warm tap water over the tomatoes while still in the strainer, tossing gently with a fork. Next, press down to strain off the water, place the strained tomatoes on a paper towel-lined plate and blot well.
We hope you enjoy these Sun Dried Tomato Bruschetta with Feta Cream as much as we do.
More Appetizer Recipes:
Have you tried this recipe? We would love to hear from you. Drop us a comment below or tag us on Instagram.
Like us on Facebook too!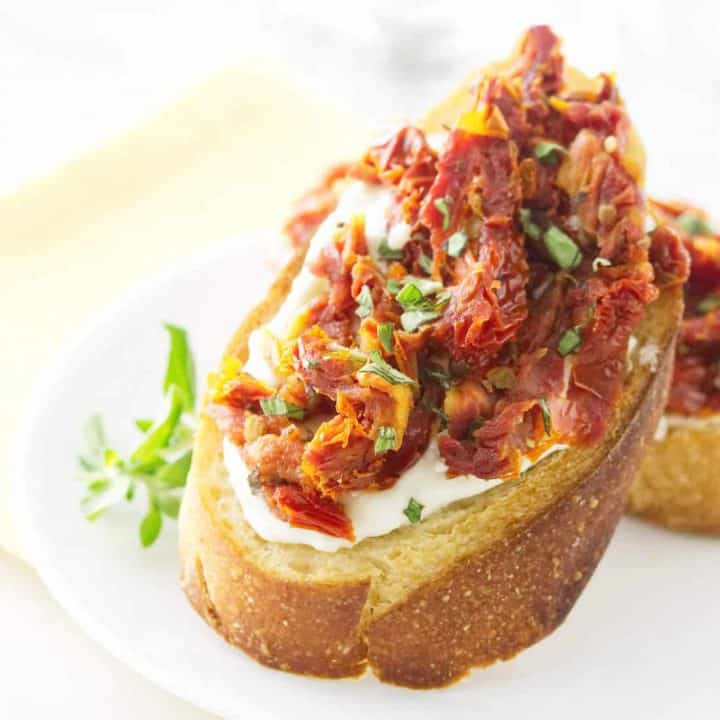 Sun Dried Tomato Bruschetta
Yield: 24 servings
Prep Time: 15 minutes
Total Time: 15 minutes
These sun dried tomato bruschetta crunchy toast appetizers are slathered with a feta cream mixture and heaped with sun dried tomatoes. Easy peasy!
Ingredients
1 long sourdough baguette sliced into 24, 1/2 inch slices
2 tablespoons olive oil
1 recipe (24 tablespoons) Feta Cream Salad Dressing and Dip
12 ounce jar of oil packed sun dried tomatoes, drained
1/2 cup chopped fresh oregano
Instructions
Preheat the oven to 425°F
Place the bread slices on a parchment lined baking sheet, brush with olive oil on each side and transfer to the oven. Toast the slices on each side until lightly golden, about 6 minutes per side. Remove from the oven and allow to cool on the pan.
In a fine-mesh strainer drain the oil from the tomatoes and spread onto a paper towel-lined plate. With a pad of folded paper towels, blot off as much of the oil as possible. Place the tomatoes on a cutting board and give them a rough chop.
To Assemble:
Spread one tablespoon of the feta cream on each bread slice, add a tablespoon of chopped tomatoes and garnish with oregano. Arrange on a serving plate and enjoy!
Nutrition Information:
Yield: 24
Serving Size: 1
Amount Per Serving:
Calories: 67
Total Fat: 5g
Saturated Fat: 1g
Trans Fat: 0g
Unsaturated Fat: 3g
Cholesterol: 3mg
Sodium: 91mg
Carbohydrates: 6g
Fiber: 1g
Sugar: 0g
Protein: 1g
Nutrition information is a guideline only, is calculated automatically by third party software, and absolute accuracy is not guaranteed.