Lemongrass chicken satay has all the complex flavors of Thailand, sweet, sour salty and spicy. Grilled over hot coals or stove-top grill pan and served with a spicy peanut sauce. This recipe can be a meal in itself with a side of rice and a small salad or served in smaller portions as an appetizer.
We grilled up this lemongrass chicken satay recently when we had an unusual four-day blessing of nice sunny weather. It was our first 2016 BBQ cookout and the lemongrass chicken satay was served with spicy peanut sauce and fluffy jasmine rice.
Satay, deliciously yummy grilled food on a stick! For all the Thai food lovers in and around the Seattle area, I recommend a visit to the Asian restaurant, Wild Ginger for a feast extraordinaire, especially if you like satay.
Meat skewered onto a stick and and grilled over hot charcoal coals is usually served with a dipping sauce and our spicy Thai peanut sauce is delightful with it's complex flavors enhancing the grilled chicken.
When we lived in the Philippines their version of this popular street food could be found on any street corner. Satay is easy to make, it can be marinated overnight for maximum flavor and as the meat is in small chunks on a stick it grills up quickly.
We use chicken thighs in our recipe as they are so flavorful but chicken breast tenders are also delicious as is tender strips of beef or pork. The chicken is cut into strips, marinated for several hours in a flavor-rich mix of lemongrass, ginger, garlic, honey, hoisin sauce, soy sauce and spices.
The chicken is threaded onto wooden bamboo skewers and grilled over hot coals. Yes, it can be grilled on a stove-top grill, over a gas BBQ or broiled in the oven but I would miss the smokey taste of the outdoor charcoal grill. It helps to soak the skewers in water before hand to prevent them from burning.
This peanut sauce is a copy-cat version of one from our local deli. They have an exclusive, non-sharable recipe that is made in-house but the ingredients are listed on the container. My source did say that peanut butter is not used in their sauce. We have been tinkering around adding a bit of this and a bit of that and have reached a delicious blend of flavors.
Asian recipes you might like:
CONNECT WITH SAVOR THE BEST!
Be sure to follow us on our social media accounts
Facebook | Twitter | Youtube | Pinterest | Instagram
If you make one of our recipes, snap a photo and tag it @savorthebest on Instagram and hashtag it #savorthebest
Yield: 8 servings
Lemongrass Chicken Satay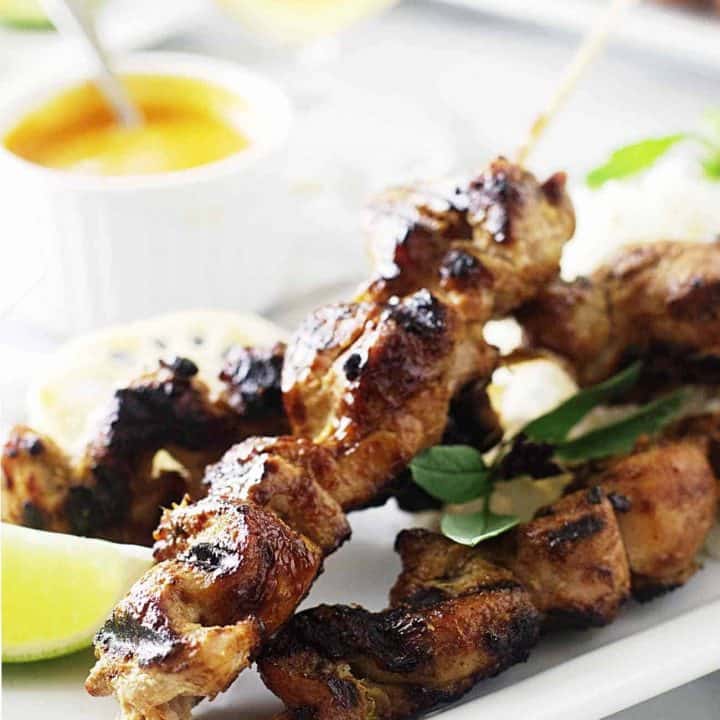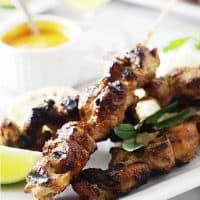 Lemongrass chicken satay has all the complex flavors of Thailand, sweet, sour salty and spicy. Grilled over hot coals or stove-top grill pan and served with a spicy peanut sauce. This recipe can be a meal in itself with a side of rice and a small salad or served in smaller portions as an appetizer.
Prep Time 1 hour
Cook Time 10 minutes
Total Time 1 hour 10 minutes
Ingredients
For the Marinade:
1 stalk lemongrass, white part only, peeled and chopped finely
2 tablespoons minced fresh ginger root
4-5 garlic cloves, minced
3 tablespoons honey
1 tablespoon tahini paste
1 tablespoon hoisin sauce
1 tablespoon fish sauce
1 teaspoon ground Chinese five-spice
pinch of cayenne red pepper
1/4 cup fresh squeezed lime juice (about 2 limes)
4 boneless, skinless chicken thighs
8 wooden skewers
Coconut or vegetable oil for basting during grilling
Fresh Limes and Thai basil for garnish
For the Thai Peanut Sauce:
1 1/4 cup roasted peanuts, divided
1/2 cup water
4 cloves garlic, minced
2 tablespoons soy sauce
2 tablespoons tahini paste
3 tablespoons honey
1 chunk ginger root, about the size of a walnut, peeled
1/4 teaspoon cayenne pepper
1/4 cup squeezed fresh lime juice (about 2 limes)
Instructions
For the Marinade with Chicken:
In a small dish, combine the marinade ingredients and whisk to combine thoroughly. Set aside.
For the Chicken:
Use a meat pounder or rolling pin to flatten any thick parts of the chicken so the meat is close to the same thickness.
Cut the chicken into 2-inch strips, add them to a shallow dish and pour the marinade over them, turning to coat both sides with the marinade. Cover the dish with plastic wrap and refrigerate for 4-5 hours, overnight if possible.
For the Thai Peanut Sauce:
Add one cup of the peanuts, the water, garlic soy sauce, tahini paste, honey, ginger, cayenne pepper and half of the lime juice to the blender or food processor. Process ingredients to a smooth sauce, taste and adjust for flavor and consistency, adding the remaining lime juice if needed.
Process the remaining peanuts separately to a coarse grind and stir into the finished sauce giving it a grainy consistency. It may be necessary to adjust the consistency with additional water as the peanuts will thicken the sauce slightly.
When ready to cook the chicken satay:
Soak the wooden skewers in cold water for 30 minutes to keep them from burning during the grilling process.
To Cook the Chicken Satay:
Lift a chicken strip out of the marinade, allowing the marinade to drip off, thread the meat onto the wooden skewer, adding several strips. Place the completed skewer on a separate plate. Repeat with each wooden skewer dividing the chicken evenly between the skewers.
Prepare your grill with enough coals to maintain a medium-heat. When the coals are ready, baste the chicken lightly with oil and place the skewers on the grill and cook for 3 to 4 minutes or until lightly charred and lift off the grill easily. Using tongs, turn the skewers and cook for an additional 3 to 4 minutes or until the chicken is again lightly charred and opaque throughout.
Serve hot or room temperature, garnished with lime wedges, fresh basil, Thai peanut sauce and hot jasmine rice
Nutrition Information
Yield
8
Serving Size
1
Amount Per Serving
Calories 407
Total Fat 24g
Saturated Fat 7g
Trans Fat 0g
Unsaturated Fat 16g
Cholesterol 68mg
Sodium 656mg
Carbohydrates 33g
Fiber 4g
Sugar 20g
Protein 22g
Nutrition information is a guideline only, is calculated automatically by third party software, and absolute accuracy is not guaranteed.