There is a lot of heat in our Thai spicy shrimp rice bowl and it all comes from the shrimp that is sautéed in garlic and hot chili oil plus the spicy peanut sauce.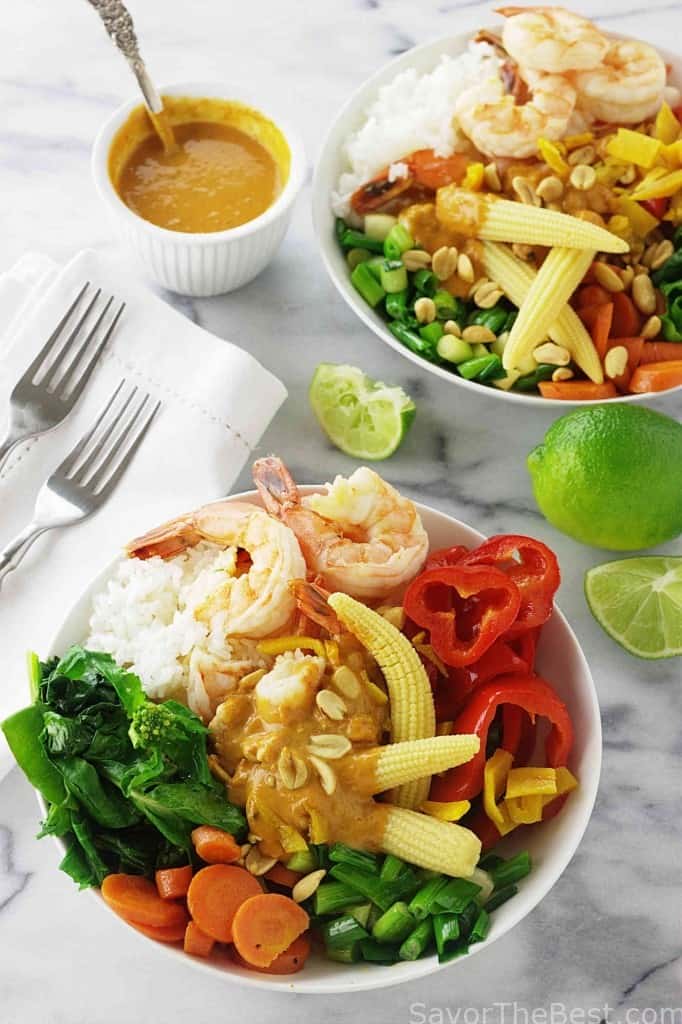 We recently posted our kamut grain bowl with roasted chicken and curry sauce and today we bring you a Thai spicy shrimp rice bowl which is featuring jasmine rice.
Jasmine rice is grown primarily in the mountain areas of Thailand. It is a long-grained rice with the fragrance of the jasmine flower and the fresher the rice, the more powerful the fragrance.
It is available in either the natural un-hulled grain which when cooked, has a somewhat off-white color, or the jasmine rice we are most familiar with, the hulled variety that cooks up snow-white. Either variety is fluffy, fragrant and delicious rice and is wonderful in this spicy shrimp rice bowl.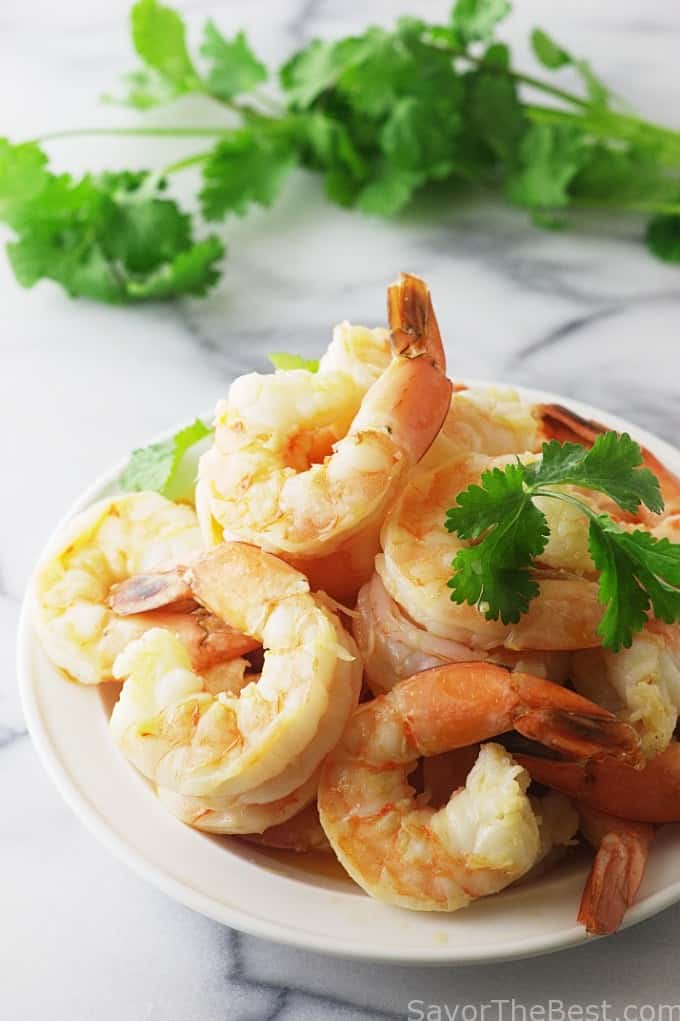 The jumbo-size shrimp are succulent, flavorful and spicy from being sautéed in the coconut and hot chili oils and grated garlic. We used a store-bought peanut sauce in this Thai rice bowl, it is made on-site at Central Market in their deli kitchen but you can just substitute your favorite peanut sauce when you make your Thai rice bowl.
We chose to use Gai Lan as the dark leafy greens for this rice bowl. Gai Lan is a Chinese broccoli, it has large leaves and the stems are about the size of thin asparagus and they are also edible.
Gai Lan is a mild tasting vegetable and it is found in the Asian section of the produce area in most markets. The other vegetables in our rice bowl are carrots, scallions and red sweet peppers.
The pickled baby corn-on-the-cob is crisp and crunchy and compliments the spicy peanut sauce that is spooned on top. Finally, we added sliced dried sweet mango, crunchy salted peanuts then drizzled everything with fresh squeezed lime juce.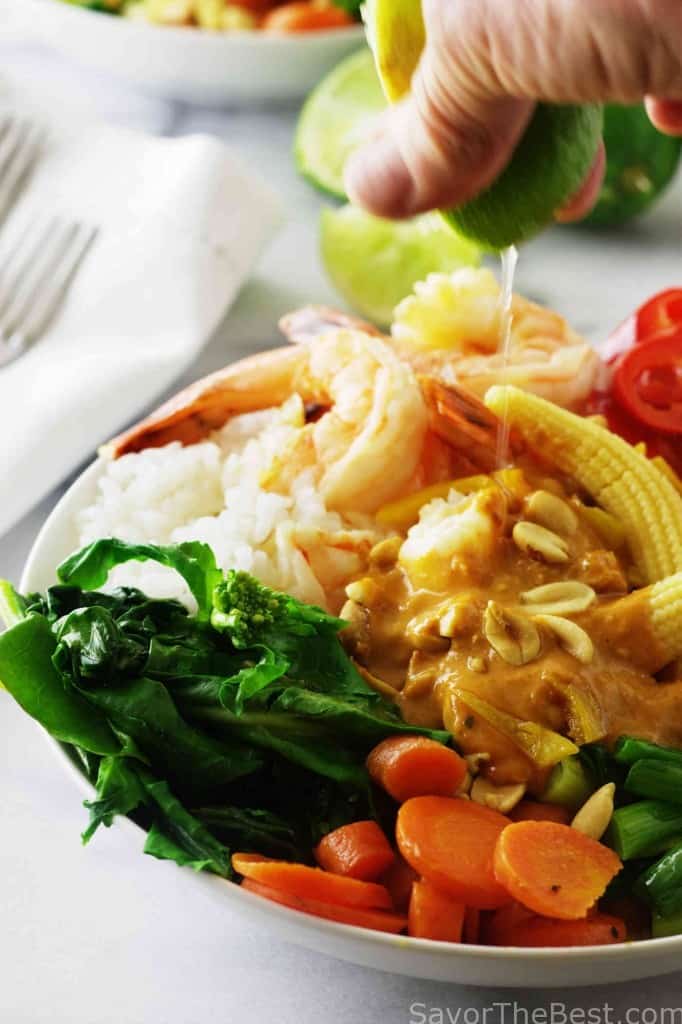 You can put this rice bowl together in about half-an-hour as while the rice is cooking it will take but a few minutes to sauté the shrimp and prep the vegetables. When the rice is cooked, add a portion to each bowl and top the rice with the shrimp. Sauté the vegetables individually, divide equally between the bowls, add the remaining condiments and squeeze fresh lime juice over the top.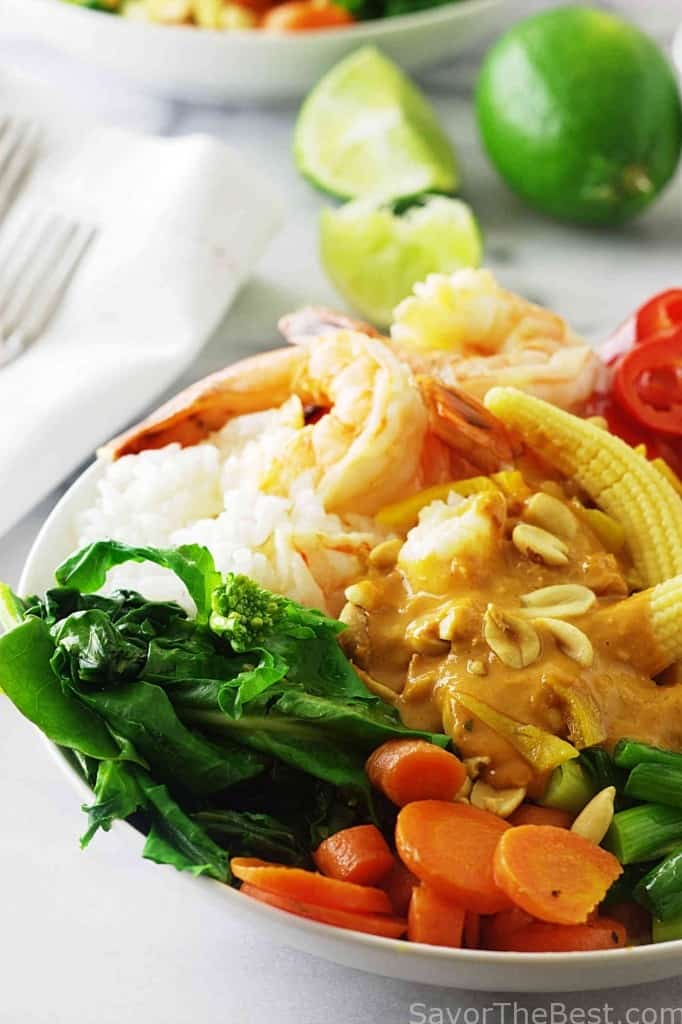 Recipes using ancient grains:
Oatmeal, Raisin, Spelt Cookies,
Toasted Farro Salad with Nasturtium Flowers,
CONNECT WITH SAVOR THE BEST!
Be sure to follow us on our social media accounts
Facebook * Instagram * Pinterest * Twitter * Youtube
Did you make this recipe? We would love to hear from you. Drop us a comment below.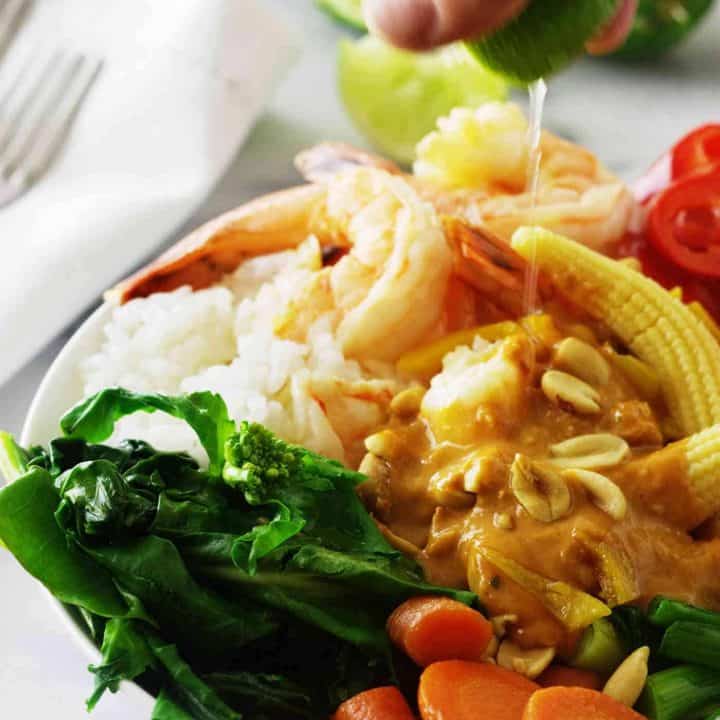 Thai Spicy Shrimp Rice Bowl
Yield: 4 servings
Prep Time: 15 minutes
Cook Time: 20 minutes
Total Time: 35 minutes
The jumbo shrimp in this Thai Spicy Shrimp rice bowl are succulent, flavorful and spicy from being sautéed in the coconut and hot chili oils and grated garlic. The bowl also has fragrant jasmine rice and a nice mix of veggies and is topped off with a spicy peanut sauce, peanuts and dried mango.
Ingredients
For the Rice:
1 cup jasmine rice
1 1/2 cups water
1/2 teaspoon sea salt
For the Spicy Shrimp:
3 cloves garlic
1/2 lb. (8-10) large shrimp or medium size, peeled and deveined
1 tablespoon coconut oil
2 tablespoons hot chili oil
1/4 teaspoon salt
For the Vegetables:
2 carrots about 6-8-inches each, scraped and sliced
1 long 6-inch sweet red pepper, seeded and sliced or 1 large red bell pepper
1 bunch scallions, sliced 1/2 inches
1 or 2 bunches gai lan leaves (Chinese Broccoli)
For the Condiments:
6-8 pieces of pickled baby corn-on-the-cob
1 cup store-purchased spicy peanut sauce
1/2 cup salted dry-roasted peanuts
1/2 cup sliced dried mangos
Fresh coriander (cilantro) sprigs
1 or 2 fresh limes
Instructions
For the Rice:
Rinse the rice in cold water until the water runs clear. In a medium saucepan with a tight-fitting lid, combine rice and 1 1/2 cups of water, and 1/2 teaspoon salt. Bring to a boil, stir once, cover, and reduce heat to low. Simmer for 18 minutes. (Do not lift the lid or stir!) Remove from heat and let stand, covered, for 5 minutes; fluff with a fork.
For the Spicy Shrimp:
In a large skillet, heat the oils over medium heat. Add the shrimp and the garlic, stir for 3 minutes. The shrimp should be a bright pink. Watch them carefully so that they do not over cook and curl tightly. A perfectly cooked shrimp will be in the shape of a 'C" and not closed completely. Transfer them to a plate as they are cooked.
To Cook the Vegetables:
In the same skillet, over medium heat, add the carrot slices and cook and stir for 3-4 minutes adding additional oil if necessary. Push the carrots to one-half of the skillet and add the red pepper slices and cook and stir until slightly soft, keeping the two vegetables separate, about 2-3 more minutes. Remove and set aside separately. Add the scallions and stir. Cook till just heated through. Remove and set aside. Add the gai lan and 2-3 tablespoons of water, place a lid on the skillet and steam until wilted. Remove and set aside.
To Assemble:
Add a portion of rice to each bowl, and place an equal amount of the shrimp on top. Divide each cooked vegetable component equally and add it to the bowls. Add the pickled baby corn-on-the cob, peanut sauce, peanuts and sliced dried mango. Garnish with fresh cilantro sprigs and squeeze the lime over the entire bowl.
Notes
The nutrition values do not include the values of the spicy peanut sauce.
Nutrition Information:
Yield: 4
Serving Size: 1
Amount Per Serving:
Calories: 482
Total Fat: 16g
Cholesterol: 381mg
Sodium: 377mg
Fiber: 7g
Sugar: 14.8g
Protein: 16g