Black rice sushi rolls? Yes, and they are so good! I know that white sushi rice is the traditional version but I have been seeing sushi rolls made with brown rice so why not black rice?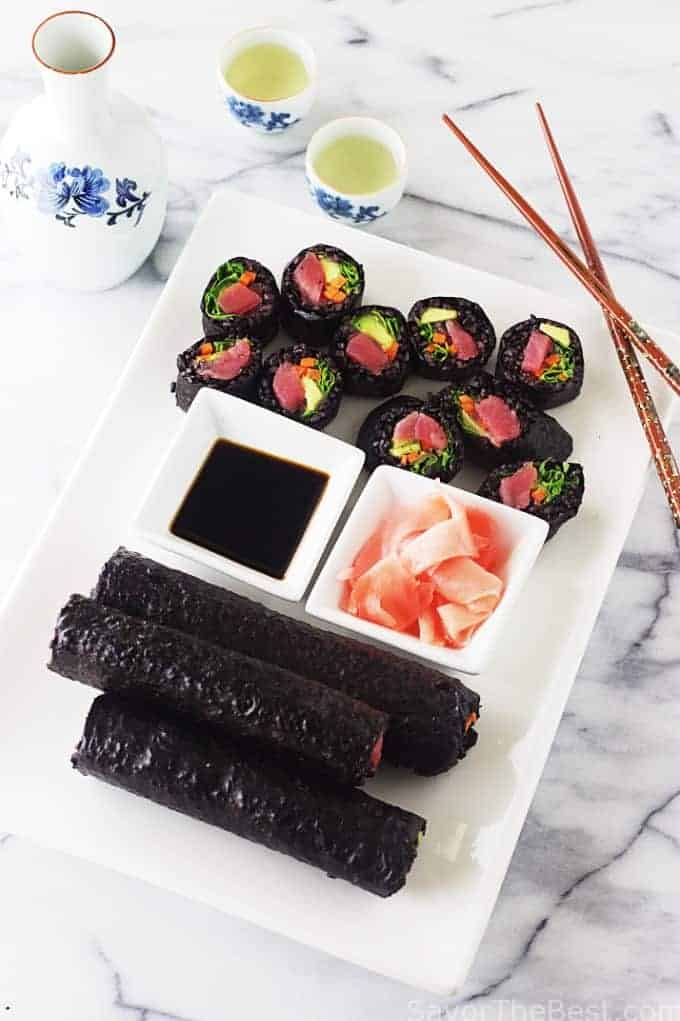 It seems that I have been on a black rice kick lately with my black rice-mango salad, our Instant Pot black rice, and the quiche with black rice crust so this is my version of healthy black rice sushi rolls. We also have salads with black rice. Check out this black rice salad with tomatoes or our sweet potato and black rice salad.
This was a nice addition to our spread of snackies while we watched the Seahawks lose at the Super Bowl. I had made a tray of appetizers that included polenta points with sun dried tomato pesto, artichoke-olive bruschetta, freshly made hummus with pita chips and these black rice sushi rolls.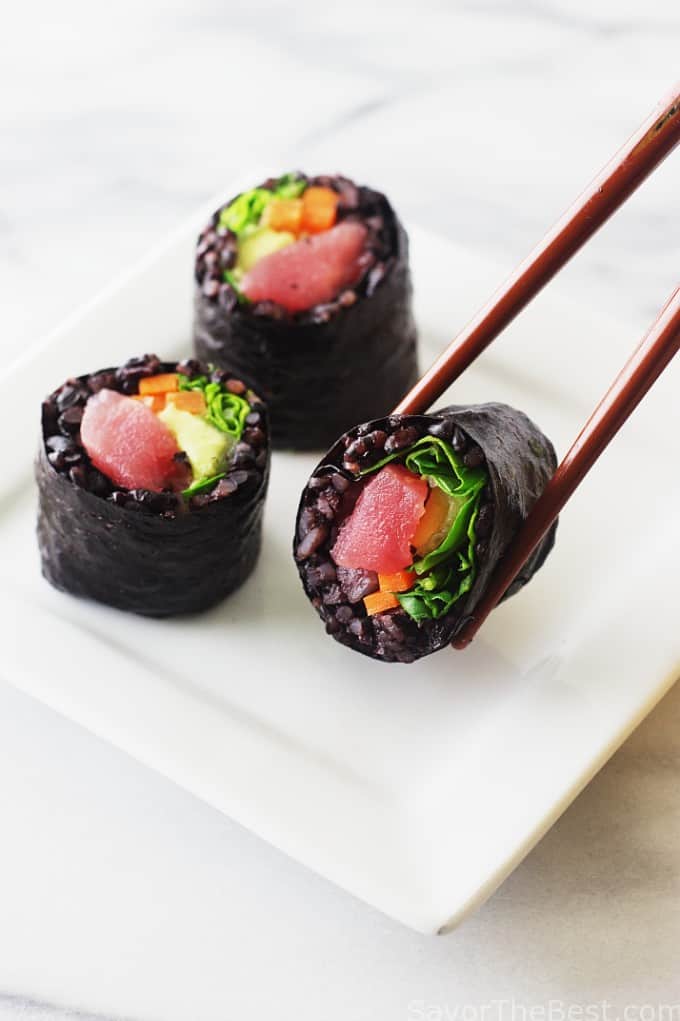 What Is In These Black Rice Sushi Rolls:
Half of the sushi rolls are filled with the vinegary black rice, ahi tuna slices and pickled ginger and they are delicious. The other half of the rolls are filled with the black rice mix, cucumber, carrot slivers, radish slices, avocado and arugula.
These veggie black rice sushi rolls are my favorite with the crisp crunchiness from the carrots and cukes, the zing from the radish and arugula plus the creamy avocado. Yum, good!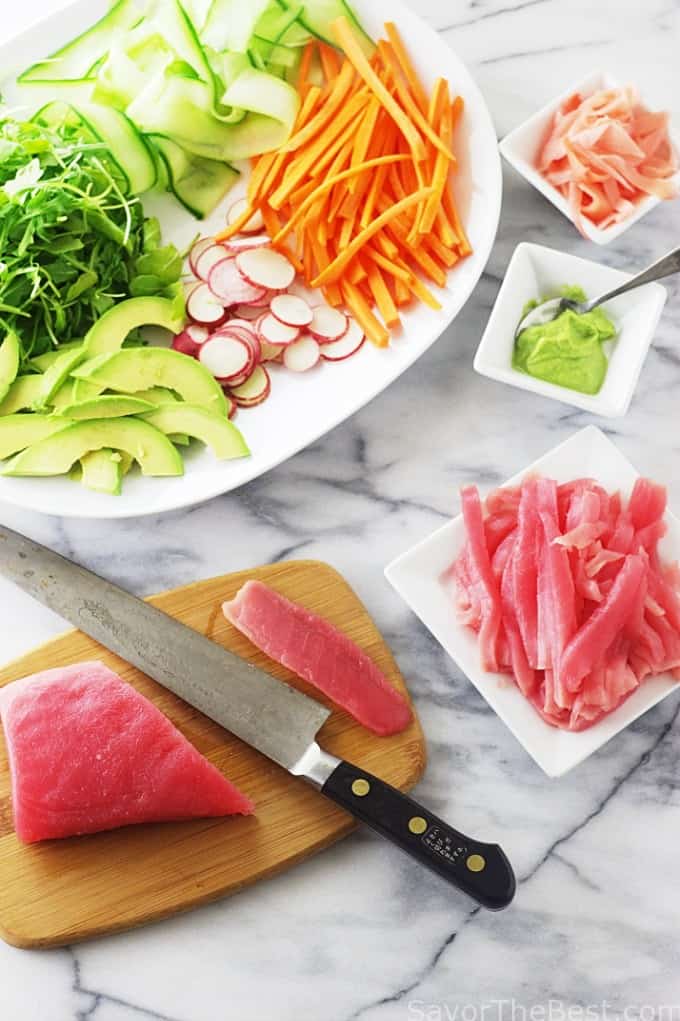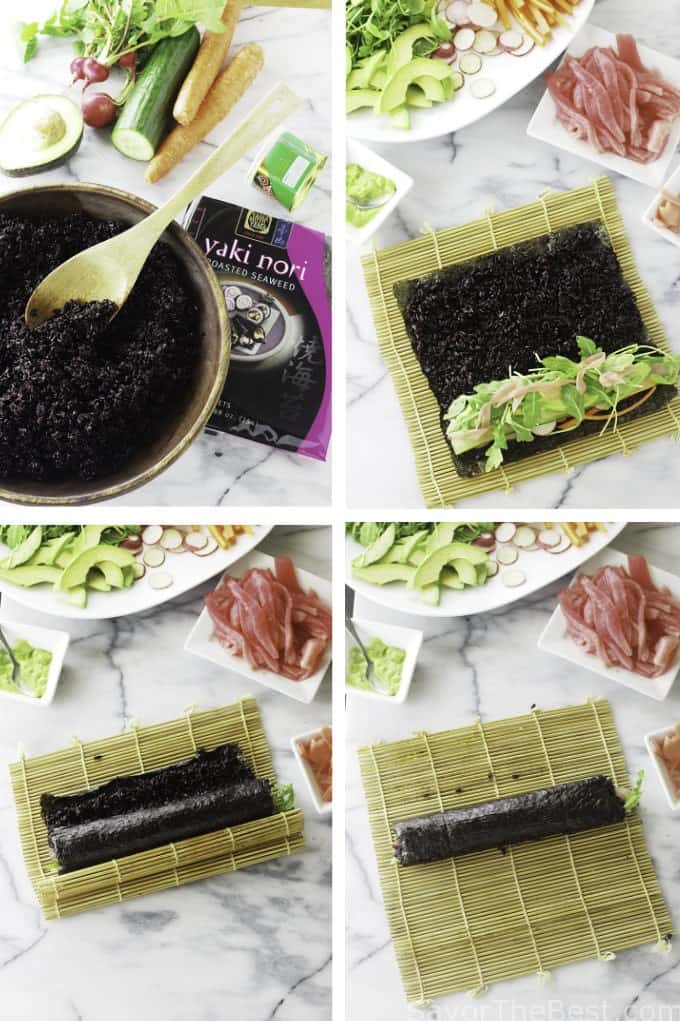 Ingredients and Tools to Make Black Rice Sushi Rolls:
Sushi rolls are not that difficult to make although it is important to buy the best nori seaweed wrappers. They can be found in most grocery stores but I like to buy them in one of the Asian stores where I can ask a clerk which is the best quality. Also, I will pick up some pickled ginger while I am there, a can of powdered wasabi and a bottle of soy sauce if I don't have any at home.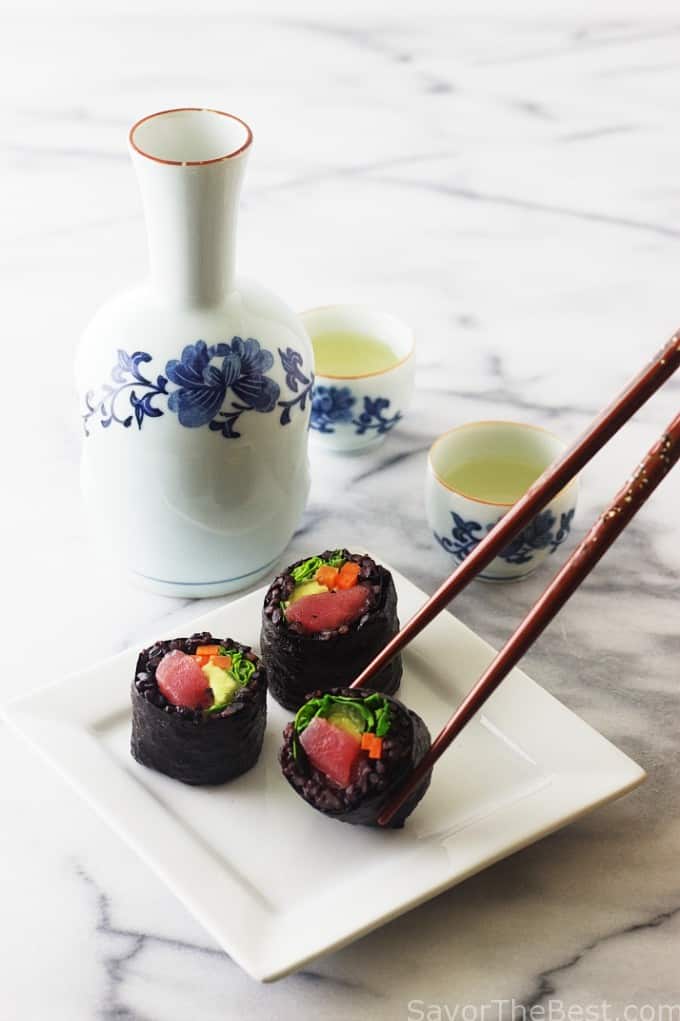 What Is Sushi?
The definition of sushi is cold vinegary rice that is formed into a variety of shapes.
One version that I make is not to roll it but to squeeze a bit together in my hand and form it into a small elongated shape, press an indentation on top with my finger and place a slice of ahi tuna, fresh salmon or cooked shrimp or vegetables on top. That makes a quick snack if I don't feel like making the rolls.
Tips To Roll The Black Rice Sushi Rolls:
These rolls are made with a bamboo mat which helps get the roll started and keeps it firm. After it has been rolled I wrap the mat around it and squeeze it gently to keep it tight.
These black rice sushi rolls can also be made without using a bamboo mat in which case you could use parchment paper or plastic wrap. Actually, they are kinda fun to make.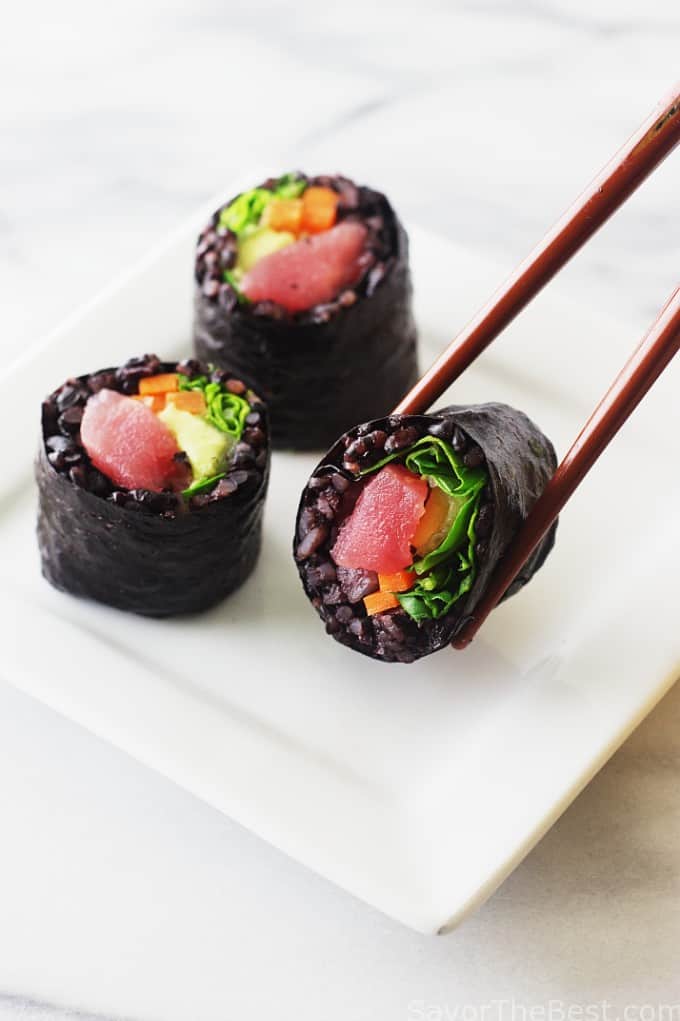 Check Out These Recipes:
Connect With Savor the Best:
Please follow us on our social media accounts
Facebook * Instagram * Pinterest * Youtube * Twitter
Did you make this recipe? We would love to hear from you. Drop us a comment below.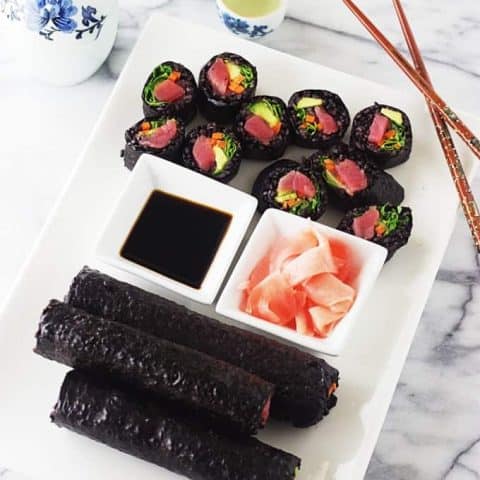 Black Rice Sushi Rolls
Yield: 32 slices
Prep Time: 1 hour 30 minutes
Cook Time: 35 minutes
Total Time: 2 hours 5 minutes
Black rice sushi rolls filled with fresh ahi tuna, and a crunchy veggie mix
Ingredients
For the Sushi Rice:
2 cups black glutinous rice
3 cups water
4 tablespoons plain rice vinegar
3 tablespoons granulated sugar
1 teaspoon salt
For the Roll Fillings:
1 package of roasted seaweed sheets
2-3 ounces sushi quality ahi tuna, fresh salmon or fresh fish of choice
pickled ginger
wasabi paste
cucumber sticks
carrot sticks
radish slices
avacodo slices
arugula greens
soy sauce for dipping
Instructions
For the Rice:
Rinse the rice and add it and 3 cups of water to a medium size pan and bring to a boil over medium-high heat. Reduce the heat to low, add a tight fitting lid and cook for 30-35 minutes until all the water is absorbed.
While the rice is cooking, slice and cut the fish and vegetables and set up a station to assemble the rolls. Add the vinegar, sugar and salt to a small dish and zap it a couple seconds in the microwave to dissolve completely. Allow the vinegar mixture to cool before adding to the rice.
Transfer the cooked hot rice to a large non-metal shallow bowl and sprinkle the vinegar mixture over the top. Using a plastic or silicon spatula, slice and toss the rice gently to mix and cool it down. The grains of rice should be a little sticky and hold together when a lump is formed. You can also help the cooling and drying by fanning it with a hand-held item such as a magazine, or set up a table fan to blow on the rice as you lift it.
To assemble the rolls:
Lay the bamboo mat flat on a cutting board and place one sheet of the seaweed on the mat shiny side down. Spoon about a 1/2 cup of the rice onto the seaweed and gently spread it to the edges but leave a 1-inch boarder at the far end.
Add a strip of your ingredients across the end closest to you and, using the mat as your helper, begin rolling and pressing to form the roll. Continue to the far end of the seaweed, stop rolling long enough to dampen the open edge with your fingers dipped in water which will seal the roll. Place the finished roll on a plate and continue making the remaining rolls.
To serve, slice each roll in 1 or 1-1/2-inch sections and place on a serving plate with soy sauce and the remaining wasabi and ginger.
Notes
Be sure to transfer the rice from the metal pan to a large shallow wooden, glass or plastic bowl as the reaction of the vinegar and metal will change the flavor of the rice.
Recommended Products
As an Amazon Associate and member of other affiliate programs, I earn from qualifying purchases.
Nutrition Information:
Yield: 16
Serving Size: 2 slices
Amount Per Serving:
Calories: 64
Total Fat: 1.9g
Cholesterol: 5mg
Sodium: 169mg
Carbohydrates: 9.1g
Fiber: 1.5g
Sugar: 2.9g
Protein: 3.7g