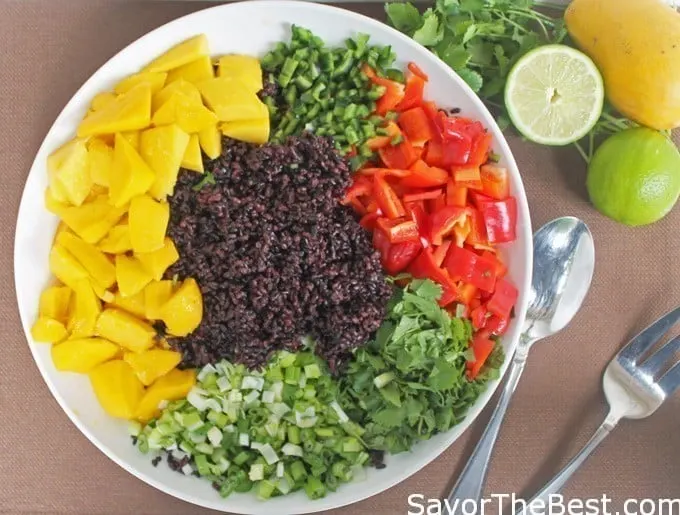 Savor The Best has been introduced to ALOHA and inspired to create a healthy whole-food recipe suitable for a party. ALOHA is located in New York City and recently has been voted #1 of the 2014 NYC hottest startup companies. At ALOHA, their focus is on health, exercise, whole-food eating, and positive life choices. Their manifesto is to create a happy, healthy life by balancing the way we nourish, move, relax, connect and think. They have a large team of experts that work to create the tools and information to achieve this goal. We have chosen this Black Rice-Mango Salad as our post entry which fits perfectly with their standards for being healthy, nutritious and delicious.
Black rice is an ancient grain and has been cultivated in Asia for centuries. It was considered a treasure and reserved exclusively for the emperors. It was forbidden for the common people to eat which is why it is also referred to as Forbidden Rice.
According to the website, Health, black rice is on the superfoods list. It is so dense with nutrients and antioxidants that it is rated as one of the most healthy choices of rice in the world. When black rice is raw it definitely has a black color but when it is cooked the color changes to a purplish-black.
This color change is due to the pigments known as anthrocyanins which are the purple and reddish pigments in the bran hull of the rice. These pigments are also found in blueberries, grapes and other blue-purple foods, and interestingly, black rice has more anthrocyanins antioxidents than blueberries.
Research has shown that these pigments fight the free-radicals roaming in our bodies, they reduce inflammation and improve heart and brain function through better blood circulation and healthy arteries.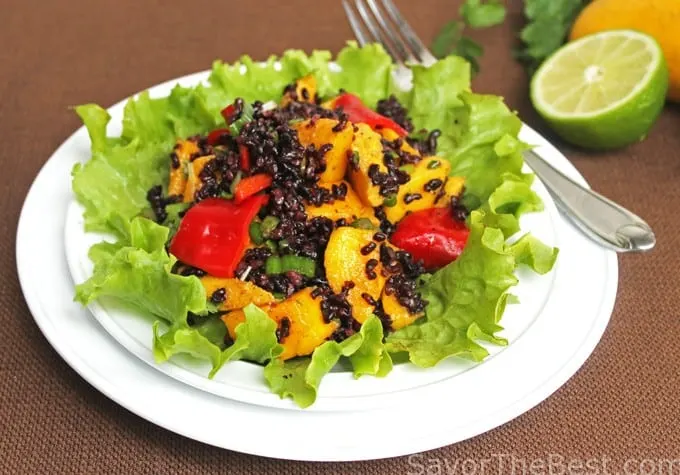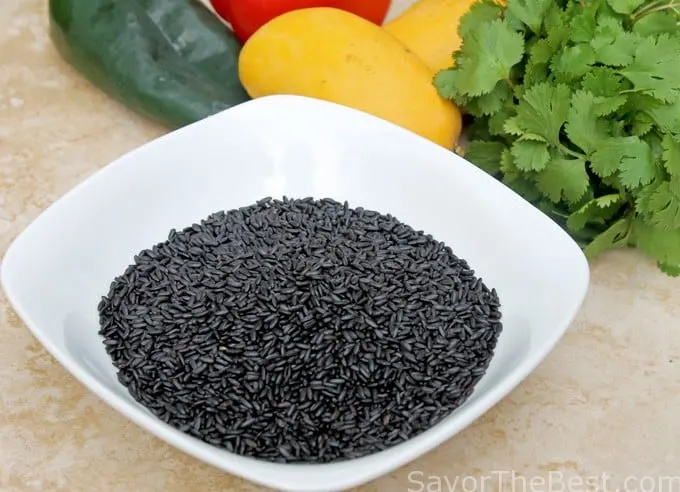 Raw black rice has a definite black color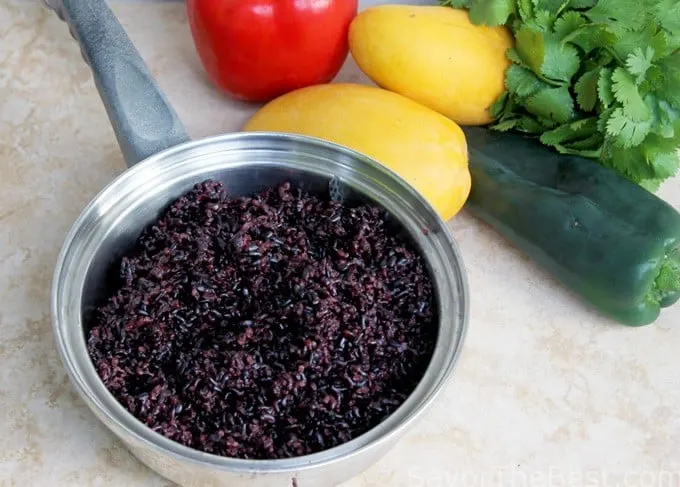 Black rice turns a purplish color after it is cooked
Black rice is a glutinous rice and is prepared the same as brown rice. The nutritional values are nearly identical with there being 160 calories in 1/4 cup uncooked black rice, 1.5 grams of fat, 34 grams of carbs, 5 grams of protein and 2 grams of fiber. Some recipes advise to soak the black rice prior to cooking it but I skip that instruction and after rinsing it in cold water, add clean cold water and bring it to a boil, reduce the heat to low and cook it for 30 minutes until it is the consistency I want. Personally, I like my rice just a little firm so it doesn't get "mushy" in my salad. If there is still some liquid remaining in the pan when it is done, I drain it off and fluff it with a fork. Incidentally, this is also how I cook my wild rice.
I love this salad, plus, just look at those beautiful colors! The addition of the bright yellow mango gives the salad a delicious sweetness while the red and green peppers add some crunch. Additionally, the cilantro, cumin and lime juice add a great flavor punch. This is a wonderful low-fat, high-fiber salad packed full of nutrients and flavor. Bring it to your next social gathering and listen to all the compliments.
Disclosure: Savor the Best did not receive compensation for this post.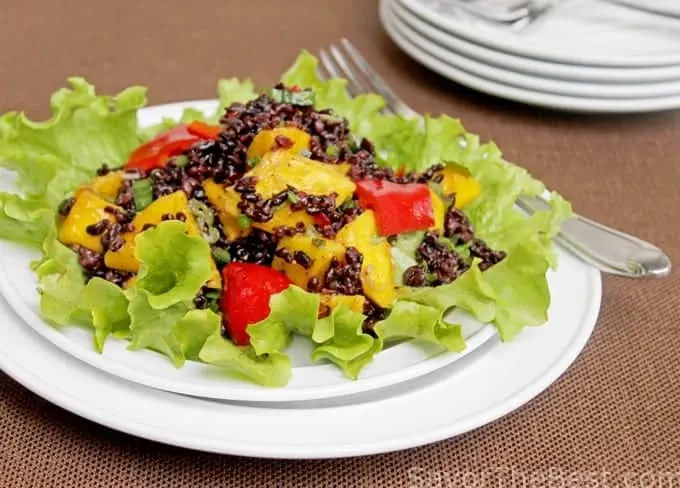 Connect With Savor the Best:
Please follow us on our social media accounts
Facebook * Instagram * Pinterest * Youtube * Twitter
Did you make this recipe? We would love to hear from you. Drop us a comment below.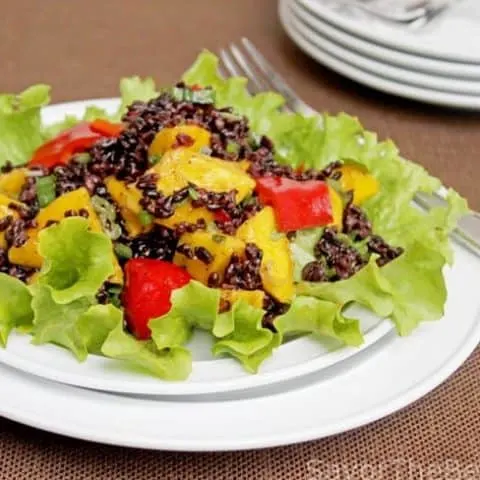 Black Rice Salad with Mango
Total Time:
1 hour
15 minutes
Black rice paired with sweet mangos and crunchy vegetables with a cumin and lime dressing. Black rice is considered to be one of the world's most healthy rice. Black rice-mango salad is easy to prepare and is low in fat and high in fiber.
Ingredients
1 cup black rice
2-1/4 cups water
1/2 teaspoon kosher salt
3 firm ripe yellow mangos, cut into 1" pieces
2 medium-size red bell peppers, cut into 1/2" pieces
1 medium-size green bell pepper, cut into 1/2" pieces
1 medium poblano pepper, seeded and diced
1 cup rough-chop cilantro
3 or 4 scallions, sliced
1 teaspoon ground cumin
1/2 cup lime juice, about 2 or 3 limes
Salt and pepper to taste
Instructions
Rinse rice under cold water until water runs clear. Add to a 3-quart saucepan with water and salt. Bring to a boil over medium-high heat. Reduce to simmer and cook, covered, for 30 minutes or until tender. Fluff with a fork and place in the refrigerator to cool before adding the remaining salad ingredients.
When the rice is completely cool, add it to a large shallow bowl, then add the remaining prepared vegetables.
In a small bowl, mix the ground cumin, lime juice, salt and pepper together and pour over the salad. Toss to combine, serve and enjoy.
Nutrition Information:
Yield:

8
Serving Size:

1
Amount Per Serving:
Calories:

144
Total Fat:

1g
Sodium:

299mg
Carbohydrates:

34g
Fiber:

3g
Sugar:

12g