The warm flavors of cinnamon and cumin join forces with sweet potatoes in our Sweet Potato Kale Salad with Black Rice. This is a salad for a quick lunch or when combined with grilled chicken or sautéed shrimp it is a full-meal salad.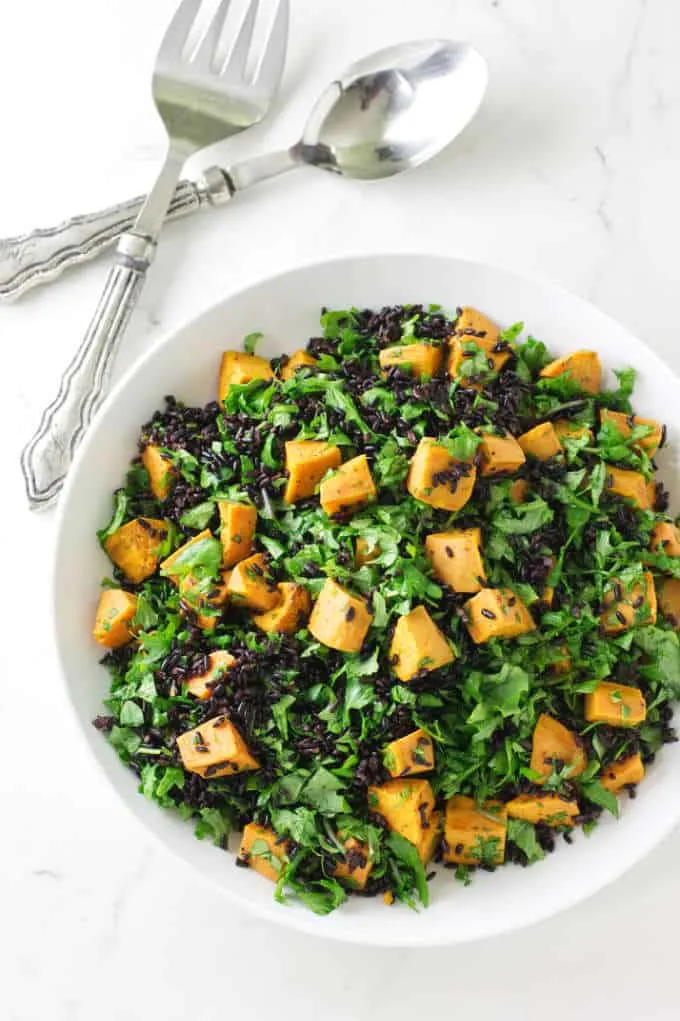 This vibrant salad is both pleasing to the eye and full of nutrition and flavor! It is all dressed up with a simple white balsamic vinaigrette.
Roasting the garnet sweet potatoes brings out their natural nutty, sugary flavor. And when we add the flavors of cinnamon and cumin there is a punch of flavor.
Are Those Garnet Tubers Yams or Sweet Potatoes?
The candied yam casserole was so famous back in the '50's and it was made with canned potatoes. The labels on the cans have bright orange-colored potatoes on them called "yams" and a recipe on the back of the can. But they are actually sweet potatoes.
In America what we usually refer to as a yam is actually a sweet potato. A sweet potato can be either orange, yellow or purple. We have never met the purple sweet potato but love both the orange and yellow varieties. The deeper the orange color, the more beta-carotene.
The flesh of the orange sweet potato has more beta-carotene than carrots. We are blessed with the best, the deep orange-fleshed Garnet sweet potato!
A yam, on the other hand, grows in tropical climates. They have rough, hairy skin that is difficult to peel and they are rarely seen in America. If you do see one and buy it, be cautious as they are poisonous if eaten raw but when cooked they are safe.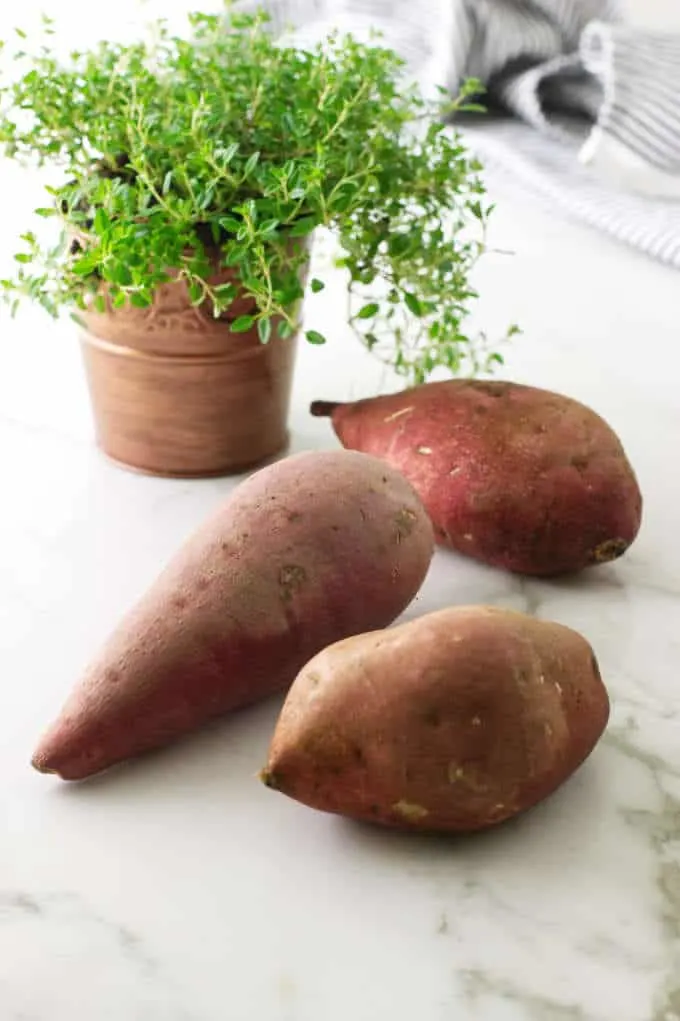 How to Make Sweet Potato Kale Salad with Black Rice:
So now that we have decided that these beautiful Garnet tubers are actually sweet potatoes, we can get on with our recipe.
The sweet potatoes are easy to peel with a standard vegetable peeler. We cut the potatoes into one-inch cubes, added them to a sheet pan and drizzled with olive oil. Then, we combined the salt, pepper, cinnamon and cumin together, sprinkled the mix on the sweet potatoes and roasted them for a few minutes.
While the sweet potatoes roasted and then cooled we cooked the black rice. Black rice is super nutritious, some say it is more nutritious than brown rice. The dark color of the rice is from anthocyanins. That is the same plant pigments of other blue, red or purple foods, including blueberries, tart cherries and beets.
We cooked the black rice the same way as brown rice with one cup rice and one and one-half cup of water. With this ratio of rice to water we never end up with mushy rice!
After the rice cooks and cools we mix it with the cooled sweet potato cubes then toss it together with chopped baby kale and green onions.
We really like the baby kale, the delicate leaves are tender and mild tasting. It is nothing like the tough, bitter large-leaf kale types. You will find bags of baby kale in the produce department along with the bagged salad greens. I you haven't tasted it yet, give it a shot, you just might find a new best friend.
We made a vinaigrette of white balsamic vinegar, Dijon mustard, garlic, seasonings and olive oil. It was fast and simple. Everything was combined in a Mason jar, shook to combine then mixed with the salad.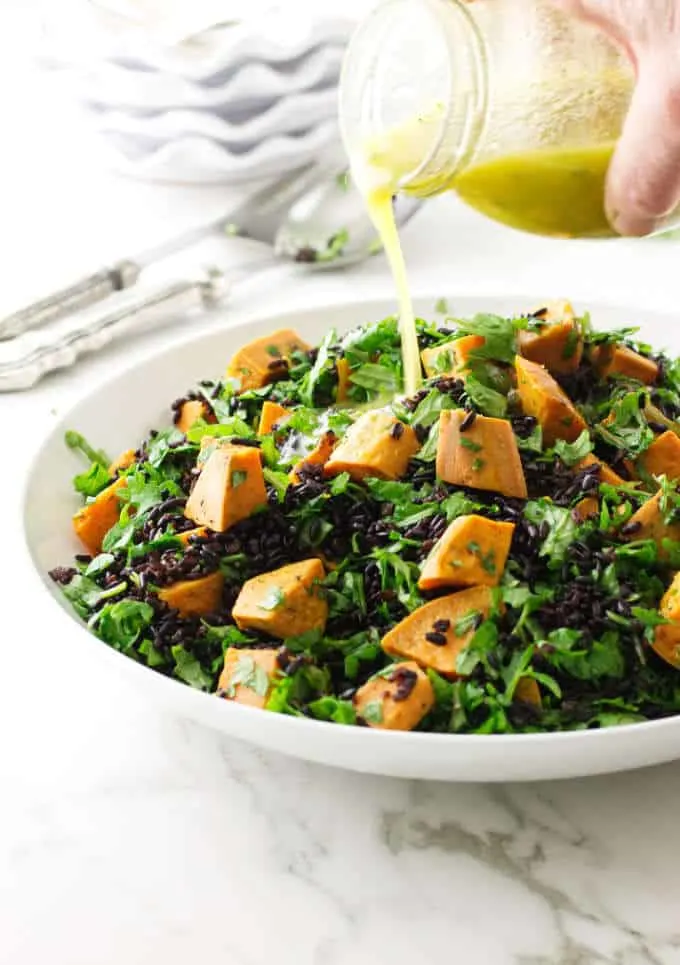 Make this Sweet Potato Kale Salad with Black Rice a "Meal-Salad"
Get creative and grill up some chicken breasts to slice and add to the salad. Or, you may already have some cooked chicken in your fridge. Add some sautéed shrimp! That is another super-delicious way to up your nutrition while keeping down the fat and calories.
Adding dried cranberries or raisins lends a sweet touch to the savory combination. If you like a little more crunchy then toss in some roasted pepitas (pumpkin seeds) or walnuts. Different kinds of low-fat cheeses, like feta or crumbled goat cheese is another good thing to add into this salad.
Can I Make This Salad In Advance?
Yep, and it is a portable salad too, great for a take-along lunch for work or a picnic. The thing to remember is, like most green salads, the baby kale will wilt quickly with the salad dressing on it. So, if you keep the components in the refrigerator in separate containers you can manage quite well.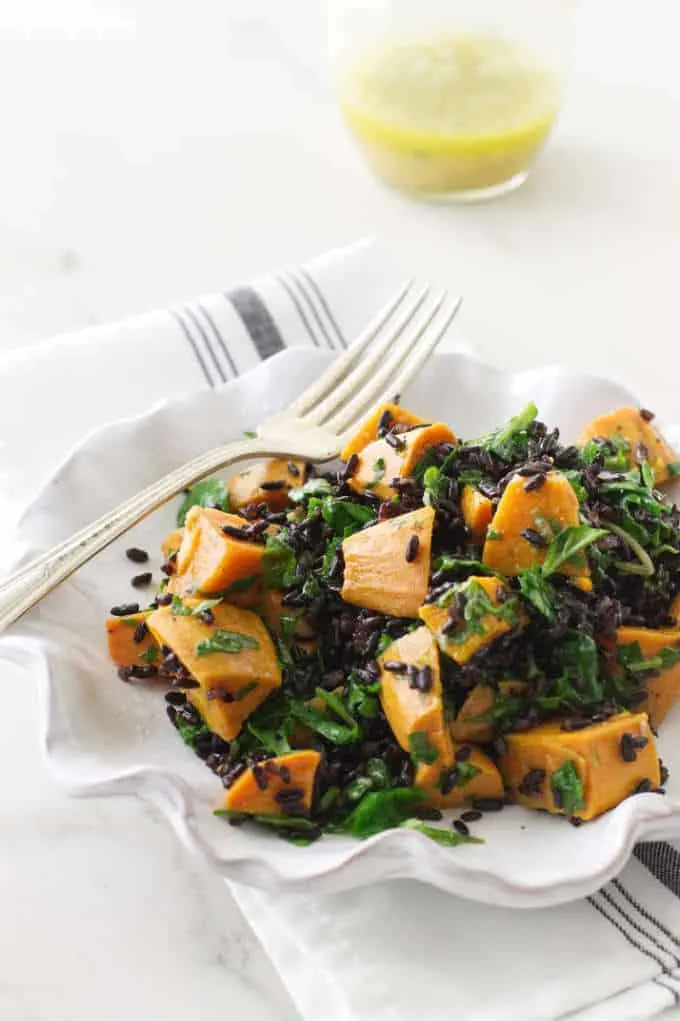 When you are ready to pack your lunch, choose your salad container, add the black rice on the bottom, then a portion of roasted sweet potatoes, any add-ins and the baby kale on top. Bring a small container of dressing in a separate container then mix it all together at lunch time.
More Recipes You Will Love
Connect With Savor the Best:
Please follow us on our social media accounts
Facebook * Instagram * Pinterest * Youtube * Twitter
Did you make this recipe? We would love to hear from you. Drop us a comment below.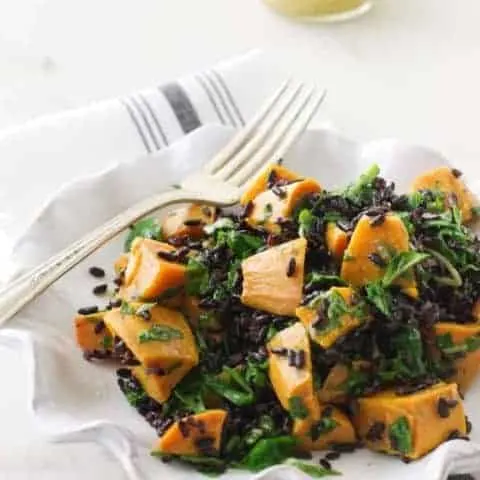 Sweet Potato Kale Salad with Black Rice
This colorful Sweet Potato Kale Salad with Black Rice is a wonderful low-fat, high-fiber salad packed full of nutrients and flavor and tossed with a white balsamic vinaigrette.
Ingredients
For the Sweet Potatoes:
1 pound sweet potatoes, peeled and cut into 1-inch cubes
2 tablespoons olive oil
1/2 teaspoon salt
1/4 teaspoon ground cinnamon
1/4 teaspoon ground cumin
Black pepper, freshly ground
For the Black Rice:
1 cup uncooked black rice
1-1/4 cups cold water
1 teaspoon salt
5 ounces baby kale, chopped
3 green onions, chopped— white and green
For the White Balsamic Vinaigrette:
1/2 cup extra virgin olive oil
1/2 cup white balsamic vinegar
1 tablespoon Dijon mustard
2 cloves garlic, minced or grated
1 tablespoon honey
1 teaspoon salt
1/4 teaspoon black pepper
2 tablespoons fresh thyme leaves
Instructions
Preheat the oven to 400°F
Add the cubed sweet potatoes to a baking sheet and toss with the olive oil. In a small dish, combine the salt, cinnamon, cumin and pepper together and sprinkle over the sweet potatoes. Transfer to the oven and roast for 15 minutes. When the potatoes are fork-tender, transfer from the oven and allow to cool to room temperature.
While the sweet potatoes are roasting: Rinse the rice under cold water and add to a medium size saucepan with the cold water and salt. Bring to a boil over medium high heat and cook for 5 minutes. Reduce the heat to low, add a tight fitting lid and cook for 30 minutes. The rice should be al dente and not soft. If there is still a little unabsorbed water, drain it off. Transfer the rice to a bowl and cool to room temperature.
For the White Balsamic Vinaigrette:
Combine all ingredients in a jar with a tight-fitting lid, shake until well combined.
Assembling the Salad:
In a large salad bowl, combine the cooled black rice, sweet potatoes, chopped kale and the green onions. Pour the vinaigrette over the salad and gently toss together.
Notes
We used the Garnet sweet potatoes which are also called yams. The yellow sweet potatoes can be substituted.
Roasting the sweet potatoes will bring out their natural sweetness; do not over-cook, they should be tender but not soft-mushy.
The sweet potatoes and the rice can be cooked in advance and cooled in the refrigerator.
For a quick cool-off, spread the rice and sweet potatoes on separate parchment lined baking sheets and stick into the freezer for 10 minutes.
Ideas for add-ins: Grilled chicken breast, sautéed shrimp, feta cheese, blue cheese chunks, crisp bacon pieces, dried raisins or cranberries
Recommended Products
As an Amazon Associate and member of other affiliate programs, I earn from qualifying purchases.
Nutrition Information:
Yield:

8
Serving Size:

1-1/4 Cup
Amount Per Serving:
Calories:

247
Total Fat:

9.1g
Saturated Fat:

1.2g
Cholesterol:

0mg
Sodium:

327mg
Carbohydrates:

38g
Fiber:

3.8g
Sugar:

2.7g
Protein:

3.6g