The Fourth of July! Picnics, BBQ's and fireworks are the order of the day. This is our version of an old-fashioned Picnic Potato Salad to share in the festivities as America celebrates the adoption of the Declaration of Independence on July 4, 1776.
Everybody has their own special recipe for their favorite potato salad and we are adding ours to the list. The potatoes are cooked perfectly, just slightly firm, but completely cooked. There is crunch and flavor from the celery, red onion and chopped dill pickle.
It just seems illegal to not include eggs in a potato salad and we add a lot of them! What makes this picnic potato salad 'special' is the dressing. We made a creamy, eggy dressing that coats every bite-size chunk of potatoes.
After peeling the cooked eggs the whites and yolks are separated and the whites are chopped and included with the potatoes. But those egg yolks? They are mashed up to make that creamy dressing. They are mixed with mayonnaise, sour cream, plain ole hot-dog type mustard and seasoning.
The creamy eggy dressing is tossed with the potatoes and chopped vegetables it is pure magic. Everyone gets a taste of the coveted egg yolk!
Does the annual Forth-of-July celebration bring back special memories of traditions and foods for you as it does at our house? I think back to my childhood days that were filled with family, fun, food and good times.
I especially remember our annual trips of dad, mom and my five siblings driving in a car from California to Wyoming where mom's parents lived on a farm. It seemed like that was such a long car ride as it would take about three days to get there. We would stop overnight and camp in the school yards of closed schools and cook breakfast on a camp stove in the morning. That was in the days when it was still safe to do it. And it was way before Motel 6 or Holiday Inn; no sleeping bags, it was just blankets and pillows on the ground or the car seats.
One of the highlights of our vacation at Grandma and Grandpa's house was the Forth of July celebration. There would be a huge picnic gathering at the lake with all our aunts, uncles and cousins, and of course great quantities of food with all the families bringing something wonderful to add to the table. Grandma would always fry up some of her home-grown chickens and make a big potato salad, baked beans, homemade bread, cakes and pies. It was a day of feasting, swimming in the lake, tag, hide-and-seek, more feasting and waiting for it to be dark enough for the fireworks.
When it was finally deemed dark enough, dad and all the uncles would break open the fireworks….cherry bombs, firecrackers, rockets, spinning pinwheels that would make beautiful designs. All the kids got to watch while our dad's fired them off but there was always sparklers for us kids after the big stuff. And, there would always be someone who would step on a hot sizzling, burned-out sparkler with a bare foot.
Oh, the memories…..things have changed a lot since then. The fireworks are usually big outdoor spectacular events attended by crowds of people and now it would be our parents that would be in awe. Plus, the picnics have changed. Now people buy potato salad at the deli, the fried chicken at Colonel Sanders and cakes are made from box mixes or picked up at the grocery bakery. But at our house I make the potato salad from scratch. I am too old-fashioned I guess.
For the big Forth this year someone else will have to fry up the chicken but I am making my version of a potato salad. Grandma always had lots of home-grown fresh eggs and she was very generous with them in her potato salads. Oh, yes….we would pick through our portion of the salad searching for that treasured slice of egg yolk.
Check out these salad recipes: Saigon Chicken Salad Roasted Baby Beet Salad with Feta Cheese Dilly Potato Salad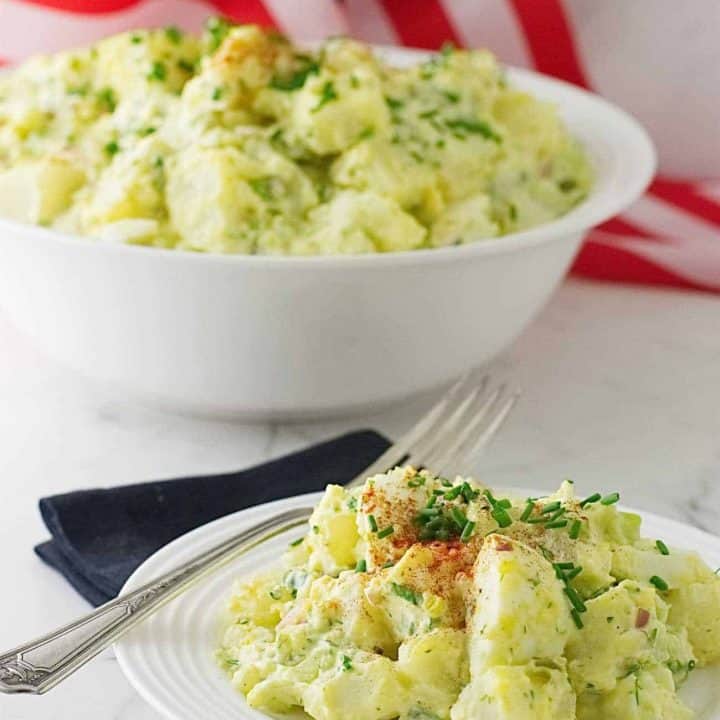 Picnic Potato Salad
Yield: 6 servings
Prep Time: 45 minutes
Active Time: 45 minutes
Total Time: 1 hour 30 minutes
A wonderful old-fashioned chunky potato salad full of goodness with a creamy egg dressing. Love it!
Ingredients
2 pounds small whole Yukon Gold potatoes
Salt for the potato water
1 tablespoon vinegar
6 large eggs
1/2 cup finely chopped red onions
1/2 cup diced celery
2 scallions, finely chopped, white and green parts
1/4 cup chopped fresh herbs, such as: chives, parsley, fresh snipped dill or fresh tarragon
1/3 cup finely chopped dill pickles
2/3 cup mayonnaise
1/3 cup sour cream
1 tablespoon yellow mustard
Salt and pepper to taste
Sprinkling of paprika for garnish
Snipped chives or chopped scallions for garnish--(optional)
Instructions
Cook Potatoes:
Wash the potatoes and add them to large pot, then cover with water. Season with salt -- 1 teaspoon for every quart of water. Add the vinegar and bring the water to a boil, then reduce to a low simmer. Cook 15 to 20 minutes or until potatoes can easily be pierced with the tip of a sharp knife.
Drain potatoes then add them to an ice bath to stop the cooking process. Once cooled, peel potatoes which should easily slip off with just slightly scraping and pulling.
Prepare the eggs:
While the potatoes are cooking add the eggs in one layer to a large saucepan and cover with a couple inches of cold water. Bring to boil over high heat and cook for 1 minute. Remove the pot from the heat and with the lid on let stand for 15 minutes.
Drain the hot water from the eggs and fill the pot completely with ice cubes. Allow to sit for 20 minutes. Peel eggs under the faucet with a thin stream of cold water running.
After peeling the eggs, cut them and separate the yolks from the whites. Chop the whites into bite size pieces and reserve.
In a medium bowl mash the yolks and mix in the mayonnaise, sour cream, and mustard until the consistency is similar to mayonnaise. Season to taste with salt and pepper. This is the dressing for the salad. Set aside while the rest of the salad is prepared.
Cut peeled potatoes into bite-size chunks and add to a large bowl.
Add the onions, celery, scallions, pickles, eggs whites and herbs to potatoes. Toss to combine then gently add the reserved egg dressing. Cover the salad with plastic wrap and refrigerate until ready to serve.
To Serve: Remove plastic wrap and garnish with paprika and chopped chives, scallion tops or parsley.
Notes
The potatoes and eggs can be prepared in advance and refrigerated
Refrigerate at least 30 minutes before serving. Serve cold or bring to room temperature.
If we have the time, we make this a day in advance. The flavors really meld together overnight.
Nutrition Information:
Yield: 8
Serving Size: 1
Amount Per Serving:
Calories: 236
Total Fat: 12g
Saturated Fat: 3g
Cholesterol: 149mg
Sodium: 310mg
Carbohydrates: 24g
Fiber: 3g
Sugar: 3g
Protein: 7g