This dilly potato salad is the last of my two bags of potatoes. It all started with a group project and my parsley potatoes, then went on to my recipe of rosemary potato gratin for Easter dinner. There was just enough potatoes left in the bag to use for this recipe of dilly potato salad.
We had a wonderful Easter dinner with family from Seattle and Port Orchard. I had dyed three and one-half dozen eggs so Sheamus and Cora could do an egg hunt in our backyard. The eggs looked so so pretty that after the hunt I used them in a basket for a tablescape with multicolored dinner napkins to match.
This dilly potato salad is pretty versatile and has been adapted from Southern Living where I added four of those pretty Easter eggs. I used some freshly made labneh which can be substituted with a plain Greek yogurt.
There is a good amount of chopped fresh dill and some dill relish mixed in for a nice dilly flavor. The lemon juice and capers give the salad some tang while the egg yolks mixed with the yogurt and just a little mayo adds a rich creaminess that taste like a lot of calories.
A one-cup serving has 241 calories and 7.5 grams of fat. This dilly potato salad has been lightened up on calories and fat but definitely not on taste.
When I bought potatoes for the group project I was unsure how much to purchase and ended up with way more than I needed. We got a lot of milage out of those two bags of potatoes.
Yield: 6 servings
Dilly Potato Salad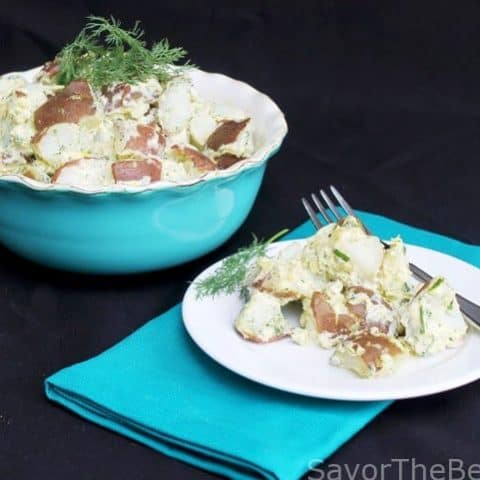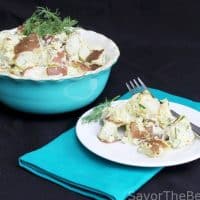 A chunky red-skinned dilly potato salad with snipped fresh dill, dill pickles and a creamy yogurt-egg dressing.
Prep Time 10 minutes
Cook Time 20 minutes
Total Time 30 minutes
Ingredients
2 pounds red potatoes, boiled in salted water with skins on, drained and cooled
1/4 cup chopped green onions
3 tablespoons chopped fresh dill
2 tablespoons capers, drained and chopped
4 hard boiled eggs, separated
1/2 cup plain labneh or Greek yogurt
1/4 cup freshly squeezed lemon juice
2 tablespoons mayonnaise
1 teaspoon salt
1/4 teaspoon freshly ground black pepper
fresh dill sprigs for garnish
Instructions
Cut the cooled potatoes into 1/2-inch chunks and add to a large bowl. Add the chopped onions, dill and capers,
Peel the eggs under cold water, cut in half, add the yolks to a small bowl and set aside. Cut the whites into 1/2-inch pieces and add to the potato mixture.
Using a fork, mash the egg yolks and add the labneh or yogurt, lemon juice, mayonnaise salt and pepper. Mix well to combine and stir into the potato mixture, coating the potatoes well. Taste for seasoning and adjust if necessary.
Transfer to a serving dish and garnish with sprigs of dill.