Our dilly potato salad has a generous amount of fresh snipped dill that gives it a special flavor. Plus, those chunky, red-skinned potatoes add a touch of color to the salad. And, the yogurt dressing is light, tangy and refreshing. Bring this fresh dill potato salad to your next picnic!
Summer is here (finally) and this chunky potato salad is a great side dish for any backyard grill party or outdoor event.
With the summer comes lots of fresh grown garden herbs and dill thrives well in our rich soil.
A couple of years ago with an
exceptionally
warm summer, our garden exploded with fresh veggies and herbs
. My small planting of dill did
really
well as did the lovely green beans. I still have a jar of my Hot Dilly Green Bean Pickles.
How to use Fresh Dill:
During the late summer you can find large tubs of tall fresh dill displayed next to piles of cucumbers for the pickle enthusiasts. But this herb is not just for making pickles!
Dill is an annual herb and needs seeding every year. Although it is available all year long in those small plastic herb packages at the produce section of most grocery stores. I do hate paying those prices for something I can grow so easily.
How to make our Dilly Potato Salad:
This is an easy fresh dill potato salad that may become one of your favorite side dishes. The generous amount of fresh dill is what makes this potato salad extra special. Unpeeled red-skinned potatoes and sprinkles of bright green dill add some color to the salad.
Cut the cooled potatoes into 1/2-inch chunks and add to a large bowl.

Add the chopped onions, dill, capers and pickles to the bowl.

Peel the eggs under cold water and cut them in half.

Cut the whites into 1/2-inch pieces and add to the bowl with the potato mixture.

Place the yolks in a separate bowl for the dressing.
How To Make An Eggy Greek Yogurt Dressing:
We lightened up the dressing for our dilly potato salad with tangy Greek yogurt and only a small amount of mayo. It has less calories and fat than a dressing made with mayo but it definitely does not lack in flavor!
Hard boiled egg whites
are included
in the salad. But we mashed the egg yolks and mixed them into the dressing. For some great tips on easy-peel hard boiled eggs check out our post 6 Ways to Make Hard Boiled Eggs.
This is a great low-calorie salad dressing:
Mash the egg yolks with a fork and blend with the Greek yogurt

Stir in the lemon juice, mayonnaise salt and pepper.

Mix well to combine then stir the dressing into the potato mixture, coating the potatoes lightly. Taste for seasoning and adjust if necessary.
The lemon juice and capers give this dilly potato salad a salty tang. Egg yolks mixed with the yogurt adds a rich creaminess that taste like a lot of calories. This is a dressing that also works well in a pasta salad.
SOME OTHER RECIPES WE ARE SURE YOU WILL LOVE:
CONNECT WITH SAVOR THE BEST!
Be sure to follow us on our social media accounts
Facebook * Instagram * Pinterest * Twitter * Youtube
Did you make this recipe? We would love to hear from you. Drop us a comment below.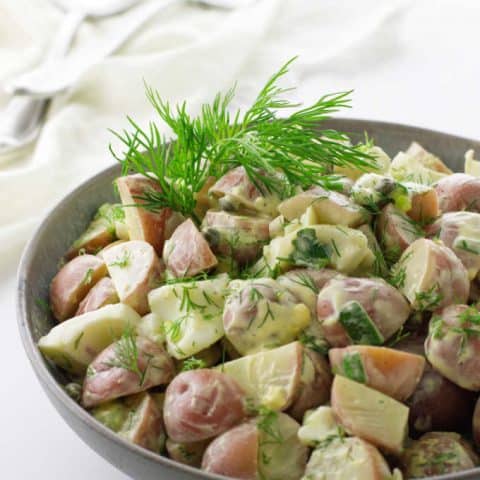 Dilly Potato Salad
Yield: 6 servings
Cook Time: 20 minutes
Prep Time: 10 minutes
Total Time: 30 minutes
A chunky red-skinned dilly potato salad with snipped fresh dill, dill pickles and a creamy yogurt-egg dressing.
Ingredients
2 pounds red potatoes, boiled in salted water with skins on, drained and cooled
1/2 cup chopped green onions
3 tablespoons chopped fresh dill
2 tablespoons capers, drained and rinsed
1 to 2 medium dill pickles, finely chopped
4 hard boiled eggs, separated
1/2 cup plain Greek yogurt
1/4 cup freshly squeezed lemon juice
2 tablespoons mayonnaise
1 teaspoon salt
1/4 teaspoon freshly ground black pepper
fresh dill sprigs for garnish
Instructions
Cut the cooled potatoes into 1/2-inch chunks and add to a large bowl. Add the chopped onions, dill, capers, and pickles.
Peel the eggs under cold water, cut in half, add the yolks to a small bowl and set aside. Cut the whites into 1/2-inch pieces and add to the potato mixture.
Using a fork, mash the egg yolks and add the yogurt, lemon juice, mayonnaise salt and pepper. Mix well to combine and stir into the potato mixture, coating the potatoes well. You may not need all of the dressing. Taste for seasoning and adjust if necessary.
Transfer to a serving dish and garnish with sprigs of dill.
Notes
Cook the potatoes until tender and still a little firm. The tip of a sharp knife should have a little resistance when the potato is pierced
Drain the salty brine from the potatoes and rinse under cold running water, then drain on paper towels before adding to the salad. Chopping the capers is optional.
Mis the dressing in small portions as you may not need all of it. Any remaining dressing should be transferred to a lidded jar and refrigerated. It will keep 3 to 5 days.
Nutrition Information:
Yield: 6
Serving Size: 1
Amount Per Serving:
Calories: 280
Total Fat: 11g
Saturated Fat: 4g
Trans Fat: 0g
Unsaturated Fat: 6g
Cholesterol: 139mg
Sodium: 624mg
Carbohydrates: 33g
Fiber: 3g
Sugar: 5g
Protein: 12g
Nutrition information is a guideline only, is calculated automatically by third party software, and absolute accuracy is not guaranteed.