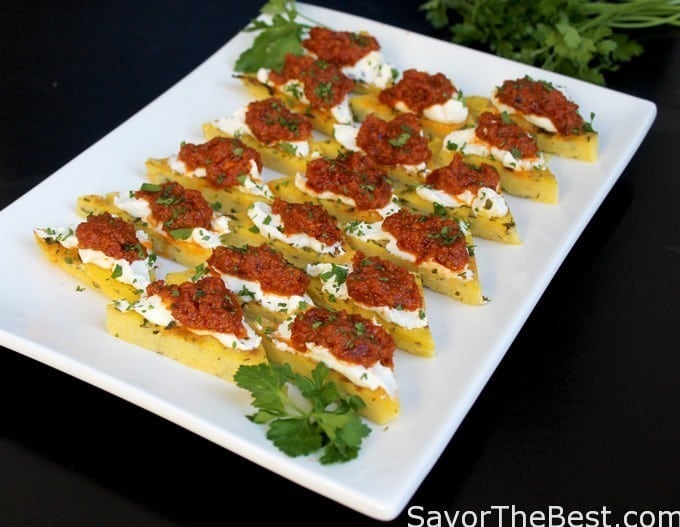 Don was all jazzed up for the big Sunday football game that would determine who would be going to the Super Bowl in a couple weeks. The day before the game he asked if I could fix him some munchies to go with the special brew that he bought for the game. These little polenta points with sun dried tomato pesto was one of three appetizers that I made for him.
As I was putting together a nice tray of appetizers, I listened to his groans and moans of how the Seahawks were really getting wasted. He was not a happy camper. He did enjoy the snacks I made which, along with these polenta points with sun dried tomato pesto, I fixed a veggie plate with a hummus dip, homemade hot dilly beans and shrimp cocktail appetizers.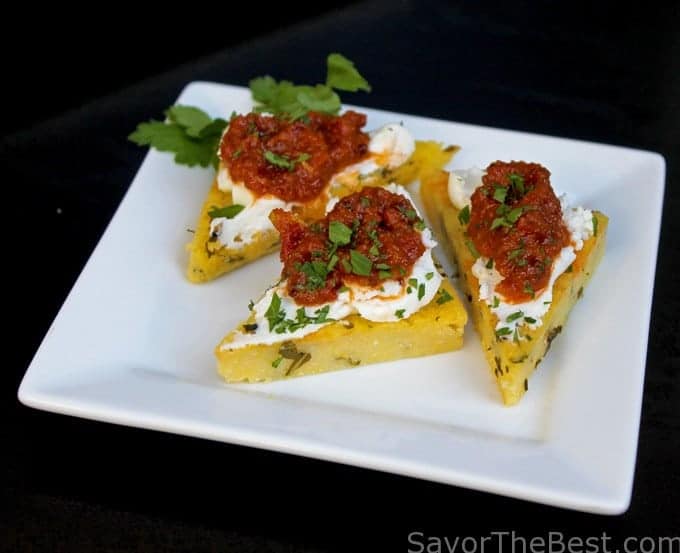 These little polenta points are a glorified 'cornmeal mush' that is the base for my polenta points with sun dried tomato pesto. I added minced garlic to the pot of salted water and when it was boiling I added the cornmeal and cooked it to a thick mush. I put the mush into my food processor and processed it to a nice creaminess then stirred in some fresh squeezed lemon juice and chopped basil, pored it into a 10×15 baking tray that I had lined with aluminum foil. The top was smoothed flat, brushed with olive oil and toasted slightly under the broiler. After it had cooled I put it into the refrigerator overnight to firm up.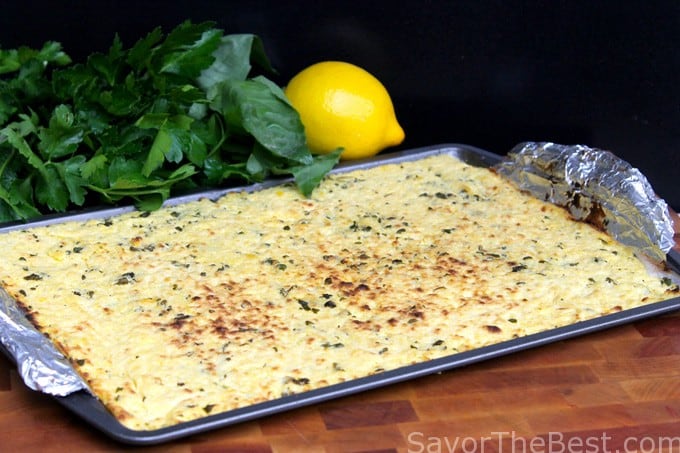 When I was ready to put the appetizers together the extra foil at the ends allowed me to just lift the formed polenta out to a cutting board where it was cut into triangles. The goat cheese mix and sun dried tomato pesto was added along with a sprinkling of chopped parsley.
As you probably know, the big playoff game was almost over when the Seahawks came out of their slump and won the game. Way to go Seahawks! Don wants more munchies for the Super Bowl…..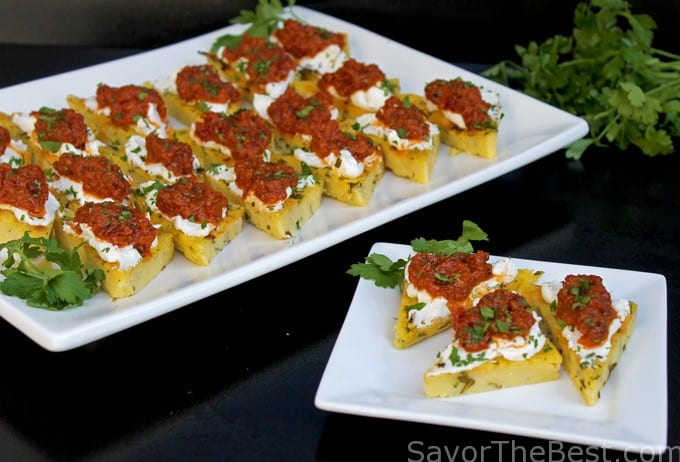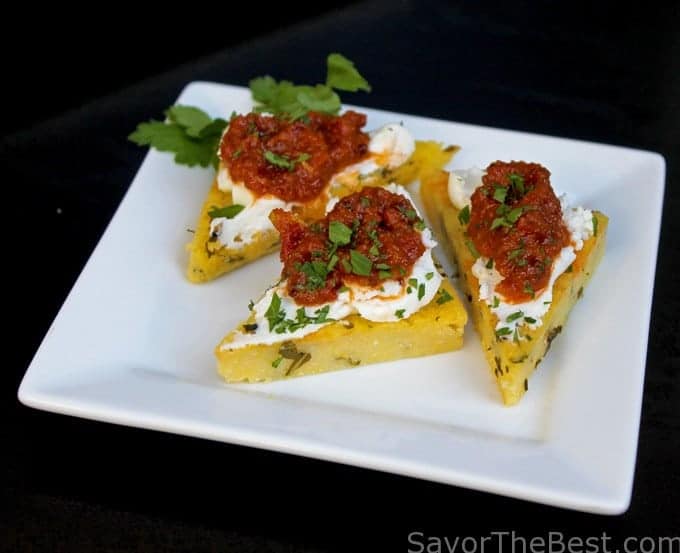 CONNECT WITH SAVOR THE BEST!
Be sure to follow us on our social media accounts
Facebook * Instagram * Pinterest * Twitter * Youtube
Did you make this recipe? We would love to hear from you. Drop us a comment below.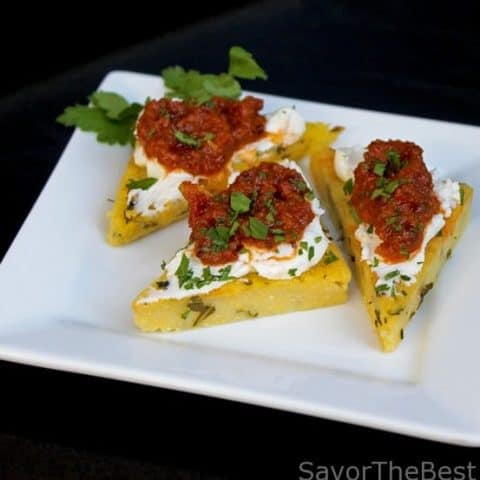 Polenta Points with Sun Dried Tomato Pesto
Yield: 45 servings
Prep Time: 30 minutes
Cook Time: 30 minutes
Total Time: 1 hour
Polenta with garlic, basil and lemon, toasted under the broiler and cut into triangles, then topped with a smooth tangy mix of goat cheese and ricotta, then topped with sun dried tomato pesto.
Ingredients
For the polenta points:
3-1/2 cups water, divided
1-1/2 teaspoon kosher salt
4-6 cloves garlic, minced
1-1/4 cups polenta or cornmeal
juice of 2 lemons
1/2 cup chopped fresh basil
For the topping:
1-8 ounce log of goat cheese, at room temperature
1/2 cup heavy cream
1-6 ounce jar of prepared sun dried pesto
1/4 cup chopped fresh parsley
Instructions
Line a 10x15x1/2 baking tray with aluminum foil leaving a 2 inch overhang at each end, oil generously with olive oil or spray with non-stick.
Combine 2-1/2 cups water, salt and the garlic to a 3-quart saucepan and, over medium-high heat bring to a boil. In a small dish, mix the remaining 1 cup of water with the cornmeal and add to the boiling water, stirring constantly. Reduce the heat to low and cook for 5 minutes or until thickened.
Transfer the polenta to the food processor and process to a smooth consistency, about 30 to 45 seconds. Do not over fill the processor, it may be necessary to process in batches. Transfer the polenta to a mixing bowl and stir in the lemon juice and the chopped basil.
Pour the polenta into the prepared pan, pushing it into the corners and smoothing the top. Brush the top with olive oil and place in the oven under the broiler. Broil just until the top is slightly toasted, remove and allow to cool before transferring to the refrigerator to cool completely.
For the topping:
Add the goat cheese and cream to a small mixing bowl and with a hand electric mixer blend to a creamy, spreadable consistency.
To assemble the appetizers:
When the polenta is completely cold, run a sharp knife around the edge of the pan to loosen and lift the slab of polenta out of the pan by the ends of aluminum foil. With a sharp knife, cut the polenta slab into 12 equal squares, then cut each square into 4 triangles.
Spread a scant 1/2 teaspoon of the cheese mixture on each polenta point, add a dab of the pesto and place on a wire cookie rack. Sprinkle the chopped parsley over the rack of prepared appetizers, transfer to a serving plate.
Notes
If you do not have a taste for goat cheese it is easily adaptable by substituting cream cheese or ricotta cheese or a combination of the two.
Nutrition Information:
Yield: 45
Serving Size: 1
Amount Per Serving:
Calories: 64
Total Fat: 5g
Saturated Fat: 2g
Trans Fat: 0g
Unsaturated Fat: 2g
Cholesterol: 7mg
Sodium: 141mg
Carbohydrates: 4g
Fiber: 0g
Sugar: 1g
Protein: 2g
Nutrition information is a guideline only, is calculated automatically by third party software, and absolute accuracy is not guaranteed.