Our recipe for Lamb Stew with Garlic Polenta is soooo good! The stew is full of tender chunks of lean lamb and vegetables that are swimming in an intense flavor-packed sauce made with wine and fresh herbs.
At our house, we love all things lamb and this savory lamb stew is one of our all-time favorites. It is chock-full of a nice vegetable mix of pearl onions, mushrooms, baby red potatoes, carrots, garlic and fresh herbs.
The sauce has our own home-crafted wine added which gives this savory sauce a rich, intense flavor.
This lamb stew is a pretty easy dish to prepare and you can get it started, pop it into a 275°F oven and let it simmer away for a couple of hours to a tender healthy meal for dinner. The creamy polenta is loaded with garlic flavor and takes just a few minutes to cook.
The lamb chunks are dredged in flour and seared to a rich brown. Adding the broth, wine, garlic, and herbs creates a savory sauce for the tender lamb and vegetables to snuggle into.
A long slow simmer is what gives this stew the magic-blending of flavors in the sauce. We served this lamb stew with creamy garlic polenta which was a perfect accompaniment for that flavorful sauce.
This was a wine-makers work day at our house with Don and Burl scheduling the day to test (and taste-sample) their vat of 2013 Barbera red wine. By dinner time the house had an incredible aroma and Burl said….'mom, what are you cooking that smells so good?'
He was so happy to hear that it was lamb stew with garlic polenta! He was expecting the chocolate-mint tart for dessert that I had recently posted so it was a surprise when I presented the coconut-cake roll and he enjoyed a nice thick slice of it. That was a delicious sweet ending to this savory dinner.
This lamb stew with garlic polenta was accompanied with buttery slices of sourdough bread and the entire meal was so good! We also enjoyed a bottle of their excellent home-crafted 2007 Cabernet Sauvignon wine with our dinner.
Here are more one-pot meal recipes:
If you love lamb we have more incredible lamb recipes:
Try our Lamb Shanks-Osso Buco Style
Or check out our Lamb Shanks Cassoulet
Have you made this lamb stew with garlic polenta? We would love to hear from you. Drop a comment below.
If you snap a photo of our recipes hashtag them to #savorthebest on Instagram
Yield: 6 servings
Lamb Stew with Garlic Polenta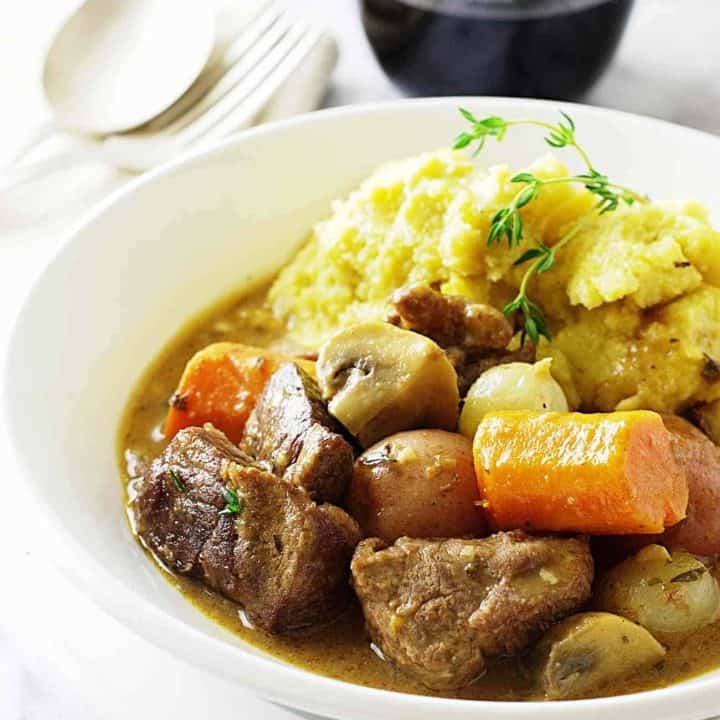 A rich, flavor-intense lamb stew served with a garlic polenta. This lamb stew is an easy recipe to put together and finished in the oven while the garlic polenta takes about 10 minutes just before serving.
Prep Time 30 minutes
Cook Time 2 hours 30 minutes
Total Time 3 hours
Ingredients
¼ cup vegetable oil
½ cup flour, for dredging
1 teaspoons kosher salt
¼ teaspoon freshly ground black pepper
3 pounds lamb shoulder, cut into 2-inch chunks, or purchase precut lamb stew meat
2 cans (14.5 ounces each) low-sodium chicken broth
6 cloves garlic, minced
2 tablespoons chopped fresh thyme
2 bay leaves
8 ounces (1/2 bag) frozen petite pearl onions
4 white or portobello mushrooms, 3-inch diameter, cut into quarters
1½ pounds small baby red potatoes
4 medium carrots, cut into 2-inch pieces
1 cup dry white wine
For the Garlic-Polenta
3-1/2 cups water, divided
1 teaspoon kosher salt
2 cloves garlic, minced
1-1/4 cups fine-grind polenta
Instructions
For the Lamb Stew:
Heat a heavy-bottomed skillet over medium-high heat. Pour in enough oil to heavily coat the pan. Add the flour, salt and pepper and the lamb chunks to a closable plastic bag, close the top and roll the meat around in the seasoned flour. Open the bag and remove the chunks of lamb and place about ⅓ of the lamb into the hot oil. Cook, uncovered, flipping the pieces as they brown. Using a slotted spoon, transfer the lamb to a large lidded dutch oven or large, lidded oven proof casserole. Continue browning the lamb chunks in batches. Deglaze the pan with one cup of the chicken broth, scraping up the grubbies stuck to the bottom and add the mixture to the dutch oven.
Preheat the oven to 275°F
Place the dutch oven on the stove over medium-high heat and add the remaining chicken broth and bring to a boil. Add the garlic, thyme and bay leaves, onions, mushrooms, potatoes and carrots stirring to combine and cook for 5 minutes. Remove from the stove top and add the wine, taste and adjust seasoning if needed, place the lid on the dutch oven and transfer to the middle rack of the oven and cook until tender 1-1/2 to 2 hours.
For the Garlic Polenta:
Add 2-1/2 cups of water, the garlic and salt to a medium-saucepan and bring to a boil. Mix the remaining water with the cornmeal in a bowl. When the water begins to boil, add the cornmeal mixture slowly, stirring constantly. Reduce the heat to low and continue cooking and stirring for five minutes until thickened. Remove from the heat and cover to keep warm until serving.
To serve, place a half-cup of garlic polenta shallow soup bowls, ladle the lamb stew next to the polenta.
Nutrition Information
Yield
6
Serving Size
1
Amount Per Serving
Calories 679
Total Fat 25g
Saturated Fat 7g
Trans Fat 0g
Unsaturated Fat 16g
Cholesterol 166mg
Sodium 1091mg
Carbohydrates 46g
Fiber 5g
Sugar 6g
Protein 58g
Nutrition information is a guideline only, is calculated automatically by third party software, and absolute accuracy is not guaranteed.