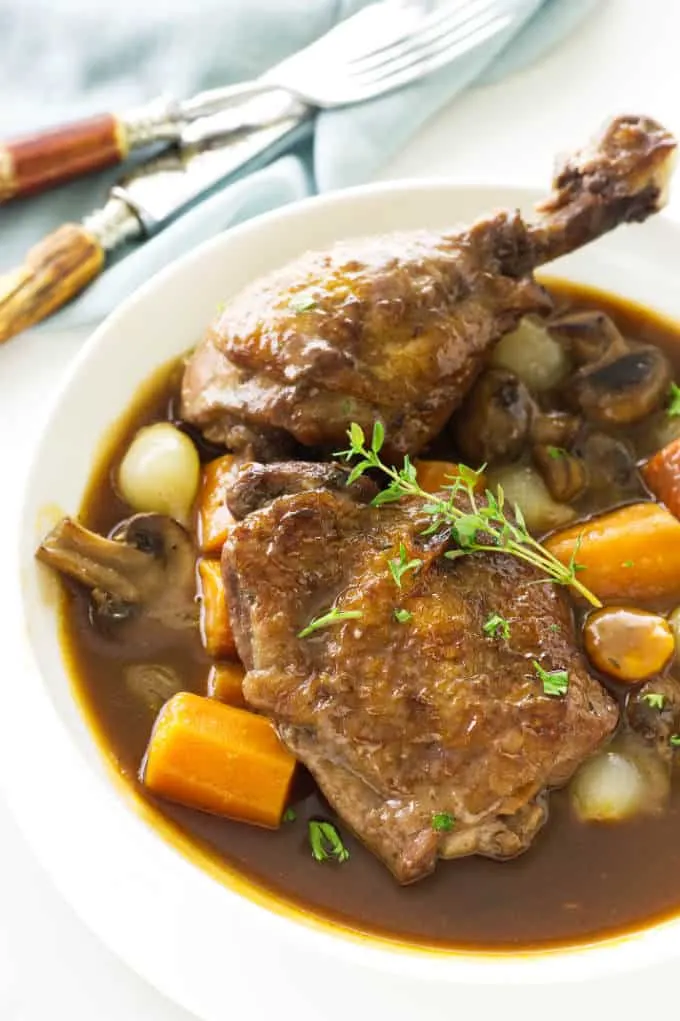 Coq au Vin is French for cock in wine….or rooster in wine. Ha, ha….when I buy a package of chicken in the grocery store I don't think it is going to be a rooster. This one-pot meal is basically chicken simmered in red wine with pearl onions, mushrooms, herbs and carrots. And, it is delicious.
There was a time when we lived in Napa, California that we had a few chickens of which two were roosters. One of those roosters was really mean and would attack our 13-year old son, Ron occasionally when he would go out to get the eggs. Well, that rooster's day finally came and Ron was very happy to see it go into the stew pot!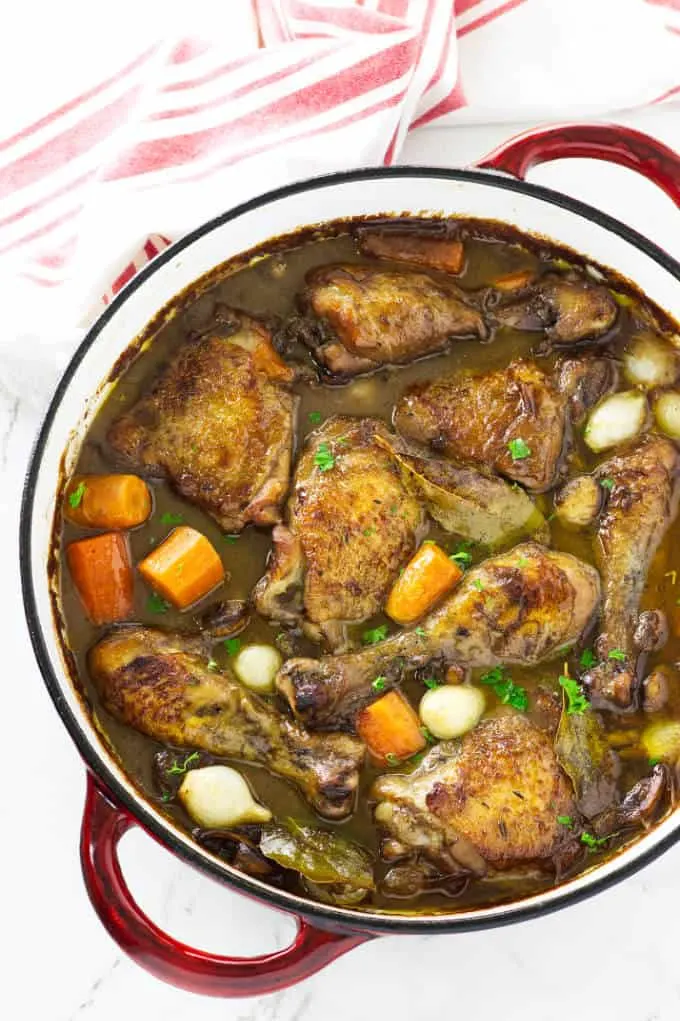 My Time Life cookbook, The Cooking of Provincial France has a nice recipe for coq au vin but the instructions are long and tedious. I have adapted the recipe and shortened the sequences so it is a little easier to put together. The recipe called for cognac or brandy but that is an optional ingredient.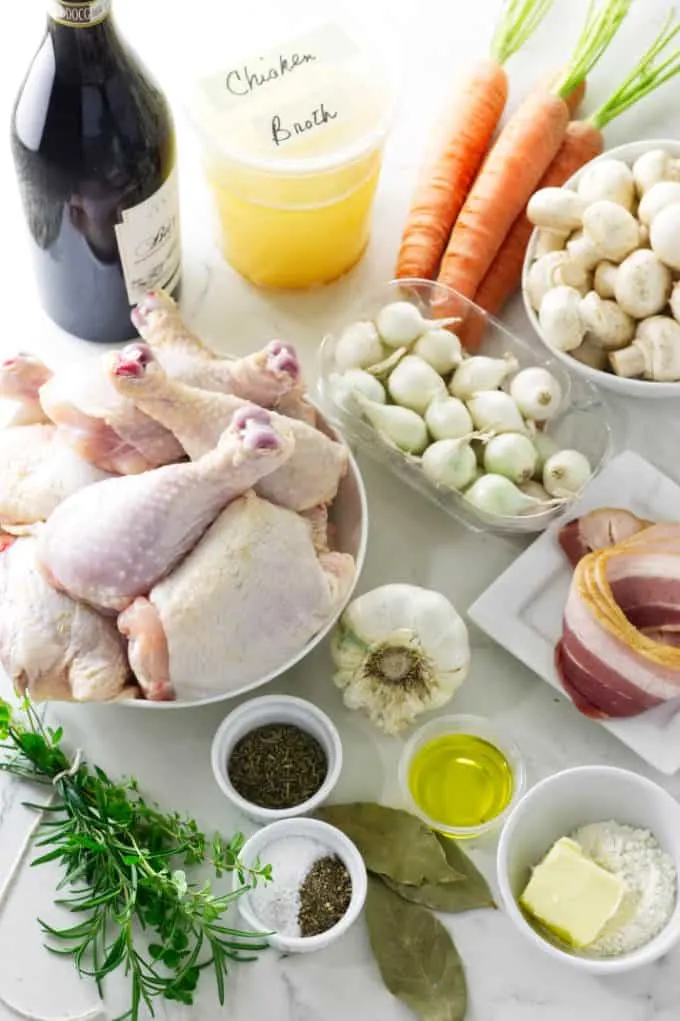 Frozen pearl onions can be substituted for the fresh onions, although they will have a different texture as the freezing process breaks down the fibers. In my opinion, it is well worth taking the extra time to peel the fresh pearl onions.
Our DIL, Gillian, told me how to peel those little guys that makes it a breeze. Basically, you blanch them in boiling water for one to two minutes then plunge them into ice water. When they are cool, snip off the top and squeeze the root end and they slide right out of their skins. I have elected to add the onions and mushrooms toward the end of the cooking time in order to avoid them being over-done.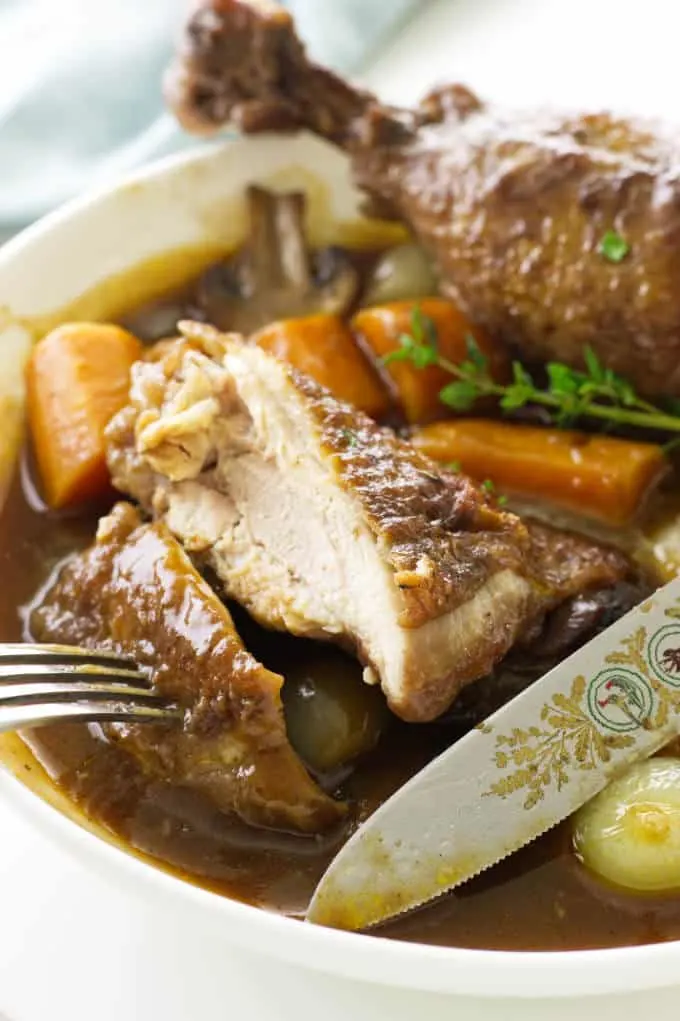 I served this classic coq au vin with mashed potatoes and a generous serving of the sauce.
You might also enjoy: Blood Orange Braised Chicken with Star Anise, Chicken Karahi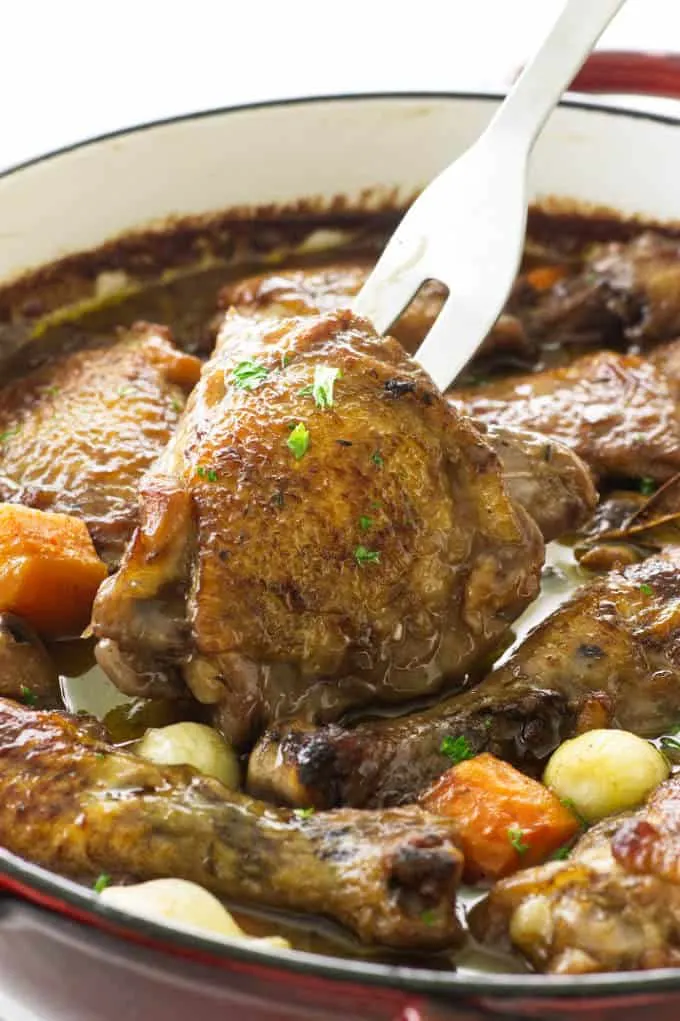 CONNECT WITH SAVOR THE BEST!
Be sure to follow us on our social media accounts
Facebook * Instagram * Pinterest * Twitter * Youtube
Did you make this recipe? We would love to hear from you. Drop us a comment below.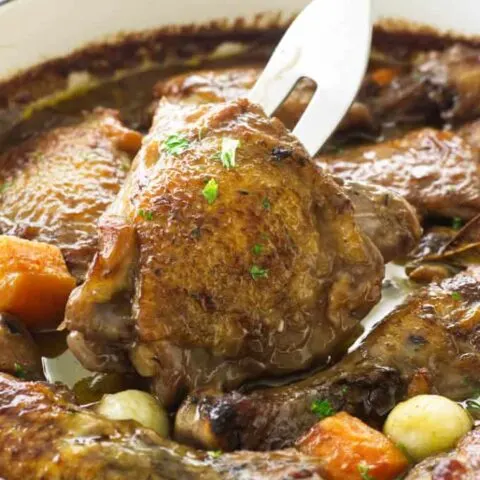 Coq Au Vin
Total Time:
1 hour
40 minutes
Coq au vin is a classic one-pot meal from France, made with chicken, onions, mushrooms and herbs then simmered in red wine.
Ingredients
3 pounds chicken, thighs and legs
2 cups red wine
2 cups water
10 ounces fresh white pearl onions
1/2 pound lean salt pork or bacon, roughly chopped
1/2 pound small white mushrooms
2 tablespoons olive oil
2 tablespoons butter
2 tablespoons flour
1 cup chicken stock
4 medium carrots, cut in 1-inch lengths
2 bay leaves
1/2 teaspoon dried thyme, crumbled
2 large garlic cloves, finely chopped
Instructions
Preheat the oven to 350°F
Add the chicken and wine to a closable plastic bag and allow to marinate for at least 30 minutes.
Add the 2 cups of water to a medium size saucepan and when it begins to boil add the pearl onions and cook for 1 to 2 minutes. Remove them from the heat, drain them and plunge them into cold water to stop the cooking process. When cool enough to handle, make a small slit at the top of each onion and pinch and squeeze at the bottom and they will slide right out of the peel. Reserve for later.
In a large Dutch oven or heavy-bottomed pot, set over moderate heat, add the pork strips or bacon, stirring frequently. When they are nicely browned and crisp, remove them to a plate lined with paper towels. Add the mushrooms to the pot and brown them in the pork fat. Remove and set aside with the onions and pork.
Remove the chicken from the marinade (do not discard the marinade) and place it on a plate lined with paper towels. Pat the chicken with additional paper towels to remove as much excess liquid as possible. Season the chicken with salt and pepper.
Add the oil to the remaining pork fat in the pot and, over medium-high heat, brown the chicken pieces a few pieces at a time. Remove each batch and place on a plate while browning the next batch.
When all the chicken has browned, add the butter to the pot and when it has melted stir in the flour and cook for one or two minutes. Add the chicken stock and the reserved marinade and stir well with a whisk.
Add the carrots, bay leaves, thyme and garlic to the pot. Add the browned chicken, arranging so that it is partially out of the sauce and skin side up. Bring the mixture to a boil, remove from the heat and put a lid on the pot. Transfer the pot to the center rack of the preheated oven. Bake for 45 minutes.
Add the reserved pork bits, onions and mushrooms. Bake for an additional 15 minutes. Transfer from the oven to the table, remove the bay leaves and serve.
Nutrition Information:
Yield:

10
Serving Size:

1
Amount Per Serving:
Calories:

602
Total Fat:

44g
Saturated Fat:

15g
Trans Fat:

0g
Unsaturated Fat:

28g
Cholesterol:

204mg
Sodium:

972mg
Carbohydrates:

9g
Fiber:

2g
Sugar:

3g
Protein:

36g
Nutrition information is a guideline only, is calculated automatically by third-party software, and absolute accuracy is not guaranteed.