This chicken Karahi recipe competes with the best Indian restaurants but it is totally achievable for the home cook. It is a healthy, low fat, incredibly flavorful dish that calls for simple ingredients that you can find at your local grocery store. Put this recipe on your dinner rotation for a quick healthy meal.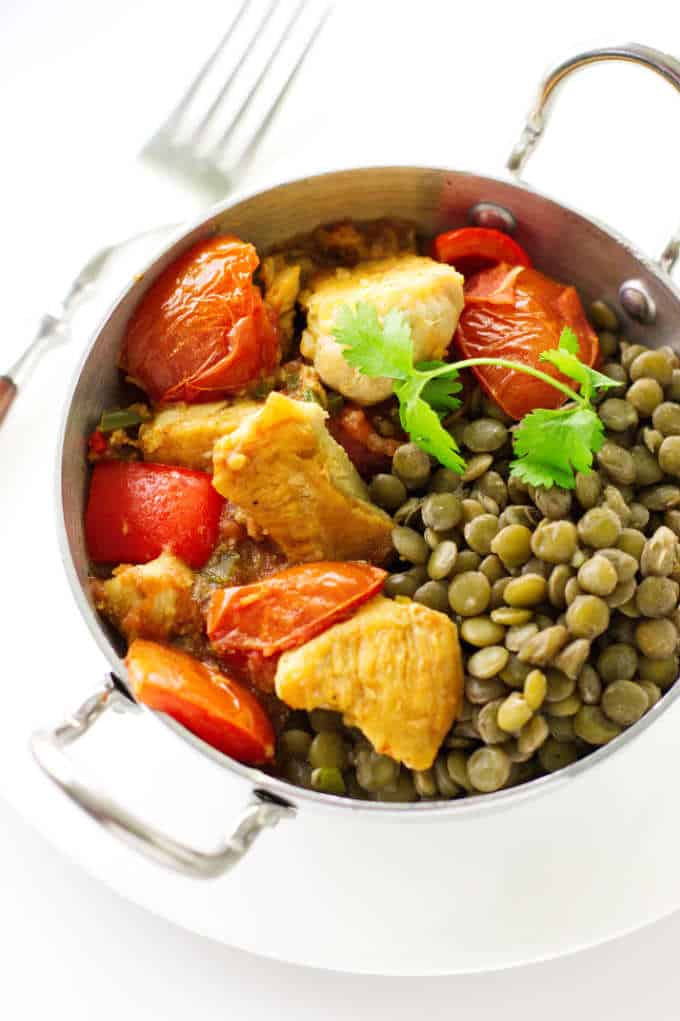 Have you ever tasted Chicken Karahi? Well, I had not, and I had never even heard of it until recently. Out shopping at World Market one day, I saw this cute stainless-steel, three-piece pan set and bought it thinking it would be just right for the two of us and we would each have our own little serving dish. The attached tag said it was a karahi pan, that was a total 'unknown' to me.
With a little research, I learned that chicken karahi is a spicy one-pot dish from Pakistan and North India. It is also a low-calorie and low-fat dish that is really spicy and flavorful and it can be whipped up and on the table in thirty minutes. Chicken karahi is also known as Punjabi, and can be served with naan bread and lentils.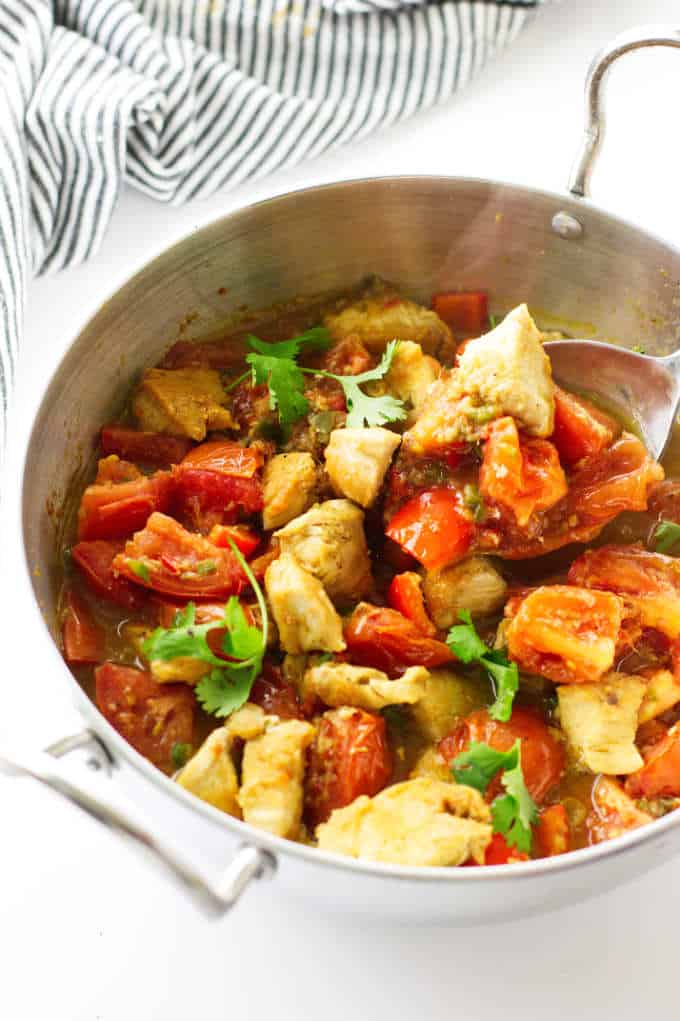 Don really liked this dish and had a nice cold, sudsy glass of beer with it which was the perfect accompaniment.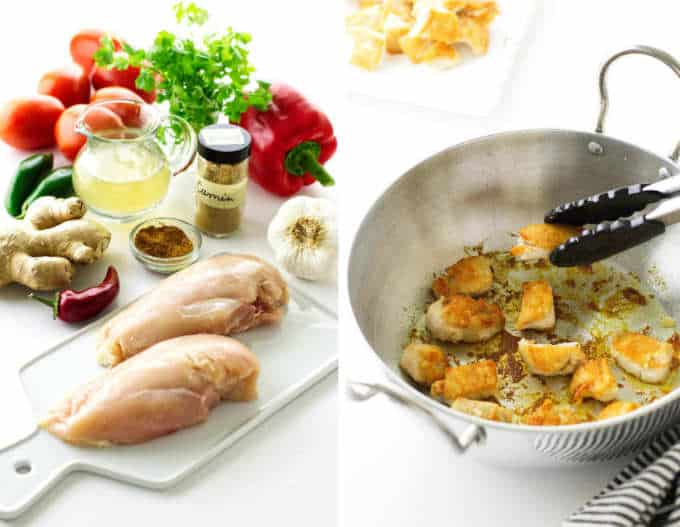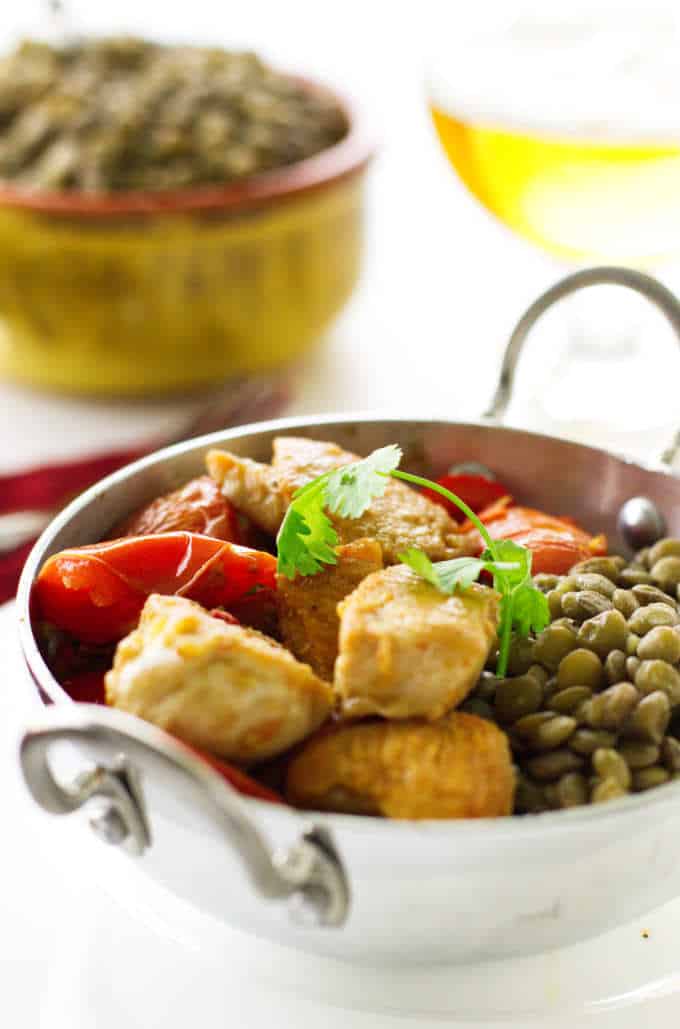 If you like a lot of heat just increase the chiles.
SOME OTHER RECIPES WE ARE SURE YOU WILL LOVE:
CONNECT WITH SAVOR THE BEST!
Be sure to follow us on our social media accounts
Facebook * Instagram * Pinterest * Twitter * Youtube
Did you make this chicken Karahi recipe? We would love to hear from you. Drop us a comment below.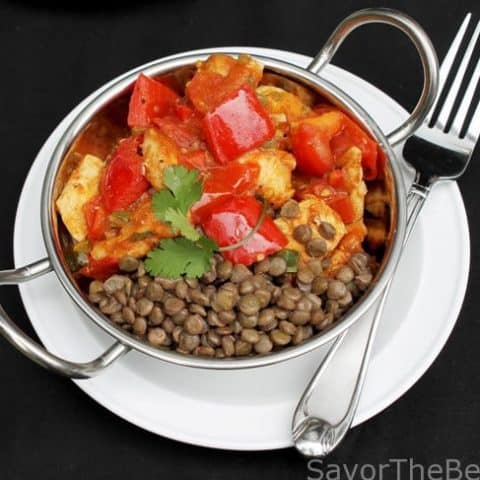 Chicken Karahi
Yield: 4 servings
Prep Time: 15 minutes
Cook Time: 15 minutes
Total Time: 30 minutes
This recipe for chicken karahi is a spicy one-pot dish from Pakistan and North India. It is a delicious low-calorie, low-fat dish that is quick and easy to prepare.
Ingredients
1 pound chicken breasts, skinless and boneless
1/2 teaspoon salt 2 tablespoons olive or coconut oil
1 tablespoon finely chopped garlic
2 tablespoons finely grated fresh ginger
2 jalepeno peppers, finely chopped
1-2 red chile peppers, finely chopped (I used red jalepeno peppers)
1/2 red bell pepper, cut into 1-inch pieces
1/2 teaspoon cumin
1/4 teaspoon freshly ground black pepper
1/2 cup chicken broth
6-8 Roma tomatoes cut into large pieces
1 teaspoon Garam Masala seasoning
2-3 tablespoons chopped fresh cilantro for garnishment
Instructions
Using paper towels, wipe the chicken breasts dry and cut them into 1-inch cubes
In a Karahi pan or skillet, heat the oil over medium-high and add the chicken cubes, searing to a golden brown. Transfer the chicken to a paper towel lined plate to drain off any excess oil.
Add the garlic and ginger to the skillet and cook for 20 seconds, just until the garlic is fragrant. Add the chopped jalepeno and red peppers, red bell pepper, cumin, black pepper, chicken broth Garam Masala and tomatoes. Add the reserved seared chicken cubes and bring the pan to a boil. Reduce the heat to low, cover the pan with a lid and cook for 5-8 minutes, until the chicken is fully cooked and the sauce is bubbly.
Sprinkle the chopped cilantro over the dish and serve at the table from the karahi pan, with naan bread and cooked lentils.
Notes
A karahi pan is actually like a Chinese wok with a rounded bottom and you can substitute a Chinese wok, or a skillet would work also.
Nutrition Information:
Yield: 4
Serving Size: 1
Amount Per Serving:
Calories: 269
Total Fat: 9g
Saturated Fat: 4g
Trans Fat: 0g
Unsaturated Fat: 3g
Cholesterol: 97mg
Sodium: 600mg
Carbohydrates: 10g
Fiber: 3g
Sugar: 5g
Protein: 37g
Nutrition information is a guideline only, is calculated automatically by third-party software, and absolute accuracy is not guaranteed.