This chicken farro casserole is a wholesome meal that will fill you up and satisfy your cravings. The combination of juicy chicken, nutty farro, sundried tomatoes, and cheese makes this dish a hearty, filling dinner. Serve it with our strawberry spinach salad or sauteed beet greens for a delicious and nourishing meal.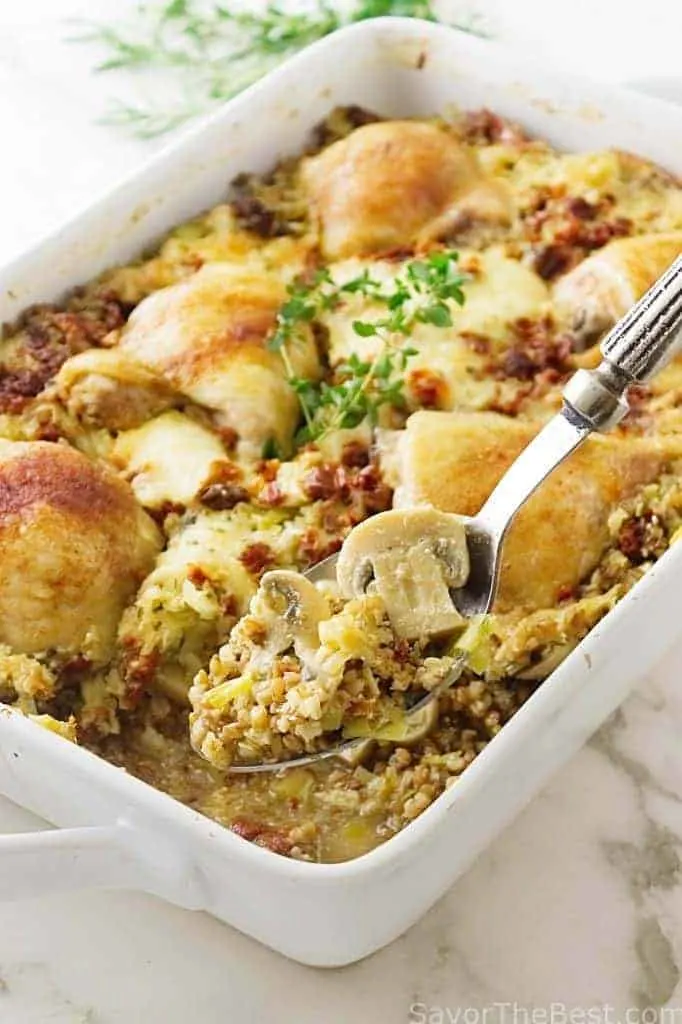 If you have been including more healthy grains in your diet and have yet to try farro, this recipe for Chicken Farro Bake will satisfy you. It's a one pot meal that is easy to make, full of protein, and makes excellent leftovers.
Have you noticed lately that farro has been appearing on the menus in even the fanciest restaurants? This ancient grain is making a come-back to our modern times.
What is farro?
Farro refers to three ancient species of wheat: einkorn, emmer, and spelt. These grains are known for their high nutritional value and are considered more healthy than modern-day wheat. Farro has a nutty, earthy flavor and a chewy texture when cooked.
? The Ingredients
Here is a list of the ingredients you will need for this chicken farro recipe. Scroll down to the printable recipe card for all the details.
Farro wheat berries
Fresh mushrooms
Leeks. You can substitute with onions if you want.
Garlic.
Sun-dried tomatoes
Sour cream
Monterey jack cheese
Chicken thighs (bone-in)
Sea and freshly ground pepper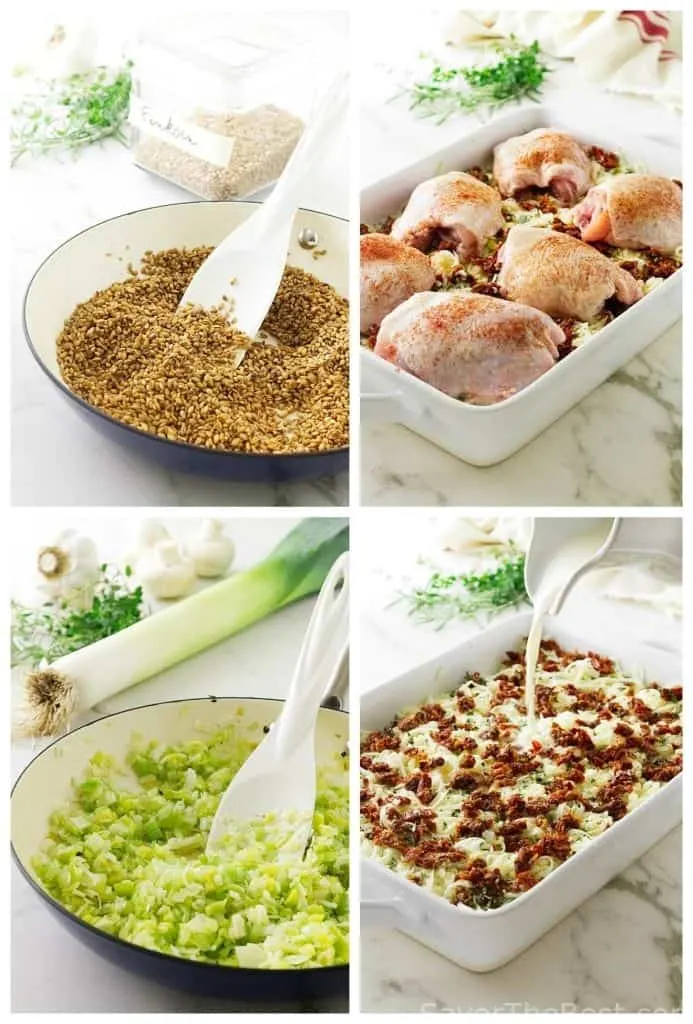 ?‍? How to Make It
Farro and chicken come together in this dish to create a comforting, nourishing meal that will become a regular go-to in your kitchen.
Here is a brief overview to get an idea of what to expect with this chicken farro recipe. Scroll down to the printable recipe card for all the details.
Cook the farro, then transfer it to a casserole dish and add the mushrooms.
Saute the leeks and garlic in a skillet, then add them to the dish with the farro. Spread the drained sun-dried tomatoes over the leeks.
Whisk the chicken broth and sour cream together and pour over the casserole.
Sprinkle the shredded cheese over the top and add the chicken thigh, skin side up.
Transfer to the oven and bake.
The chicken thighs get so tender and juicy. As the chicken cooks on top, the juices drip through the casserole and add extra flavor to the farro and veggies.

Cheese choices to use in Farro Chicken Bake:
For the cheesy layer, we used shredded Monterey Jack. Here are a few cheese choices that could be substituted:
Fontina

Gruyère

Gouda

Ricotta

Crumbled Feta
? Tips for This Chicken Farro Dinner
Use an instant-read thermometer to check the doneness of the chicken. The internal temperature should reach 165°F when done.

If you don't have a meat thermometer, you can check for doneness by cutting into the thickest part of the chicken and ensuring the juices run clear.

For added crunch, top the finished casserole with toasted breadcrumbs before baking.

We cooked the farro on the stovetop, but you can make Instant Pot Farro if you prefer.
Using skin-on, bone-in chicken thighs helps keep the chicken from drying out. If you use skinless, boneless chicken thighs, reduce the cooking time.

For More Recipes with Chicken Thighs
⏲ Storage and Reheating
This chicken farro dinner is even better the next day. Store the leftovers in an airtight container and enjoy it as a quick and easy lunch or dinner throughout the week! Leftovers keep in the fridge for 3 days, and they reheat well in the microwave.
You can freeze the farro casserole for up to 3 months if you store it in a freezer-proof container.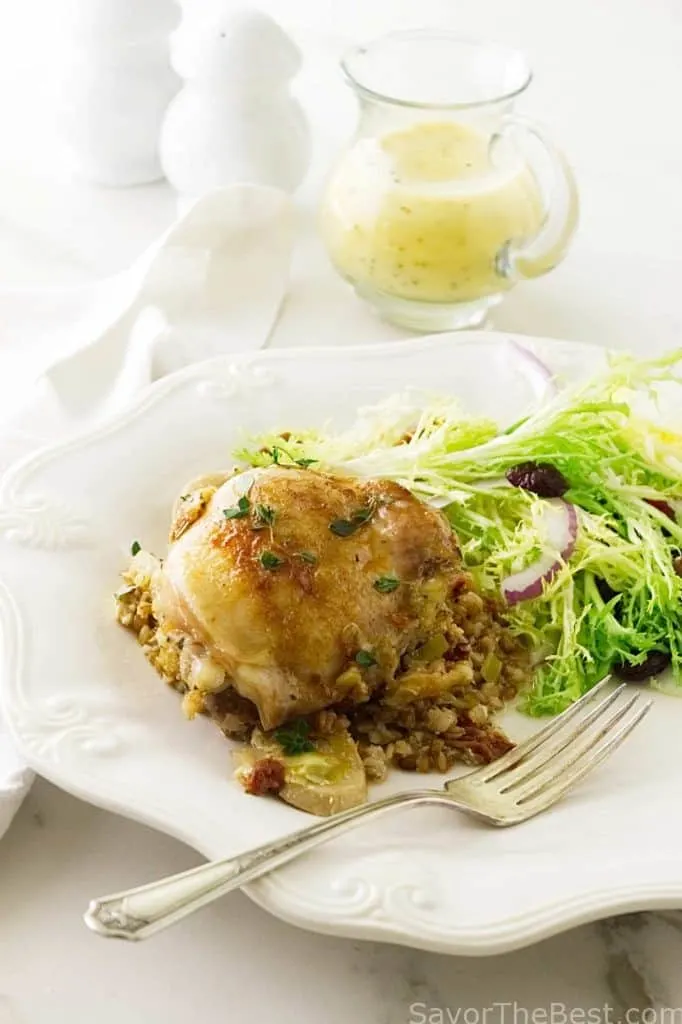 Frequently Asked Questions
Where can you buy farro?
You can find farro in most grocery stores. It is often in the bulk food section or among Bob's Red Mill products. It is also available online through retailers like Amazon and Thrive Market.
Does farro have gluten?
Yes, farro is wheat, and it contains gluten. If you want to make a gluten free meal similar to this chicken farro recipe, swap out the farro for buckwheat or quinoa.
If you're looking for an easy, flavorful, and healthy meal that will satisfy the whole family, this Chicken Farro Bake is a great option. It's simple to prepare with ingredients you likely already have in your pantry or refrigerator.
More Recipes You Will Love
Connect With Savor the Best:
Please follow us on our social media accounts
Facebook * Instagram * Pinterest * Youtube * Twitter
Did you make this recipe? We would love to hear from you. Drop us a comment below.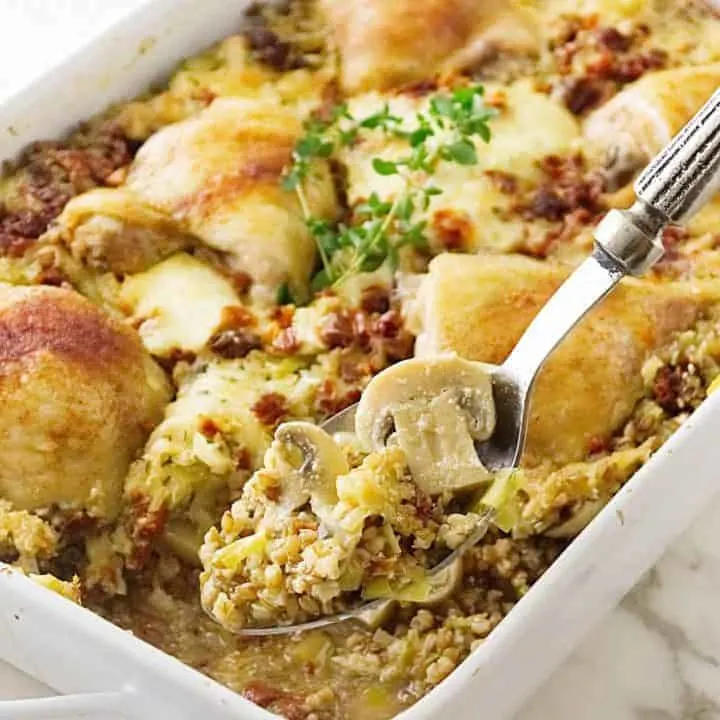 Chicken Farro Casserole
This chicken farro casserole is the perfect way to bring health and deliciousness to your dinner table.
Not only is it packed with nutrient-dense ingredients, but it's also incredibly easy to make. Combining farro, chicken, mushrooms, and sundried tomatoes creates a flavorful medley that will have everyone returning for seconds!
Ingredients
2 tablespoons olive oil
1 1/2 cup farro wheat berries
8 ounces fresh mushrooms, sliced
2 leeks, white parts only, sliced
2 cloves garlic, finely chopped
1/2 cup sun-dried tomatoes, drained of oil
1 1/2 cups low-sodium chicken broth
1/2 cup sour cream
1 cup shredded Monterey jack cheese (about 4 ounces)
6 chicken thighs (bone-in)
Sea salt and freshly ground pepper
Paprika dusting
Instructions
Preheat the oven to 350°F and coat a 9x13 oven-proof casserole dish with oil spray
Add the oil to a large pot set over medium heat and when it is hot add the farro berries, stirring to coat with the oil. Cook the farro, stirring frequently until they become toasty. You will hear them pop and crackle as they toast. Pour 6 cups of water over the farro and bring to a boil. Cook the farro until it al-dente or still has a little bite. It should take 15 to 30 minutes depending on the type of farro you have.
Drain the farro and transfer it to the prepared casserole dish, spreading evenly across the bottom of the dish.
Add the sliced mushrooms on top of the toasted farro in an even layer.
To the same skillet, add the sliced leeks and the garlic and cook until the leeks become wilted and the garlic is fragrant. Transfer to the casserole and spread evenly on top of the mushrooms. Distribute the drained sun-dried tomatoes over the leeks. In a dish or pitcher, whisk the chicken broth and sour cream together and pour over the casserole.
Sprinkle the shredded cheese over the top and add the chicken thigh, skin side up. Season with salt and pepper and dust lightly with paprika.
Transfer the baking dish to the middle rack of the oven and bake for 45-50 minutes until the chicken thighs reach an internal temperature of 165°F. Remove from the oven and serve immediately.
Notes
If using boneless chicken breasts, reduce the bake time to 30-40 minutes.
The safe temperature for either bone-in or boneless chicken thighs is 165°F when checked with a meat thermometer.
Recommended Products
As an Amazon Associate and member of other affiliate programs, I earn from qualifying purchases.
Nutrition Information:
Yield:

6
Serving Size:

1
Amount Per Serving:
Calories:

451
Total Fat:

23g
Saturated Fat:

9g
Cholesterol:

126mg
Sodium:

235mg
Carbohydrates:

17g
Fiber:

5g
Sugar:

2g
Protein:

42g