This savory Instant Pot Chicken and Dumplings recipe is the perfect dinner idea for when you want the combination of an easy dinner and comfort food. This is the perfect family dinner idea; everyone will love the full flavor of chicken and dumplings made in the pressure cooker!
Chicken and dumplings is the ultimate in comfort food. It's one of those dinners that's made for family gatherings and is also the perfect company meal idea. Or you can make it for yourself and tuck some leftovers aside!
And this is the best chicken and dumplings recipe because it's made in the Instant Pot (so it's fast and easy!) and it's made from scratch (so it's super yummy and savory!). It's even more flavorful than traditional slow cooker chicken and dumplings or stovetop recipes, both because of the secret ingredient and because you cook it under pressure.
Watch our
video
above and see how easy this is.
Ingredients For Instant Pot Chicken And Dumplings
Savory vegetables, rich broth, and flavorful seasonings combine to make this a meal you'll want to make over and over again.
And it's not just delicious; this Instant Pot chicken and dumplings recipe is simple to make and doesn't require too many ingredients. Plus, everything you'll need to make it is likely already on hand! Simple, traditional flavors combine to make this hearty stew everything you imagine.
But there's one secret ingredient that makes it taste even better! Are you ready for it?
Bone-in chicken thighs! You might not think that using bones would make all that much of a difference, but they add a richer flavor that you'll really enjoy.
If you're short on time or need to use some boneless chicken that you already have on hand, just reduce your cooking time by two minutes; the rest of the chicken and dumplings recipe directions will stay the same and the flavor will still be good, just not quite as complex and savory.
So what ingredients do you need to make chicken and dumplings in the Instant Pot?
Ingredients for your homemade chicken stew:
olive oil
bone-in chicken thighs
diced carrots
diced celery ribs
finely chopped onion
fresh garlic cloves
all-purpose flour
salt and pepper
chicken broth
whole milk
Ingredients for your made-from-scratch dumplings:
all-purpose flour
grated parmesan cheese
fresh chopped chives
baking powder
salt
whole milk
butter
How To Make Chicken And Dumplings In A Pressure Cooker
One of the awesome things about cooking in an Instant Pot is that you can sauté right in your insert and not have to use another bunch of pans while you're making dinner. Gotta love the combo flavor and convenience you get using a pressure cooker!
So how do you make chicken and dumplings in your Instant Pot? It's simple!
Cooking Your Chicken Stew In The Instant Pot
The first step in making these delicious pressure cooked chicken and dumplings is browning the chicken.
Simply set your pot to sauté and pour in your olive oil once it's hot. Cook the chicken thighs in batches, about 5 minutes on each side, until they're browned.
Once the chicken is cooked, set it on a plate to the side and add your chopped vegetables into the Instant Pot. Sauté them in the oil and chicken broth mixture that's now nice and hot in the bottom of your pot. You'll know you're ready to move on to the next step when your onions are nice and tender.
Next, pour the chicken broth into the pot and scrape up any stuck-on bits in the bottom of the pot. This is important in order to prevent a "burn" message.
The last step for the stew is to add the chicken thighs back in, pushing them down into the broth.
Now it's time to make the dumplings!
How To Make Dumplings From Scratch
Don't be intimidated by the idea of making dumplings from scratch; they're much easier than biscuits, plus they are going to taste amazing, and don't take long at all.
Simply add your all-purpose flour, grated parmesan, diced chives, baking powder, and salt in a bowl and mix them together.
Next, you'll combine the milk and butter. And again, it's very easy! Simply combine your butter and milk and then heat the milk in the microwave or on the stovetop until the butter is melted. Shout out to Cook's Illustrated for this tip; adding warm milk instead of cold makes the dumplings fluffier!
Lastly, add the warmed liquid to the dry ingredients by folding them in. All you need is a spatula or spoon to fold the wet ingredients into the dry ingredients, gradually creating a dough.
Be sure you're not over-working the dough on this step. Remember, you're not mixing the wet and dry ingredients together, you're just folding the wet into the dry. This keeps the dumplings light and fluffy, too.
Making Your Chicken And Dumplings In The Pressure Cooker
Now comes the fun part! If you have kids, they can help with this step, too.
Make large balls from your dough mix by rolling them in your hands. Then drop the dough balls into the stew mixture that is in your Instant Pot. But be careful and make sure they don't touch each other, otherwise, they won't make little dumplings as they cook!
Once all your dumplings are in your stew, seal your lid in place and set the Instant Pot to high for 18 minutes (only 16 minutes if you are using boneless chicken).
Natural Pressure Release:
When the time is done, let the pressure cooker do a natural release. Use tongs to remove the chicken thighs from your stew and dumpling mix onto a plate. Using forks, pull the tender chicken off the bones and return the meat to the pot.
Give your absolutely delicious chicken and dumplings a sample taste and try not to swoon! Go ahead and add a dash more salt now if you think it's needed.
And Voila! You've made an absolutely savory and simple Instant Pot chicken and dumplings recipe that everyone will love! Dish it up in your favorite bowl and enjoy.
Update 4-27-19:
We have updated this recipe and the video to reflect safer Instant Pot instructions. According to the Instant Pot manufacturer it is not advised to thicken your recipe before pressure cooking. Originally, our recipe directed you to stir flour into the vegetables then whisk in the broth. The flour thickened the broth prior to starting the pressure cooker.
We want to make sure we are offering delicious AND safe instructions so we have updated the recipe. You may still see the old video floating around on the internet somewhere. Please disregard that video and know that the video shown above is the updated video.
SOME OTHER RECIPES WE ARE SURE YOU WILL LOVE:
CONNECT WITH SAVOR THE BEST!
Be sure to follow us on our social media accounts
Facebook * Instagram * Pinterest * Twitter * Youtube
Did you make this recipe? We would love to hear from you. Drop us a comment below.
Yield: 8 servings
Instant Pot Chicken and Dumplings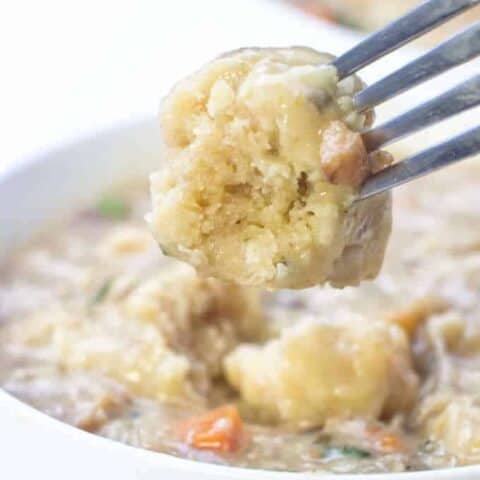 Chicken and dumplings is the ultimate in comfort food. It's one of those dinners that's made for family gatherings and it is incredibly easy and fast to make in the Instant Pot.
Prep Time 10 minutes
Cook Time 25 minutes
Total Time 35 minutes
Ingredients
FOR THE CHICKEN
2 tablespoons olive oil
4 pounds bone-in chicken thighs
4 carrots, diced
2 celery ribs, diced
1 large onion, finely chopped
3 to 4 garlic cloves, minced
1/2 teaspoon salt
1/2 teaspoon pepper
4 cups chicken broth
FOR THE DUMPLINGS
1-3/4 cups all-purpose flour
1/4 grated parmesan cheese
2 tablespoons chopped fresh chives
1 tablespoon baking powder
1 teaspoon salt
3/4 cup whole milk
5 tablespoons butter
Instructions
Set the instant pot to saute. When it is hot, add the olive oil then cook the chicken thighs in batches. Cook them for about 5 minutes per side or until they are brown. Set them off to the side on a plate. 
Add the carrots, celery, onion, and garlic to the pot and cook until the onions are soft. Season with salt and pepper.
Pour in the chicken broth then put the chicken thighs back into the Instant Pot and push them into the stew.
Make the dumplings:
Combine the flour, parmesan, chives, baking powder, and salt in a mixing bowl. Heat the milk and butter in the microwave or on the stovetop until the butter has melted and the milk is warm. 
Fold the milk and butter into the flour mixture.
Drop large balls of the dough right on top of the chicken. Do not push them down but separate them with a spoon.
Place the lid on and set the Instant Pot to high for 18 minutes. 
Allow the Instant Pot release the pressure naturally then remove the lid and remove the chicken thighs. Shred the chicken off the bones and return the meat to the pot. 
Taste and season with salt as needed.
Notes
Using bone-in chicken thighs will give the stew a deeper flavor and makes a huge difference. If you use boneless chicken reduce the pressure cooking time by 3 minutes.
To make sure your dumplings are tender and light, do not over stir the flour and milk mixture. Just fold the ingredients together until they are combined, then stop mixing.
Let the Instant Pot release all or most of the pressure naturally in order to prevent drops of liquid from spurting out of the valve.
Recommended Products
As an Amazon Associate and member of other affiliate programs, I earn from qualifying purchases.
Nutrition Information:
Yield:
8
Serving Size:
1
Amount Per Serving:
Calories: 529
Total Fat: 31g
Saturated Fat: 11g
Trans Fat: 1g
Unsaturated Fat: 27g
Cholesterol: 121mg
Sodium: 1529mg
Carbohydrates: 31g
Fiber: 2g
Sugar: 4g
Protein: 29g
Nutrition information is a guideline only, is calculated automatically by third party software, and absolute accuracy is not guaranteed.