The classic French stew of all stews, Beef Burgundy is made with chunks of beef that are slow-cooked in red wine with carrots, mushrooms, bacon, onions, and other aromatics. It's incredibly rich, hearty and flavorful. Braised to perfection in a delicious, savory wine broth.
If you've ever made Beef Bourguignon, you've made Beef Burgundy, as they're the exact same thing. And why exactly is it called Beef Burgundy? The recipe calls for tender chunks of beef, braised for hours in a broth made with an entire bottle of Pinot Noir.
The stew originates from the provincial region of Burgundy, France, known for both its excellent cattle and its superior wine. Beef Burgundy combines the best of the region into one, flavor-packed, comforting and hearty stew.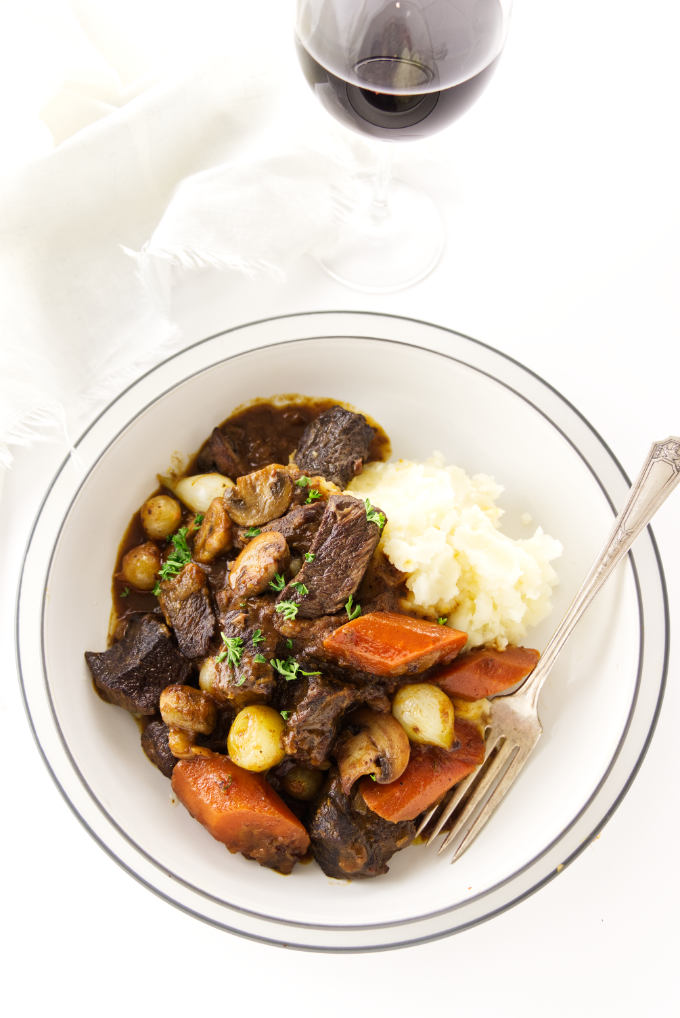 Why you will love Beef Burgundy:
Beef Burgundy is the quintessential slow-braised beef. It's similar to our timeless Beef Stew, but an elevated French version. Thankfully, it's just as simple to prepare. Serve it with mashed potatoes or your favorite noodles to soak up all that brothy goodness. Oh, and bread! Always, bread. (If you have a sourdough starter, try some spelt sourdough bread).
Here's why you'll love it:
Beef Burgundy stew is classic comfort food, French-style
It is cozy, hearty, and packed with rich aromatics, vegetables, and tender beef chunks
The stew is packed with whole food ingredients that makes a nutritious meal
Ingredients for Beef Burgundy:
To make Beef Burgundy, you will need:
Olive oil
Bacon, cut into 1×1/2-inch batons (sticks)
Boneless beef chuck roast, cut into 2-inch chunks
Salt and pepper
Onion, chopped
Garlic cloves, grated or minced
Tomato paste
All-purpose flour
Pinot Noir or any dry red wine
Beef broth
Large carrots, sliced
Fresh thyme
Dried bay leaves
Butter
fFozen pearl onions, thawed
Small mushrooms, halved
Chopped fresh parsley for garnish
How to make Beef Burgundy:
What makes Beef Burgundy so delicious is the long braise that cooks the beef down into fork-tender pieces, infused with a delicious broth flavored with onions, bacon, mushrooms, and red wine. It's stew perfection, and we're welcoming all things cozy and comforting as we head into cooler weather.
Here's how to make Beef Burgundy stew. Make sure to scroll down to the printable recipe card for all the details.
Cook the bacon in a heavy-bottomed skillet, then set aside. Season and sear the beef chunks to brown.
Sauté the onion and garlic, then add the tomato paste and flour.
Pour in the wine and beef broth, whisking to thicken the sauce.
Place the bacon and beef chunks into the pot, add the carrots, thyme and bay leaves. Transfer to the oven and cook for 1 to 1-1/2 hours.
Sauté the onions and mushrooms in butter in a skillet.
Once the beef has cooked for 1-2 hours and is partially tender, stir the mushrooms and onions into the stew.
Re-cover and continue cooking another 1 or until the beef is fork-tender.
You will need a Dutch oven (or similar, oven-safe pot) for this Beef Burgundy recipe.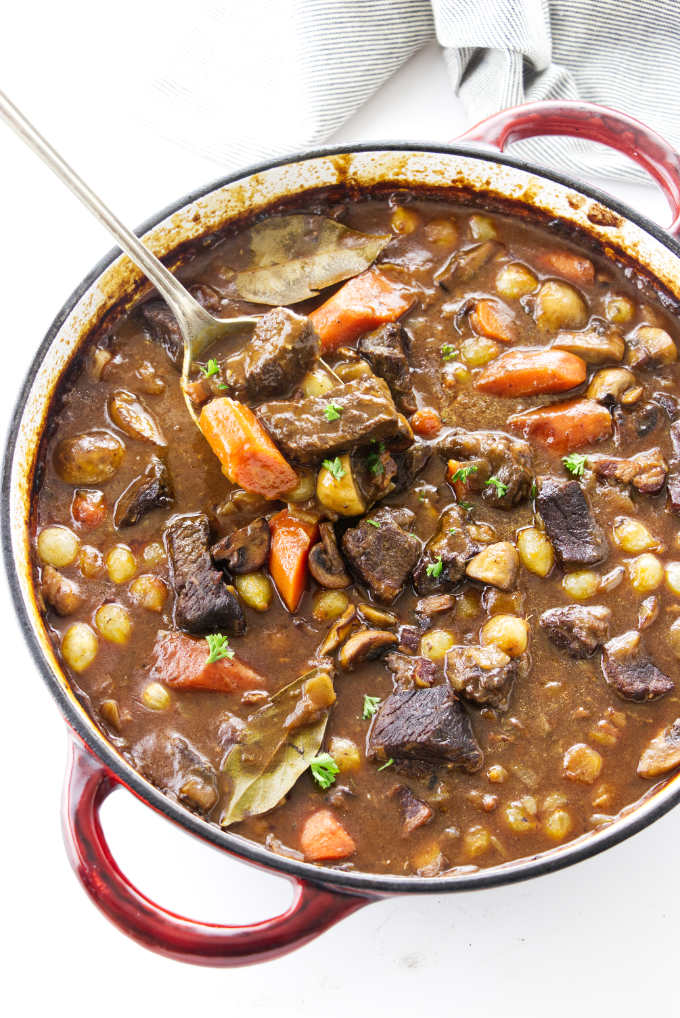 Expert tips:
Don't discard the bacon grease- it's perfect for browning the beef and will add extra flavor.
When browning the beef, sear it in batches and don't overcrowd the pot.
If possible, make Beef Burgundy a day or two in advance for even better flavor. The stew tastes best when the flavors have more time to meld.
To reheat, place the Dutch oven in a 300°F oven until the Beef Burgundy stew is hot.
Frequently Asked Questions:
What is the difference between Beef Burgundy and Beef Bourguignon?
Beef Bourguignon is the French name for Beef Burgundy. The stews- and preparation- are essentially the same, with minor changes found in every recipe. Beef Burgundy (Beef Bourguignon) is a stew of tender beef, vegetables, bacon and aromatics that is braised in a red wine-infused broth.
What cut of beef is best for Beef Bourguignon?
Use boneless beef chuck roast, cut into two-inch pieces. For the best Beef Burgundy stew, make sure it's high-quality chuck. This type of meat is perfect for stews and slow braises because it is a fattier cut that becomes incredibly flavorful and tender when cooked low and slow.
What does Beef Bourguignon taste like?
The beef is melt-in-your-mouth tender, the wine adds a slightly sweet depth of flavor, and the tender vegetables and aromatics add a heartiness to the dish. The Beef Burgundy sauce just begs to be sipped on, spooned onto mashed potatoes, and generously drizzled on each bite.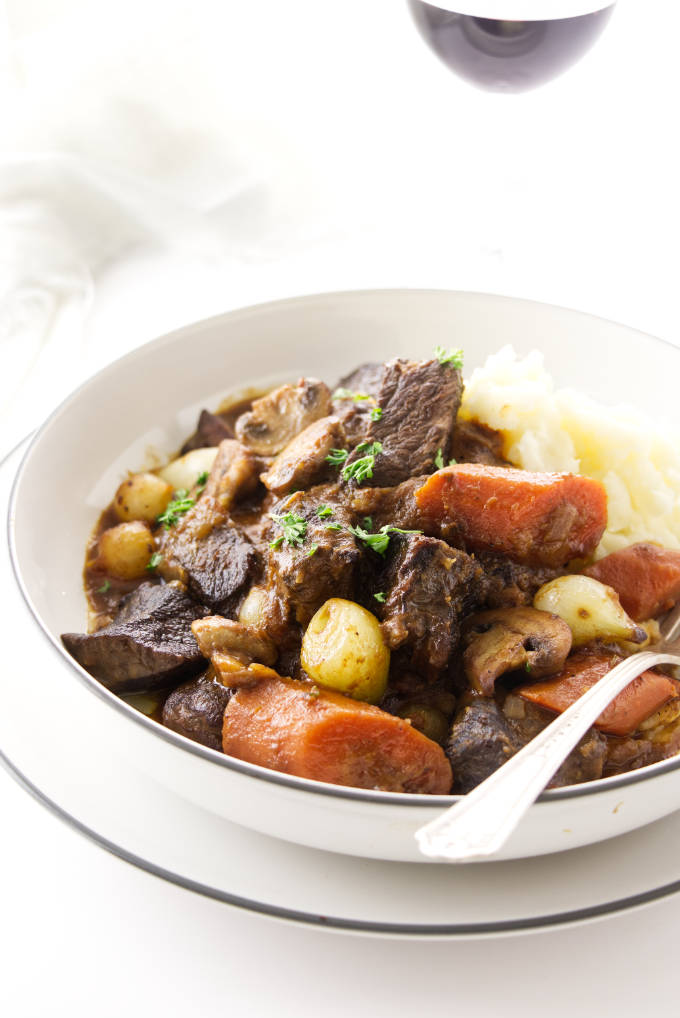 Helpful Tools:
Some of the following links are affiliates. If you click on these links and purchase something, we may receive a small commission. You don't pay any extra but it will help us keep the lights on.
Check out our soup cookbook. It is filled with wholesome and hearty soups. Each soup recipe is from scratch with real ingredients and filling enough to be enjoyed as a main-course meal.
Some Other Recipes We Are Sure You Will Love:
Cider Braised Pork Shoulder with Apples: A hearty, slow-roasted pork shoulder braised in apple cider with sweet sautéed apples.
Slow Cooker Coq Au Vin: This French classic is easy to make in your slow cooker! A delicious blend of chicken and vegetables slowly simmered in red wine.
Sausage Stuffed Acorn Squash: Try this hearty, one-dish for an easy dinner! Sage-seasoned pork, a cornbread stuffing, dried cranberries and fresh herbs. All combined and stuffed into acorn squash 'bowls' for individual servings.
Connect With Savor the Best:
Please follow us on our social media accounts
Facebook * Instagram * Pinterest * Youtube * Twitter
Did you make this recipe? We would love to hear from you. Drop us a comment below.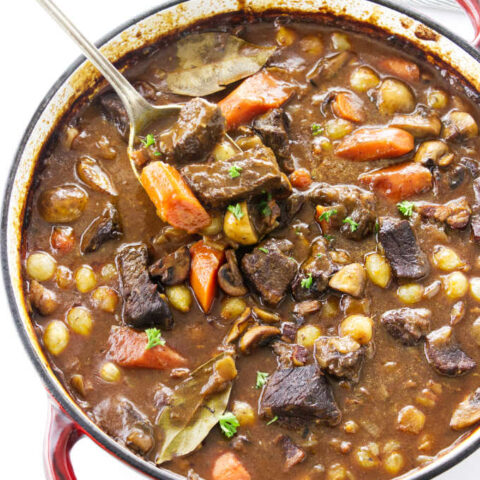 Beef Burgundy
Total Time:
3 hours
20 minutes
Beef Burgundy is a classic French dish made with tender, chunks of beef, slow cooked in red wine, carrots, mushrooms and tiny onions! Serve this hearty dish with creamy mashed potatoes!
Ingredients
2 tablespoons olive oil
6 ounces of slab bacon, cut into 1x1/2 inch batons (sticks)
3 pounds boneless beef chuck roast, cut into 2-inch chunks
Salt and freshly ground pepper
1 large onion, chopped
4 cloves garlic, grated or minced
2 tablespoons tomato paste
1/3 cup all purpose flour
1 bottle (750 ml) Pinot Noir or dry red wine
2 cups beef broth
3 large carrots, sliced in 1/2-inches
3 sprigs fresh thyme, tied with kitchen twine
2 bay leaves
1/2 teaspoon salt
1/4 teaspoon black pepper
3 tablespoons butter
12 ounces thawed frozen pearl onions
2 pounds small mushrooms, halved
Chopped fresh parsley for garnish
Instructions
Preheat the oven to 350°F
In a Dutch oven or heavy bottomed skillet set over medium-high, sauté the bacon until golden brown. Transfer to a plate and reserve.
Sprinkle the beef chunks with 1/2 teaspoon salt and 1/4 teaspoon pepper. and working in batches, sear the beef cubes in the bacon drippings, turning until browned on all sides, about 5-8 minutes. Transfer to a large bowl and continue the process until all the beef has been seared.
Add the chopped onion to the bacon fat and sauté until translucent, about 2 minutes. Stir in the garlic cook until fragrant, 30 seconds, then stir in the tomato paste.
Sprinkle the flour over the vegetables and cook for 2 minutes, stirring to coat.
Slowly, pour in the wine and the beef broth whisking until the sauce is slightly thickened and smooth.
Return the bacon and the seared beef to the pot, add the carrots, thyme sprigs and bay leaves. Season with salt and pepper.
Cover the pot and transfer to the oven and cook until the beef is tender, about 1 to 1-1/2 hours.
In a skillet set over medium heat, melt the butter and sauté the mushrooms to the skillet and sauté until lightly browned, 3-4 minutes. Transfer to the bowl. Add the pearl onions to the skillet and sauté, adding additional butter as needed until lightly browned then transfer to the bowl with the mushrooms.
After the beef has cooked for 1 to 2 hours and is partially tender, add the mushrooms and pearl onions to the pot, stirring to combine.
Re-cover the pot, transfer back to the oven and continue cooking until the beef is fork-tender, about 1 additional hour.
Transfer the pot from the oven and serve directly from the pot over individual servings of mashed potatoes and garnished with chopped parsley.
Notes
If possible, make this a day or two in advance and gently re-heat in a 300° oven until hot. Like any stew or soup this dish will taste better when the flavors have married together.
Recommended Products
As an Amazon Associate and member of other affiliate programs, I earn from qualifying purchases.
Nutrition Information:
Yield:

8
Serving Size:

1
Amount Per Serving:
Calories:

678
Total Fat:

42g
Saturated Fat:

17g
Trans Fat:

2g
Unsaturated Fat:

23g
Cholesterol:

174mg
Sodium:

932mg
Carbohydrates:

20g
Fiber:

4g
Sugar:

7g
Protein:

54g
Nutrition information is a guideline only, is calculated automatically by third-party software, and absolute accuracy is not guaranteed.