Mashed Creamer Potatoes are velvety, creamy, and comforting. Creamer potatoes are the ultimate variety because there is no peeling required! Simply boil them, skin on, then mash and enjoy. This recipe requires very little prep, comes together quickly, and wonderfully complements any meal!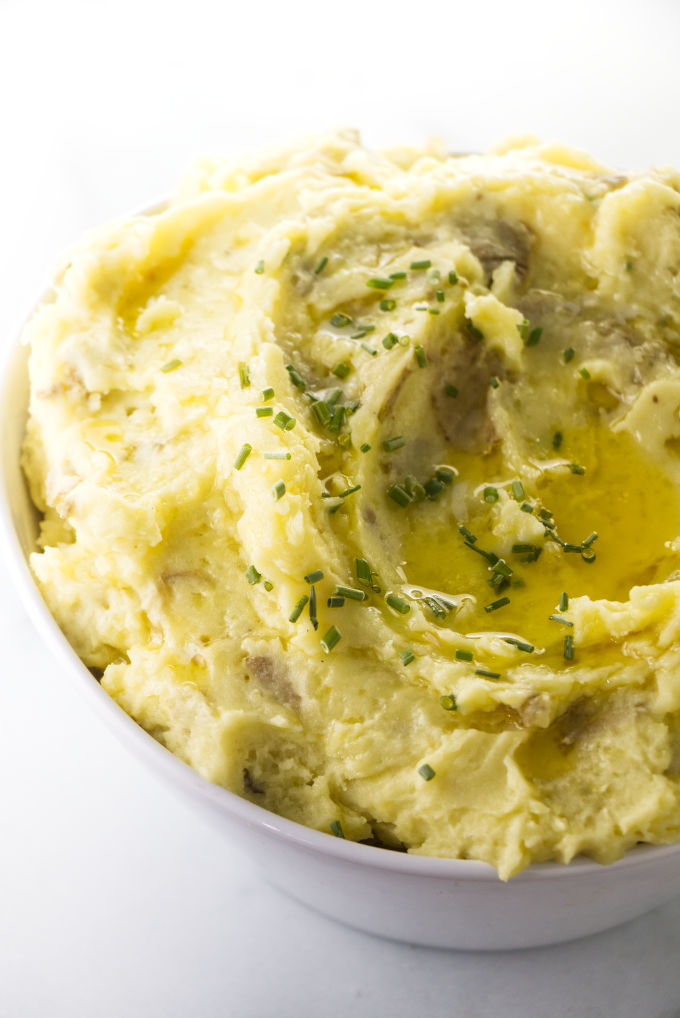 If you like this recipe you will like these make-ahead mashed potatoes and these ricotta mashed potatoes.
Why you will like mashed creamer potatoes
This recipe for mashed creamer potatoes is foolproof. Here's why we know you'll love making it, over and over again!
You only need 5 ingredients
No peeling required
Quick rep time. The potatoes are so small you don't even need to cut them.
The mashed creamer potatoes are velvety smooth and perfectly creamy
The garlic adds a nice kick to the dish
It's a versatile side dish that complements roasted, fried, or grilled meats and vegetables galore
Ingredients needed for mashed creamer potatoes
Grab the following ingredients to make this recipe:
Creamer potatoes or baby potatoes. We used little gold potatoes in this recipe. The tiny potatoes have thin skin that does not need to be peeled. Since they are so small, and (usually) consistently sized, they do not need to be sliced.
Salt. Use salt in the water when you boil the little potatoes and then use it to season the final recipe. Potatoes need a good dose of salt during the cooking process.
Butter. You can use salted or unsalted butter. We prefer salted butter.
Garlic. Fresh garlic will give these mashed potatoes a bit more garlic essence than dried garlic but you can substitute dried garlic if you wish.
Whole milk or half and half. It is important to warm the milk or half and half before adding it to the mashed potatoes. A quick zap in the microwave is all it takes.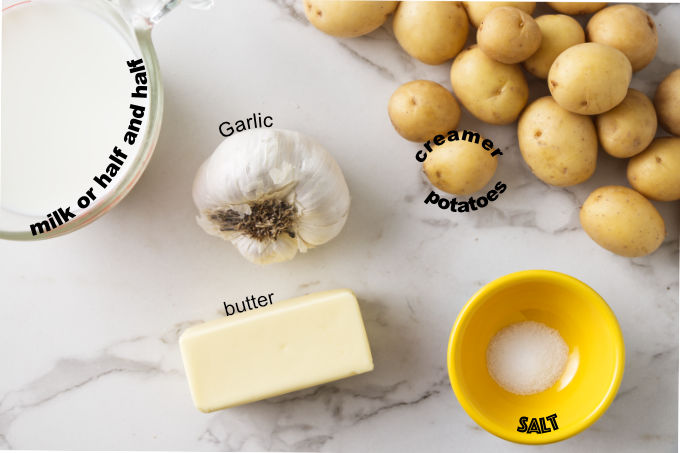 How to make mashed creamer potatoes
This recipe is simple to make. Here are the basic steps, please scroll to the bottom of the post for the full recipe and complete instructions:
Boil the salted potatoes until they are tender then drain the water.
Mash the little potatoes with a hand masher or an electric mixer.
Add the melted butter/garlic mixture and mix until the potatoes are coated in butter.
Blend in the warm milk and mash until you reach a creamy consistency.
Tips for recipe success
For perfectly creamy mashed creamer potatoes, here are a few tips: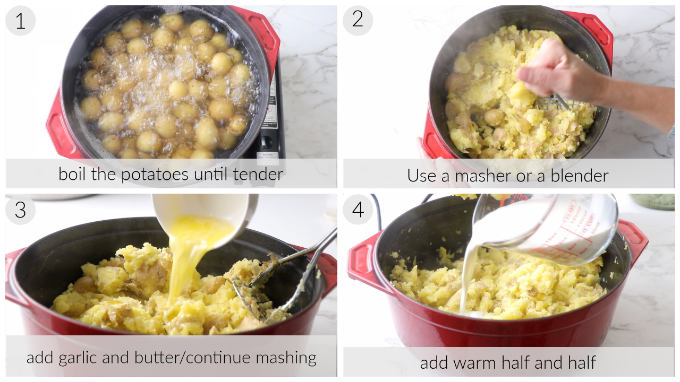 Creamer potatoes do not need to be peeled because the skin is thin and blends easily.
Baby potatoes or petite potatoes are great substitutes, if needed.
Add the potatoes to the pot of cold water before you bring it to a boil. This will ensure your potatoes cook more evenly. If you add potatoes to boiling water, the edges will get mushy and overcooked, while the center will be undercooked.
Do not skip the step of returning the strained potatoes to the pot and allowing the excess water to evaporate over medium heat. If you skip this step, you may end up with soggy and watery mashed potatoes.
To prevent a gluey or gummy consistency, do not overmix the potatoes. Take extra caution if you're using a hand blender or mixer.
Use melted butter and warmed milk (or half and half) to avoid cooling down the potatoes.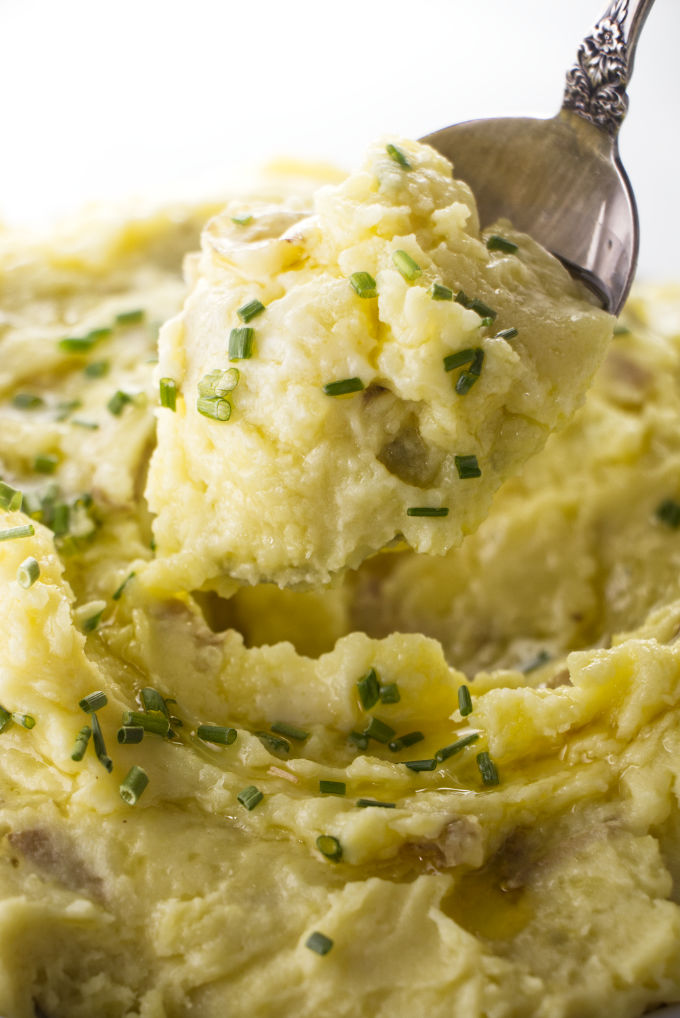 Frequently asked questions
What are creamer potatoes?
Creamer potatoes are potatoes that are bred to be small. They are fully mature at a small size and have a thin skin, which means no peeling is required. You can substitute with baby potatoes which are immature potatoes that get harvested while they are still small and tender.
How long does it take to boil creamer potatoes on the stove?
It will take about 15 to 20 minutes to cook creamer potatoes.
Can you overcook creamer potatoes?
Yes. If you overcook the potatoes, you may end up with a soupy consistency when you mash them. It's important to drain the water from the potatoes when they are perfectly fork tender. You also do not want to undercook the potatoes or else they will not mash properly and may have lumps.
Why should you add salt to the water when boiling potatoes?
Adding salt to the water will help season the potatoes. The more salt you add to the water, the better the potatoes will be seasoned. If you skip this step it will be hard to get the final mashed potatoes properly seasoned.
How long do mashed creamer potatoes keep?
Any leftovers can be stored in an airtight container in the refrigerator for 3 days.
Can you freeze mashed creamer potatoes?
It is best to enjoy mashed creamer potatoes fresh. However, if you plan to make these ahead of time, you can freeze them. Freeze them in an airtight container for up to 6 months for the freshest flavor and the best texture.
To reheat mashed potatoes, remove from the airtight container and place them into a pot on the stovetop over low heat until fully heated through. You may need to add milk, half and half, or butter if they seem dry. You can also microwave frozen mashed potatoes.
Helpful Tools
Some of the following links are affiliates. If you click on these links and purchase something, we may receive a small commission. You don't pay any extra but it will help us keep the lights on.
SOME OTHER RECIPES WE ARE SURE YOU WILL LOVE:
These parsley baby potatoes are a great side dish to any meal. They get roasted in the oven for a hands-off recipe.
This recipe for goat cheese potatoes au gratin is the ultimate comfort food with a tangy twist from the goat cheese.
Instant Pot mashed sweet potatoes is a great way to change things up from a standard potato dish.
CONNECT WITH SAVOR THE BEST!
Be sure to follow us on our social media accounts
Facebook * Instagram * Pinterest * Twitter * Youtube
Did you make this recipe? We would love to hear from you. Drop us a comment below.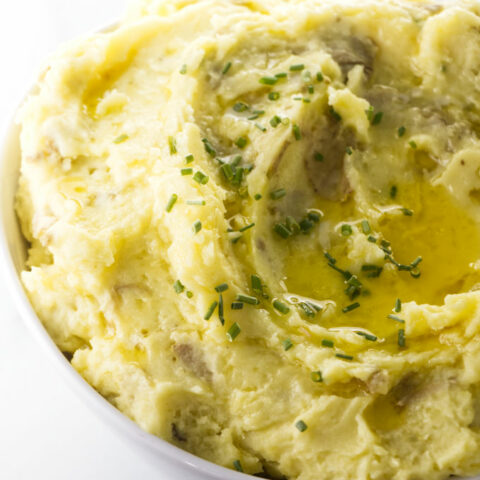 Mashed Creamer Potatoes
Yield: 6 servings
Prep Time: 2 minutes
Cook Time: 15 minutes
Total Time: 17 minutes
These small creamer potatoes make amazing mashed potatoes. You don't need to peel or slice them so prep time is cut to a minimum.
Ingredients
3 pounds creamer potatoes or any variety of petite potatoes
1 tablespoon salt
8 tablespoons butter
2 garlic cloves, minced
1 cup whole milk or half and half, warmed
Additional salt and pepper for seasoning
Instructions
Place the potatoes in a large pot and fill with cold water. Add the salt to the water.
Bring to a boil then reduce the heat and simmer for 15 to 20 minutes or until the little potatoes are tender.
Drain the potatoes and return them to the pot. Place the pot over medium heat and cook for 1 to 2 minutes until the rest of the water evaporates.
Place the butter and garlic cloves in a microwaveable dish and cook in 30 second increments until the butter is melted.
Use a potato masher or a hand blender to break up the potatoes. Add the butter and mix well to coat the potatoes in the butter.
Stir in the milk or half and half. Use the masher or blender to get the consistency you like. Season with salt and pepper to taste.
Notes
Do not over-mix the potatoes or they will get 'gummy'. Be especially careful if you use an electric mixer. Beat them just until they are creamy then stop.
Recommended Products
As an Amazon Associate and member of other affiliate programs, I earn from qualifying purchases.
Nutrition Information:
Yield: 6
Serving Size: 1
Amount Per Serving:
Calories: 527
Total Fat: 40g
Saturated Fat: 32g
Trans Fat: 1g
Unsaturated Fat: 5g
Cholesterol: 46mg
Sodium: 1496mg
Carbohydrates: 40g
Fiber: 1g
Sugar: 3g
Protein: 5g
Nutrition information is a guideline only, is calculated automatically by third-party software, and absolute accuracy is not guaranteed.