A coworker had told me about a sweet potato hash that he had at a restaurant in Seattle. It had jalapeños mashed in with the sweet potatoes and his description got me yearning to try the combination for a Thanksgiving side dish. The flesh of the jalapeño peppers becomes mild and sweetens up when it is baked.
Roasting the sweet potatoes with their skins on saves time and hassle from peeling them. Once they are cool enough to handle the skins just slip right off. It's the fastest way I know to peel a sweet potato.
Don't get squirmy about putting a big handful of jalapeño peppers in the dish, if you remove the seeds and inner membrane it will take a considerable amount of heat out of the peppers. And these jalapeños add a whole new level of flavor to the potatoes. It's not your standard candied sweet potato dish. If your looking for something a little out of the ordinary this year, give this dish a try.
Yield: 6 servings
Sweet Potato Jalapeño Mash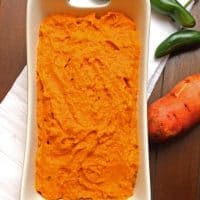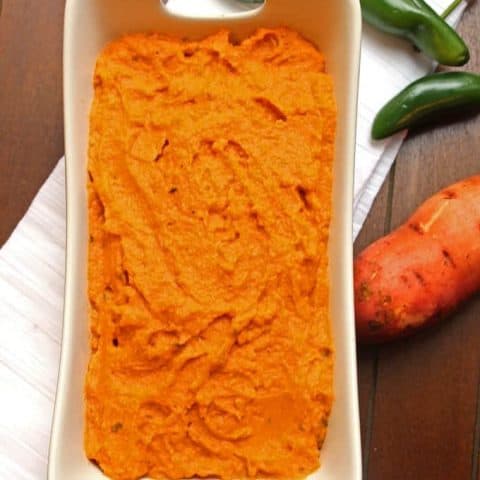 Creamy sweet potatoes mashed with roasted jalapeño peppers for a delicious side dish
Prep Time 10 minutes
Cook Time 35 minutes
Total Time 45 minutes
Ingredients
2 pounds sweet potatoes
5 to 6 jalapeño peppers
¼ cup brown sugar
¼ cup whole milk
3 tablespoons butter
½ teaspoon salt
¼ teaspoon ground pepper
Instructions
Preheat oven to 400F. Scrub the outside of the sweet potatoes to remove any dirt then cut the potatoes in half length-wise. Drizzle a bit of olive oil on the cut edges of the potatoes.
Place the sweet potatoes on a baking sheet. Cut the jalapeño peppers in half and remove the inner membrane and seeds (you may want to wear gloves to avoid getting the pepper oils on your skin). Place the peppers cut side down on the baking sheet with the sweet potatoes.
Place the baking sheet with the potatoes and peppers in the preheated oven. After 25 minutes, remove the jalapeño peppers from the oven, place them in a bowl and cover the bowl with plastic wrap. Return the baking sheet with the potatoes to the oven and bake for an additional 10 to 15 minutes until potatoes are tender.
Remove potatoes from the oven and allow them to cool enough to handle, then peel the skins off and put the potatoes in a large bowl. Remove the jalapeños from the bowl and scrape the flesh off the skin and place them in the bowl with the potatoes. Add the brown sugar, milk, butter, salt and pepper to the bowl then mash them with a potato masher or use an electric mixer until smooth. Season with additional salt and pepper as desired.