These Instant Pot mashed sweet potatoes are ultra-creamy and silky smooth. A little coconut milk and brown sugar enhances the sweetness and makes them incredibly delicious. You can make them a day ahead and reheat them when dinner is ready.
There is a huge flavor boost in these mashed sweet potatoes. We started them off by making a rich, nutty brown butter and infused it with sage. The flavor goes so well with sweet potatoes but it doesn't stop there. Coconut milk and brown sugar enhance the richness of the sweet potatoes.
What you need for Instant Pot sweet potatoes.
An Instant Pot. We used a 6 quart Instant Pot but this recipe would work with a larger pot.
Sweet potatoes.
Chicken or vegetable broth. You could use water but the broth will give the potatoes more flavor.
Coconut milk. We recommend full fat.
Butter.
Brown sugar.
Dried sage and salt.
How to make Instant Pot mashed sweet potatoes.
Peel and cube the sweet potatoes. Cut the sweet potatoes into 1-inch cubes so they cook quickly. If you cut them larger then it will take a bit longer to cook them.
Add all the ingredients to the Instant Pot. Just dump all the ingredients in the pot. You don't need to worry about a particular order for the ingredients.
Seal the lid and cook on high pressure. Make sure the lid is on securely and the valve is in the seal position.
Do a quick release and mash the sweet potatoes. Do a taste test and add additional seasoning if you would like.
Mashing the sweet potatoes.
A potato masher or a pastry blender will work well to mash the potatoes. If you don't have either of those gadgets then you can use a fork or an electric mixer. If you use an electric mixer make sure you don't over mix the sweet potatoes.
Mash the potatoes until you get the consistency you want. You can add additional broth or coconut milk if you want the mashed sweet potatoes creamier and looser.
Once you get the consistency you like, taste them and add additional salt or butter if needed.
About sweet potatoes.
A lot of times the sweet potatoes in our local grocery stores are labeled as yams. Those tubers that have dark orange flesh really are sweet potatoes, not yams. We touch a bit more on this in our post for roasted sweet potatoes.
About the coconut milk.
Coconut milk adds a rich, silky flavor to the mashed sweet potatoes Use the canned coconut milk. Don't use the kind of coconut milk that comes in a carton. The coconut milk in a carton has more water added to it and it is meant for drinking. Canned coconut milk is thicker, richer, and creamier.
Can you cook coconut milk in an Instant Pot?
You don't want to add milk or other dairy products to the Instant Pot while you cook food under pressure, however, you can add coconut milk. Since coconut milk is not a dairy product, you will not get the dreaded 'burn' signal if you use it while the Instant Pot is cooking with the pressure settings.
You can freeze mashed sweet potatoes.
These Instant Pot mashed sweet potatoes can be frozen for up to 12 months. Make sure you let them cool down all the way before placing them in the freezer. Store them in a freezer-proof container. You can thaw them overnight in the refrigerator or on the defrost setting of the microwave.
To peel or not to peel?
The skin on sweet potatoes is edible however mashed sweet potatoes are much better if you peel them.
Make-ahead mashed sweet potatoes.
This recipe for Instant Pot mashed sweet potatoes is perfect as a make-ahead side dish. If you want to make it a day in advance, follow the recipe as written then let them cool down completely. Once they are cool, store them in a sealed container in the fridge until ready to heat and serve. You can re-heat them either in the microwave, stove-top, or oven.
Re-heating instructions:
Microwave. Place in a covered dish and cook on full power for 5 to 7 minutes, stopping to stir every couple of minutes.
Stove-top. Use a double boiler pot or fill a saucepan with a couple of cups of water and bring to a boil. Next, put the mashed sweet potatoes in a heatproof bowl and place it over the saucepan. Stir intermittently until hot all the way through.
Oven. Place the mashed sweet potatoes in a covered baking dish and re-heat at 350°F for 20 to 30 minutes. If they look like they are drying out, add a bit of butter or coconut milk.
SOME OTHER RECIPES WE ARE SURE YOU WILL LOVE:
This sweet potato and apple casserole is a great side dish for your holiday table. There is no added sugar in this dish, we just let the natural sweetness from the potatoes and apples shine.
We started things off in the oven with this creamy sweet potato jalapeno mash. The jalapeno peppers get roasted along with the sweet potatoes. The roasting process helps mellow some of the heat from the peppers and concentrates the flavors.
Sweet potatoes make a terrific addition to breakfast. This sweet potato hash is a blend of diced onion, ham, and fresh herbs. Not only is it fast and easy to make, but it is also a healthy way to start your day.
CONNECT WITH SAVOR THE BEST!
Be sure to follow us on our social media accounts
Facebook * Instagram * Pinterest * Twitter * Youtube
Did you make this recipe? We would love to hear from you. Drop us a comment below.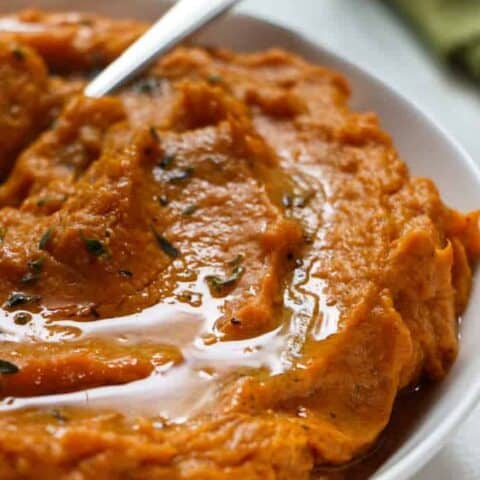 Instant Pot Mashed Sweet Potatoes
Yield: 6 servings
Prep Time: 10 minutes
Cook Time: 4 minutes
Total Time: 14 minutes
Free up the oven and stovetop with this quick and easy mashed sweet potato recipe by making it in the Instant Pot. Brown butter, sage, coconut milk, and brown sugar make an amazing flavor combination with the sweet potatoes.
Ingredients
3 pounds sweet potatoes
4 tablespoons butter
1 teaspoon dried sage
1/3 cup chicken or vegetable broth
1/4 cup coconut milk
2 tablespoons brown sugar
1 teaspoon salt
Instructions
Peel the sweet potatoes and cut them into 1-inch chunks (see notes).
Place the Instant Pot on the saute setting and add the butter. Cook the butter, stirring occasionally until it turns light brown and smells nutty. This will take about 3 minutes. Stir in the sage.
Add the rest of the ingredients to the Instant Pot, give it a quick stir and secure the lid.
Set the Instant Pot to cook on high pressure for 4 minutes.
When the cooking time is finished press cancel and do a quick release.
Mash the sweet potatoes until you have the desired consistency. Add additional coconut milk, butter, or brown sugar if desired.
Drizzle with melted butter and serve.
Notes
Make sure the pressure valve is in the seal position when you put the lid on.
If you use fresh sage double the amount and use 2 teaspoons of chopped fresh sage
If you cut the sweet potatoes into chunks larger than 1 inch, you will need to increase the cooking time. 2-inch cubes will need to cook for 6 to 8 minutes.
You can leave the potatoes whole or cut them in half but you will need to increase the cooking time to 20 minutes for medium-sized potatoes and 25 to 30 minutes for larger sweet potatoes.

Cooking times for high altitudes:
2000 to 4000 feet: No changes to the cooking time but let it sit 3 minutes before pressure release.
4000 to 5000 feet: Increase cook time to 5 minutes.
Nutrition Information:
Yield: 6
Serving Size: 1
Amount Per Serving:
Calories: 323
Total Fat: 11g
Saturated Fat: 7g
Trans Fat: 0g
Unsaturated Fat: 3g
Cholesterol: 27mg
Sodium: 614mg
Carbohydrates: 51g
Fiber: 8g
Sugar: 18g
Protein: 7g
Nutrition information is a guideline only, is calculated automatically by third-party software, and absolute accuracy is not guaranteed.