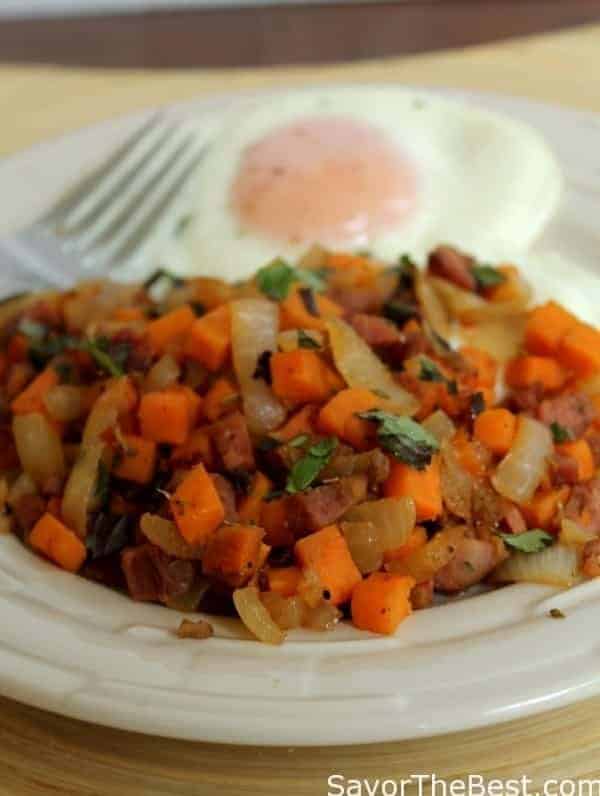 A few slices of leftover ham and a couple of lonely sweet potatoes inspired me to mix up a quick hash for breakfast this morning. I wanted something quick and easy. To spare myself an extra pot to clean, I opted to dice the potatoes pretty fine so I would not have to boil them separately before throwing them in the skillet. Fresh rosemary grows on my back porch and is one of my favorite herbs. Along with some fresh thyme and a little heat from the red pepper flakes, this makes an easy fuss-free breakfast dish that is full of flavor.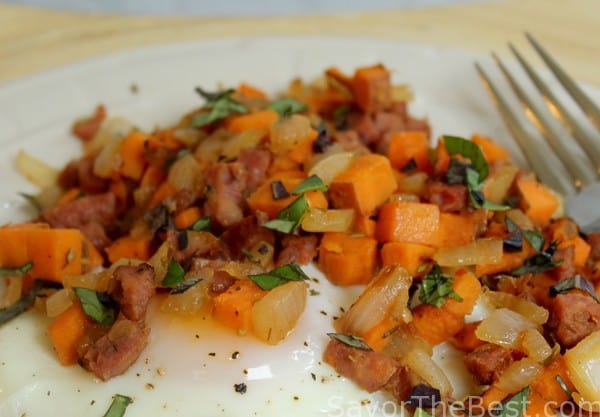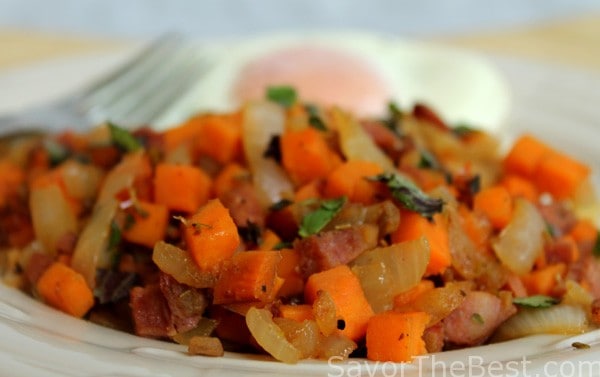 CONNECT WITH SAVOR THE BEST!
Be sure to follow us on our social media accounts
Facebook * Instagram * Pinterest * Twitter * Youtube
Did you make this recipe? We would love to hear from you. Drop us a comment below.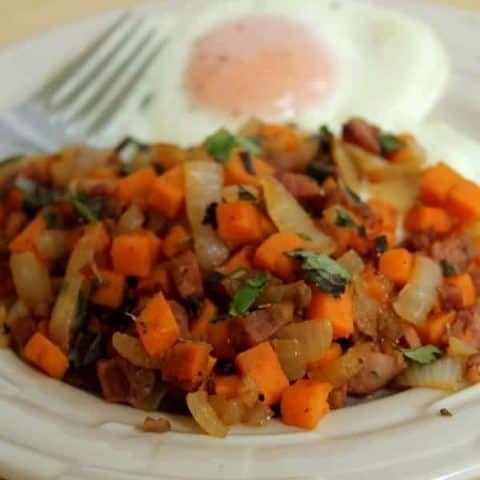 Sweet Potato Hash
Yield: 4 servings
Prep Time: 5 minutes
Cook Time: 15 minutes
Total Time: 20 minutes
Sweet potatoes combine with ham and fresh herbs for an undeniably delicious breakfast dish.
Ingredients
2 tablespoons olive oil
2 medium sweet potatoes, peeled and finely diced (about ¼ inch)
1 onion, diced
2 ounces ham, diced
2 cloves garlic, finely chopped
1 tablespoon chopped fresh rosemary
2 sprigs fresh thyme, chopped
½ teaspoon red pepper flakes
½ teaspoon salt
¼ teaspoon pepper
Instructions
Heat olive oil over medium heat in a large skillet. Add the potatoes and onion and cook, stirring occasionally until potatoes are tender, about 8 to 10 minutes (if you dice the potatoes larger, it will take longer so check for tenderness).
Add remaining ingredients and cook an additional 2 to 3 minutes.
Serve with eggs and additional fresh herbs if desired.
Nutrition Information:
Yield: 4
Serving Size: 1
Amount Per Serving:
Calories: 191
Total Fat: 8g
Carbohydrates: 25g
Protein: 4g