Sweet potatoes for breakfast is a great way to start your day. Our sweet potato breakfast hash makes a savory, healthy meal that is ready in just 20 minutes. It combines sweet potatoes, ham (or bacon), kale (or spinach), onions, and steamed eggs in a filling and nutritious meal.
It's perfect for those mornings when you need something to sustain you until lunchtime. And it's a great way to use up leftover ham or bacon.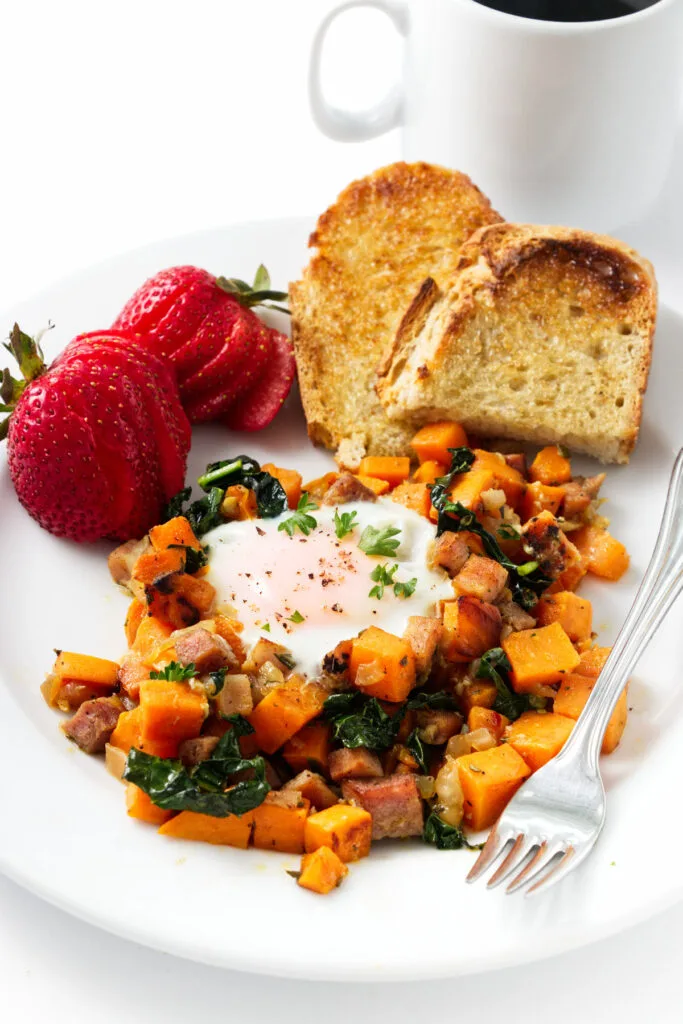 If you have extra sweet potatoes to use for dinner, check out our roasted sweet potatoes. And if you want to try more skillet recipes, check out our skillet chicken or beef pasta skillet.
Why This Recipe Works
This decadent breakfast sweet potato hash recipe works so well because it hits all the key points of a great breakfast dish: salty, sweet, savory, filling, and nutritious. Plus, it's easy to make ahead of time and reheat for a quick and satisfying breakfast during busy mornings.
it's a healthy, veggie-forward dish that will keep you full and satisfied
it's a one skillet meal cooked entirely on the stovetop (you don't need a separate skillet to cook the eggs)
it's gluten-free, low-carb, and low-fat
Ingredients Needed for Sweet Potato Hash
Here is a list of the ingredients you will need to grab at the grocery store to make our sweet potato hash. Scroll down to the printable recipe card for all the details.
Olive oil. Some other options are avocado oil, coconut oil, or butter.
Sweet potatoes. Dice them into small pieces, so they cook quickly.
Onion. You can use white, yellow, or red onion.
Kale or spinach. You can even swap the greens for collard greens.
Ham or bacon. Use precooked bacon (most ham is already cooked).
Garlic. We used fresh garlic, but you can use garlic powder as well.
Fresh rosemary and thyme. Or substitute with dried herbs.
Salt and pepper
Red pepper flakes.
Eggs. A fresh egg adds extra protein to keep you full.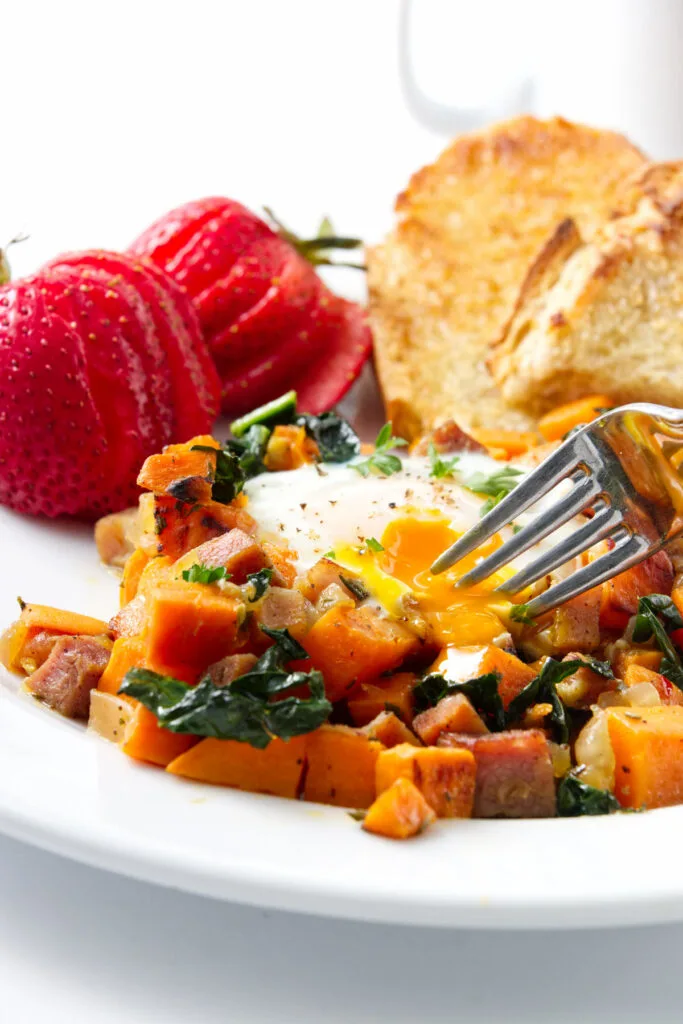 How to Make Sweet Potato Breakfast Hash
Here is a brief overview of how to make this sweet potato breakfast. Scroll down to the printable recipe card for all the details.
Cook the sweet potatoes and onions in a large skillet over medium-high heat.
Toss in the remaining ingredients (except for the eggs) and cook for another two minutes.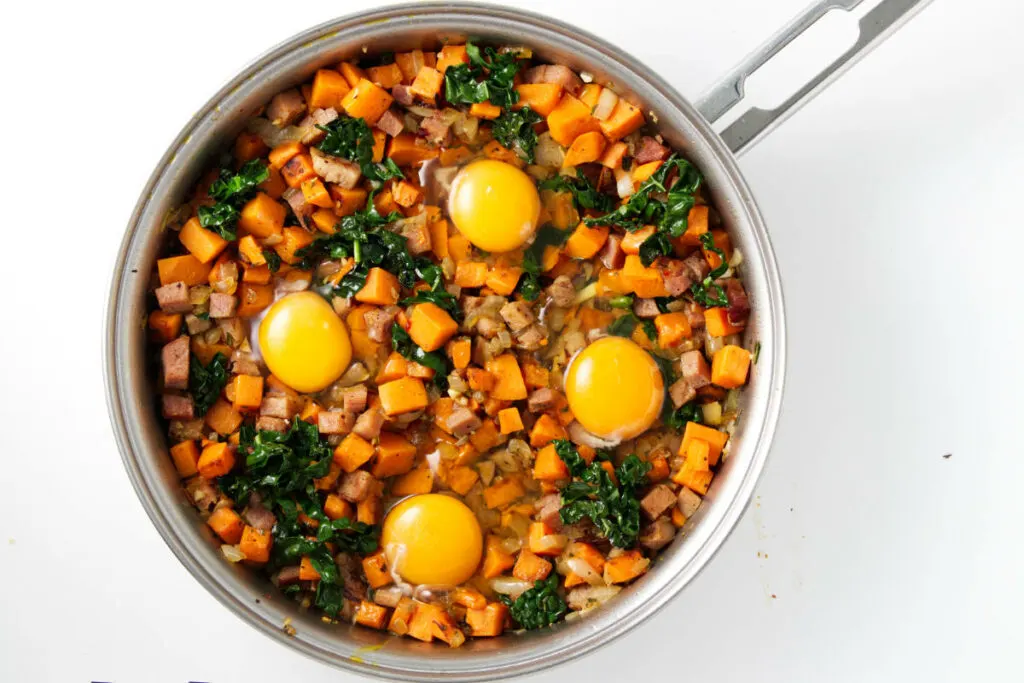 Make four wells in the breakfast hash and crack an egg in each well. Add a splash of water, then cover the skillet to steam fry the eggs.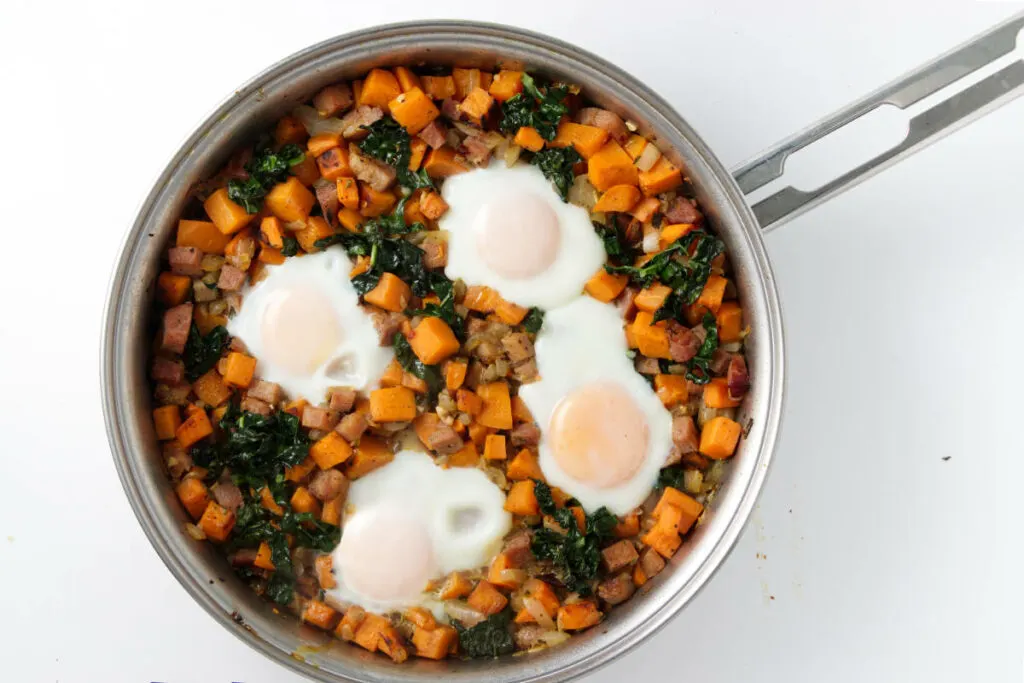 Cook until the egg yolk is done to your liking. Garnish the hash with sliced green onion (or fresh cilantro) and serve it with hot sauce or salsa.
Tips for the Best Breakfast Hash Recipe
Dice the sweet potatoes about 1/4 inch, so they cook quickly. You will need to increase the cooking time if you cut them larger.

Use half the amount of dried herbs instead of fresh herbs if you want to substitute.

Adjust the cooking time if necessary. If you cut the sweet potatoes into larger chunks, they will take a bit longer to cook.

If you use fresh spinach instead of kale, the spinach will release water. Just cook the mixture a bit longer until most of the water evaporates.

Add a splash of water and cover the skillet after you add the eggs. The lid will hold the steam in and cook the eggs quicker—no need to place the skillet in the oven.
Recipe Variations
Change things up by switching out the herbs and spices. We gave a few suggestions in the recipe card.
Add diced red bell peppers or black beans (even white beans or garbanzo beans) to the sweet potato mixture.
Substitute the ham or bacon with breakfast sausage, chicken sausage, or a vegetarian option like Beyond Sausage.
Frequently Asked Questions
Do sweet potatoes need to be peeled?
No, sweet potato skins are safe to eat, and they contain nutrients and fiber. We like to peel our sweet potatoes, but you don't have to.
Can I make this breakfast in advance?
Yes. If you make it in advance, don't cook the eggs on top of the hash. When you are ready to serve it, heat it up in a skillet, then crack the eggs on top and cook them. You can also heat the hash in the microwave and then cook the eggs in a separate skillet.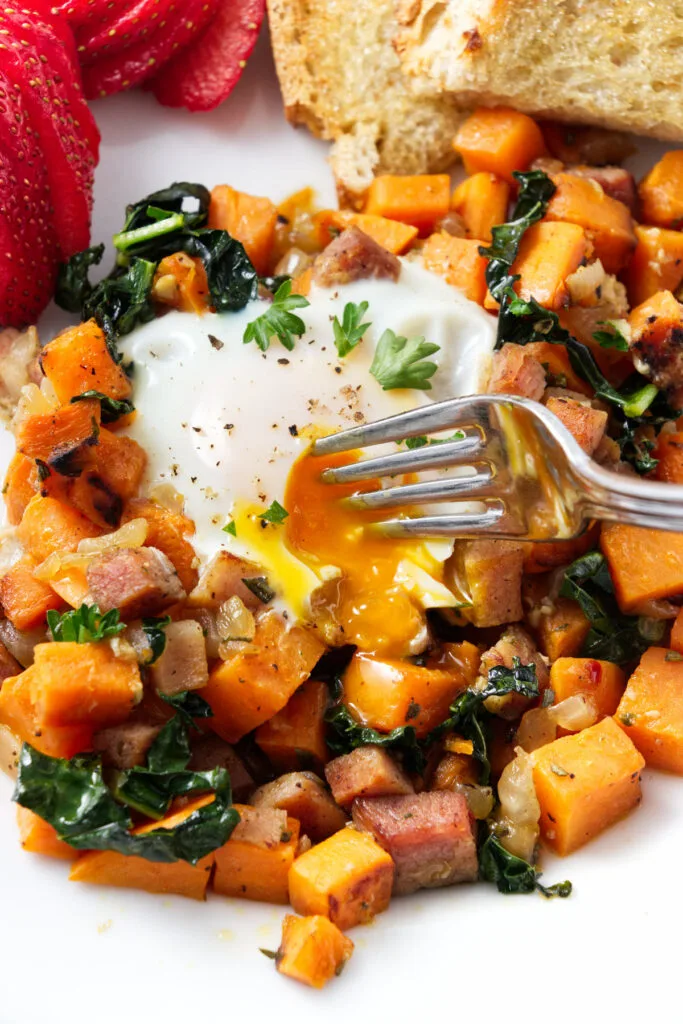 This savory sweet potato breakfast hash is the perfect way to start your day! Packed with protein and healthy fats, it will keep you full until lunch. It makes a terrific breakfast or main dish, or you can serve it as a side dish for dinner if you leave out the fried egg.
Helpful Tools
Some of the following are affiliate links. We may receive a small commission if you click on these links and purchase something. You don't pay any extra, but it will help us keep the lights on.
More Recipes You Will Love
Sweet potatoes are a fall favorite in our household. If you need other ways to use your leftover sweet potatoes, try our instant pot mashed sweet potatoes or roasted sweet potatoes.
Try our savory sweet potato casserole for a change from the traditional side dish. It's made with gruyere cheese, and fresh herbs for a gourmet touch.
If you want more breakfast ideas, check out our crispy breakfast burritos or our Starbucks breakfast wraps.
Our prime rib hash uses leftover prime rib or pot roast and tastes great for breakfast or dinner.
Connect With Savor the Best:
Please follow us on our social media accounts
Facebook * Instagram * Pinterest * Youtube * Twitter
Did you make this recipe? We would love to hear from you. Drop us a comment below.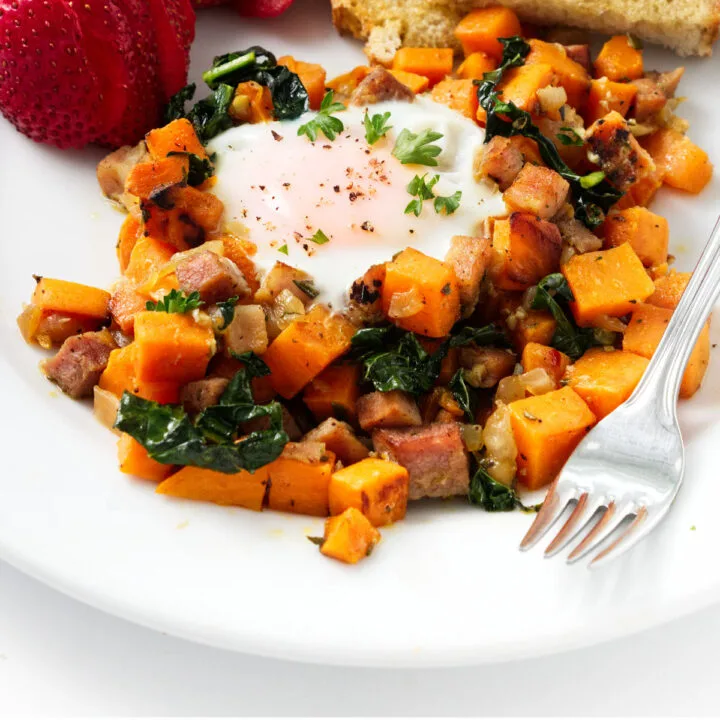 Sweet Potato Breakfast Hash
Sweet potato breakfast hash is a great way to start your day. It combines sweet potatoes, ham (or bacon), kale (or spinach), onions, and steamed eggs in a filling and nutritious meal.
It's perfect for those mornings when you need something to sustain you until lunchtime. And it's a great way to use up leftover ham or bacon.
Ingredients
2 tablespoons olive oil
2 medium sweet potatoes, peeled and finely diced (about ¼ inch)
1 onion, diced
2 ounces ham, diced (or pre-cooked bacon, chopped)
2 cups chopped kale or spinach
2 cloves garlic, finely chopped
1 tablespoon chopped fresh rosemary
2 sprigs of fresh thyme, chopped
½ teaspoon red pepper flakes
½ teaspoon salt
¼ teaspoon pepper
4 eggs
Instructions
Heat olive oil over medium heat in a large skillet. Add the potatoes and onion and cook, stirring occasionally for 5 minutes. Cover the skillet and let the potatoes steam for another 5 to 6 minutes or until they are tender (if you dice the potatoes larger, it will take longer, so check for tenderness).
Add remaining ingredients except for the eggs, and cook an additional 2 to 5 minutes until the kale or spinach is wilted. If you use spinach, it will release some liquid, and you will want to cook it a minute or two longer until the water evaporates.
Use a spoon to make four indents in the hash and crack an egg in each indent. Add a tablespoon of water (to create some steam) and cover the skillet with a lid. Cook for 2 to 4 minutes or until the eggs are cooked to your desired doneness. It will take about 2-1/2 minutes for soft yolks and 4 to 5 minutes for firm yolks.
Notes
If you want to use dried herbs, use 2 teaspoons dried rosemary, 1 teaspoon dried, thyme, and 1/2 teaspoon garlic powder.
Optional spices for flavor variations
Nutrition Information:
Yield:

4
Serving Size:

1
Amount Per Serving:
Calories:

191
Total Fat:

8g
Carbohydrates:

25g
Protein:

4g