This Copycat Starbucks spinach and feta breakfast wrap is a great way to start your day and keep you full all morning. It is a healthy, low-fat breakfast wrap with egg whites, feta cheese, tomatoes, and spinach. The whole wheat tortilla gets toasted to a perfectly brown, crispiness on the outside while the inside is filled with delicate egg whites and a creamy spinach filling.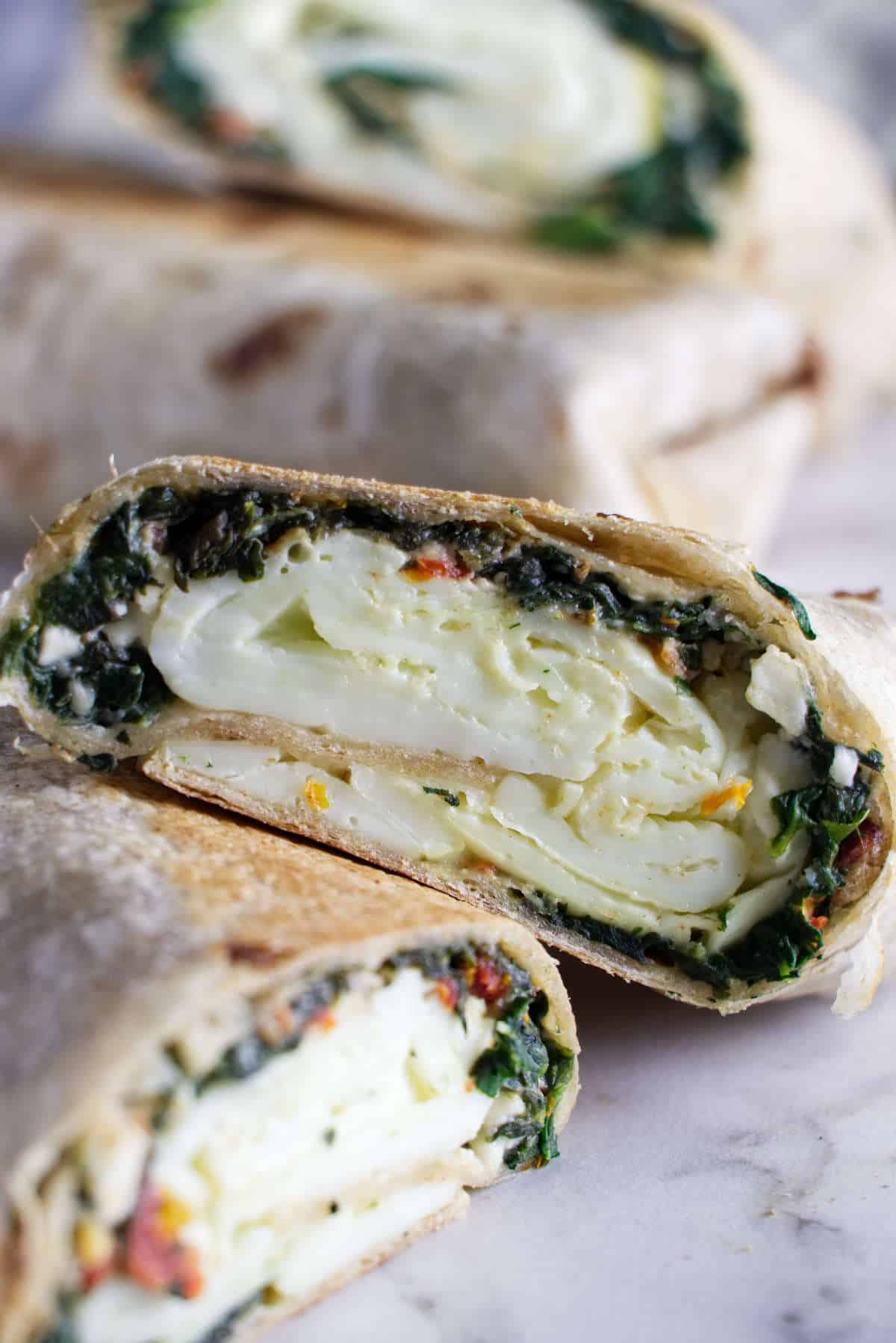 A few mornings ago, I was running around town, taking care of some errands when I suddenly felt RAVENOUS.
Don't you just hate that feeling? I can go from feeling perfectly-fine-thank-you-very-much… to I am starving! in 30 seconds flat. It's not so bad when the hangry monster attacks and I'm at home. It's easy to make healthy choices at home when I have something on hand to eat. Unfortunately, when I'm out and about, healthy choices can sometimes be sparse.
I don't know about the rest of the country, but in Washington, there is a Starbucks on every corner. It's a convenient and fast stop and they always have some healthier options on the menu. One of my favorite things to grab at Starbucks is their Spinach and Feta Breakfast Wraps.
The Copycat Starbucks Spinach and Feta Breakfast Wraps:
Made with spinach and sun-dried tomatoes, it has a rich source of vitamins, minerals, and fiber. Since it is made with cage-free egg whites, it is a great way to get in your protein without the added cholesterol, plus it is low in calories. The feta and cream cheese give it a creamy, cheesy flavor and make this wrap a culinary trifecta – healthy, delicious, and filling. Plus, since it's a wrap, it's something I can eat at the table or on-the-go. What's not to love?!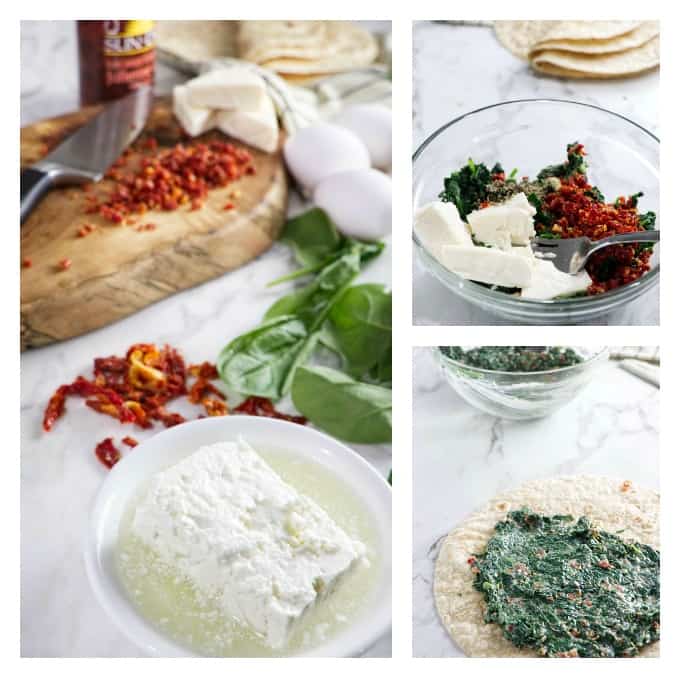 But, you know me – I love saving money. And Starbucks isn't exactly cheap! So, of course, I set out to create a copycat recipe that would satisfy my taste buds and my wallet. After experimenting a bit, I think I've gotten it right! The recipe below is the result. It's flavorful, low-calorie, and can be whipped up in under 30 minutes! It's perfect for breakfast, brunch, or a quick meal.
Make the Spread:
Let's start with the spread. Place eight-ounces of fresh spinach in a lightly oiled saucepan over medium heat. Cook the spinach until it is wilted (this should only take a couple of minutes). Transfer the spinach to a medium bowl. Add some low-fat cream cheese, finely chopped sun-dried tomatoes, a dash of oregano, garlic powder, and some salt. Mix it together until it is completely blended then set it aside.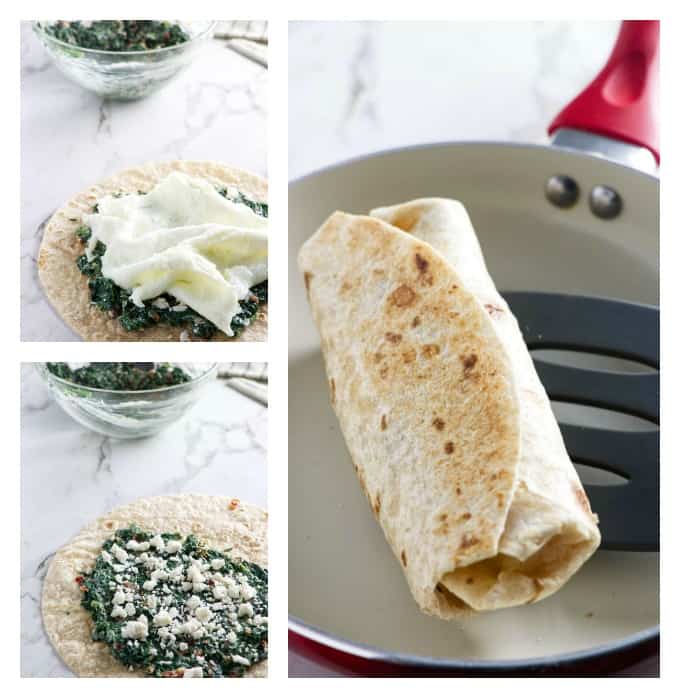 Cook the egg whites:
Add some non-stick cooking spray or some olive oil to the saucepan and pour in the beaten egg whites. Season to taste and cook until it is soft and fluffy. (Quick hack: Don't want to spend time separating the egg white from the yolk? Grab a carton of egg whites from the refrigerated section at the grocery store. Just pour and cook!)
Wrap it up:
Spread a whole wheat tortilla with the yummy cream cheese mixture and layer on the eggs. Sprinkle the top with feta cheese and roll it up like a burrito. (Note: If you have dietary restrictions, you can use any type of tortilla that you want!)
Grill it:
Now it's time to get the wrap warm and crispy! Heat a grill or a sauté pan and grill it on each side until its brown. It only takes a couple of minutes on each side. Enjoy!
Can I Freeze this Breakfast Wrap?
Want to save some for later? They freeze beautifully! Just let them thaw overnight in the fridge. When you're ready to enjoy one, wrap it in a paper towel and heat it in the microwave for 3 to 5 minutes, turning halfway. You can freeze them for up to 4 months and they'll still be delicious.
If mornings are always super busy for your family, you can make a big batch of these, freeze them, and then reheat them as needed. It can save so much time! And you'll know your family has something delicious and healthy to get their day off to a great start.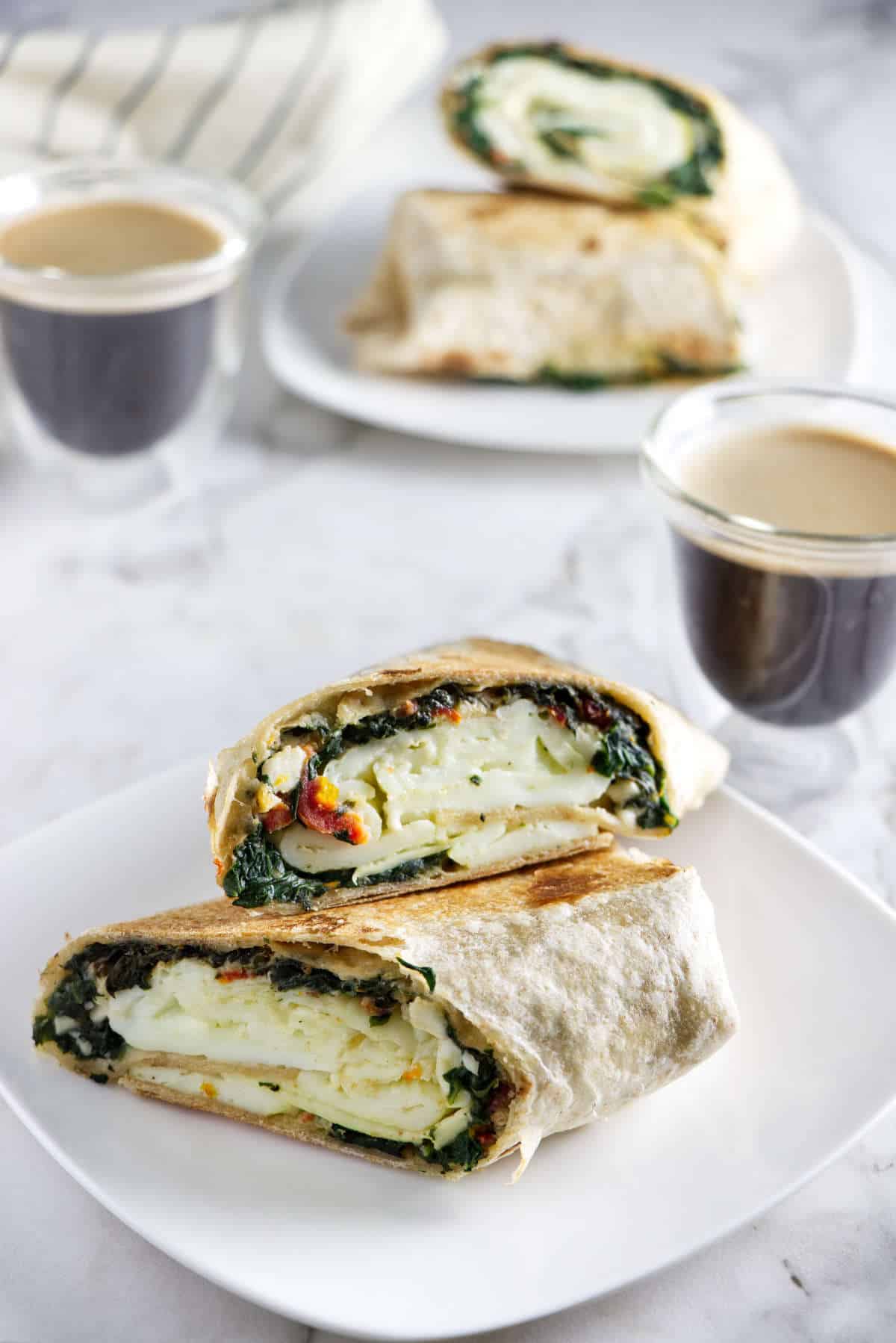 Starbucks Spinach and Feta Breakfast Wraps
SOME OTHER RECIPES WE ARE SURE YOU WILL LOVE:
Southwestern Quinoa Black Bean Breakfast Burger
Connect With Savor the Best:
Please follow us on our social media accounts
Facebook * Instagram * Pinterest * Youtube * Twitter
Did you make this recipe? We would love to hear from you. Drop us a comment below.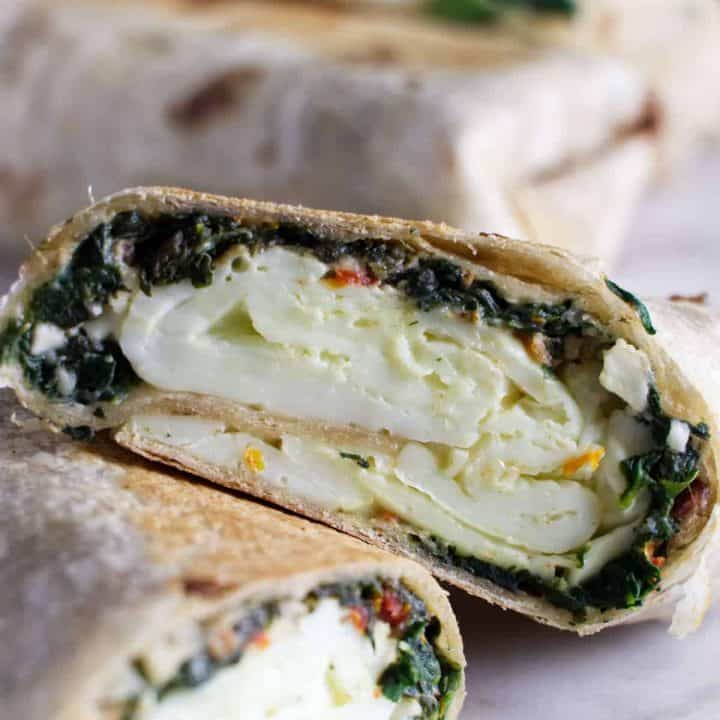 Copycat Starbucks Spinach and Feta Breakfast Wraps
A healthy, low fat breakfast wrap with egg whites, feta cheese, tomatoes, and spinach. A copy-cat version of Starbucks spinach and fetta breakfast wraps
Ingredients
8 ounces fresh spinach
1 ounce sun dried tomatoes, finely chopped
4 ounces low fat cream cheese
10 egg whites
1 teaspoon oregano
1/2 teaspoon garlic powder
1/4 teaspoon salt
4 whole wheat tortillas
4 ounces feta cheese crumbled
Instructions
Heat a saucepan over medium heat and cook spinach until wilted. Transfer the spinach to some paper towels or a dish towel and squeeze out the liquid. Place the spinach in a bowl and mix in the cream cheese and sun-dried tomatoes, oregano garlic powder and salt.
Add the egg whites to the pan and cook until soft.
Spread spinach mixture on a tortilla then cover with egg whites and top with feta cheese.
Roll the tortilla up like a burrito.
Put on a hot saute pan and brown on each side.
Notes
These are low fat, low cholesterol and high in protein. If you want to make this easier, you can use a carton of egg whites which is sold in the refrigerated section, usually near the eggs.
These breakfast wraps can be frozen for up to 4 months. To reheat them, let them thaw overnight in the fridge then wrap then in a paper towel and microwave them for 3 to 5 minutes, turning them half way through the cook time.
Nutrition Information:
Yield:

4
Serving Size:

1
Amount Per Serving:
Calories:

289
Total Fat:

8.9g
Cholesterol:

28mg
Sodium:

906mg
Carbohydrates:

30g
Fiber:

5g
Sugar:

2g
Protein:

23g