Well, what's for breakfast this morning? That seems to be the usual question for me just about every day. I recently added these Veggie Quinoa Egg Muffins to the options. Each muffin is packed with enough protein to stave off hunger pangs till lunchtime. And…as a bonus, there's a good portion of healthy vegetables.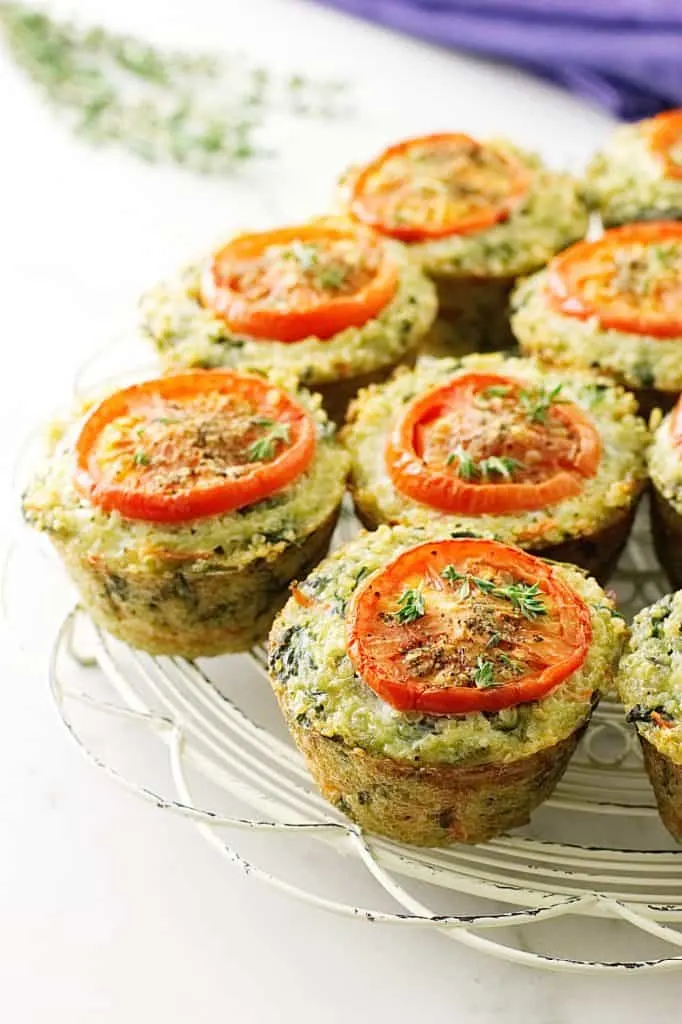 We have heard over and over that breakfast is the most important meal of the day and it should include protein and have a goodly amount of fiber. I baked this all-in-one, quinoa-egg breakfast frittata-type egg muffin primarily for breakfast but, hey! they are great for lunch too!
About quinoa:
Quinoa is not a new-fangled product, it is an ancient grain, actually it is as old as Noah or older. A huge benefit of incorporating this tiny seed into your diet is that it is gluten-free. With so much focus on gluten intolerance in today's diets this makes quinoa an important item. Quinoa is also quick-cooking and has a bit of a crunchy texture and a mild, nutty flavor.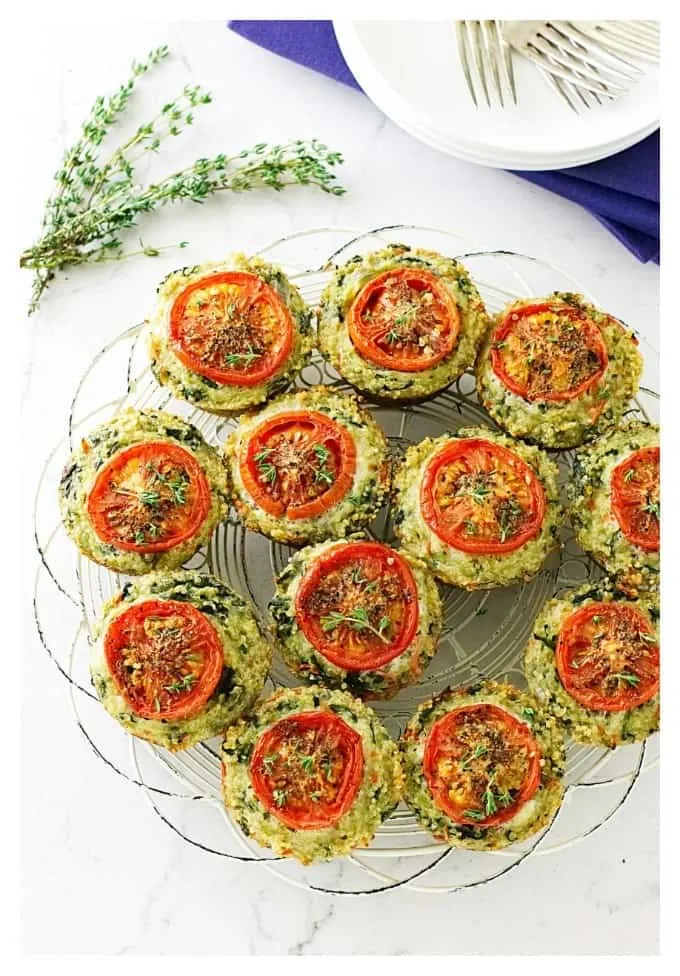 Quinoa nutrition:
Nutritionally, quinoa is a work horse! It contains all nine of the essential amino acids making it a complete protein. One cup of cooked quinoa contains 8.14 grams of protein. It is also low in calories and fat with 222 calories and 3.5 grams of fat in that same cooked cup of quinoa. Quinoa is also cholesterol free so if you are watching your cholesterol intake this grain is for you!
There is one caveat with quinoa, it has a natural coating on the outside that has a bitter taste. However, this rinses of easily with cold water and solves the problem. Lately, manufacturers have been pre-washing the product before packaging it. If your package of quinoa is not 'pre-washed' then rinse it in a fine-mesh strainer to remove the bitter-taste of that coating.
These breakfast muffins are packed with lots of nutrition from the quinoa, spinach, onions, carrots, egg whites, soft goat cheese, fresh herbs and tomatoes. They are easy to make and it makes a batch big enough to keep in the fridge for breakfast or lunch as well as freezing some for other days.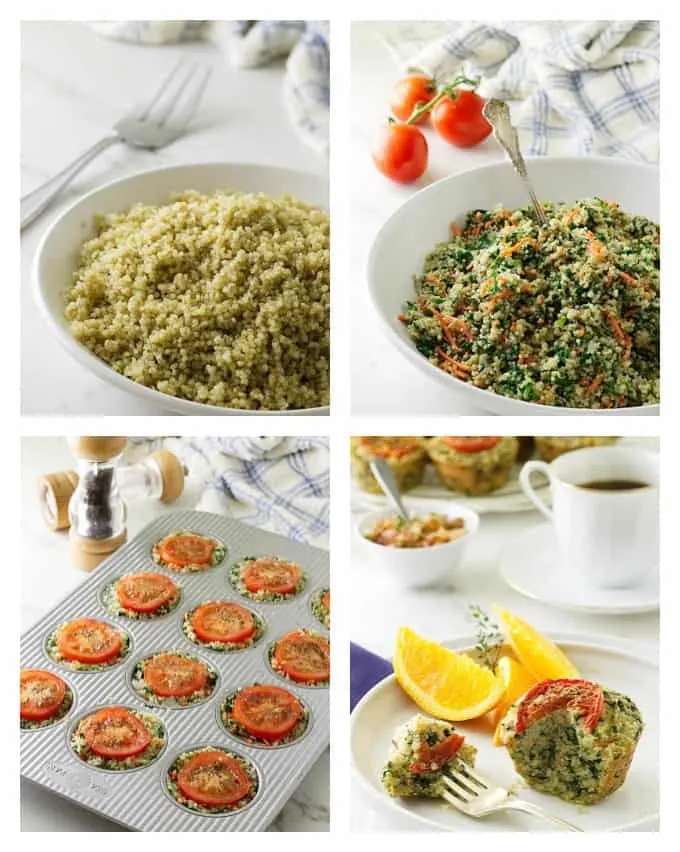 Tips on cooking quinoa:
To create these veggie quinoa egg muffins I first toasted the quinoa to bring out more of that nutty flavor. I have found that if I cook the quinoa according to the directions with a one part quinoa to two parts water it is softer than we like. In particular, the white quinoa cooked with that ratio seems mushy to me. Our quinoa is cooked with one-part quinoa to one-one-quarter parts water and I love the texture of it.
More Breakfast Recipes
We've collected some delicious breakfast recipes to make your morning meal memorable. From savory eggs benedict with truffle sauce to sweet French toast bake, you'll find something here that's just right for you.
How we made these Veggie Quinoa Egg Muffins:
While the quinoa was cooking and cooling I piled a lot of spinach on a dish and microwaved it just enough for it to wilt. Then I drained off the excess water and chopped it up. That is fifteen ounces of spinach in there! Next, I chopped the onions and grated some carrots. I used a dozen egg whites as I had some left from another project. So there's no cholesterol in those eggs. The egg whites and soft goat cheese were whisked together with seasoning and stirred into the cooled quinoa and vegetables.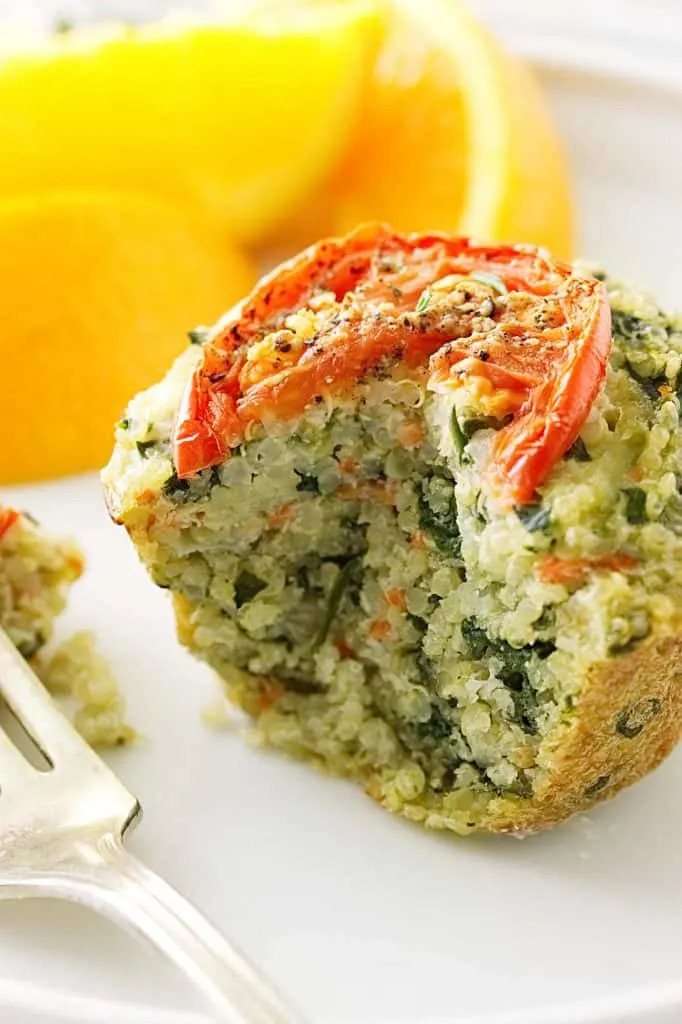 This recipe made eighteen regular size quinoa egg muffins. They tasted wonderful with fresh salsa. I kept some in the refrigerator as they will keep for several days and can be reheated in the microwave. With the remaining muffins I sealed them in a lidded container and put them in the freezer.
Check out these recipes:
Spinach-Artichoke-Quinoa Casserole
Southwestern Quinoa-Black Bean Breakfast Burger
Connect With Savor the Best:
Please follow us on our social media accounts
Facebook * Instagram * Pinterest * Youtube * Twitter
Did you make this recipe? We would love to hear from you. Drop us a comment below.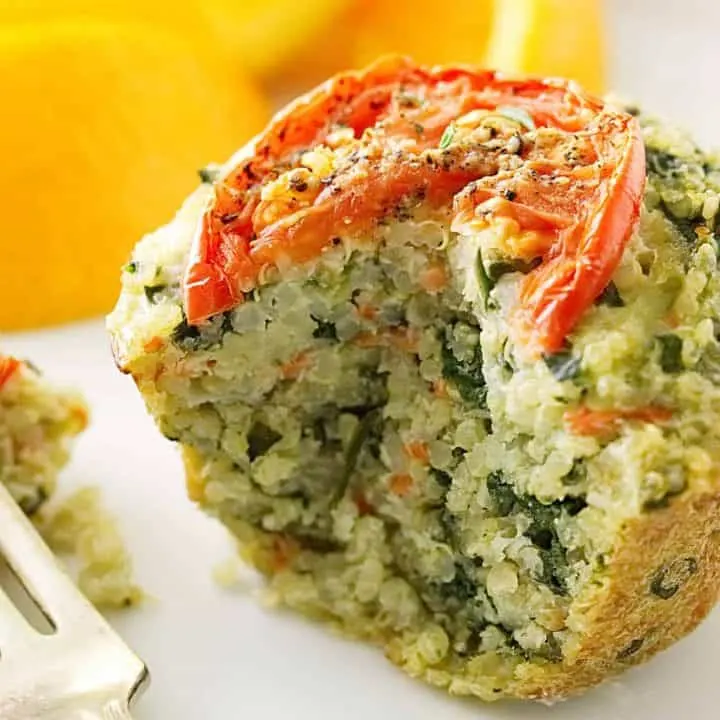 Veggie Quinoa Egg Muffins
Total Time:
1 hour
5 minutes
Quinoa Veggie Muffins are packed with nutrition: quinoa, spinach, onions, carrots, egg whites, soft goat cheese, fresh herbs and tomatoes. They are a gluten-free, low-fat, low-calorie, high fiber nutritious breakfast meal.
Ingredients
1 tablespoon olive oil
1 1/2 cups dry quinoa
1 2/3 cups water or broth
1/2 teaspoon salt
15 ounce pkg. fresh baby spinach
1/2 yellow onion, finely chopped
1 cup shredded carrots
12 egg whites
6 ounces goat cheese, soft log-type
1 teaspoon salt
1/4 teaspoon black pepper
2 tablespoon fresh thyme leaves
4-5 Roma tomatoes, thinly sliced
Salt/pepper
Fresh thyme sprigs for garnish
Instructions
Preheat the oven to 350°F, brush a 12-cavity regular size muffin pan with oil spray
Heat the olive oil in a saucepan set over medium heat, add the dry quinoa and cook, stirring frequently until toasted. Whisk in the water or broth and salt. Bring to a boil, reduce heat to low, cover and simmer for 15 minutes. Remove from heat and allow to sit for 5 minutes to absorb the liquid completely. Fluff with a fork and cool to room temperature. When cooled, add the quinoa to a large bowl.
Place the spinach on a large plate or bowl (I used a shallow salad bowl) transfer to the microwave and process on high for 3-4 minutes until wilted. Transfer the wilted spinach to a fine-mesh strainer and drain off the excess liquid. Place drained spinach on cutting board and chop. Add the spinach to the bowl with the quinoa. Add the onions and carrots to the bowl.
Combine the egg whites, goat cheese, salt and pepper in a blender or food processor. Pour the mixture over the quinoa-veggie mix, add the thyme leaves and mix thoroughly.
Fill each muffin cavity to the top, add a slice of tomato, and a sprinkle of salt and pepper.
Transfer to the oven and bake for 25-30 minutes, until the edges at the rim just look crispy. Remove from the oven and allow to sit for 5 minutes.
Run a knife around the muffins to remove.
Garnish with fresh thyme sprigs.
Nutrition Information:
Yield:

18
Serving Size:

1
Amount Per Serving:
Calories:

113
Total Fat:

4g
Saturated Fat:

2g
Trans Fat:

0g
Unsaturated Fat:

2g
Cholesterol:

5mg
Sodium:

301mg
Carbohydrates:

12g
Fiber:

2g
Sugar:

1g
Protein:

7g
Nutrition information is a guideline only, is calculated automatically by third party software, and absolute accuracy is not guaranteed.