Take advantage of the fresh cranberry season and bake up a batch of Sprouted Wheat Fresh Cranberry Bars. They will be a big winner at your holiday parties and cookie exchanges. This bar cookie, with its tangy-sweet layer of fresh cranberries, is sandwiched between a rich sprouted wheat crust and a crunchy streusel topping.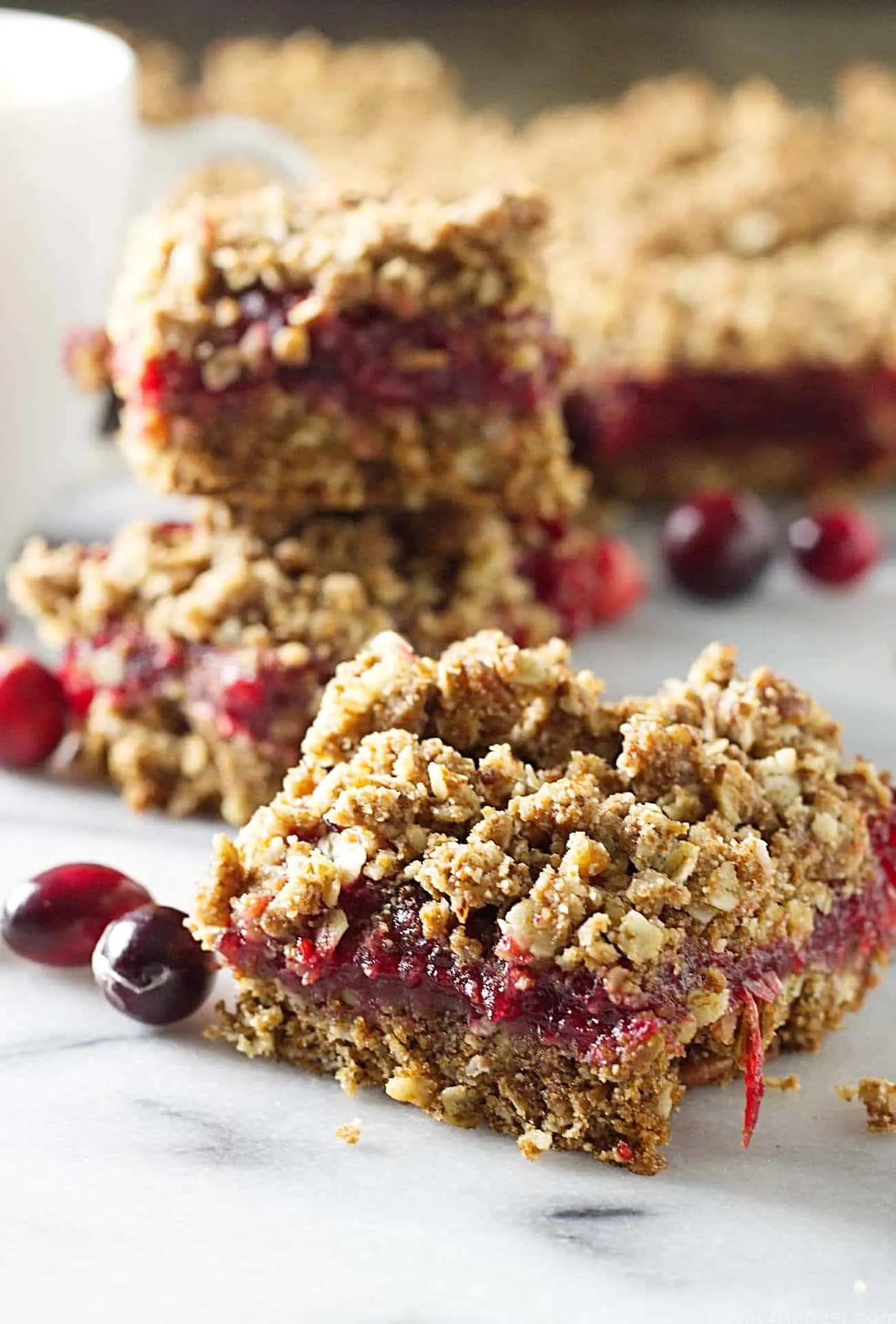 These bar cookies are made with sprouted wheat, sprouted rolled oats and fresh cranberries. There is no need to get out the electric mixer. All you need is a bowl, a spoon and a saucepan to mix up some amazing fresh cranberry bars from scratch.
Bar Cookies:
Bar cookies are one of the easiest to make cookies on the planet! Ideas and ingredients are infinite but fruit fillings in bar cookies are a favorite at our house. A thick layer of fresh fruit mixture in the middle of two layers of a simple pastry or shortbread crust can be an impressive dessert. Then add a scoop of vanilla ice cream on top! Yum, life is good! Besides fresh cranberries, some of our other personal fruit favorite bar cookies are:
Rhubarb

Strawberry/Rhubarb

Apple

Raspberry

Blueberry

Lemon
Sprouted Wheat Fresh Cranberry Bars
These sprouted wheat fresh cranberry bars might sound intimidating to make since they use a non-traditional flour but they are incredibly easy to make. The cookie base is the same mixture as the streusel topping and the sprouted wheat flour is just as easy to work with as regular whole wheat flour.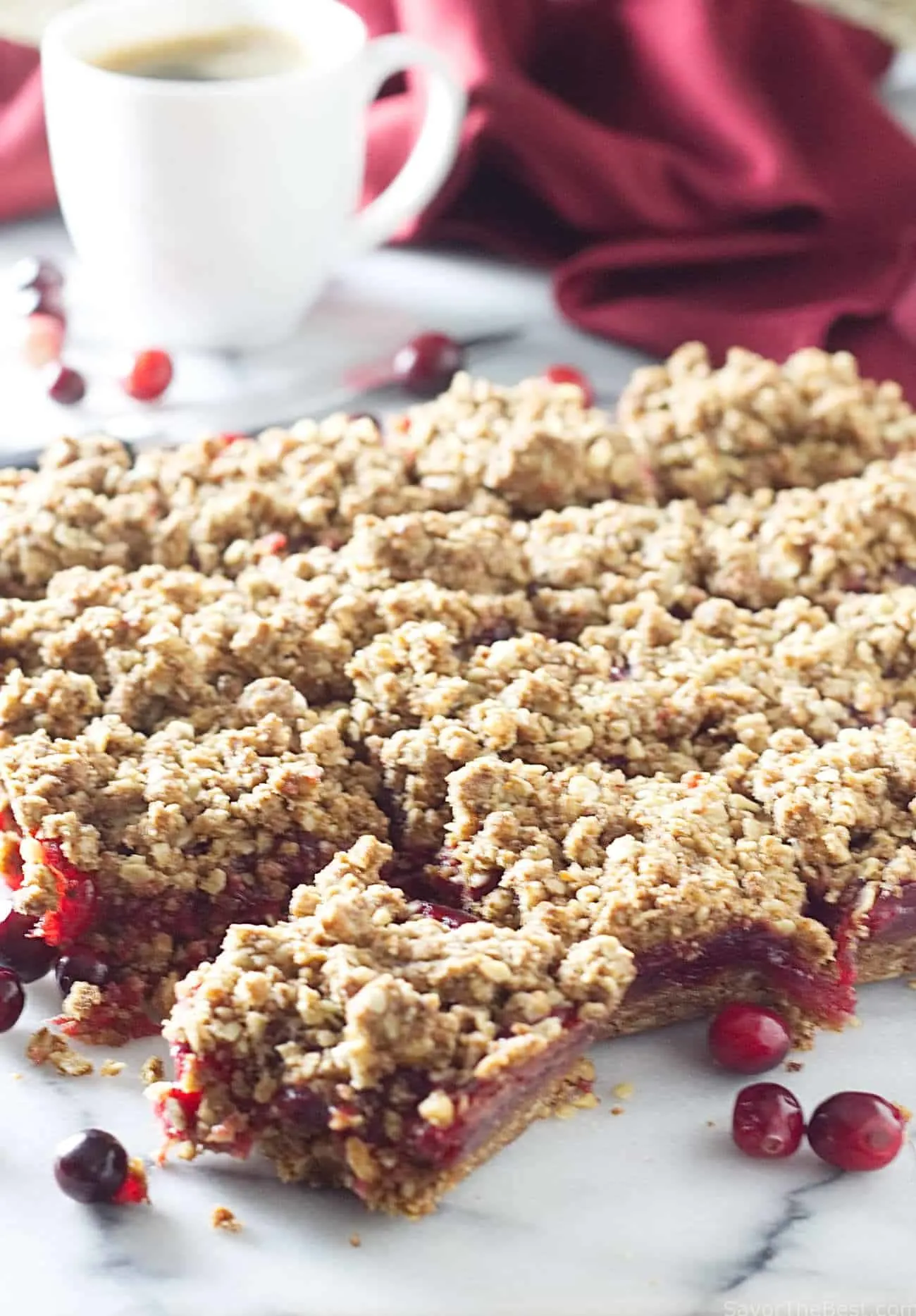 What is Sprouted Wheat?
Sprouted wheat is made by allowing whole wheat berries to sprout then they are dried completely before grinding them into a fine flour. Since the wheat berry has to be completely intact in order to sprout, sprouted wheat flour is always whole wheat and can be used as a one-to-one replacement for whole wheat.
Why Use Sprouted Wheat?
Once the grain sprouts, it starts the process of changing into a plant and transforms the composition of the grain. There are a number of reasons to eat sprouted wheat over regular wheat. We have listed a few of them below:
Increases the availability of nutrients for the body to absorb.
Kills phytic acid which is often referred to as an anti-nutrient and is known to bind minerals.
Transforms the flavor, creating a sweeter, milder taste while retaining the high-fiber benefits of a whole grain.
Develops probiotics which are beneficial for improving intestinal health.
Easier to digest since the sprouting process breaks down the starches.
Has a lower glycemic index making it a better choice than regular whole wheat for diabetes and weight management.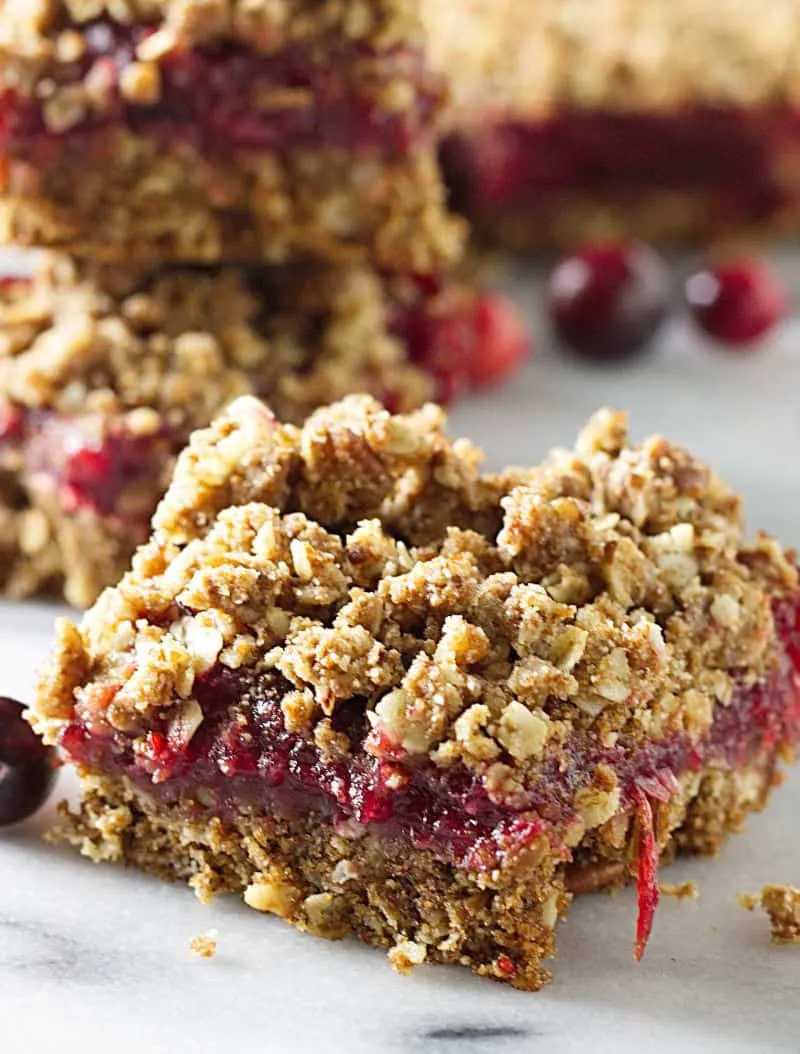 You Might also like these recipes:
Connect With Savor the Best:
Please follow us on our social media accounts
Facebook * Instagram * Pinterest * Youtube * Twitter
Did you make this recipe? We would love to hear from you. Drop us a comment below.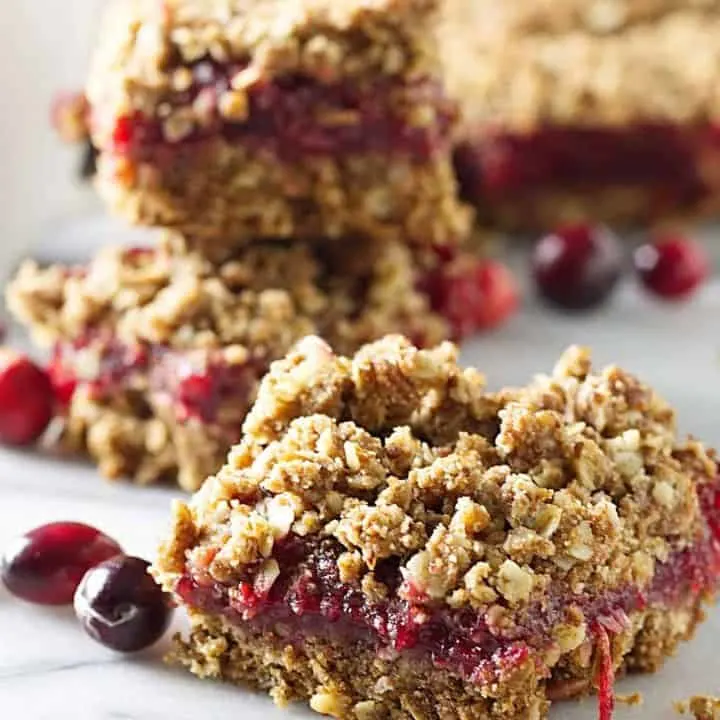 Sprouted Wheat Fresh Cranberry Bars
Sprouted wheat cranberry bars made with fresh cranberries and sprouted wheat.
Ingredients
For the crust and streusel topping
1 3/4 cups Sprouted Whole Wheat Flour (210 grams)
1 1/2 cups Sprouted Rolled Oats** (120 grams)
2/3 cup coconut sugar** (130 grams)
1/2 teaspoon baking soda
1/4 teaspoon salt
1/2 cup finely chopped pecans
12 tablespoons butter, melted (1 1/2 sticks)
For the Cranberry Filling
12 ounces fresh cranberries (3 cups)
1/2 cup orange juice
3/4 cup sugar (150 grams)
2 teaspoons fresh orange zest
Instructions
Preheat the oven to 350°F and grease an 8X8 inch baking pan.
In a medium bowl, combine the sprouted wheat flour, oats, coconut sugar, baking soda, salt, and pecans. Stir in the melted butter, the mixture will look like wet sand, but it will clump together when squeezed.
Set aside 1 1/2 cups for the topping. Put the rest of the mixture in an 8 by 8-inch square pan and press it down firmly. Bake for about 20 minutes until light golden brown.
While the crust is baking, prepare the cranberries. Place the cranberries, orange juice, sugar, and orange zest in a saucepan and bring to a boil. Then reduce the heat and cook over medium heat for 8 to 10 minutes or until the cranberries burst and the mixture thickens.
After the crust has baked for 20 minutes, remove it from the oven and pour the cranberry sauce over it, then sprinkle the reserved streusel mixture on top. It's ok if the cranberries are still warm.
Return the dish to the oven and bake for an additional 20 minutes.
Allow to cool completely before slicing and serving.
Notes
Regular rolled oats can be substituted for sprouted rolled oats
Brown sugar can be substituted for coconut sugar
Frozen cranberries can be substituted for fresh cranberries but do not use dried cranberries
Nutrition Information:
Yield:

12
Serving Size:

1
Amount Per Serving:
Calories:

339
Total Fat:

16g
Saturated Fat:

8g
Trans Fat:

0g
Unsaturated Fat:

7g
Cholesterol:

31mg
Sodium:

190mg
Carbohydrates:

48g
Fiber:

4g
Sugar:

26g
Protein:

4g
Nutrition information is a guideline only, is calculated automatically by third party software, and absolute accuracy is not guaranteed.