I love a good rye bread and this loaf of dark sprouted rye bread is exceptionally delicious! This is a fine textured, soft, dark, sprouted rye bread and we added caraway seed to give it even more character. This homemade rye bread is so much better than anything from the supermarket.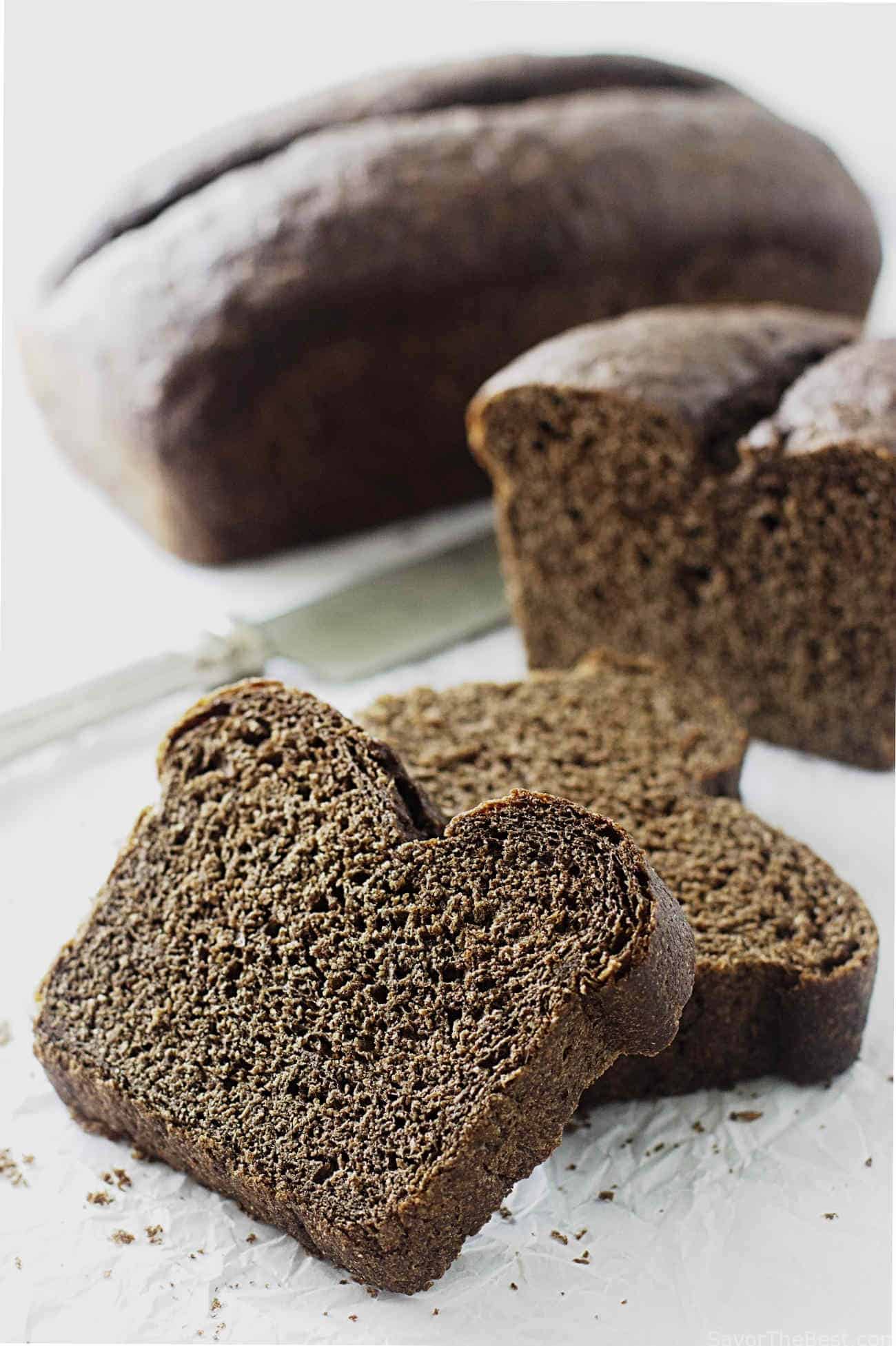 I wonder how many of us remember our grandmothers in the kitchen with her apron on, her hands in a mixing bowl kneading a lump of bread dough with flour up to her elbows. That was a weekly event in many households and depending on the size of the family, maybe a couple times a week.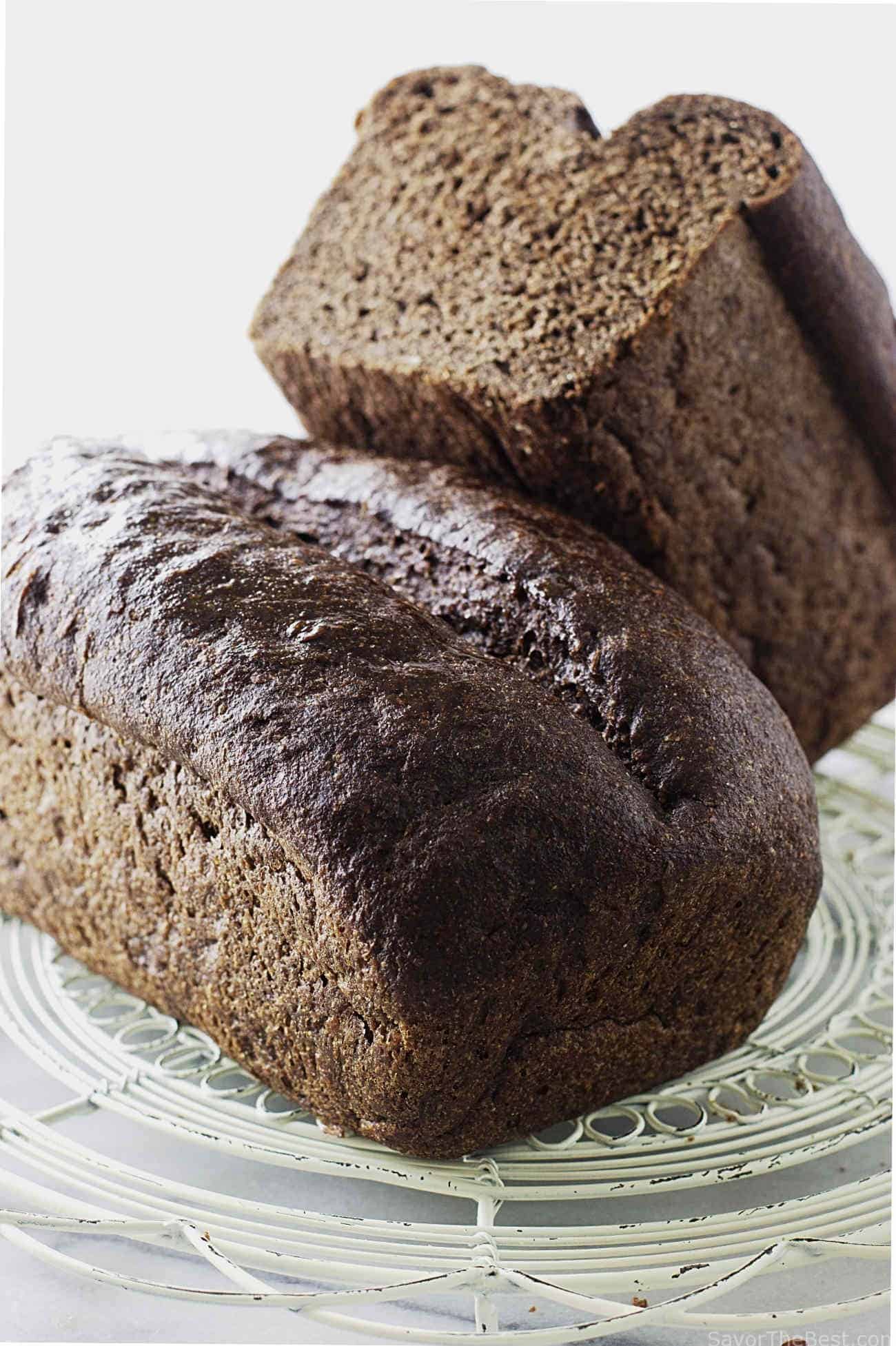 In our typical modern-day kitchens store bought bread, with all the preservatives, has replaced the art of bread making and it is no longer a weekly occurrence. However, bread making is an art and to get your hands in that flour, mashing that lump of dough and seeing a freshly baked loaf on a cooling rack is so satisfying. And then there is the taste. Oh, it can be so addictive!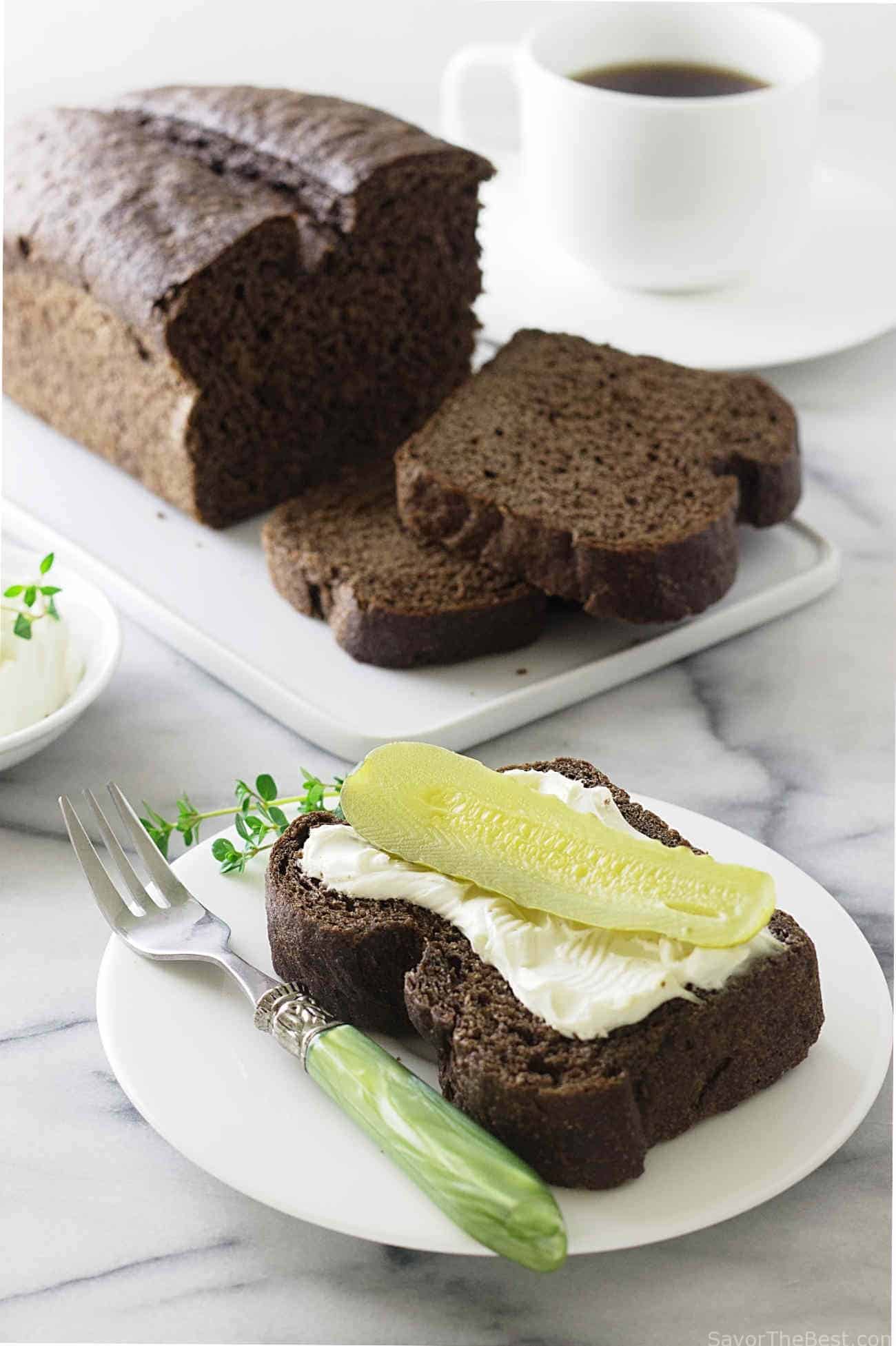 Our rye bread is made with organic sprouted whole wheat flour and organic sprouted rye flour. The flour is made by sprouting the grains, drying them and then milling them into flour. This is a different process than a sprouted grain bread which is made with the sprouted grains being made into a mash and turned into a dough after they are sprouted.
By using flour that has been milled after sprouting and drying the grains, you will end up with a lighter and softer crumb than if you make a pulp directly from the sprouted grains. Whole grains and lower gluten grains will always make a more dense loaf of bread but it is quite impressive how soft the crumb is with a sprouted grain flour. This is not your typical whole grain bread that turns out as hard as a rock. This bread has a dense, yet soft crumb to it.
Most commercial bakeries that bake sprouted wheat bread will add vital wheat gluten to their bread in order to create a higher rise and lighter loaf. This recipe does not call for vital wheat gluten but you will still get a pretty light loaf. There is just something magical about sprouted grain flour. It will give you a lovely, soft full flavored bread. It doesn't require long fermentation time because the enzyme activity has already been accomplished during the sprouting phase of the grain.
Once the grain has sprouted it changes from a starch to a vegetable. It develops more flavor and a natural sweetness but it also becomes much easier to digest and the nutrients become more accessible to the body.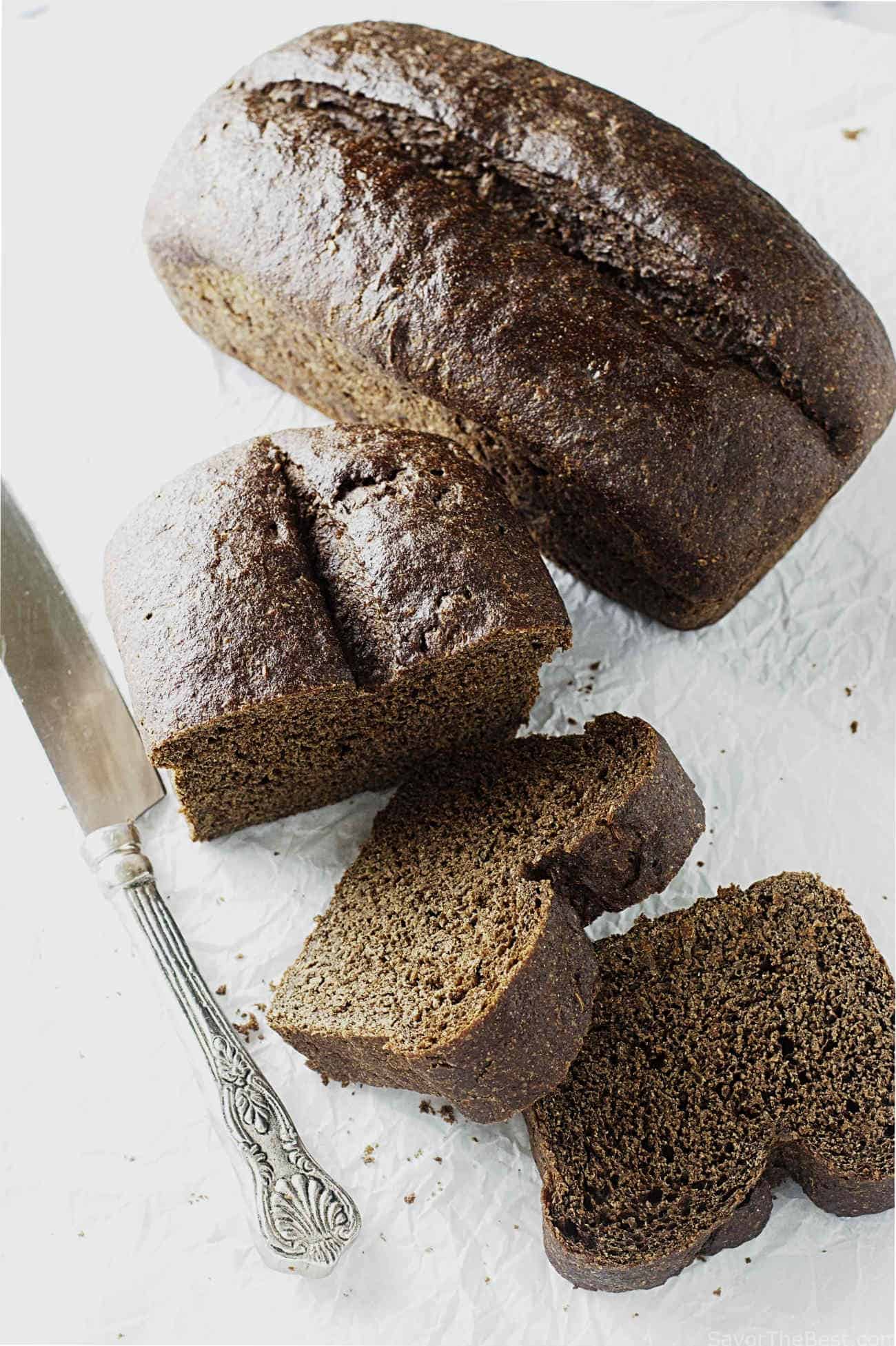 The finished loaf has a distinctive rye taste with sprinklings of caraway seeds throughout. It is soft, with a fine texture and adding just two tablespoons of cocoa powder gives it a rich dark coloring but does not affect the flavor of the bread.
A typical modern-day supermarket with a bakery section will most likely have artisan breads available but there is nothing like producing your own bread from scratch.
This recipe was adapted from Peter Reinhart's Bread Revolution. We modified the recipe to be made without a mother starter. It is a pretty high hydration dough which makes the dough sticky and difficult to work with if you knead it in a traditional method. However, if you use the stretch and fold method of working the dough, it is not only easy to work with the dough but it gives the flour ample time to absorb the liquid and firm up. Don't worry if you start out with a wet sticky dough. You will see it start to firm up after the first resting phase.
For more bread recipes: Oatmeal Bread, Spelt Irish Soda Bread, Sprouted Spelt Rosemary-Walnut Bread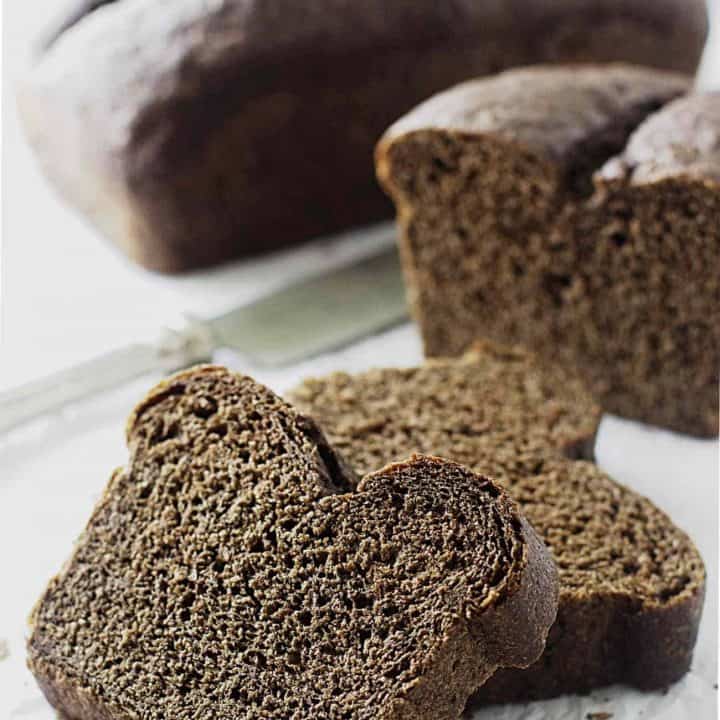 Sprouted Rye Bread
Yield: 2 loaves
Prep Time: 4 hours 30 minutes
Cook Time: 35 minutes
Total Time: 5 hours 5 minutes
Our sprouted rye bread is soft, fine textured with a distinctive rye flavor and a sprinkling of caraway seeds. It is made from organic sprouted whole wheat flour and organic sprouted rye flour. We added a small amount of cocoa powder to give it the dark color but it does not alter the taste of the bread.
Ingredients
4 3/4 cups sprouted whole wheat flour (570 grams)
1 1/2 cups sprouted rye flour (156 grams)
2 tablespoons Dutch cocoa powder (optional, use if you want dark rye)
2 teaspoons salt
2 1/4 teaspoons instant yeast
1 tablespoon toasted caraway seeds
2 2/3 cups lukewarm water
2 tablespoons molasses
Instructions
Combine the sprouted flours, cocoa powder, salt, yeast and toasted caraway seeds in a large mixing bowl. Add the water and molasses and stir until all the flour is wet and sticky. Let the dough rest for 5 to 10 minutes to allow time for the flour to become hydrated.
Using a wet spoon to help prevent the dough from sticking, stir the mixture for 2 minutes until it is smooth. The dough should still be soft and sticky but will continue to firm up over the next few steps.
Place the dough in a well oiled bowl. Using wet hands, stretch and fold the dough 4 to 6 times as described in the notes below. After the last stretch and fold, oil the top of the dough and let it sit, covered at room temperature for 1 to 2 hours until it is almost doubled in size.
Transfer the dough to an oiled work surface and divide it into two equal portions. Shape each portion of dough into logs and place each one in a greased 4 1/2 by 8-inch loaf pan. Oil the tops of the dough, cover with plastic wrap and let them sit at room temperature for 1 to 2 hours until the dough rises about 1 inch above the top of the pans.
When the dough is almost finish rising, preheat the oven to 350° F. Place the loaves in the oven once it is up to temperature and bake for 30 to 35 minutes. The finished bread should sound hollow when thumped on. Remove the loaves from their pans and place on a wire rack until completely cooled.
Notes
Stretch and Fold Technique Using a stretch and fold method helps strengthen the dough without over mixing. It is a good technique for higher hydration doughs and allows ample time for the flour to fully hydrate. You can do the entire process in the same oiled bowl each time, saving space and mess on the counter top. Start with wet or oiled hands to help prevent the stickier dough from sticking to your hands. Mentally divide the dough into 4 sections. Reach under the first section and pull it up and over the top like your folding an envelope. Do this to all four sides then flip the ball of dough over so that all the seams are on the bottom. Cover and let the dough rest for 5 to 10 minutes then repeat the process 3 to 4 more times.on the last stretch and fold, let the dough rest for its final proofing.
For Dark Rye BreadMost dark rye bread made commercially is colored with caramel color. This recipe stays clean and healthy by using Dutch processed cocoa powder to color the bread. The Dutch processed cocoa is much darker than regular cocoa powder and only a couple of tablespoons is needed for a lovely dark color without adding any chocolate flavor to the bread.** The calorie information is based on 1 slice of bread if each loaf has 24 slices
Nutrition Information:
Yield: 24
Serving Size: 1 slice
Amount Per Serving:
Calories: 62
Total Fat: 0.2g
Carbohydrates: 13g
Fiber: 1.5g
Protein: 2g