Irish soda bread has been one of Ireland's staple foods for centuries and is the ultimate quick bread. This Spelt Irish Soda Bread is a rustic looking round loaf of bread is made without yeast and is so simple to make. Our recipe uses spelt flour for exceptional flavor.
Go Irish and bake up a loaf of Spelt Irish Soda Bread for St. Patrick's Day!
Easy Spelt Irish Soda Bread:
There are only four ingredients in Irish Soda Bread:
Flour
Salt
Baking soda
Buttermilk
When the acid in the buttermilk is mixed with the baking soda it creates a reaction causing the bread to rise. That reaction begins immediately so you need to be quick to stir this together with minimal kneading and then get it into the oven as fast as you can!
After forming the loaf, the tradition is to slash a deep cross on the top with a sharp knife. The slash marks open up during the baking process. Folklore says that this is to "let the devil out" while it is baking. It also could be that it is easy to divide into four equal pieces.
Enjoy this Spelt Irish Soda Bread Recipe Two Ways:
This hearty spelt Irish soda bread toasts up nicely and tastes delicious slathered with creamy butter and homemade jam. It is great for mopping up the gravy from stews.
Irish soda bread is also shaped into 'farls' or quarters then cooked in a cast iron skillet. The dough ingredients are the same as the bread, but the difference is after it is mixed.
To make the farls the dough is flattened out and the cross is cut all the way through so there are four equal triangular pieces. They are popped onto the skillet, cooked then served hot. It is a favorite for breakfast.
Some other recipes you might like: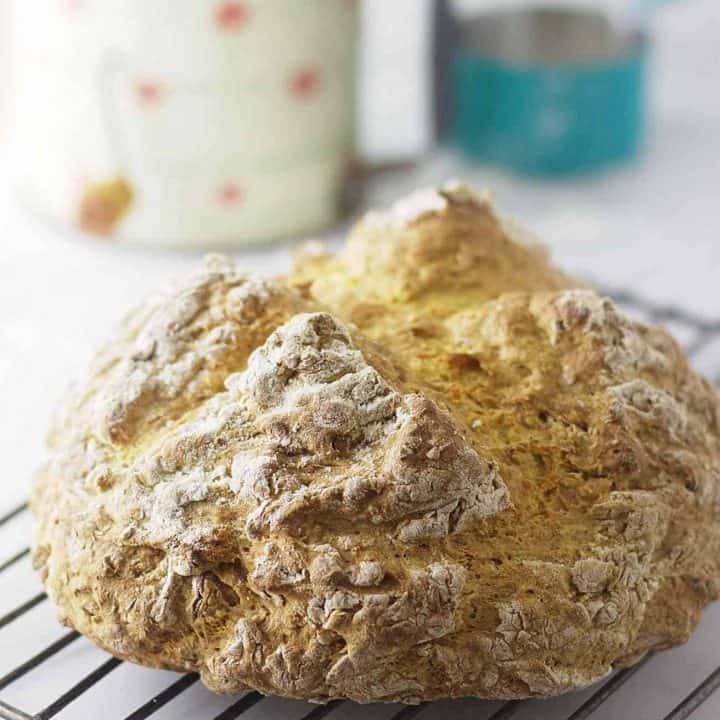 Spelt Irish Soda Bread
Yield: 8 servings
Prep Time: 15 minutes
Cook Time: 30 minutes
Total Time: 45 minutes
This Irish soda bread is made with four ingredients: Spelt flour, salt, baking soda and buttermilk. This simple and quick bread has a great flavor from spelt flour.
Ingredients
3 1/2 cups (420 g) white spelt flour
1 teaspoon salt
1 teaspoon baking soda
1 3/4 cups buttermilk
Instructions
Preheat the oven to 424°F, (218°C) prepare a baking sheet by spraying with cooking oil
Sift the flour salt and baking soda together into a large mixing bowl. Make a well in the center and pour in 1 1/2 cups of the buttermilk, reserving 1/4 cup. Mix the buttermilk into the flour quickly to make a soft dough but not wet and sloppy. Add the reserved quarter cup of buttermilk if needed. Remember to be quick as the rising action has started.
Turn the dough out on a floured surface and give it 4 or 5 quick kneads, forming it into a 6-inch mound. Transfer the dough to the prepared baking sheet and with a sharp knife cut a cross on the top about 1/4 inch deep.
Bake in the preheated oven for 25-30 minutes. Until golden brown. Check for doneness by lifting the loaf off the baking sheet and tapping on the bottom. If it is done it will sound hollow.
Allow the bread to cool for a few minutes on a baking rack, serve warm.
Nutrition Information:
Yield: 8
Serving Size: 1
Amount Per Serving:
Calories: 42
Total Fat: 1g
Saturated Fat: 0g
Trans Fat: 0g
Unsaturated Fat: 0g
Cholesterol: 2mg
Sodium: 524mg
Carbohydrates: 7g
Fiber: 1g
Sugar: 3g
Protein: 3g
Nutrition information is a guideline only, is calculated automatically by third party software, and absolute accuracy is not guaranteed.
Have you made this Irish Soda Bread? We would love to hear from you.
Tag us on Instagram.
Like us on Facebook.