Lemon Buttermilk Scones with Lavender Infused Honey
I recently posted my Lavender Cake with Cream Cheese Icing and mentioned that I was looking forward to visiting the Lavender Festival in Sequin, Washington. Well, we went and the fields of lavender were stunning and beautiful. I was not aware that there are so many different species of lavender. There is even white lavender!
Our first stop was at a lavender farm called Purple Haze and it was impressive. The sun was shining and it was a beautiful day for an outing and the purple flowers were being visited with hundreds of bees. We stopped at one of the vendors and purchased a small jar of honey that was infused with lavender and I immediately thought, "scones and lavender honey".
While visiting another of the lavender farms I purchased a small cookbook called For Love of Lavender, by The Hidden Alchemist, from Pioneer Square, Seattle. In this small booklet I learned that culinary lavender is in a category all it's own and will not taste of perfume like the lavender grown for scent, which can have a bitter taste. But even culinary lavender can have a bitter taste if it is overused as I found out when baking my first lavender cake. Also, the heat will intensify the flavor of the flowers so when cooking with culinary lavender, it can be a trial-and-error, always remember, less is best.
Lavender is actually an herb and it is a member of the mint family, which makes sense to me as they both have such dominant flavors. Also, lavender is a close relative to rosemary and in any recipe that you would use rosemary the lavender can be substituted. I have yet to try lavender in a savory dish as I have just discovered it's use in the sweet goodies.
This small jar of honey infused with lavender that I purchased at a cost of $12.50 was so inadequate in lavender flavor that it was barely distinguishable and I was more than disappointed. My creative instinct got the best of me and after reading about how to do infusions I heated up the contents of the jar, added my own culinary lavender buds and let it steep to enhance the lavender flavor and then strained it back into the original jar. It is wonderful!
I have found many recipes using lavender and I am excited to try a couple of them. In the meantime, this is my lemon buttermilk scone recipe which has been adapted from Bon Appetite. With the added lemon juice they have a crisp lemon flavor along with sprinkles of lemon zest. I am planing to serve them with my jar of double infused lavender honey. These are best served slightly warm.
Yield: 14 servings
Lemon Buttermilk Scones with Lavender Infused Honey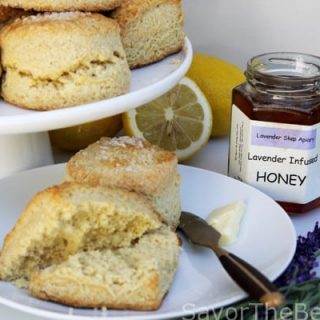 A light and airy scone made with buttermilk and flavored with lemon zest.
Prep Time 20 minutes
Cook Time 15 minutes
Total Time 35 minutes
Ingredients
3 cups all-purpose flour plus more for surface
3/4 cup granulated sugar
1 tablespoon baking powder
2 tablespoon lemon zest
1 teaspoon kosher salt
1/2 teaspoon baking soda
3/4 cup (1 1/2 sticks) chilled unsalted butter, cut into 1/4-inch cubes
1 cup plus 2 tablespoons buttermilk
1 teaspoon vanilla extract
2 tablespoons coarse grind or granulated sugar
Instructions
Preheat to 425°
Arrange racks in upper and lower thirds of oven. Line 2 baking sheets with parchment paper. Whisk 3 cups flour and next 5 ingredients in a large bowl. Add butter; rub in with your fingers until mixture resembles coarse meal.
Whisk 1 cup buttermilk and vanilla in a small bowl. Add wet ingredients to dry ingredients. Stir until shaggy dough forms.
Transfer to a lightly floured surface; knead until dough forms, about 5 turns. Pat into a 10x6" rectangle. Halve dough lengthwise. Cut each half crosswise into 4 squares. Cut each square diagonally in half into 2 triangles (or, cut any shape or combination of shapes). Divide between baking sheets.
Brush with 2 Tbsp. buttermilk. Sprinkle with coarse grind sugar.
Bake until scones are golden and a tester inserted into the center comes out clean, 13–15 minutes. Transfer to wire racks; let cool.
Serve warm or at room temperature
Nutrition Information
Yield
14
Serving Size
1
Amount Per Serving
Calories 190
Total Fat 5g
Carbohydrates 25g
Sugar 3g
Protein 3g
Nutrition information is a guideline only, is calculated automatically by third-party software, and absolute accuracy is not guaranteed.