This no-yeast, sprouted spelt rosemary walnut bread is fast and easy to make. Loaded with walnuts and rosemary, this bread smells wonderful while it is baking and tastes delicious. Sprouted spelt flour is used to put even more dimensions of flavor into this savory loaf of bread. Spread a slice with soft goat cheese for a flavor explosion that will have you coming back for more.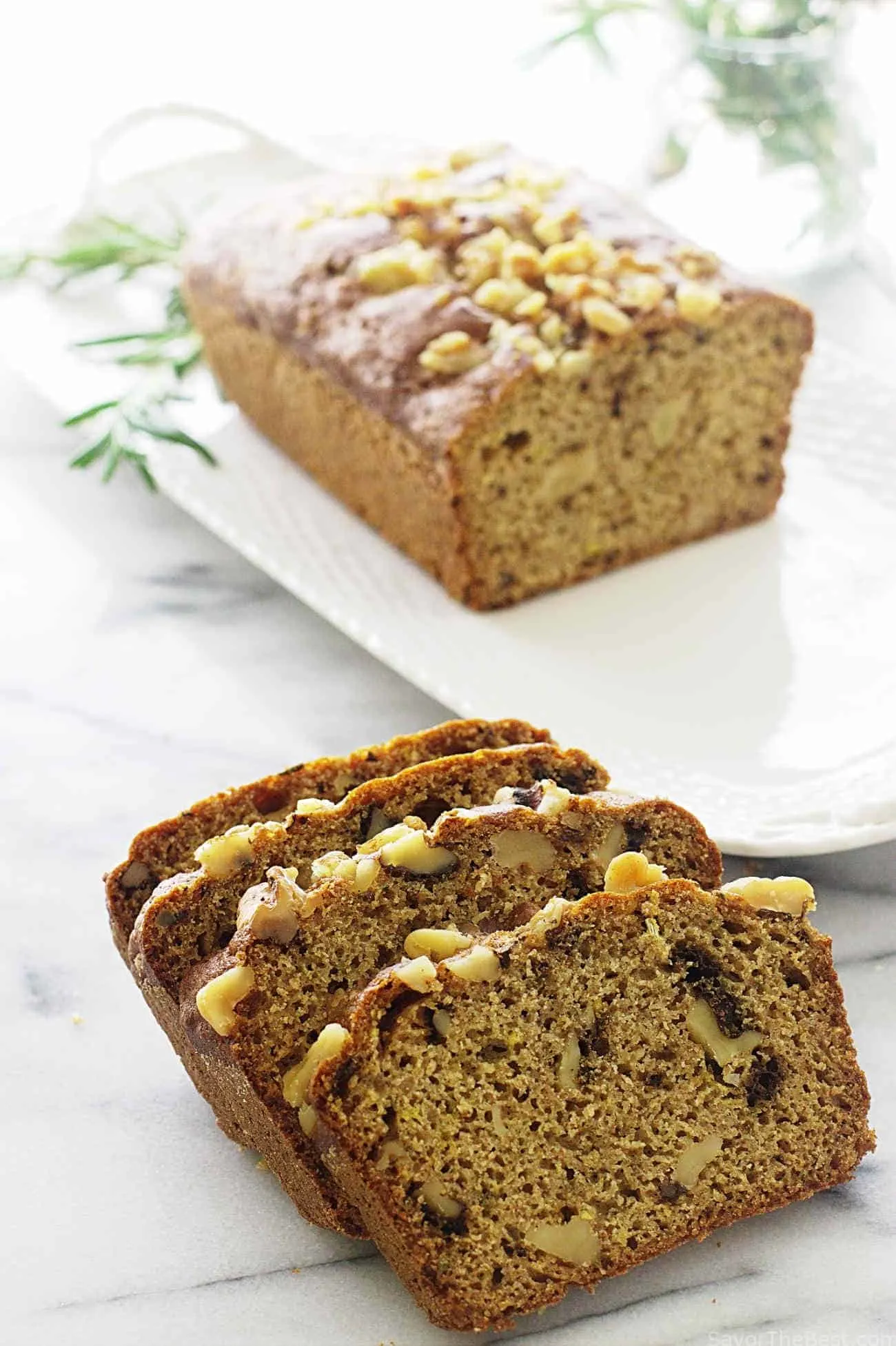 Sprouted spelt rosemary walnut bread may sound unusual or even intimidating to make but it is honestly an easy quick-bread to whip up and it is absolutely delicious. The sprouted spelt flour has a delicate, slightly malty flavor with none of the bitterness that is often associated with whole grain flour.
We purchased the sprouted spelt flour for this recipe online but it is also available in the bulk foods aisle of select grocery stores or health foods stores. If you are feeling adventurous, it is a fun and rewarding process to sprout the grains yourself, grind them into flour and then bake this delicious bread.
Sprouted spelt flour is made by allowing the grains to soak for about 18 to 24 hours, then draining them and allowing them to sprout for two or three days during which time they need to be rinsed with cold water twice a day. When you see tiny white specks at one end of the grains they are ready to dry in a dehydrator set on a low temperature. They should be firm and dry in 12 to 18 hours and can then be milled into flour with a grain mill or a blender.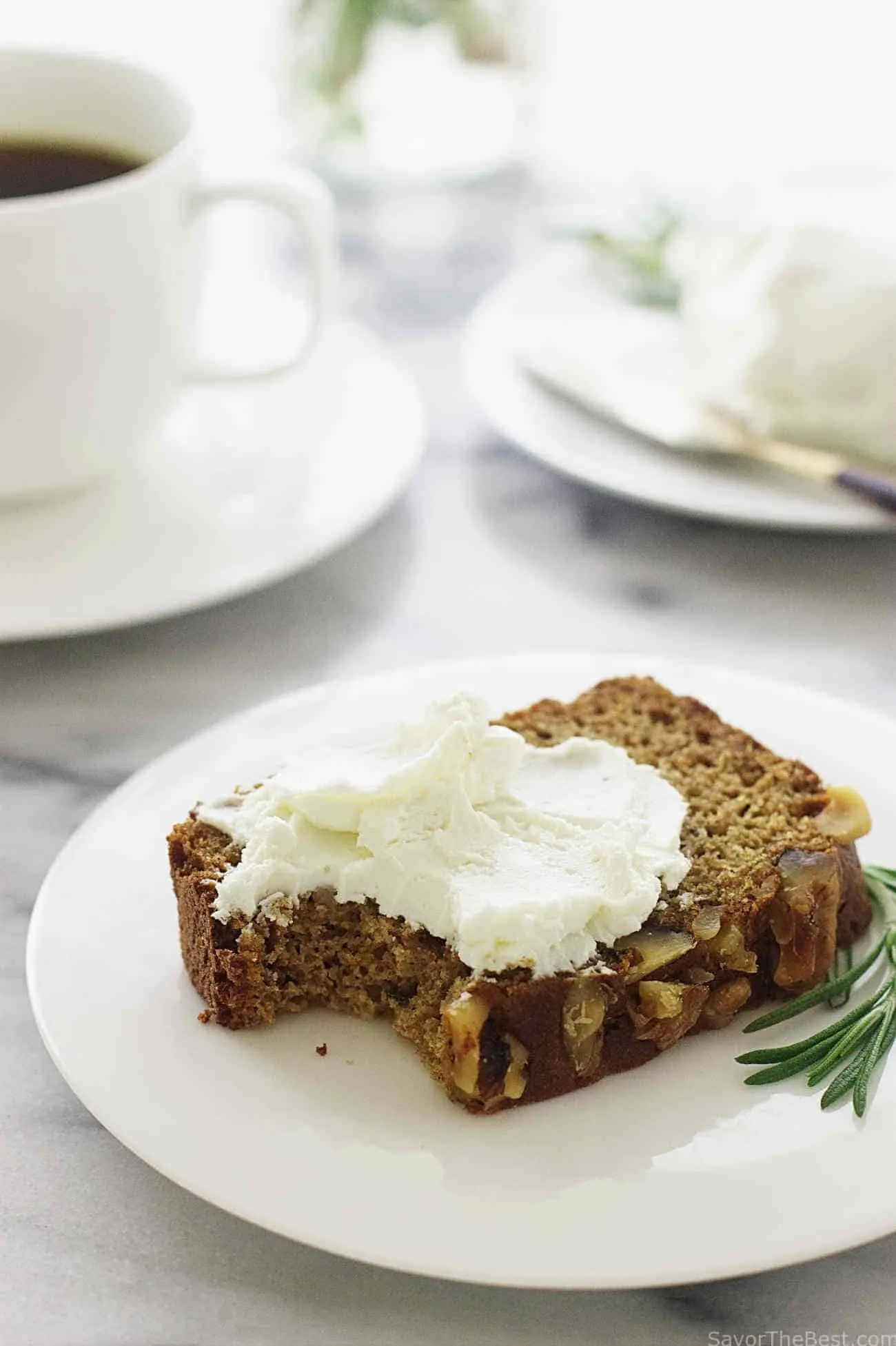 Sprouting grains changes them in so many good ways. Not only do sprouted grains taste better but health-wise, they are better for you. The sprouting process activates enzymes in the grain that turns it into a living plant food. It increases the available nutrients, breaks down the starches and allows for easier digestion.
Spelt itself has a more soluble gluten protein than modern wheat and many people that are unable to tolerate gluten can tolerate spelt even though it has gluten in it. Sprouting the grain makes it even easier and healthier on the gut. That being said, sprouted spelt still has gluten in it and should not be consumed by anyone with celiac disease or severe gluten allergies.
More Easy Quick Bread Recipes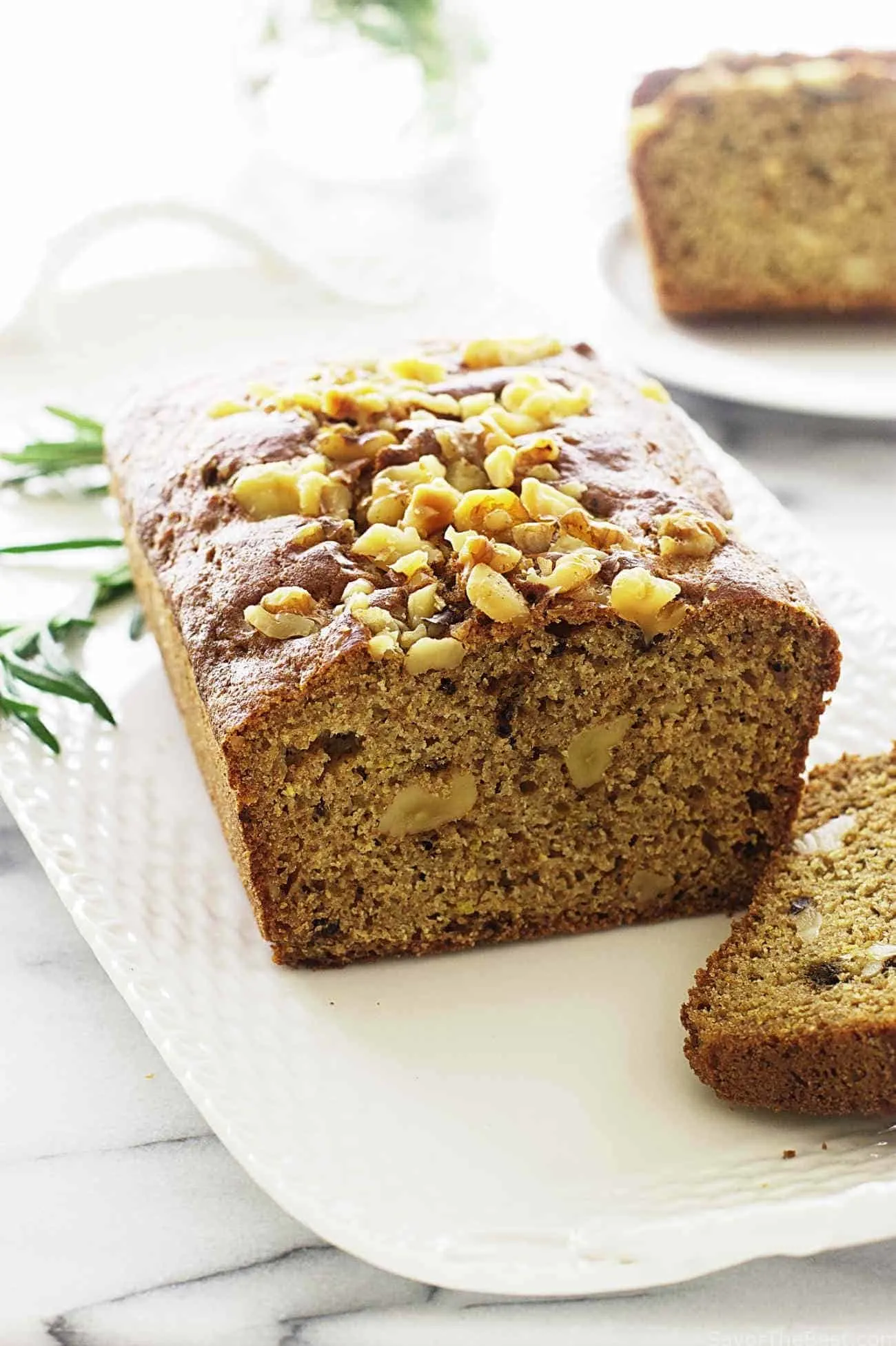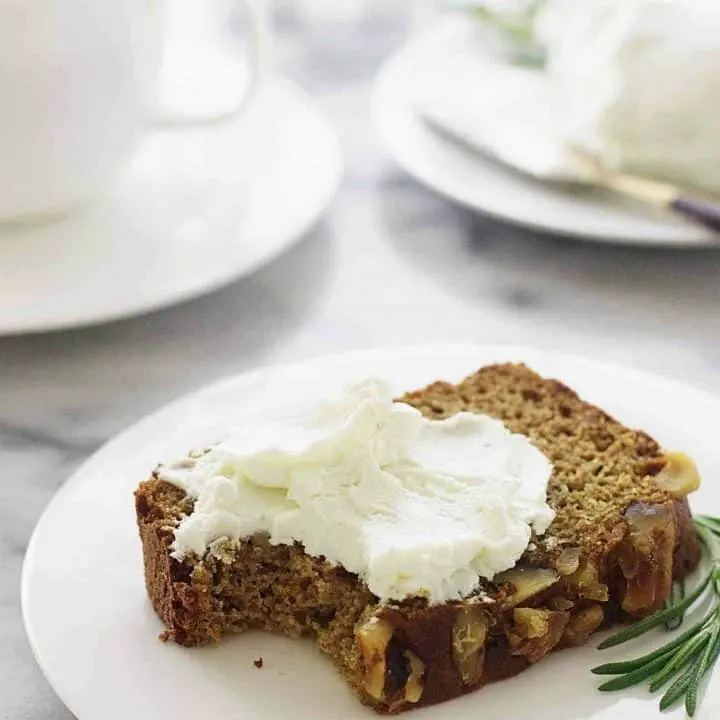 Sprouted Spelt Rosemary Walnut Bread
Yield:
24 slices (2 loaves)
A no-yeast bread made with sprouted spelt flour. It is fast and easy to make and full of flavor from rosemary and walnuts.
Ingredients
Dry Ingredients
3 cups plus 2 tablespoons sprouted spelt flour (380 grams)
1 teaspoon salt
2-½ teaspoons baking soda
1-½ teaspoons ground dry rosemary
2 teaspoons chopped fresh rosemary
Wet Ingredients
2 cups buttermilk (454 grams)
3 eggs
⅓ cup honey (113 grams)
¼ cup walnut oil (50 grams)
1 cup chopped walnuts, toasted (120 grams)
Topping
½ cup chopped walnuts, raw (60 grams)
Instructions
Preheat the oven to 350° and prepare 2 small loaf pans (4 1/4 inches by 8 1/2 inches each) by greasing the bottoms and sides then dusting them with flour.
In a large mixing bowl, combine the dry ingredients and stir well.
In another bowl, combine the wet ingredients and whisk until well blended then pour into the flour mixture. Stir by hand or with an electric mixer just until combined and all the dry ingredients are incorporated.
Divide the batter into the two prepared loaf pans and sprinkle the raw walnuts on top.
Bake for 35 to 45 minutes, until a toothpick inserted in the middle comes out clean.
Let the bread cool in the pans for 20 to 30 minutes then run a knife around the inside edge of the pans to loosen the bread from the pans and transfer to a wire rack to continue to cool completely.
Notes
If you can't find ground dry rosemary, chop the dried rosemary leaves very finely with a knife or use a clean coffee grinder (I designate a coffee grinder for spices only)
Nutrition Information:
Yield:

24
Serving Size:

1 slice
Amount Per Serving:
Calories:

128
Total Fat:

6g
Sodium:

237mg
Carbohydrates:

17g
Fiber:

3g
Sugar:

5g
Protein:

5g