These wholesome, whole grain wheat thin crackers made with einkorn flour are incredibly delicious and easy to make.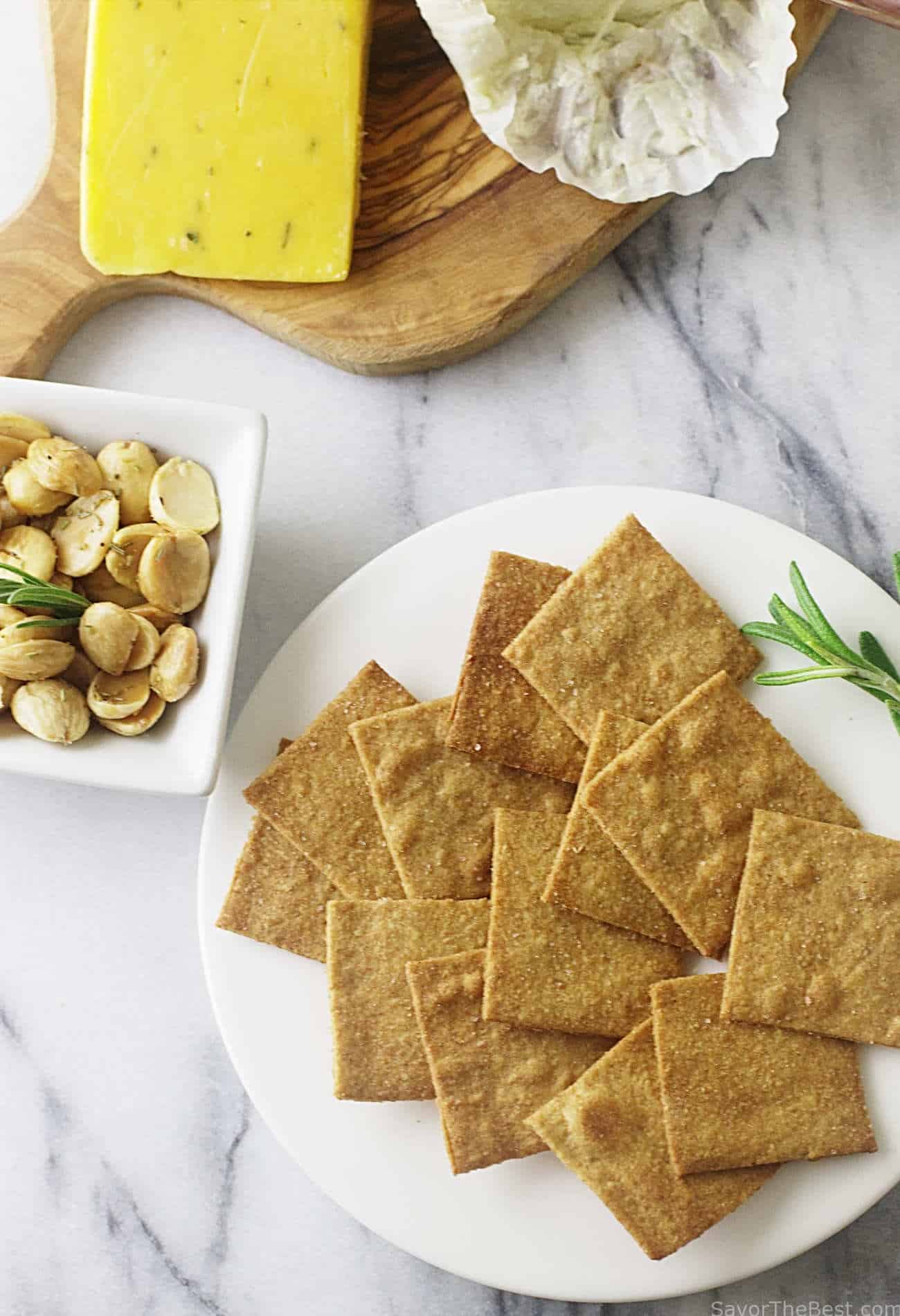 We think these homemade wheat thins are better than the store bought variety. The einkorn flour gives them a deliciously wholesome and almost nutty flavor and amplifies their nutrition value.
They are the perfect vehicle for cheese, dips and spreads but they taste incredible all by themselves. We had to make two batches since the first batch disappeared before we could get photos. They are that good!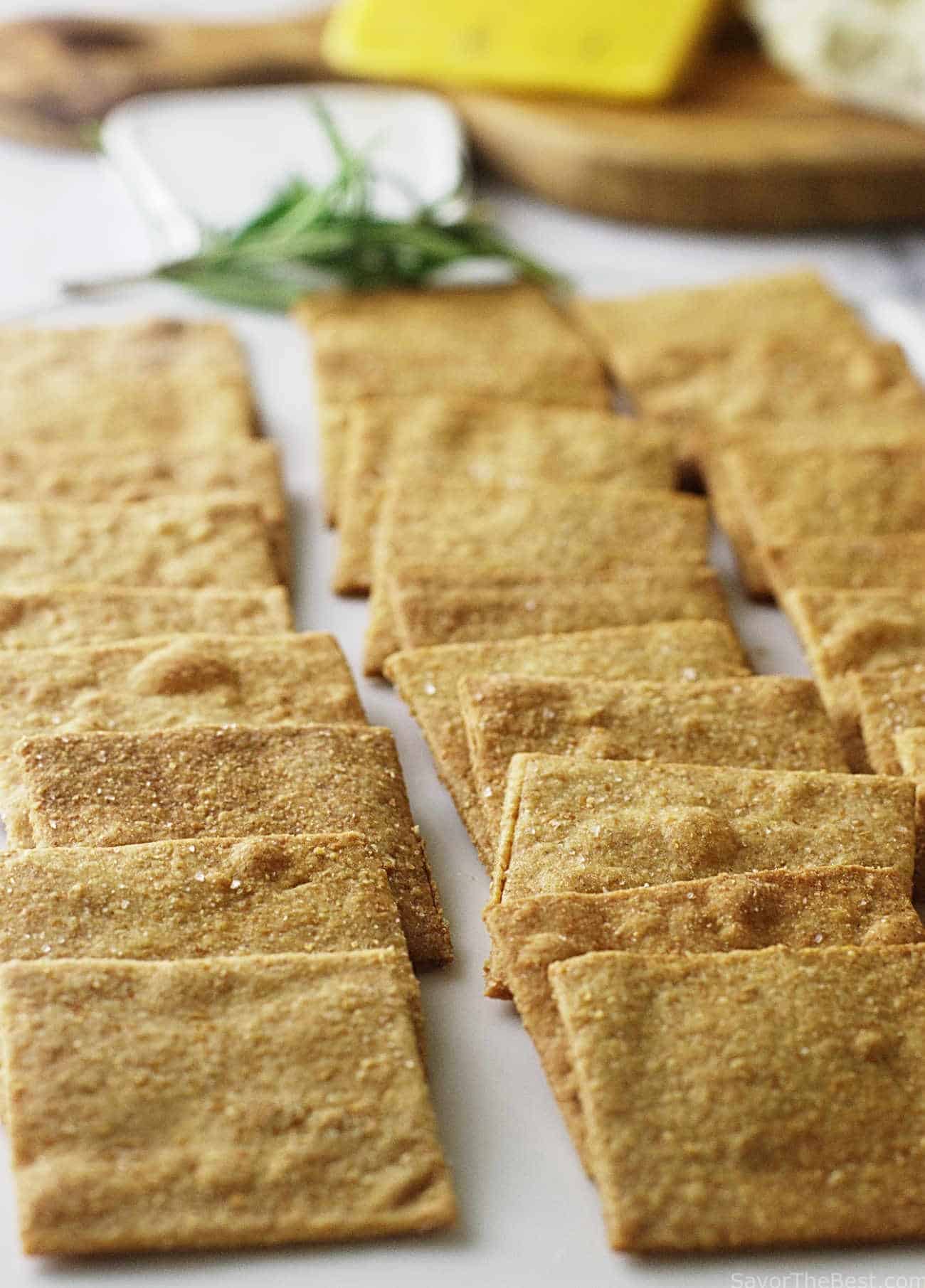 The recipe is actually quite easy with only five ingredients plus a little water to help bind things all together. It all comes together very quickly in the food processor but if you don't have a food processor just blend the ingredients with a pastry blender like your making pie dough.
Once the dough was made we rolled it out directly on a piece of parchment paper. The parchment paper makes things even easier and keeps the mess to a minimum. Since the crackers don't spread when they bake, you can slice them right on the parchment and slide the parchment onto a baking sheet. There is no need to space them out. It is fast and easy.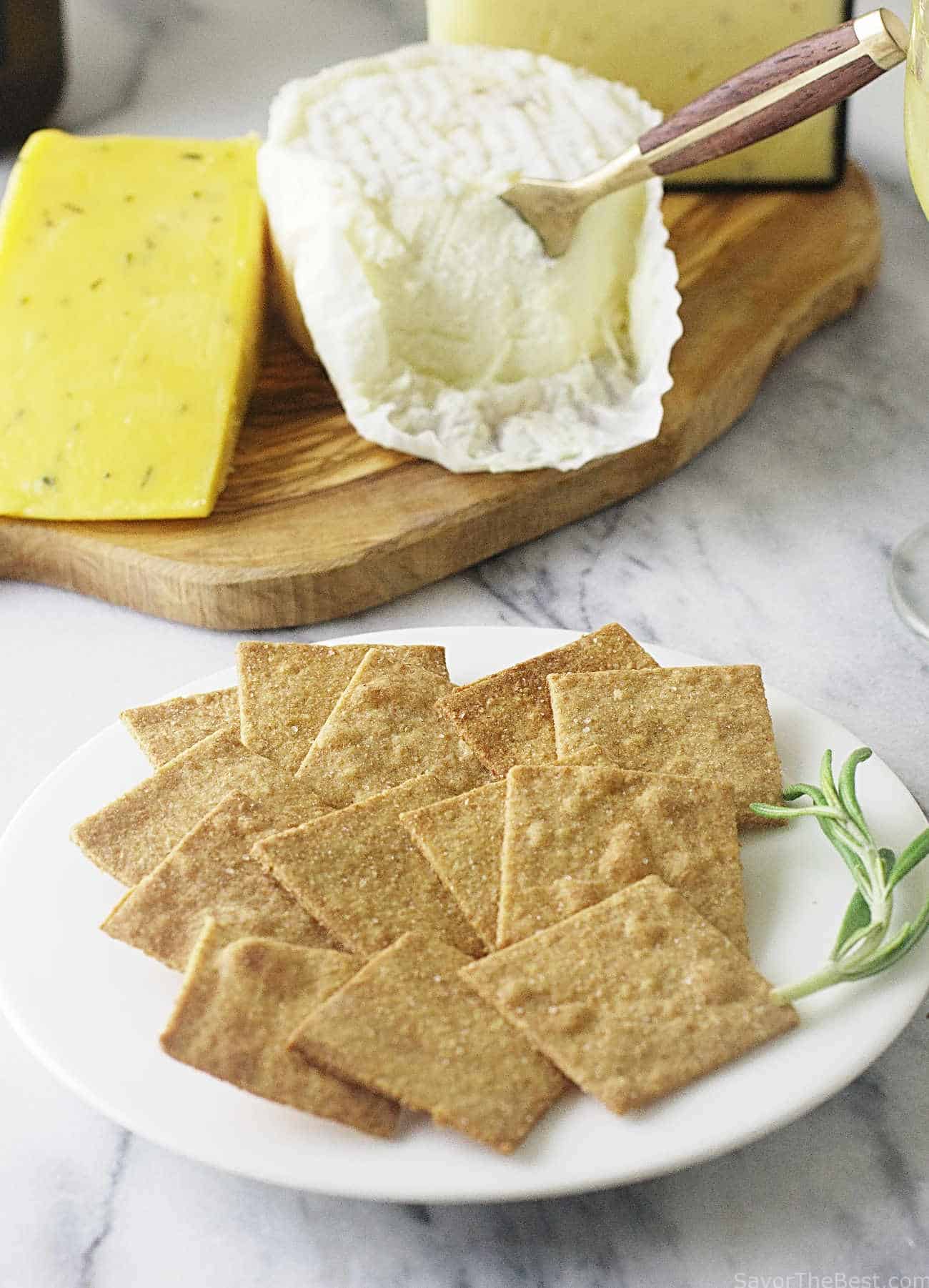 Our recipe was adapted from Deb's recipe over at Smitten Kitchen. We changed things up to use einkorn flour because we just love the flavor that einkorn lends to our recipes. It is also much easier to digest than traditional wheat.
Although einkorn contains gluten, the protein structure of the gluten is different and many people that find regular wheat difficult to digest have found that they can eat einkorn without any problems.
Another bonus to this recipe is that einkorn offers a higher nutritional value than modern wheat. Einkorn is the original wheat. It is wheat the way God designed it, never hybridized or changed since it's beginning. It just makes us feel better about eating wheat that has maintained its genetic structure throughout time and was surely what Jesus ate in the biblical days.
Check out this article for the nutrition values of einkorn and this article about the reasons einkorn is easier to digest than regular wheat.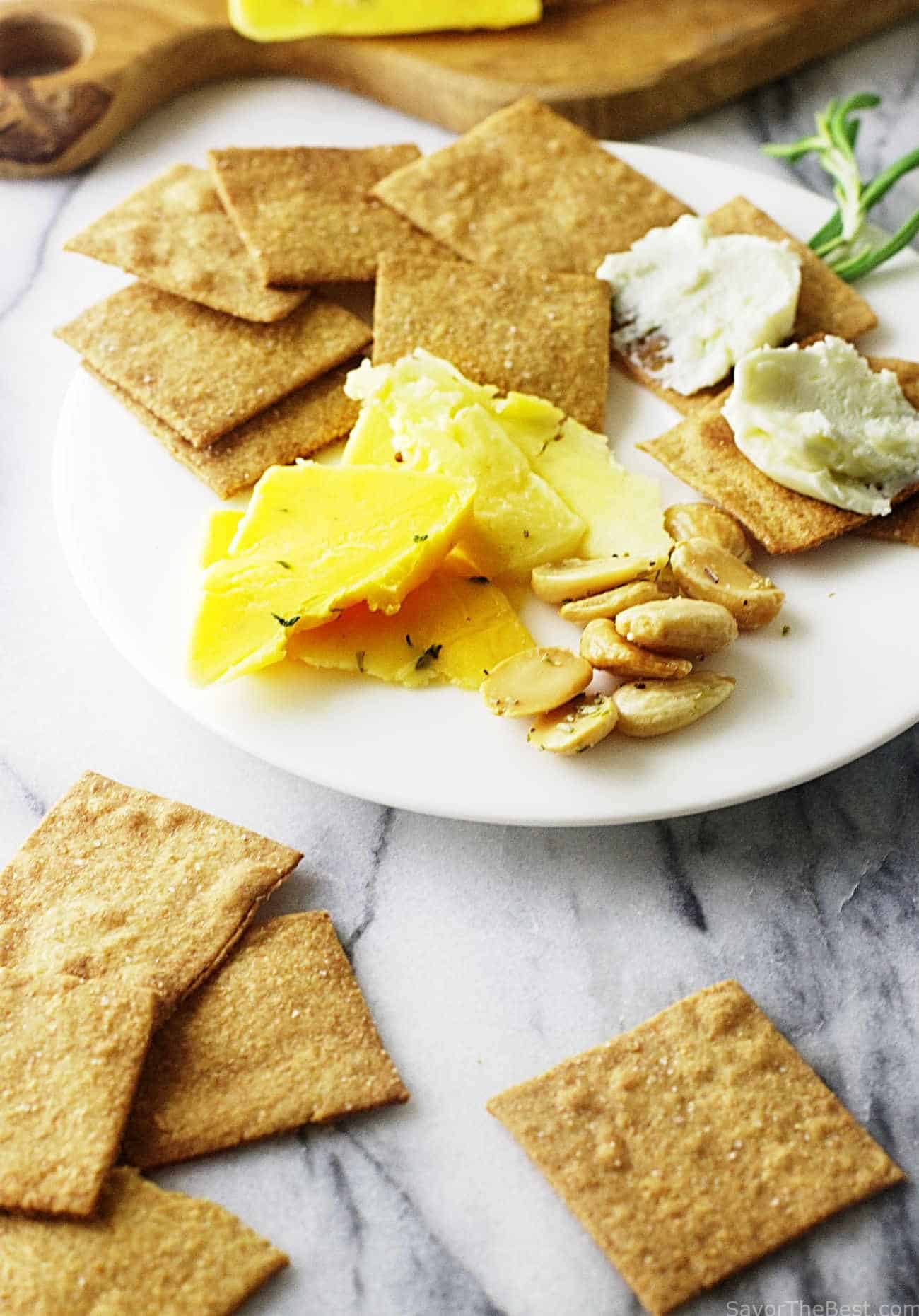 Check out some other einkorn recipes like Einkorn Coconut Curry Risotto, or our Whole Grain Einkorn Pizza Dough, and our Beef Casserole with Garlic Chive Einkorn Dumplings
Yield: 40 to 50 crackers
Einkorn Wheat Thins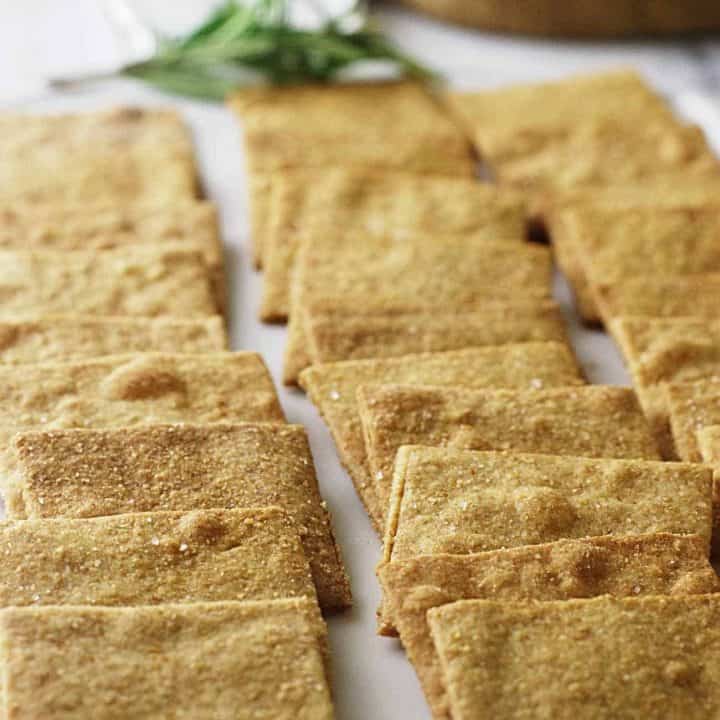 These wholesome, whole grain wheat thin crackers made with einkorn flour are incredibly delicious and easy to make.
Prep Time 10 minutes
Active Time 10 minutes
Total Time 20 minutes
Ingredients
1-1/2 cups (144 grams) whole wheat einkorn flour
4 1/2 teaspoons sugar (20 grams)
1/2 teaspoons salt (3 grams)
1/4 teaspoon paprika
4 tablespoons (55 grams) cold butter, cut into cubes
2 tablespoons cold water
Instructions
Preheat the oven to 400° F.
Place a metal 'S' blade in your food processor. Combine the flour, sugar, salt and paprika in the bowl of the food processor and pulse to combine the ingredients. Add the butter and continue pulsing until the mixture looks like wet sand. Drizzle in the water and pulse until a ball of dough is formed. If there are a few dry crumbs left behind just gather them up and squish them into the dough.
Place half of the dough on a piece of parchment paper. Roll the dough out as thin as possible. Sprinkle the top with additional flour if the rolling pin sticks to the dough.
Use a sharp knife to slice the dough into rectangles about 1 1/2 to 2 inches in size. Slide the parchment paper onto a baking sheet. The dough will not spread out so there is no need to space the crackers. Just roll, cut and bake the dough on the parchment for an easy and fast method of making the crackers.
Sprinkle salt on top of the crackers and bake in the preheated oven for 6 to 10 minutes. Thicker crackers will need to bake closer to 10 minutes and thinner crackers will only need to bake 6 to 8 minutes.
Slide the parchment paper onto a cooling rack and repeat the process with the other half of the dough.
Store in an airtight container for 2 weeks or freeze for 4 months.
Nutrition Information:
Yield:
40
Serving Size:
1
Amount Per Serving:
Calories: 30
Total Fat: 0g
Saturated Fat: 0g
Trans Fat: 0g
Unsaturated Fat: 0g
Cholesterol: 1mg
Sodium: 29mg
Carbohydrates: 6g
Fiber: 1g
Sugar: 1g
Protein: 1g
Nutrition information is a guideline only, is calculated automatically by third party software, and absolute accuracy is not guaranteed.