Risotto! Oh, that luscious, creamy goodness! Risotto is a classic Italian rice-based dish, but what culinary law says we have to use rice? Our einkorn coconut-curry risotto is made with einkorn wheat berries that give this twist on risotto a delightful sweet, nutty flavor and a slightly chewy texture.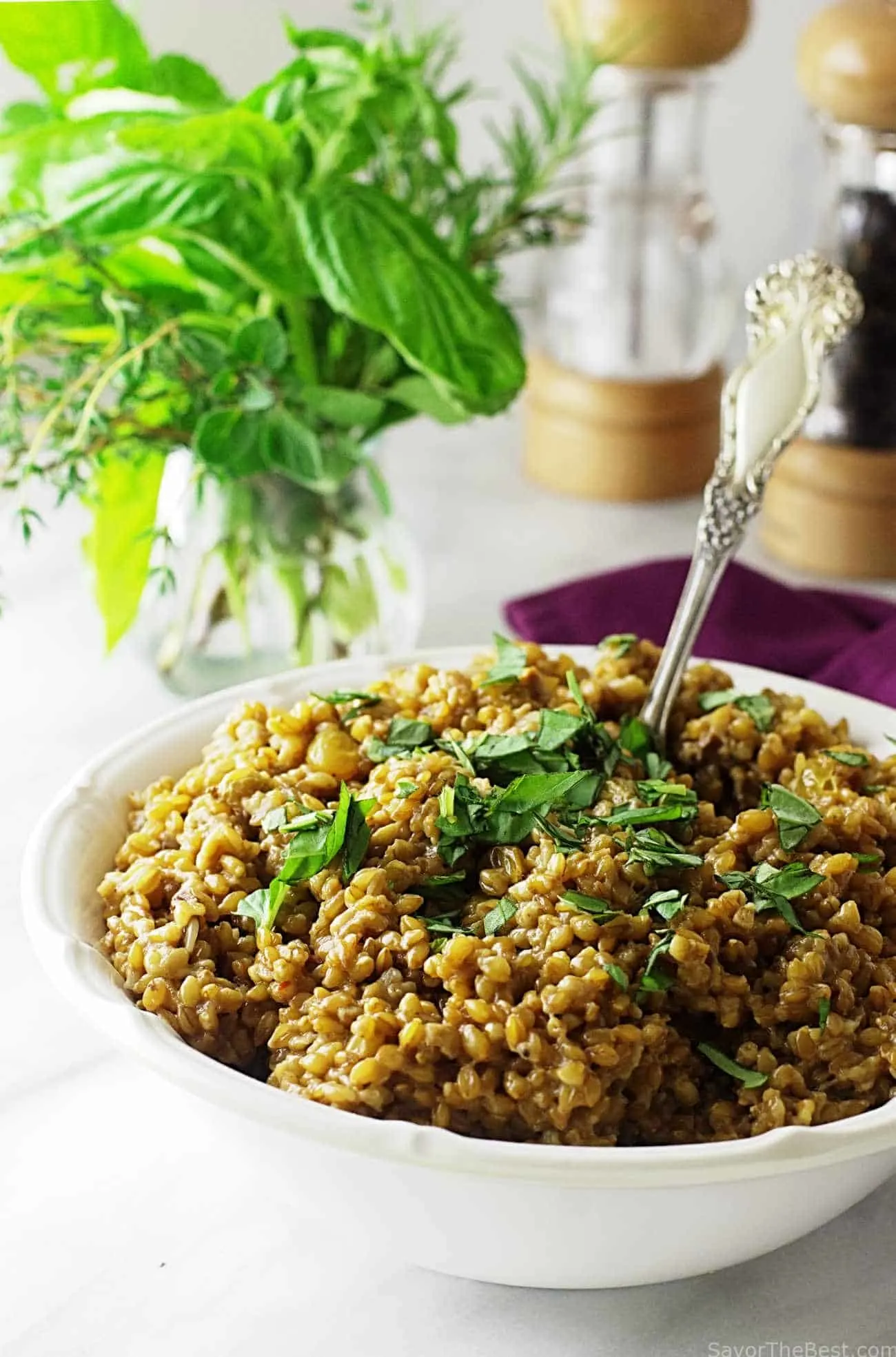 Your first taste sensation will be of a creaminess that just seems to melt in your mouth! That luscious creaminess is from the coconut milk and the slow cooking process.
The plump raisins with their sweetness add another layer of complexity to this risotto. Then, there is that amazing curry that blends with the coconut flavor and it is all absorbed into every grain.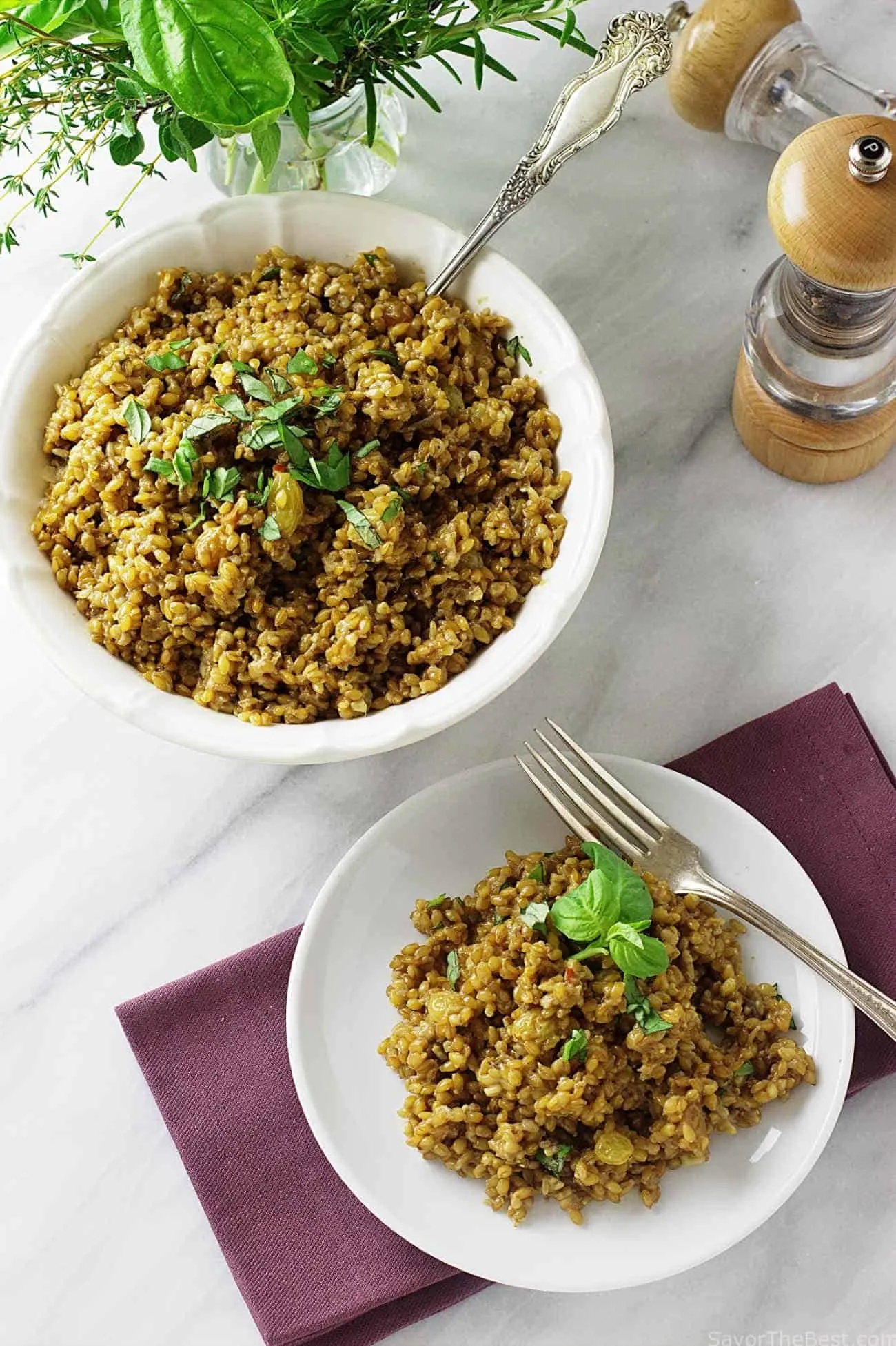 To make this risotto we soaked the einkorn berries overnight to soften them and reduce the cooking time, however, if you don't plan ahead and you wish to skip this step then simply increase the cooking time by 20 minutes.
Even though this dish can be easily prepared without soaking the grains first, I highly recommend soaking them. Soaking grains breaks down the phytic acid that binds to the grain's minerals and increases the bioavailability of the nutrients.
If you skip this step it is ok, you will still get a highly nutritious grain with einkorn.
After soaking and rinsing the einkorn berries we added aromatics of onion and garlic. Next we stirred in the coconut milk, chicken broth and raisins. After bringing this mix to a boil the heat was reduced and as the pot bubbled along, it was stirred occasionally until all the liquid was absorbed.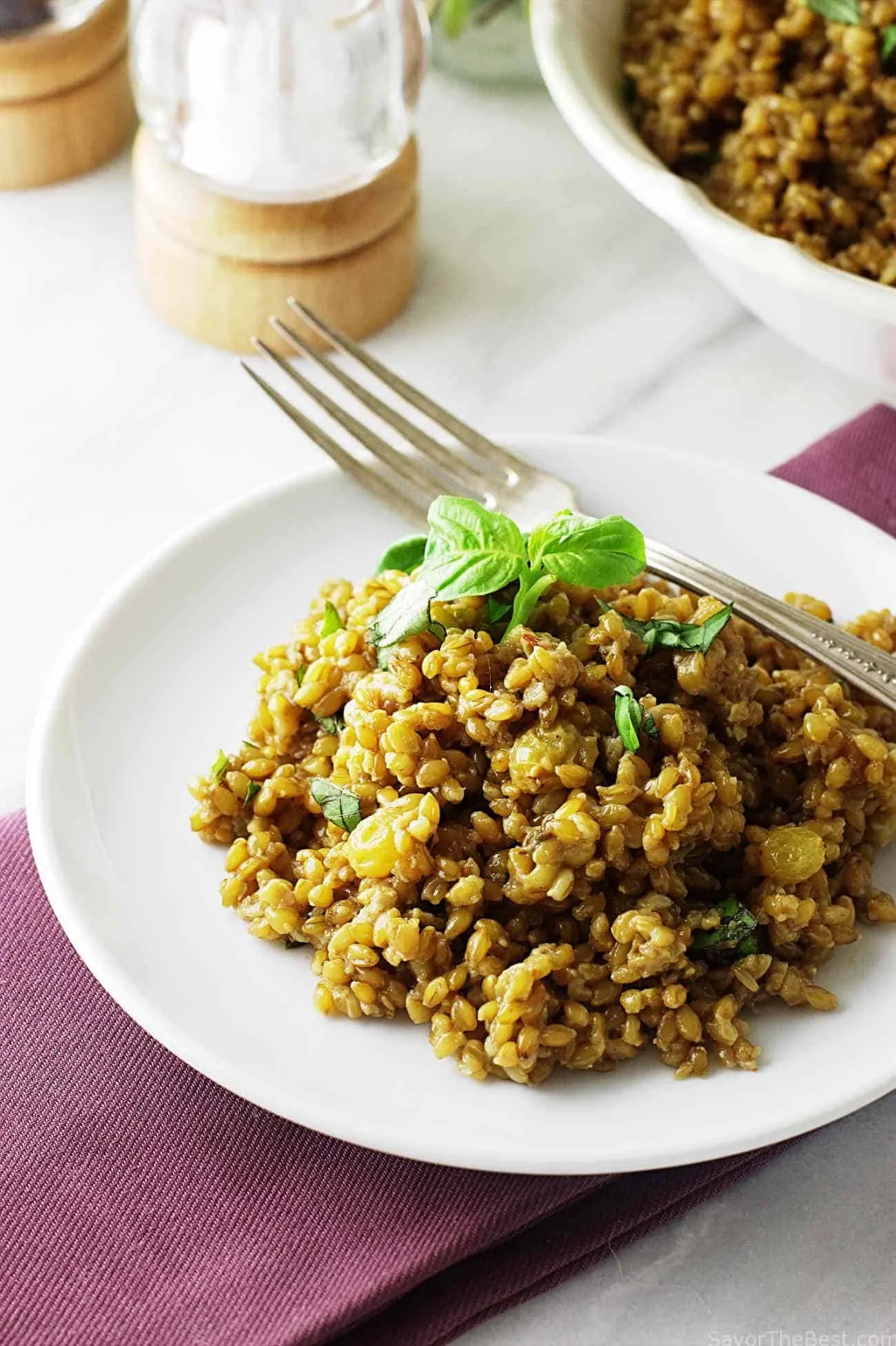 Yes, we can thank our Italian friends for bringing us their wonderful rice risotto but our einkorn coconut-curry risotto is definitely a delicious variation.
A bonus to using the einkorn grains instead of a traditional rice risotto is that you do not need to spend constant time tending to the pot. With these einkorn berries, you only need to stir the pot often enough to keep things from sticking to the bottom as it cooks. This is definitely a more relaxed risotto to make than a rice risotto.
Another bonus to this recipe is that the einkorn berries offer a higher nutritional value than rice. You will be delighted with the flavors of this dish and to know that this ancient einkorn grain is one of the most nutritious and healthiest grains on the planet.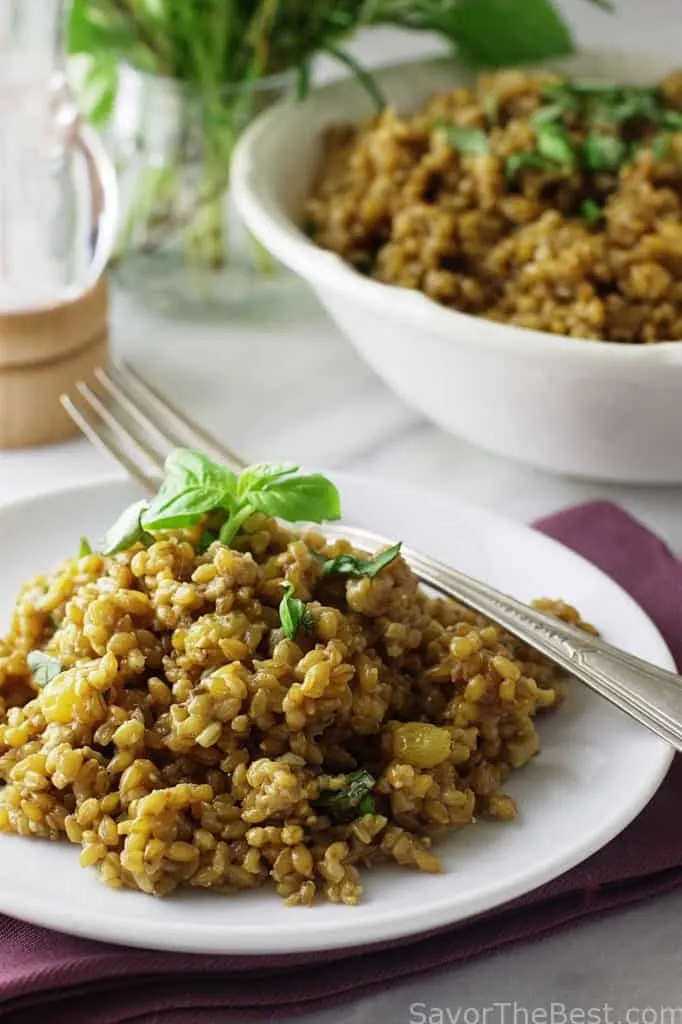 Check out our other grain risottos: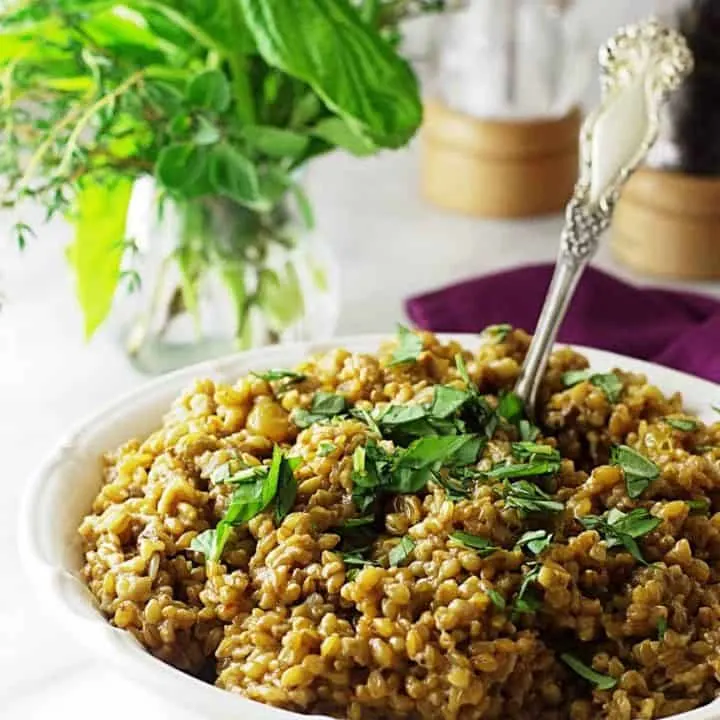 Einkorn Coconut Curry Risotto
Our einkorn coconut-curry risotto is made with einkorn wheat berries that give this twist on risotto a delightfully sweet, nutty flavor and a slightly chewy texture. Coconut milk, curry powder, raisins and aromatics all add to the complexity of this creamy risotto.
Ingredients
2 cups Einkorn wheat berries
1 tablespoon coconut oil
1 small white onion, diced
2 garlic cloves, minced
2 teaspoons curry powder
1/2 teaspoon salt
1 1/2 cups light coconut milk
1 cup chicken broth
2/3 cup golden raisins
1 tablespoon chopped fresh basil
Fresh basil for garnish
Instructions
Place the wheat berries in a bowl, cover with warm water and add 2 teaspoons of apple cider vinegar. Allow to soak for 8 hours or overnight. (If you don't soak the berries you will need to increase the cooking time by another 20 to 25 minutes).
Heat a tablespoon of coconut oil in a large saucepan over medium high heat. Add the onion and garlic and sauté until soft.
Rinse and drain the Einkorn berries then add them to the saucepan. Add the curry powder, salt, coconut milk, chicken broth and raisins. Bring to a boil over high heat then reduce the heat to medium.
Cook over medium heat for 20 to 25 minutes, stirring occasionally at first then stir frequently as the liquid becomes absorbed.
Remove from the heat and transfer to a serving dish. Add fresh basil before serving.
Nutrition Information:
Yield:

6
Serving Size:

1
Amount Per Serving:
Calories:

292
Total Fat:

16g
Saturated Fat:

14g
Sodium:

339mg
Carbohydrates:

33g
Fiber:

2g
Protein:

5g