These chicken stuffed peppers are a fun and easy way to change up your dinner routine! Bell peppers get stuffed with a flavorful mixture of chicken, rice, corn, cheese, and enchilada sauce, then baked until tender. Serve these chicken stuffed peppers with a dollop of sour cream or guacamole for extra deliciousness!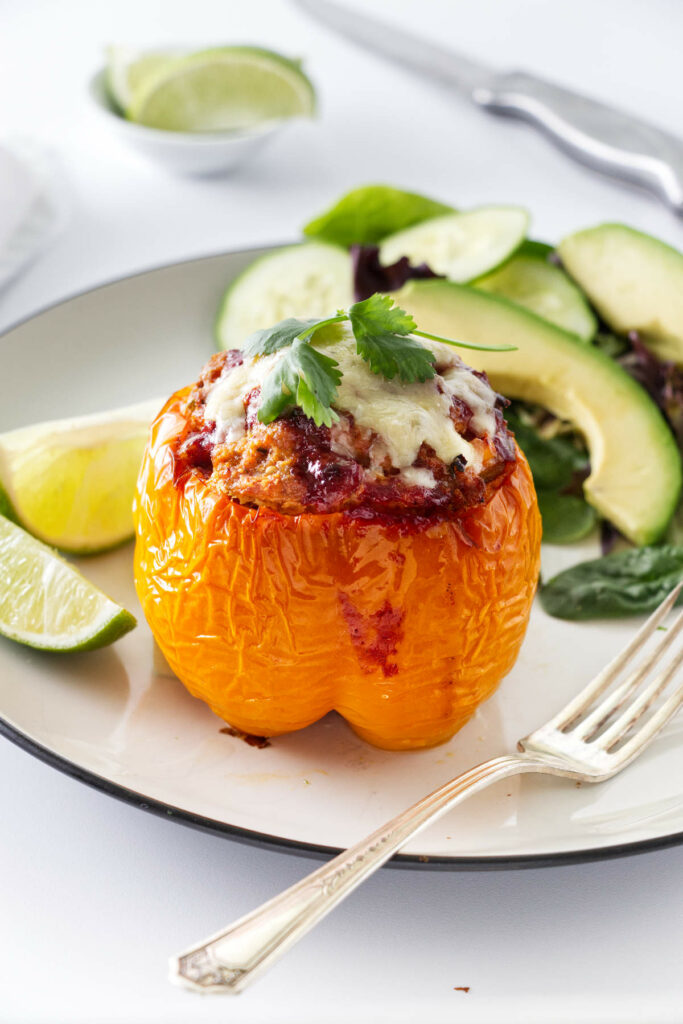 Bell peppers are ideal with zesty Mexican flavors and taste great with ground chicken. The rice and corn help to bulk up the filling, so these stuffed peppers are nice and hearty. Serve them with a tossed green salad and no-knead Dutch oven bread.
For more versions of stuffed deliciousness, check out our crab stuffed shrimp and our bacon wrapped stuffed chicken. We also have stuffed poblanos and stuffed grape leaves. And for a sweet treat, check out our cheesecake stuffed muffins.
Here is Why This Recipe Works
Ground chicken and Mexican spices make these stuffed peppers taste like miniature Mexican meatloaves.

The sweet and spicy glaze gives a little kick and the perfect finishing touch.

Starting with uncooked ground chicken allows all the flavors and juices to absorb into the bell peppers as they cook.

Pricking holes in the bottom of the bell peppers allows the juices to seep out.

Rice acts as a binder and helps make the stuffing tender and moist.

Perfect for meal prep. You can prep and stuff the peppers in advance and keep them in the fridge for up to 2 days before you cook them (great for busy weeknights).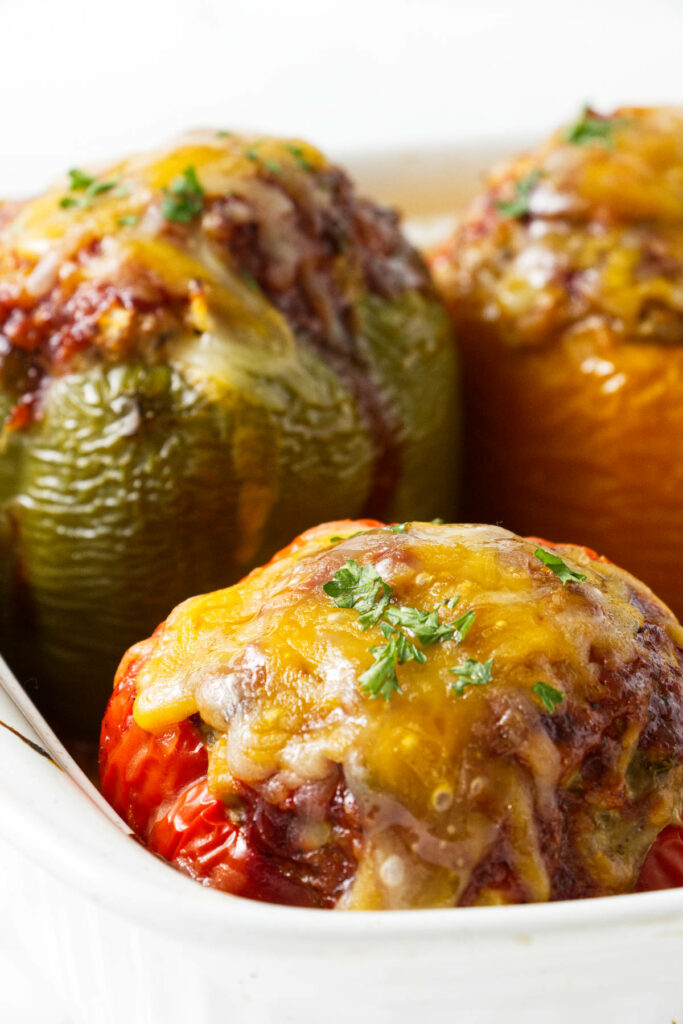 The Ingredients
Here is a list of the ingredients needed for these stuffed peppers with chicken. Scroll down to the printable recipe card for all the details.
Bell peppers. Also called sweet peppers or capsicum and they come in several different colors. The most common colors are red, yellow, orange, and green peppers.

Ground chicken.

Cheddar cheese. The cheese adds a buttery, gooey texture that oozes out of the chicken filling. You can substitute the Cheddar with Mozzarella or any good melting cheese. And you can add a little Parmesan cheese for extra deliciousness.

Corn. We used frozen corn, but fresh corn will also work.

Cooked rice. You can use white rice, brown rice, or wild rice. Make sure you cook it before adding it to the stuffing mixture. You can also replace the rice with cooked farro, such as einkorn wheat berries.

Onion, jalapeño pepper, garlic. The stuffing will not be too spicy if you remove the seeds and membrane from the jalapeño pepper.

Lime juice. You can substitute with lemon juice.

Eggs. The eggs act as a binder and hold the filling together.

Spices. We used cumin, chili powder, dried oregano, salt, and pepper.

Enchilada sauce. You can use storebought sauce or make your own enchilada sauce.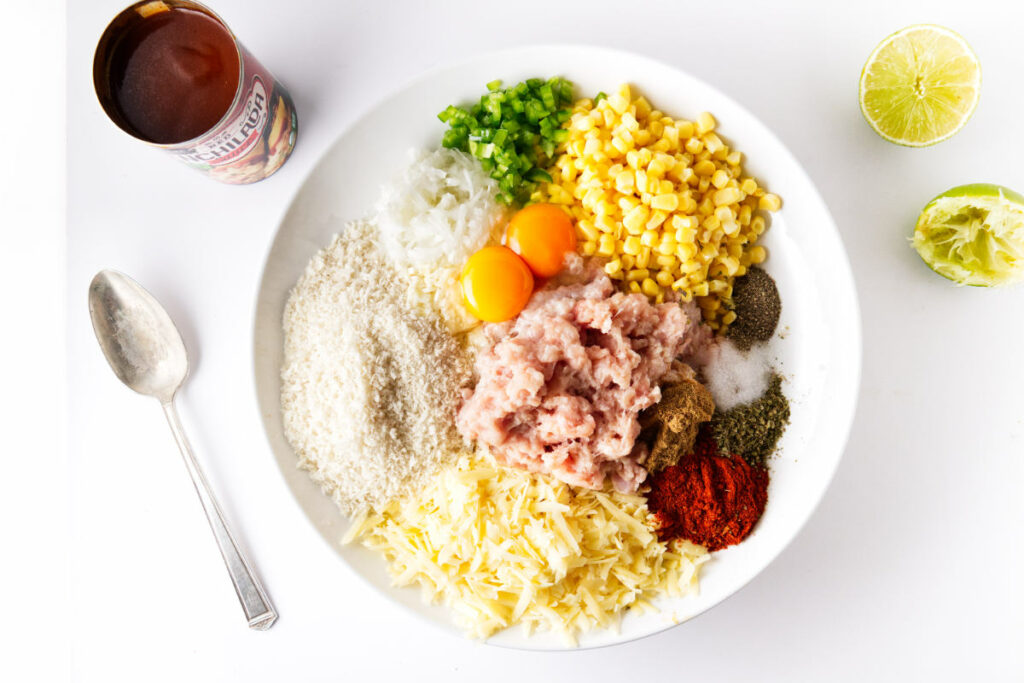 How to Make Chicken Stuffed Peppers
Here is a brief overview to get an idea of what to expect with the recipe. Scroll down to the printable recipe card for all the details.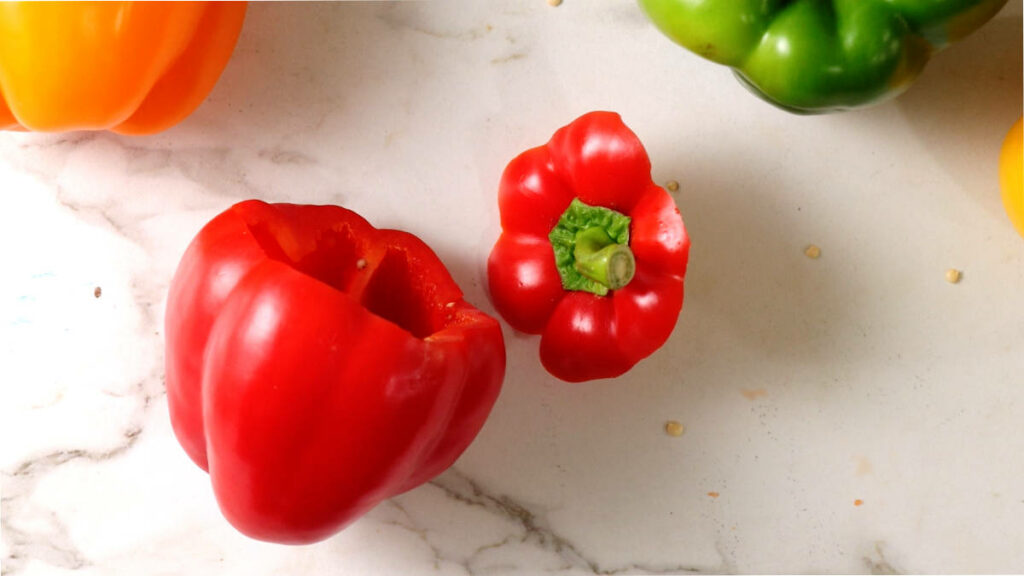 Slice the tops off the bell peppers and remove the membranes and seeds from the center.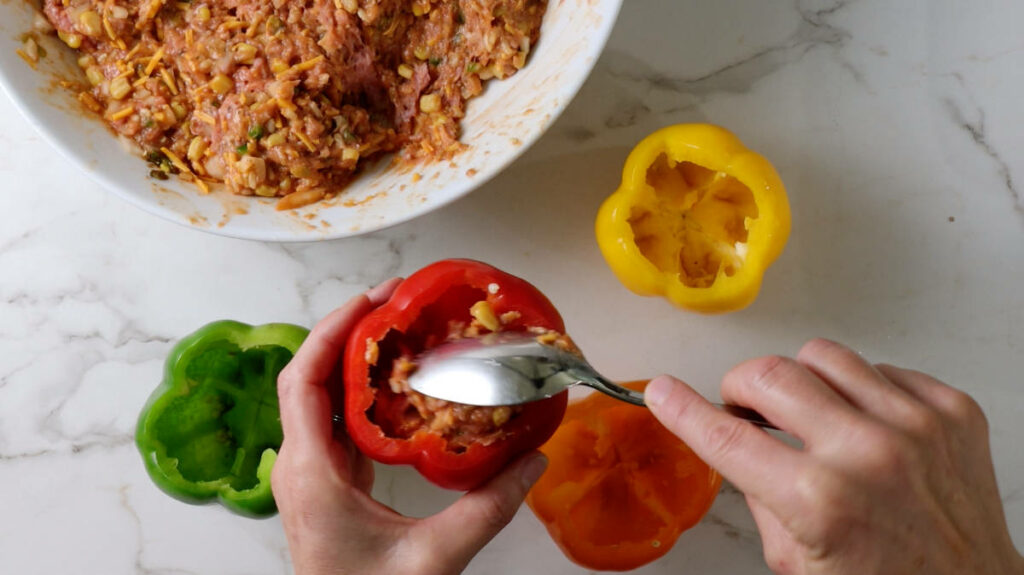 Combine the ground chicken with all the filling ingredients (just like making a meatloaf).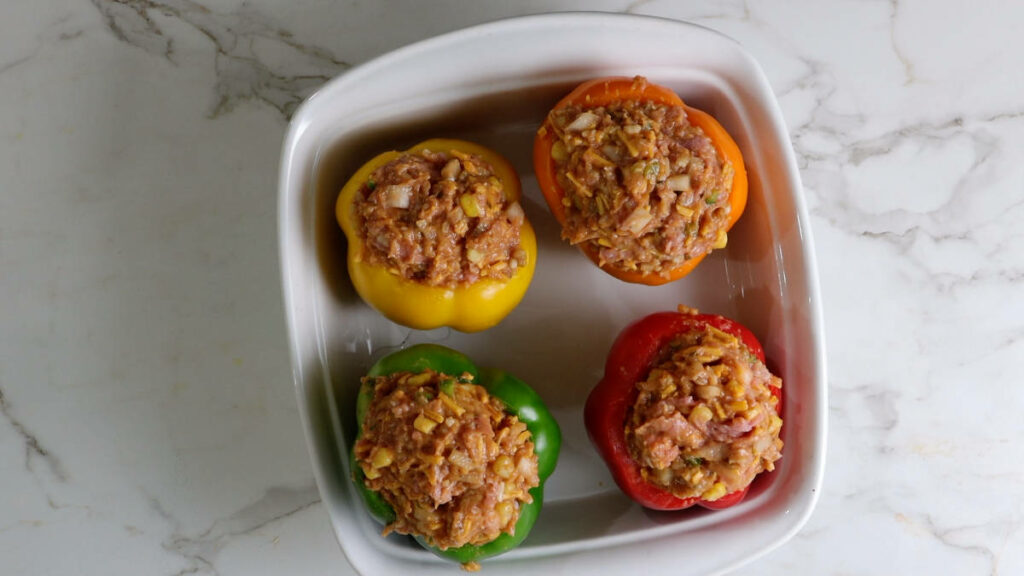 Stand the bell peppers upright in a baking dish and heap the chicken filling mixture inside the peppers.

Add a splash of water to the baking dish, cover with foil, and bake.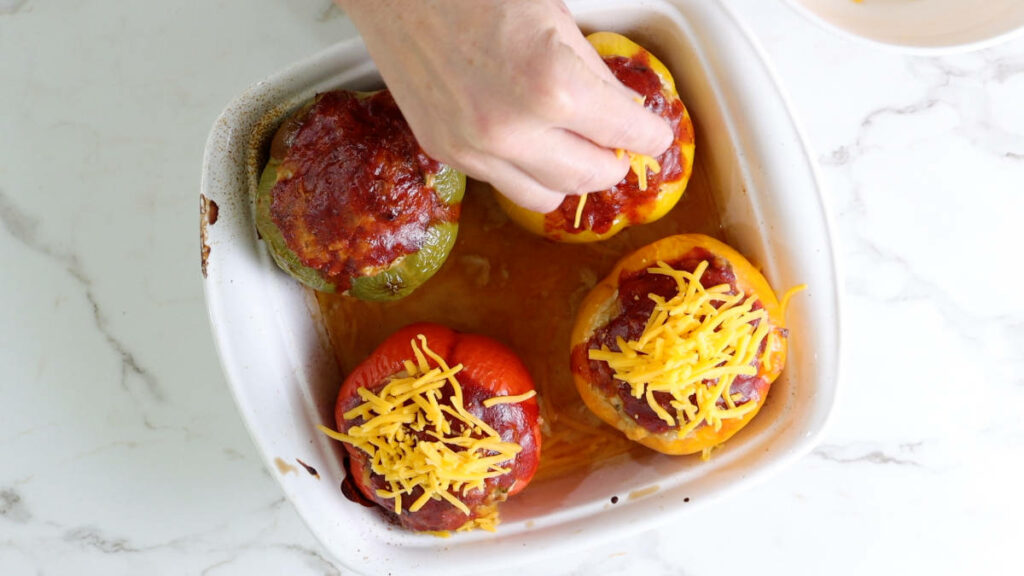 Make the glaze and spoon over the top of the chicken stuffed peppers, then bake for a few more minutes.

Finish by melting cheese on top. Garnish with cilantro, parsley, or green onions.
Tips for Success
Don't overmix the ground chicken filling. It is like making a meatloaf; over-mixing the raw meat will make the chicken stuffing dense and tough.

Heap the ground chicken filling on the bell peppers in a bit of a mound. The filling will shrink down slightly as it cooks.

Try to select peppers that are all the same size so they cook evenly.

If you want smaller portions, cut the bell peppers in half and bake the pepper halves on their sides. Bake them until they reach an internal temperature of 160-165°F.

You can substitute Panko bread crumbs, crushed crackers, or cooked wheat berries for the cooked rice.

A mix of green and red peppers (or another color) will make the dish look prettier, but any color will work.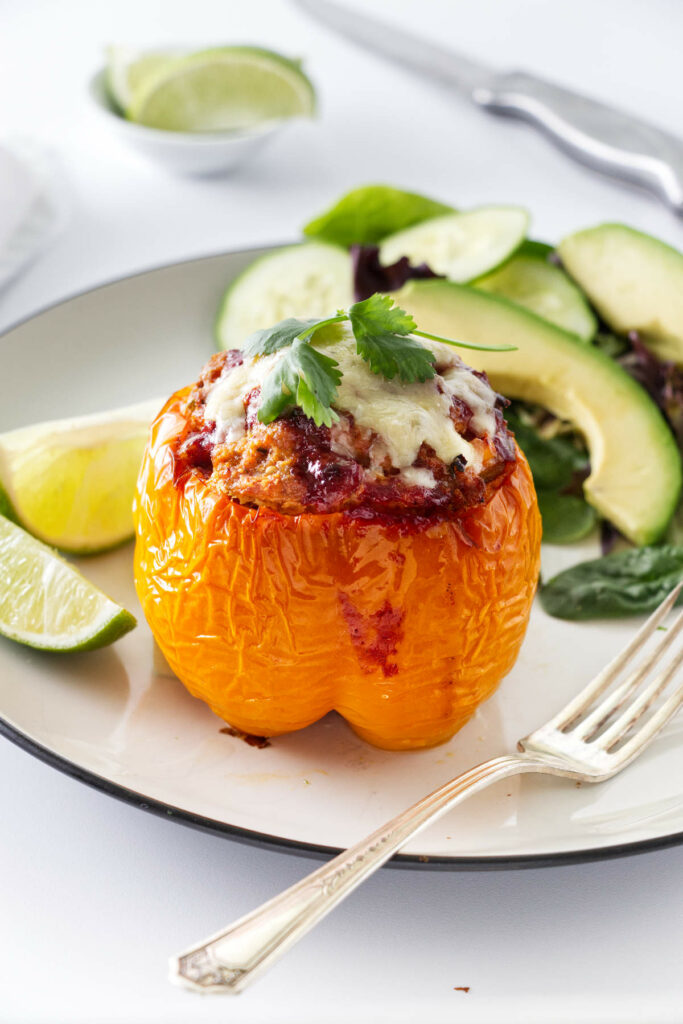 Recipe Variations
Add black beans or pinto beans to the mixture.
Substitute the chicken with any ground meat. You can use ground beef, turkey, or lamb.
Substitute the Mexican spices and enchilada sauce for Italian seasoning and Marinara sauce.
Frequently Asked Questions
Do you have to boil the peppers before stuffing them?
Not for this recipe. Since the ground chicken mixture is raw when you stuff the peppers, they must cook for at least an hour. The longer cooking time makes the bell peppers soft and tender.
How do you know when stuffed peppers are done?
An instant-read thermometer is the best way to determine the doneness of the chicken stuffed bell peppers. Cook them until the internal temperature reaches 160°F.
Can you cook raw chicken and vegetables together?
Yes. This peppers recipe cooks the meat and veggies long enough to cook everything thoroughly.
Do I have to cook the chicken before I stuff it in the bell peppers?
No. This recipe is similar to making turkey meatloaf stuffed inside bell peppers. The peppers bake long enough to cook the ground chicken.
Mexican spices make these ground chicken stuffed peppers taste like miniature Mexican meatloaves. They are hearty and filling, and the sweet and spicy glaze gives them a delicious finishing touch. These chicken stuffed bell peppers are a meal the whole family will love.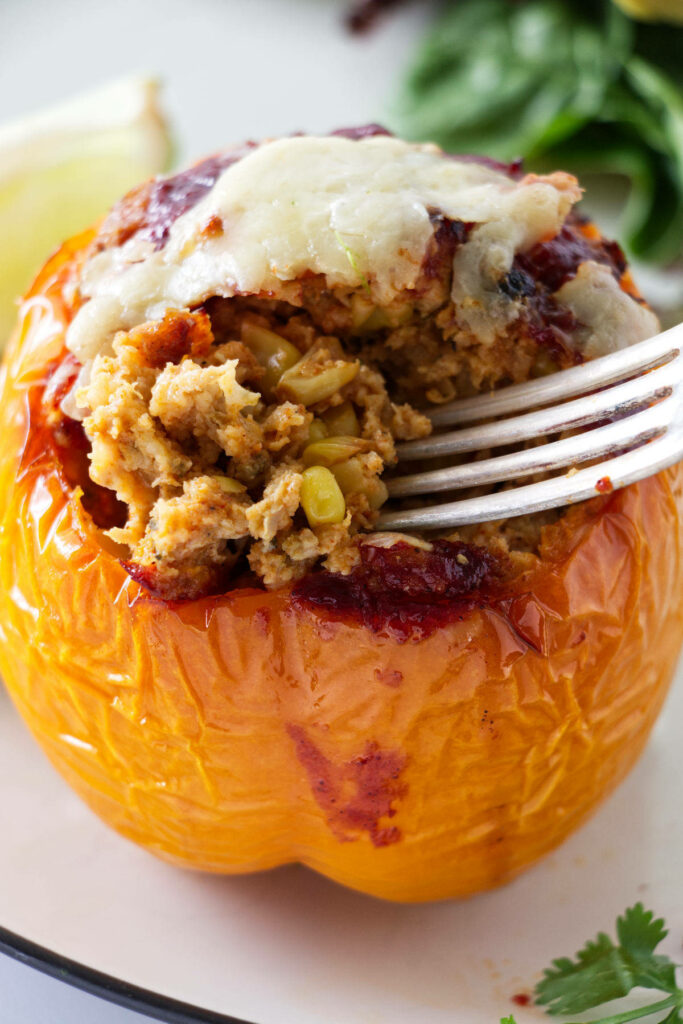 Helpful Tools
Some of the following are affiliate links. We may receive a small commission if you click these links and purchase something. You don't pay any extra, but it will help us keep the lights on.
Paring knife
Mixing bowl
Instant-read thermometer
Some Other Recipes We Are Sure You Will Love:
These stuffed peppers with cream cheese make great appetizers. Serve them at your next party with other finger foods like cucumber shrimp bites and cheese pinwheels.
If you love chicken, our smoked beer can chicken takes it over the top with a smokey gravy made from the drippings. Serve it with creamy ricotta mashed potatoes.
Our bbq chicken legs are perfect for a weeknight dinner. The dark meat stays tender and juicy, and the sauce is packed with flavor.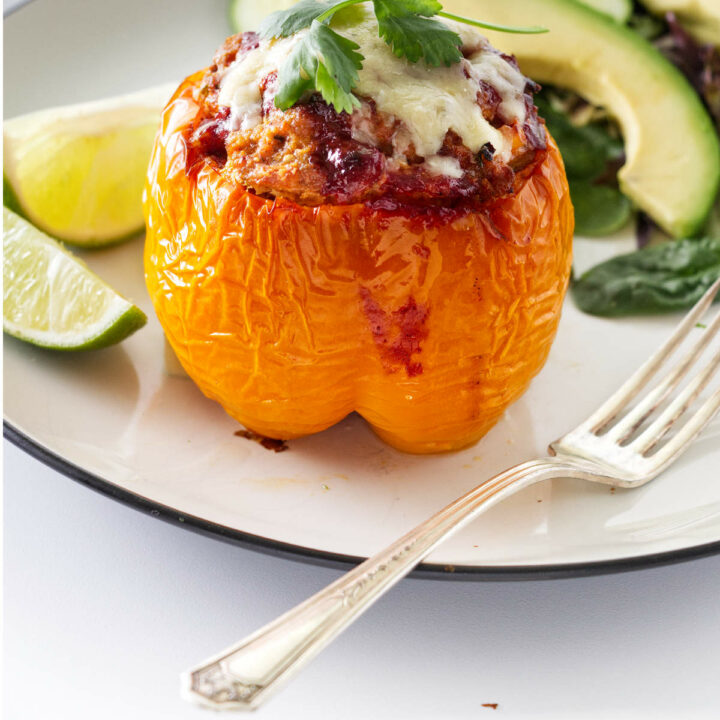 Chicken Stuffed Peppers
Cook Time:
1 hour
15 minutes
Total Time:
1 hour
30 minutes
The enchilada sauce, veggies, jalapenos, and spices give our Chicken Stuffed Peppers a delicious Mexican flavor! The stuffing is quick and easy to make, and it is similar to making chicken meatloaf. The spices and jalapeno peppers give the stuffed peppers a taste of Mexico.
Ingredients
For the Peppers
4 large bell peppers, any color
1 pound ground chicken
1-1/2 cups freshly grated cheddar cheese, reserve 1/2 cup
10 oz. frozen corn, thawed
1 cup cooked rice
1/2 cup finely chopped onion
1 jalapeño pepper, diced
2 cloves garlic, minced or grated
2 tablespoons freshly squeezed lime juice
2 eggs, lightly beaten
3/4 cup enchilada sauce
1 teaspoon cumin powder
1 tablespoon chili powder
1 tablespoon dried oregano1 teaspoons salt
1/2 teaspoon freshly ground black pepper
1/2 cup water (added to the baking dish)
For the Glaze:
1/4 cup enchilada sauce
2 tablespoons tomato paste
2 tablespoons honey
1/4 teaspoon sea salt
fresh ground pepper
Optional: 1 teaspoon Tabasco hot sauce
Instructions
For the Chicken Stuffed Bell Peppers:
Preheat the oven to 375° and coat an ovenproof dish with cooking spray
Slice 1/2 inch from the tops of the peppers and remove the stems from the tops. Remove the membrane and seeds from the inside of the peppers. (See notes)
If necessary, cut away a very thin slice of pepper from the bottoms so the peppers can stand upright. Or, place standard canning jar rings in the bottom of the baking dish to keep the peppers upright.
Use a toothpick to prick several holes in the bottom of each pepper to allow juices to drain out.
In a large bowl, combine the ground chicken, 1 cup of the cheese, and the remaining ingredients, except the garnish of cilantro and lime wedges. Mix until well combined, being careful not to over-mix. Fill each pepper but do not pack the peppers too firmly. Heap the filling on top as it will shrink as it cooks.
Set the stuffed bell peppers upright in the dish and add 1/2 cup of water to the bottom of the dish. If the peppers tip over, you can place them in Mason jar lid rings.
Spray a sheet of aluminum foil large enough to cover the dish with cooking spray and place it sprayed side down to cover the dish.
Bake in preheated oven for 60 minutes.
For the Glaze:
Whisk together the enchilada sauce, tomato paste, honey, salt, pepper , and hot sauce, if using in a small dish.
After the stuffed peppers have baked for 60 minutes, transfer them from the oven and remove the foil cover. Spoon the glaze over the top of each stuffed pepper and bake, uncovered, for an additional 10-15 minutes.
Add 1-2 tablespoons of the reserved cheese to each pepper and bake until the cheese melts.
Transfer from the oven and let rest for 5 minutes before serving.
Notes
Choose bell peppers of a mix of colors or of a single color.
You can get 5 to 6 stuffed peppers from this recipe if you have small bell peppers.
Try to select peppers that are equal in size, so they all cook equally.
Use scissors to cut the inside membranes, then turn the pepper upside down and shake the seeds and membrane out.
The bell peppers can also be cut in half, stuffed, and baked for smaller portions. The baking time will vary depending on the size of the peppers and whether they are cut with the tops off or cut into halves. We suggest using a meat thermometer for perfect results and cooking them to a temperature of 160-165°F.
Panko breadcrumbs can be substituted for cooked rice.
Mozzarella, Pepper Jack, Monterey Jack, or Provolone are other cheese choices that work well.
Nutrition Information:
Yield:

4
Serving Size:

1
Amount Per Serving:
Calories:

619
Total Fat:

22g
Saturated Fat:

8g
Trans Fat:

0g
Unsaturated Fat:

13g
Cholesterol:

228mg
Sodium:

1795mg
Carbohydrates:

69g
Fiber:

9g
Sugar:

24g
Protein:

43g
Nutrition information is a guideline only, is calculated automatically by third-party software, and absolute accuracy is not guaranteed.