Stuffed peppers! Now that is a blast from the past! We have used the ancient grain einkorn to modernized this recipe of einkorn berries and beef stuffed peppers. We think you will like the change.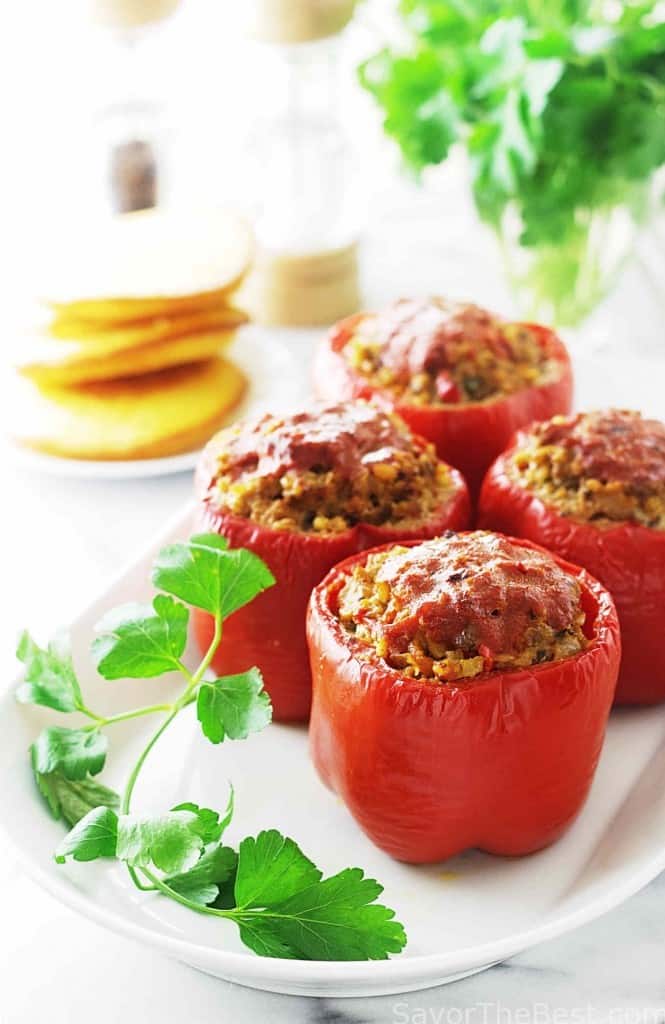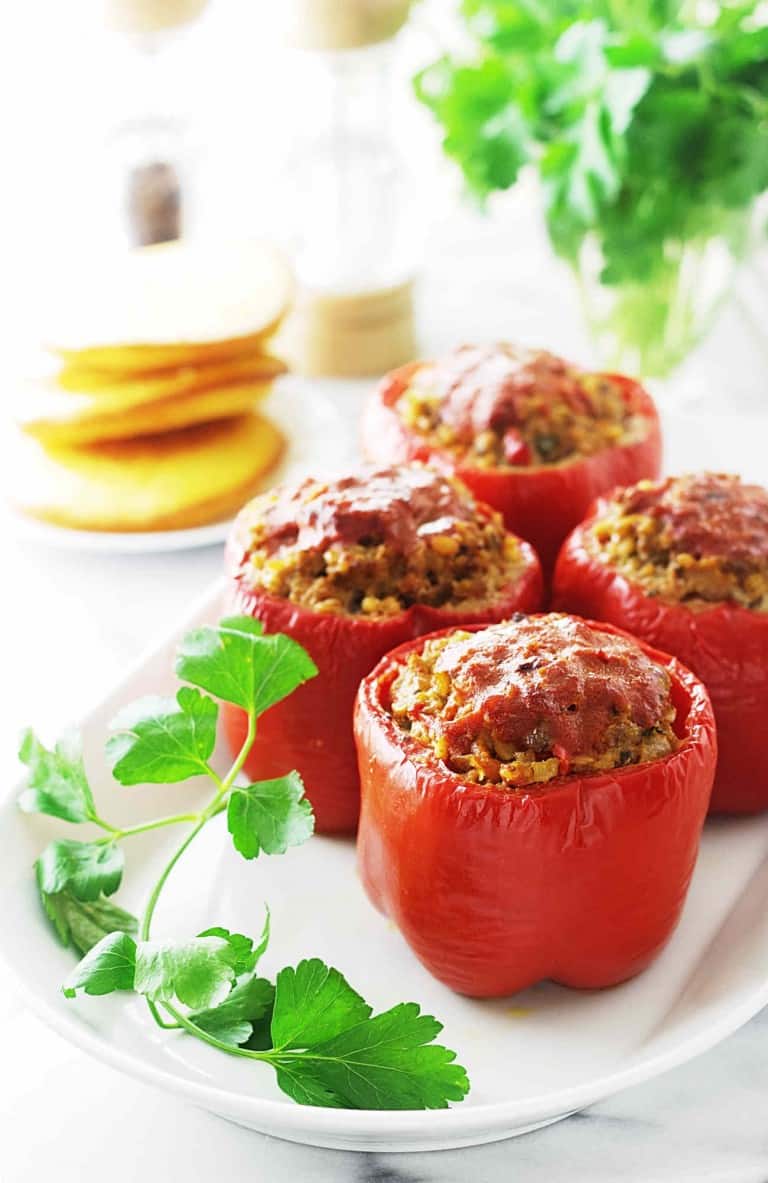 Traditionally, rice is used with ground beef and seasonings to make the filling for stuffed peppers but the einkorn berries cook up just as soft as rice with a lot more nutrition and flavor than rice. The einkorn berries gives the filling a chewy texture that contrasts deliciously with the sweetness of the peppers.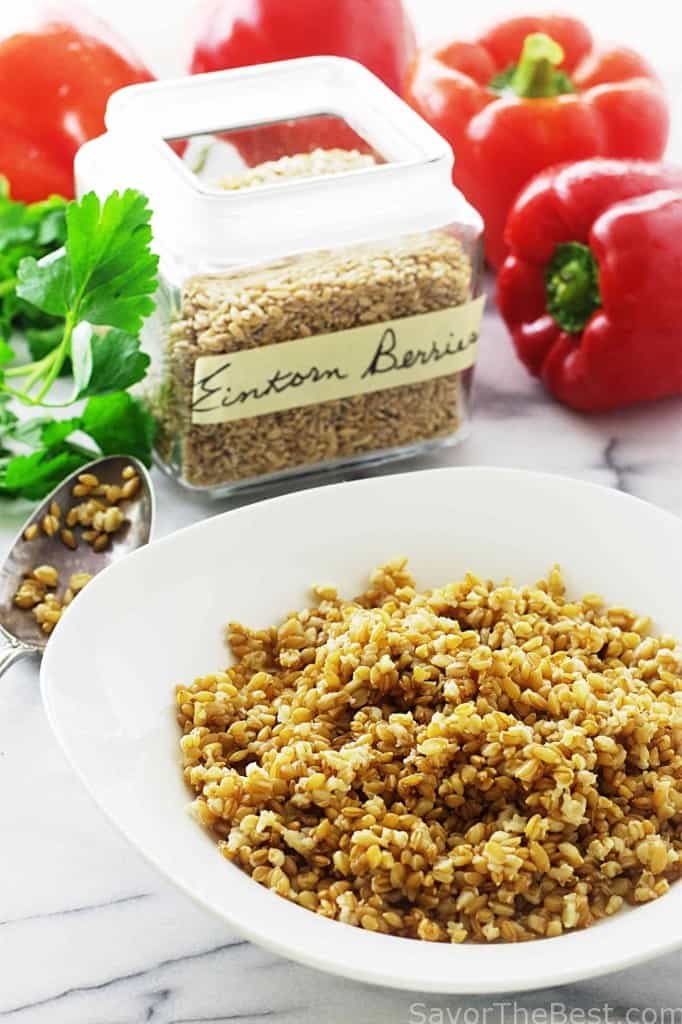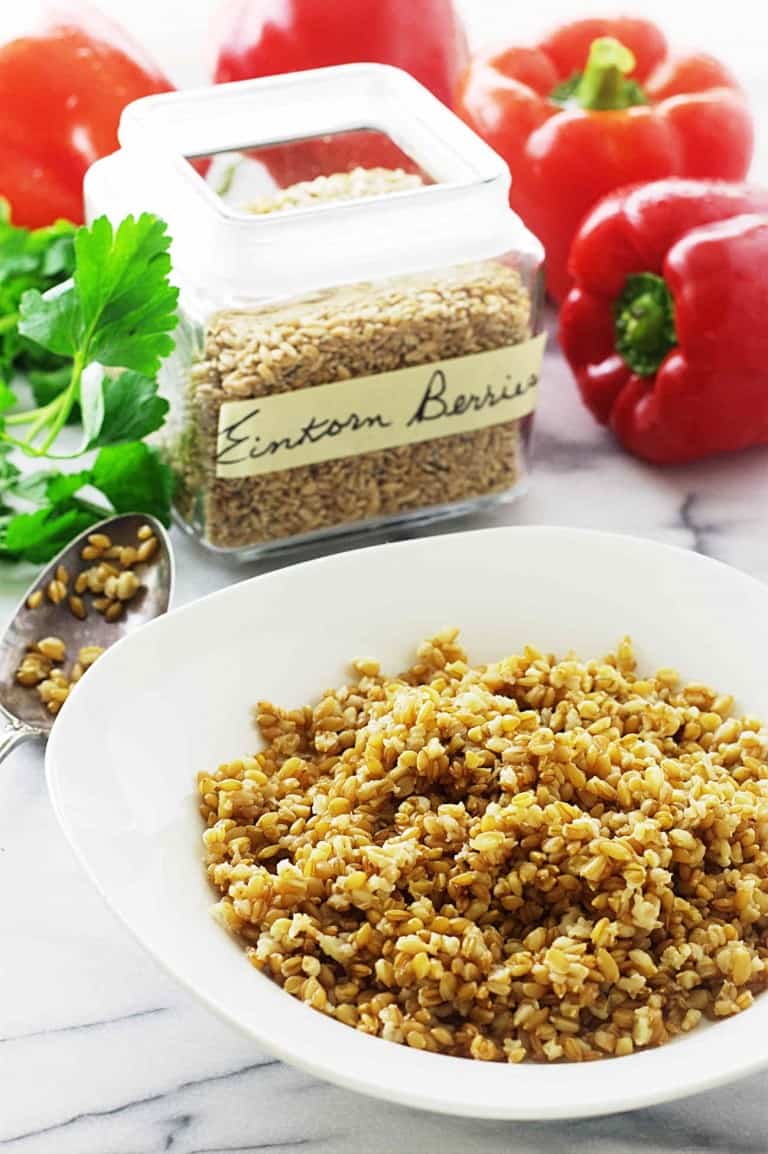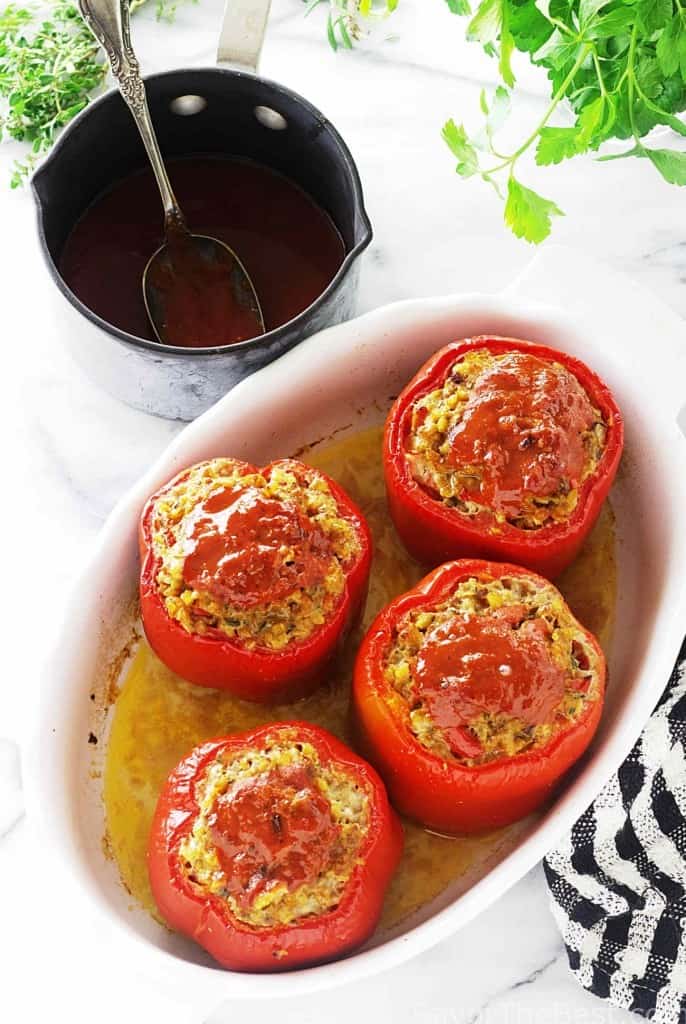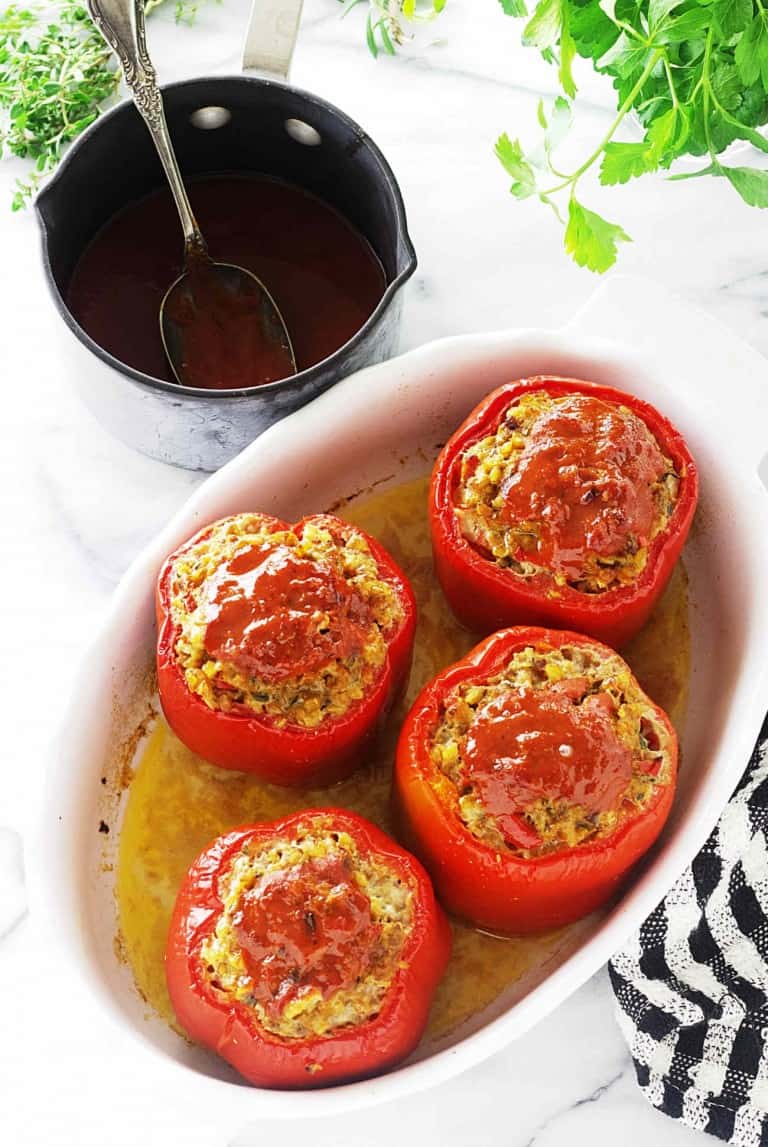 We chose these vibrant red sweet bell peppers to showcase this classic family favorite entree. They are stuffed with a delicious mix of soft cooked einkorn berries, lean grass-fed ground beef, fresh herbs and a little grated cheese. They are topped off with a tomato glaze and baked in the oven. A note about grass-fed ground beef…..if you can squeeze your grocery budget to buy grass-fed ground beef it is worth paying that extra cost for the quality. I purchase my grass-fed ground beef from Costco as they have assured me that it is free from the 'pink-slime' and the animals feed on organic grass.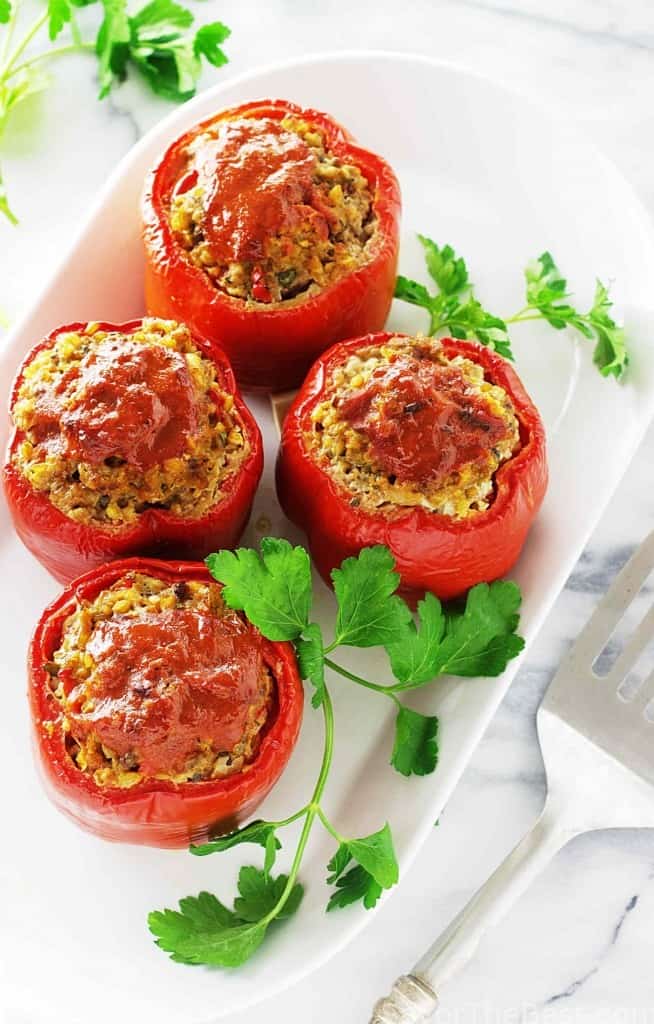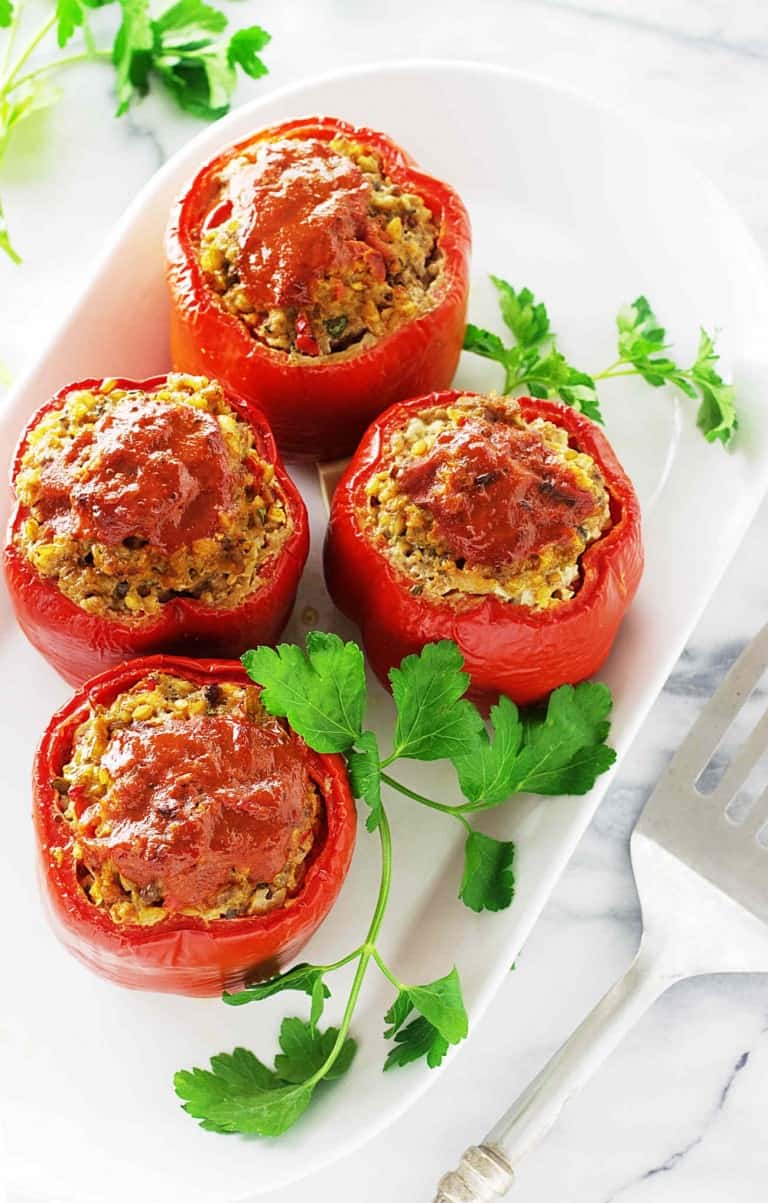 You will love the flavor-mix of this updated, colorful recipe that is a great week-night dinner choice. They can be made earlier in the day or day before, refrigerated and baked for the dinner. They also freeze well. This is a one-dish meal and all that is needed is a salad on the side.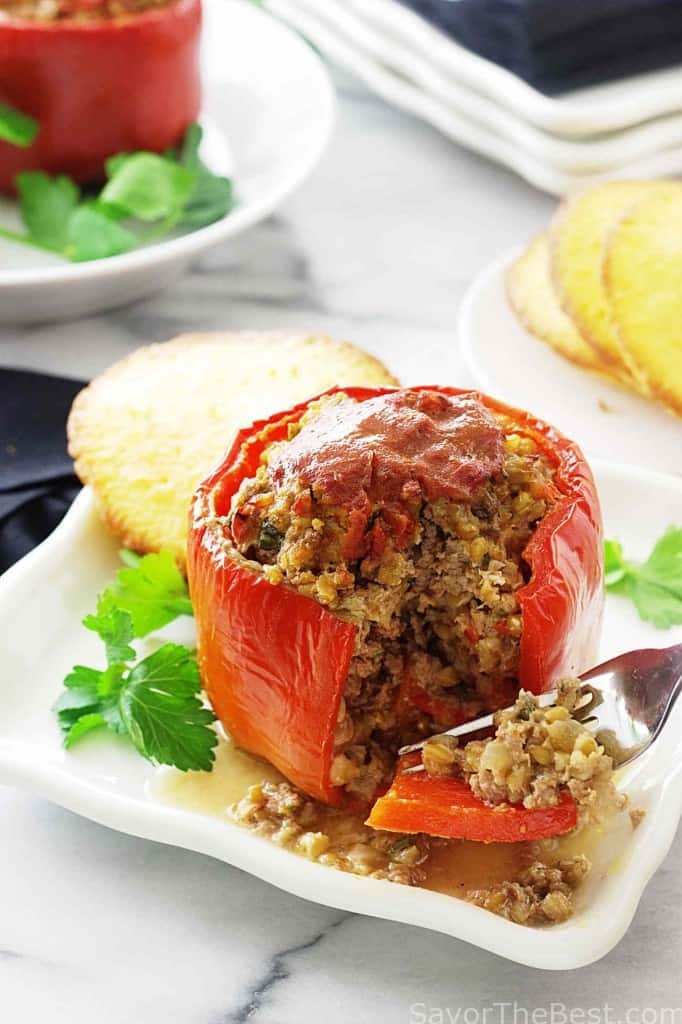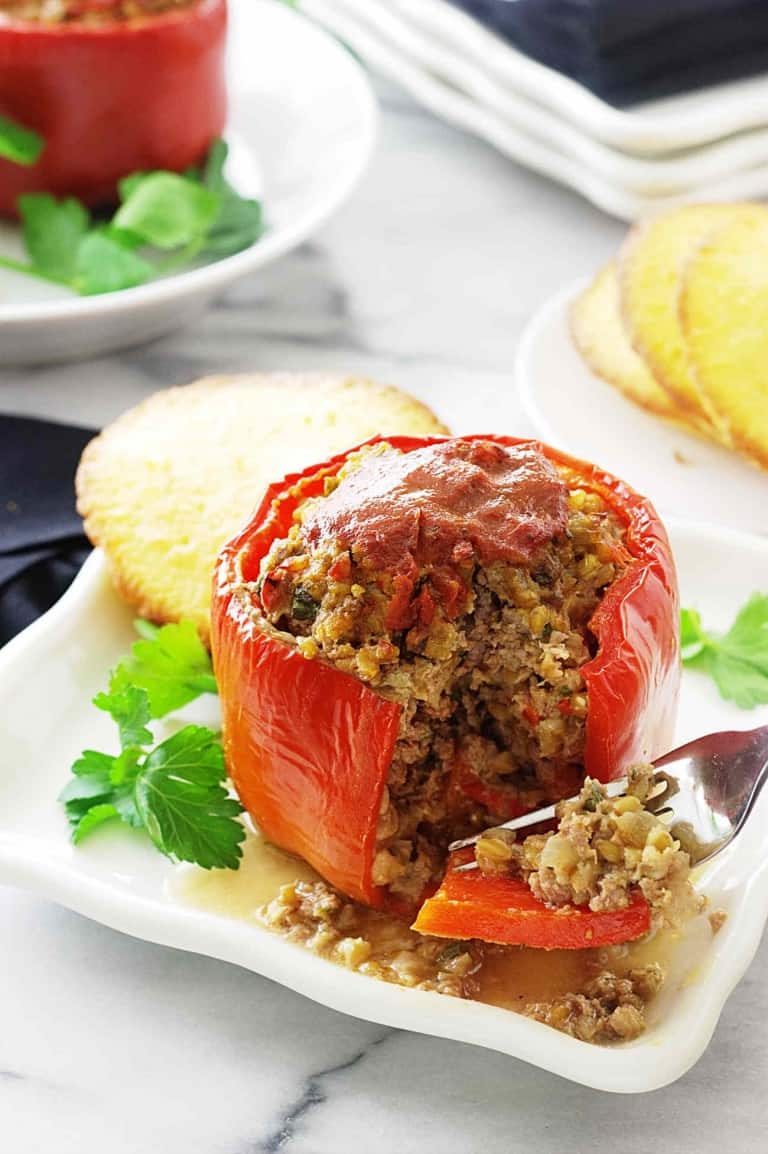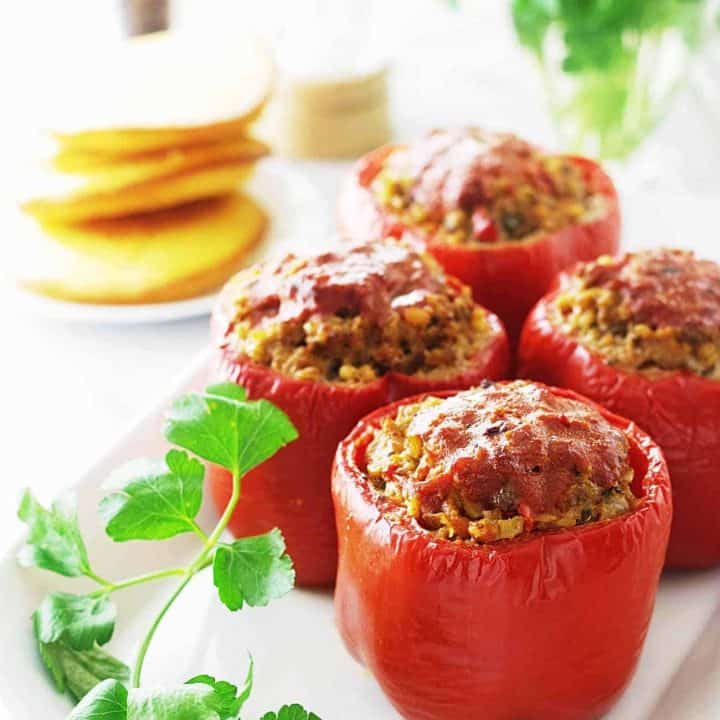 Einkorn Berries and Beef Stuffed Peppers
Cook Time:
1 hour
30 minutes
Total Time:
1 hour
55 minutes
This recipe for einkorn berries and beef stuffed peppers is a modern version of an old family favorite. We used soft-cooked nutritious einkorn berries with ground beef, fresh herbs and spices to stuff sweet red peppers.
Ingredients
4 Red bell peppers
1 pounds lean ground beef
1 cup cooked einkorn berries
1/2 cup finely chopped onion
2 cloves garlic, minced or grated
1/2 cup beef broth
2 eggs, lightly beaten
1 cup freshly shredded Fontina cheese
1/4 cup chopped fresh flat-leaf parsley
1 tablespoon chopped fresh rosemary
1 tablespoon chopped fresh thyme
1/2 cup tomato sauce, divided
1 teaspoons salt
1/2 teaspoon freshly ground black pepper
For the Tomato Glaze:
1/2 cup tomato sauce
2 tablespoons honey
1/4 teaspoon sea salt
fresh ground white pepper
Parsley sprigs for garnish
Instructions
Preheat oven to 375° and coat an oven-proof dish with cooking spray
Slice 1/2-inch from the tops of the peppers and remove the stems from the tops. Cut the core from the inside of the peppers and remove the seeds. A teaspoon works well. Cut away a very thin slice of pepper from the bottoms so the peppers can stand upright. With a toothpick, prick several holes in the bottom of each pepper to allow juices to drain out. Set prepared bell peppers upright in the dish and add 1/2 cup water to the dish.
In a large bowl, combine the ground beef, cooked einkorn berries and the remaining ingredients, except the garnish of parsley. Lightly stuff peppers with meat mixture.
Spray a sheet of aluminum foil large enough to cover the dish with cooking spray and place, sprayed side down, to cover the dish.
Bake in preheated oven for 1 hour.
For the Tomato Glaze:
In a small dish, whisk together the remaining tomato sauce, honey, salt and pepper and after the peppers have baked, covered, for 1 hour, remove the foil and spoon the tomato glaze, equally, to the tops of each pepper. Continue to bake, uncovered, for an additional 30 minutes until the peppers are tender. Remove from the oven and transfer the peppers to a serving plate, allow to rest 5 minutes before serving.
Garnish each pepper with fresh parsley sprigs.
Notes
To cook the emmer berries (farro) rinse the grains with cold water. Add 2 parts water to 1 part berries. Bring the mixture to a boil, then cover, reduce the heat to low and simmer until tender, about 45 minutes. Refrigerate any unused portion for a later use.
Nutrition Information:
Yield:

4
Serving Size:

1
Amount Per Serving:
Calories:

549
Total Fat:

35g
Sodium:

737mg
Carbohydrates:

29g
Fiber:

5g
Sugar:

8g
Protein:

28g