This is an impressive way to serve shrimp. Our crab stuffed shrimp recipe makes a spectacular appetizer or main meal. These stuffed shrimp are elegant, sophisticated, and sure to be the star of any dinner party. If you serve this dish you will have people begging for the recipe.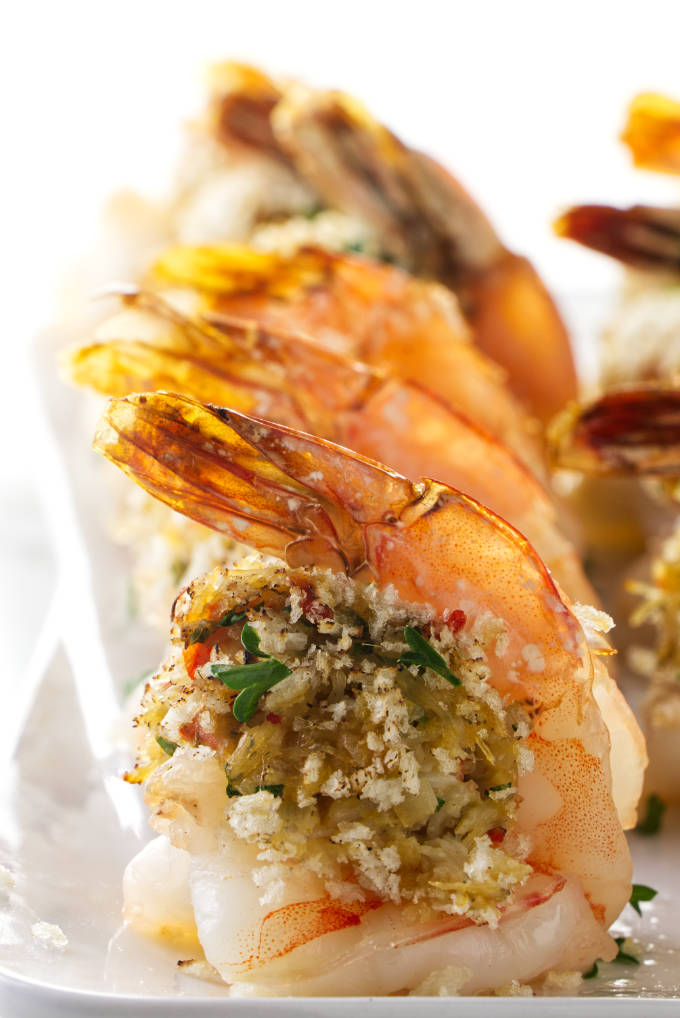 We love making shrimp appetizers and using shrimp in dinner entrees. They are fast to prepare and taste great with just about anything. Our garlic butter shrimp pasta only takes 20 minutes and so do these shrimp cucumber bites. We are always adding to our shrimp recipes and this stuffed shrimp appetizer is one of our favorites.
Crab and shrimp make a terrific combination that any seafood lover appreciates but when you stuff the crab inside the shrimp, it makes a dramatic presentation. This recipe will make you look like a pro and have everyone thinking they are dining at a fancy restaurant.
This is an easy recipe but it isn't quick. It can also be a bit messy getting the stuffing into the shrimp. Since prepping the shrimp can take a bit of time, we have some tips to help you coordinate everything and do a few steps in advance.
It's totally worth the effort and makes a fabulous dinner or appetizer for a special occasion. Just imagine these fancy little stuffed shrimp lined up on an a platter with a little garnish. I guarantee they will be the first things to disappear.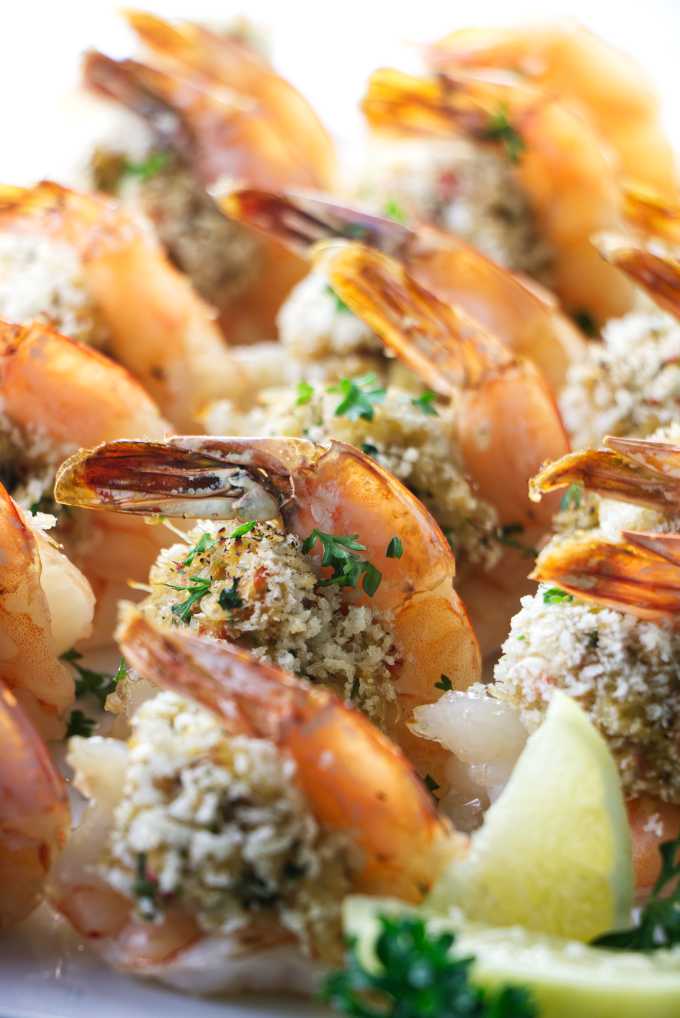 Ingredients:
You can't have crab stuffed shrimp without crab stuffing. The stuffing is similar to a crab cake and it is so easy to make.
Jumbo shrimp. You need jumbo sized shrimp.
Shallot. You can substitute with half of a small onion if you can't find a shallot.
Garlic cloves. We like the punchy flavor of fresh garlic that can't be replicated in dried garlic.
Fresh parsley. Parsley is a multi-purpose herb. It is often overlooked as just a garnish but it makes a great flavor enhancer.
Dried dill. If you use fresh dill in place of the dried dill, double the amount of dill.
Seafood seasoning. Any brand of seafood seasoning will work. If you can't find seafood seasoning, you can use an all-purpose seasoning like Johnny's or Lowery's.
Worcestershire sauce. This hard to pronounce sauce is pretty amazing. It adds an umami flavor to the crab stuffed shrimp.
Tabasco sauce. You can substitute with a dash of cayenne but there is a special flavor that Tabasco brings to the recipe. It isn't just a hot sauce. It has some layers of flavor because it gets fermented and that brings a little more 'umami' to these stuffed shrimp.
Egg. The egg is used as a binder and holds the stuffing together. If you use an extra large egg then you should have plenty of "binding" power.
Lemon. You will use the juice and the zest. Make sure you zest the lemon before you juice it.
Dijon mustard. Dijon is another one of those ingredients that has a special flavor profile.
Crabmeat. You can use frozen or fresh crabmeat.
Panko breadcrumbs. We like the special crunch that Panko provides to the exterior of the stuffing. We also used the Panko inside the crab stuffing to bulk up the filling.
Mayonnaise. The mayonnaise is totally optional. It adds a bit of binding power and moisture to the crab stuffing. You can add extra egg if you don't like mayo.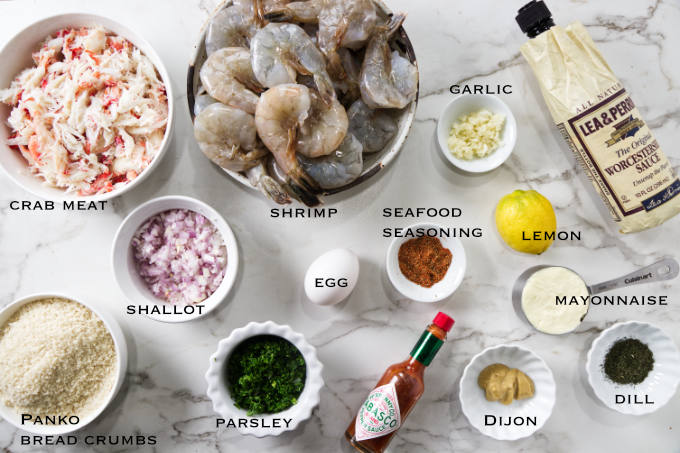 How to Make Baked Stuffed Shrimp:
Here's a quick overview to show you how to make crab stuffed shrimp. Make sure you scroll down to the printable recipe card for all the details.
Prep the shrimp. Peel, devein and butterfly the shrimp. See the notes below for tips about this step.
Make the stuffing. The stuffing comes together in a flash. Just toss it all in a bowl.
Stuff the shrimp. This part can get a bit messy. Just get your hands in there and shape the stuffing into small balls then roll it in some Panko and stick it in the shrimp.
Bake the crab stuffed shrimp. This is by far the easiest part. Just stick them in the oven and let them bake.
Tips for Making the Best Crab Stuffed Shrimp:
This recipe is as easy as it gets, though these tips will help ensure it turns out amazing every time!
Use Jumbo Shrimp:
It's pretty difficult to stuff small shrimp so be sure you get the largest shrimp you can find. The larger the better. We used extra jumbo shrimp which comes 16 to 20 per pound. Regular jumbo shrimp will be sold 21 to 25 per pound. If you can find colossal shrimp then that would be even better. Colossal shrimp is sold 13 to 15 per pound.
Leave the Tails on:
If you leave the tails on then the shrimp will be easier to pick up. They also look more presentable this way. However, if some of the tails come off then don't fret. They will still work.
Choosing Crab Meat:
Any kind of crabmeat will work. You can use lump crabmeat, King crab, Snow crab, Dungeness crab… the list goes on and they are all good choices. Go with what is available and affordable.
How to Devein Shrimp:
The black strip that you see running down the back of shrimp is actually the digestive tract and it can get pretty gritty in larger shrimp. It is pretty easy to remove.
Use a paring knife to make a shallow slash in the back of the shrimp. Use the tip of the knife or your fingers to pull out the black strip. If you hold the shrimp under running water, sometimes the water stream will wash it away as soon as you slice into the shrimp.
How to Butterfly Shrimp:
Run a knife down the back of the shrimp from the head to the tail, slicing a little more than 3/4 of the way through. As soon as you make a slit in the shrimp, open it up like a book. You can press it on the counter or in your palm to spread the sides out. The trick is to make sure you don't slice all the way through.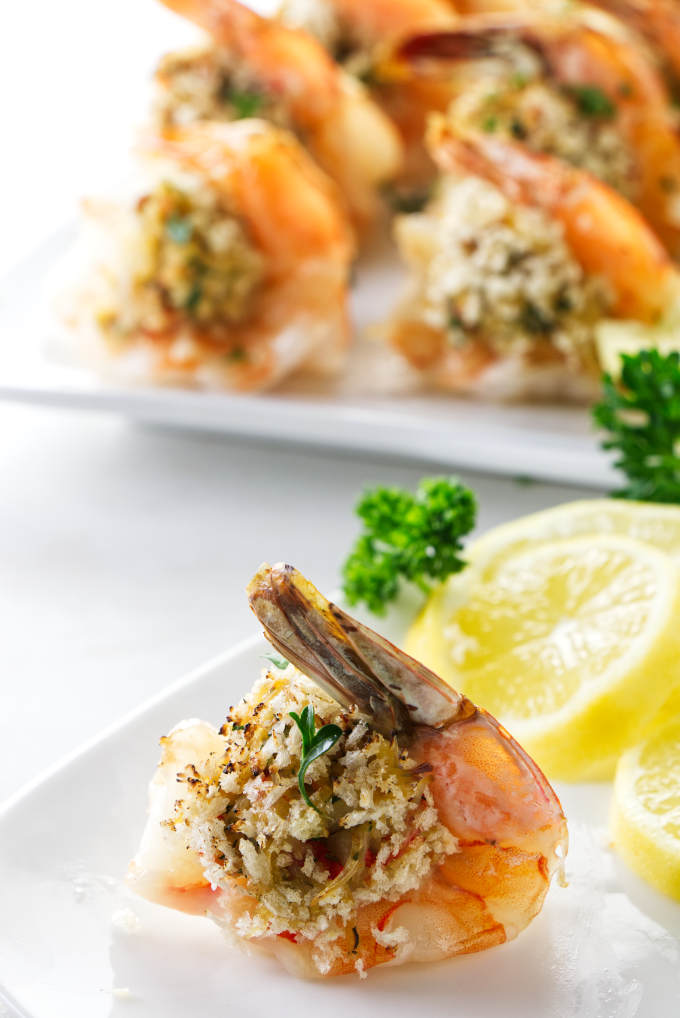 Frequently Asked Questions
Can I make crab stuffed shrimp in advance?
Absolutely! You can butterfly the shrimp and make the stuffing up to 1 day ahead. Keep the shrimp and stuffing separated in your fridge for best results.

If you want to stuff the shrimp in advance you certainly can do that but the Panko crumbs will not be as crisp. You could remedy that problem by sprinkling on a bit more Panko right before you stick the stuffed shrimp in the oven.
How long will raw shrimp last in the fridge?
It's best to get your shrimp as close to when you plan to prepare it as possible. It will be fine in your fridge for 1 to 2 days. If you plan on waiting any longer than that, you should wrap it well to keep out freezer burn and put it in the freezer.
Can you freeze crab stuffed shrimp?
Yes, you can either freeze the stuffing and the shrimp in separate containers or stuff the shrimp in advance and freeze them. If you choose to stuff them in advance then sprinkle on some extra Panko just before you stick them in the oven. Thaw them completely before you bake them.
Can crab stuffed shrimp be reheated?
Yes! Seafood is still safe to reheat for up to 3 days after you've initially cooked it. The bread crumb coating won't be as crispy and it may dry out if you heat it for too long.
Can I Use Frozen Shrimp?
Yes, if you are using frozen shrimp make sure you thaw them completely before you get started with the recipe.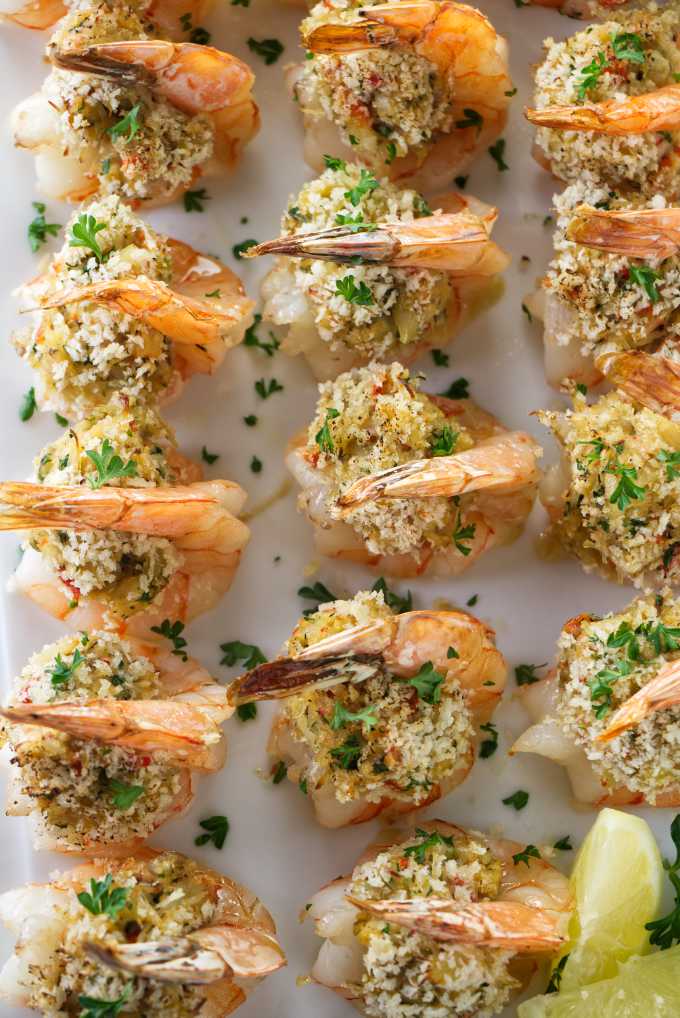 Helpful Tools:
Some of the following links are affiliates. If you click on these links and purchase something, we may receive a small commission. You don't pay any extra but it will help us keep the lights on.
Some Other Recipes We Are Sure You Will Love:
Our creamy coconut shrimp is a fast and easy dinner that tastes better than Chinese restaurants. Serve it with some Instant Pot black rice for a change from routine white rice.
These soba noodles with shrimp are smothered in a spicy peanut sauce and it only takes 30 minutes to get on the tables. It is a fusion of flavors and textures.
This cheesy shrimp and grits recipe packs in some extra flavor from Andouille sausage and a sauce that is so good you will want to lick your plate clean.
Connect With Savor the Best:
Please follow us on our social media accounts
Facebook * Instagram * Pinterest * Twitter * Youtube
Did you make this recipe? We would love to hear from you. Drop us a comment below.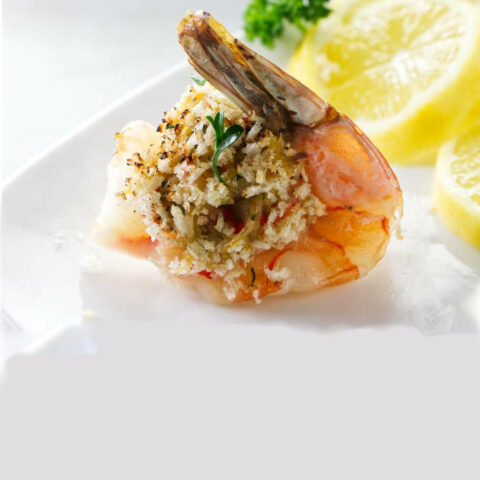 Crab Stuffed Shrimp
Yield: 32 to 40 shrimp
Prep Time: 45 minutes
Cook Time: 15 minutes
Total Time: 1 hour
This is an incredible way to serve shrimp. These stuffed shrimp make an elegant party appetizer or a filling main meal. Plan to serve 2 per person for an appetizer or 4 to 5 per person for a main meal.
Prepping the shrimp and rolling the crab stuffing can be a bit messy and time consuming but it is worth every minute. Prep them in advance to save time.
The mayonnaise is optional. Read the notes if you are adverse to using mayonnaise.
Ingredients
2 pounds jumbo shrimp (16 to 20 per pound)
2 tablespoons olive oil
1 small shallot, diced (or half of a small onion)
2 garlic cloves, minced
3/4 teaspoon seafood seasoning such as Old Bay Seasoning
3/4 teaspoon dried dill
2 teaspoons Worcestershire sauce
2 teaspoons Tabasco sauce
1 egg
1/4 cup chopped fresh parsley
zest of 1 lemon
juice of 1 lemon
1 teaspoon Dijon mustard
1 pound lump crabmeat
1-1/2 cups Panko breadcrumbs (divided)
2-3 tablespoons mayonnaise (optional)
Instructions
Preheat the oven to 375°F. Line a baking sheet with parchment paper.
Prep the Shrimp:
Peel the shell off the shrimp but leave the tail intact.
Run a knife down the back of the shrimp slicing a little more than 3/4 of the way through. Remove the black strip if your shrimp were not already deveined.
Open the shrimp like a book and place them on a baking sheet.
Make the Stuffing:
Heat the olive oil in a skillet over medium heat. Add the shallot and saute for 3 to 4 minutes until soft. Add the garlic and cook for 30 seconds until fragrant. Remove the pan from the heat.
Stir in the seafood seasoning, dill, Worcestershire sauce, Tabasco ,chopped parsley, lemon zest, lemon juice, and Dijon. Let cool to room temperature.
Add the shallot mixture to a mixing bowl. Stir in the egg,.
Add the crabmeat and fold the mixture in gently until the crab is well coated. Fold in 1/2 cup of the Panko breadcrumbs (reserve the rest of the breadcrumbs for later).
If the crab mixture does not hold together when you try to form it into a ball, add a couple of tablespoons of mayonnaise (see notes).
Stuff and Bake the Shrimp:
Scoop about 1-1/2 to 2 tablespoons of crab mixture and roll into a ball then roll in the breadcrumbs. Place the ball of crab stuffing on a butterflied shrimp and flip the tail up and over the stuffing. Repeat with the rest of the shrimp.
Bake at 375°F for 15 minutes. Serve warm or cold.
Notes
We purchased shrimp that was already deveined. The shells were still on the shrimp and the back of the shrimp shell was sliced enough to remove the black strip running down the back. We used the pre-cut incision to slice further into the shrimp and butterfly the shrimp from the back. If you have shrimp that is not already deveined, you can slice into the curved side of the shrimp until you reach the black strip (but not all the way through). That is how you butterfly shrimp from the front of the shrimp. Either way will work for this recipe.
Leaving the tail on the shrimp is optional but makes a much nicer presentation.
When you make the crab stuffing, adding the mayonnaise may not be required if you use a large enough egg. Use the mayonnaise if the mixture does not seem to bind together well. If you want to avoid using mayonnaise, whisk an egg and add a couple of tablespoons of extra egg as a binder.
For preparing the shrimp in advance: butterfly the shrimp and make the stuffing up to 1 day in advance. Store the shrimp and stuffing in the fridge. Roll balls of crab mixture in the breadcrumbs up to 4 hours before baking the shrimp. Alternatively, you can stuff the shrimp a day in advance but the bread crumb coating will not bake up as crisp.
Nutrition Information:
Yield: 40
Serving Size: 1
Amount Per Serving:
Calories: 75
Total Fat: 2g
Saturated Fat: 0g
Trans Fat: 0g
Unsaturated Fat: 2g
Cholesterol: 64mg
Sodium: 336mg
Carbohydrates: 5g
Fiber: 0g
Sugar: 1g
Protein: 8g
Nutrition information is a guideline only, is calculated automatically by third-party software, and absolute accuracy is not guaranteed.