I love shrimp and these little shrimp appetizers are so addictive. Forget the fireworks, bring on the Firecracker Shrimp apps. They have a spicy, garlic-y kick that will blow your mind.
Here it is again, Independence Day is just around the corner. We love to celebrate the big Fourth of July with parades, picnics and BBQ's. We are planning a ribs cookout but I have made up some finger-food. Firecracker Shrimp appetizers will get us going while the grill heats up.
If you are the one elected to bring an appetizer to the big Fourth of July shindig then this is your ticket to fame. They are not called 'Firecracker Shrimp' for nothing though. We've got big bold flavors here. Bright red jalapeños, red pepper flakes and chili-garlic sauce all sautéed in a lemony garlic sauce. SO GOOD!
Can I Make These Firecracker Shrimp in advance:
You can absolutely make these spicy shrimp appetizers the day before your event and keep them covered and refrigerated. They are delicious served well-chilled.
How to buy the freshest shrimp:
Do you buy the fresh shrimp under the fishmonger's glass case? Actually, those have already been frozen and thawed out. A better buy is in the glass case of the freezer section. They will be packaged according to their size. Shrimp are highly perishable so as soon as they are netted and brought aboard the shrimp boats they are flash frozen. Right there on the shrimp boat.
For our firecracker shrimp, we are using large frozen shrimp with 21-25 in a pound which makes a good size for appetizer munching. Be sure to check on the bag of shrimp to determine what size shrimp you want.
How to thaw frozen shrimp:
We like to buy the bags of frozen medium-size shrimp, cleaned with the tails still on. Shrimp are always in our freezer for a fast stir-fry or salad at the spur of the moment.
Thaw the frozen shrimp in a covered bowl in the refrigerator overnight then rinse it before cooking. The following is our recommendation for an emergency or spur-of-the-moment thaw:
Place the frozen shrimp in a colander and submerge it into a basin of cold water. That is cold tap water, not even a hint of warm. Let it sit for ten minutes.
Lift the colander out of the water and refill the basin with cold water again. Add the colander of shrimp back into the basin for another 10 minutes to finish thawing out.
Gently shake the colander of shrimp to drain the water from them and tip them out onto a kitchen towel. Pat them with paper towels to remove as much of the water as possible before cooking.
Although your microwave has a defrost setting on it, do not thaw the shrimp in the microwave. Shrimp cook quickly and microwaves are not dependable for thawing shrimp evenly.
How to cook shrimp
Shrimp are easy to over-cook so you need to watch them closely. When the shrimp are pink and partially closed into the shape of a letter 'C' they are perfect. An overcooked shrimp will close up like the letter 'O' and will be a little tough and chewy.
Preparing Firecracker Shrimp:
How to make these Firecracker Shrimp:
Pat the thawed shrimp dry and add to a large bowl.
Whisk the red pepper flakes, salt and lemon juice and pour over the shrimp. Marinate in the refrigerator for 30 minutes.
Sauté the red jalapeno peppers in a skillet with a tablespoon of oil until softened. then add the garlic and cook for 30 seconds.
Pour the marinade into the skillet and bring to a boil. Reduce the heat to low and add the shrimp in batches to prevent overcooking.
Remove the shrimp as they turn pink, set aside.
Increase the heat under the skillet and bring the broth to a boil. Cook, reducing the broth to one-half.
Remove from the heat and allow to cool, then stir in the chili-garlic sauce.
Add the cooked shrimp to the cooled sauce and toss to coat the shrimp well.
Transfer the shrimp to a serving dish and pour the remaining sauce over the top.
Cover the dish with plastic wrap and refrigerate before serving.
Serve these firecracker shrimp appetizers garnished with fresh cilantro or parsley sprigs.
Making Marinade Safe to Use as a Sauce:
This recipe has you recycle the marinade for a sauce. There are some important safety tips to keep in mind when you turn a marinade into a sauce.
After you place raw meat in a marinade, you should treat it as if it is contaminated and it should not be consumed without cooking it first.
This recipe follows an approved suggestion on the
foodsafety.gov
site to boil the marinade after it comes in contact with raw meat. You need to make sure it comes to a
full boil
in order to kill any food born bacteria.
Weight Watchers and Slimming World friendly:
Are you counting SmartPoints for Weight Watchers or Syns for Slimming World? We calculated the points and Syns for you.
For Weight Watchers there are 2 points per serving.
For Slimming World there are 2 Syns per serving.
SOME OTHER RECIPES WE ARE SURE YOU WILL LOVE:
CONNECT WITH SAVOR THE BEST!
Be sure to follow us on our social media accounts
Facebook * Instagram * Pinterest * Twitter * Youtube
Did you make this recipe? We would love to hear from you. Drop us a comment below.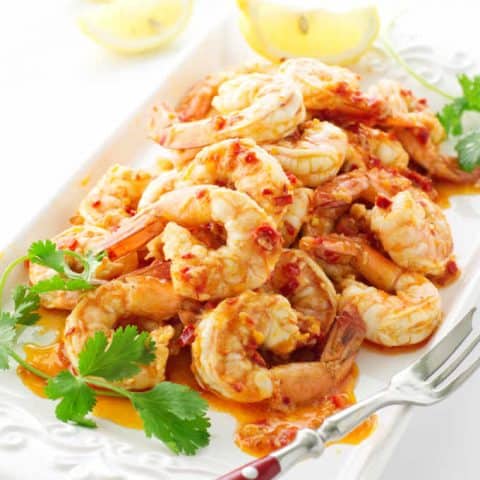 Firecracker Shrimp
Yield: 8 servings
Prep Time: 25 minutes
Cook Time: 10 minutes
Total Time: 35 minutes
Firecracker shrimp are hot, spicy and full of flavor from the red pepper flakes and red jalepeno chilis as well as a nice garlic flavor and tangy lemon juice. These are wonderful as appetizers but equally delicious on a tossed green salad.
Ingredients
2 pounds shrimp, (21-25 per pound), deveined, peeled and with tail attached
1/4 teaspoon red pepper flakes
1/2 teaspoon sea salt
1/2 cup freshly squeezed lemon juice
2 tablespoons olive oil
5 garlic cloves, finely chopped
2 medium-size red jalepeno peppers, finely chopped
1/2 cup white wine
3 tablespoons chili-garlic sauce
Cilantro sprigs for garnishment
Instructions
Using paper towels, pat the shrimp dry and add to a large bowl.
In a small dish, whisk together the red pepper flakes, salt and lemon juice and pour over the shrimp, tossing to coat them well. Cover with plastic wrap and refrigerate for 30 minutes to marinate.
Add the olive oil to a medium-size skillet and when it is hot, sauté the red jalepeno peppers until softened, about 1 minute, then add the garlic and cook for 30 seconds.
Pour the marinade from the dish into the skillet and add the white wine. Increase the heat to medium-high heat and bring the sauce to a boil, cook for 1-2 minutes.
Reduce the heat to simmer and add the shrimp and cook just until the shrimp turn pink. Remove the cooked shrimp from the skillet as they cook and reserve. Do this in batches to prevent over cooking the shrimp.
Remove the cooked shrimp and reserve.
Bring the sauce in the skillet to a boil and reduce it by half. Remove the skillet from the heat and allow to cool. Stir in the chili-garlic sauce.
Add the reserved cooked shrimp and toss to coat the shrimp well. Transfer to a serving dish and pour the remaining sauce over the top. Refrigerate until chilled.
When ready to serve, garnish with fresh cilantro or parsley sprigs. These are excellent appetizers but could also be added to a salad.
Notes
Do not allow the garlic to turn brown as it will have a bitter taste.
Flip the shrimp as they turn pink and remove when they become partially closed in a 'C' shape.
Recommended Products
As an Amazon Associate and member of other affiliate programs, I earn from qualifying purchases.
Nutrition Information:
Yield: 8
Serving Size: 4 shrimp
Amount Per Serving:
Calories: 187
Total Fat: 5g
Saturated Fat: 1g
Trans Fat: 0g
Unsaturated Fat: 4g
Cholesterol: 239mg
Sodium: 1316mg
Carbohydrates: 5g
Fiber: 0g
Sugar: 1g
Protein: 26g
Nutrition information is a guideline only, is calculated automatically by third party software, and absolute accuracy is not guaranteed.