With Thanksgiving over and Christmas very near it has been a busy, hectic time at our house and I have been thinking of fast, easy appetizers to serve guests. These shrimp cocktail appetizers are perfect!
I am planing a special event that I need to include three nice appetizers. I recently posted my Goat Cheese-Red Sweet Peppers Bruschetta and the Pear Paste with blue cheese which are on the list and these little shrimp cocktails will complete the list.
Recently, I was in the Party City shopping for some party invitations and as soon as I saw these cute little miniature glasses I knew exactly what to do with them.
This is such an easy recipe and it really frees up your time so you can enjoy your guests. The only cooking that is involved is the poaching of the shrimp, then just portion out some commercial bottled cocktail sauce into pretty little glasses, add a shrimp and a feathery snip of fresh dill. All that is left to do is put a dish of the poached shrimp in a larger dish of ice to stay cold and the guests can help themselves.
This is a delicious, easy, fast appetizer and now it is the time to pour a glass of wine and join your guests.
Yield: 8
Shrimp Cocktail Appetizers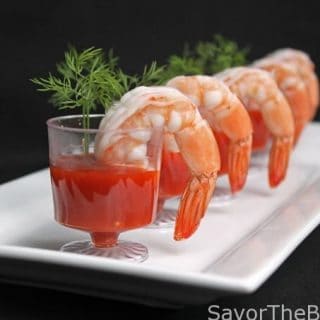 A shrimp cocktail appetizer that is easy and quick to put together. This makes a delightful appetizer that will 'wow' your guests.
Prep Time 5 minutes
Cook Time 5 minutes
Total Time 10 minutes
Ingredients
2 quarts water
1 tablespoon kosher salt
1 pound fresh or frozen shrimp (21 to 25 per pound)
16 ounces cocktail sauce
6-8 miniature plastic bowls, shot glasses or other small containers
fresh dill for garnish
Instructions
Prepare a large pan of ice-water for immersing the hot shrimp into, set aside.
In a saucepan over medium-high heat, add the water and salt and bring to a boil. Remove the saucepan from the heat and add the shrimp and allow to poach until barely pink, about 4-5 minutes. Pour the water and shrimp into a colander to drain, then immediately plunge the drained shrimp into the prepared bowl of ice water to stop the cooking process. Allow to cool in the ice water, then drain and place on a double thickness of paper towels, patting them dry with additional paper towels.
While the shrimp are cooling, add 2 tablespoons of cocktail sauce to each miniature container and hang a cooled shrimp over the side. Garnish with a feathery snip of fresh dill, arrange the appetizers on a tray and serve.
Notes
Additional shrimp may be presented in a separate bowl sitting in ice for guests to help themselves.