A couple months ago I was shopping at Central Market and as I strolled through the deli section I noticed a display of cheese on a cheese board and a lady was serving samples of cheddar cheese cubes on toothpicks with a cube of what looked like very firm jelly. She told me that it was pear paste.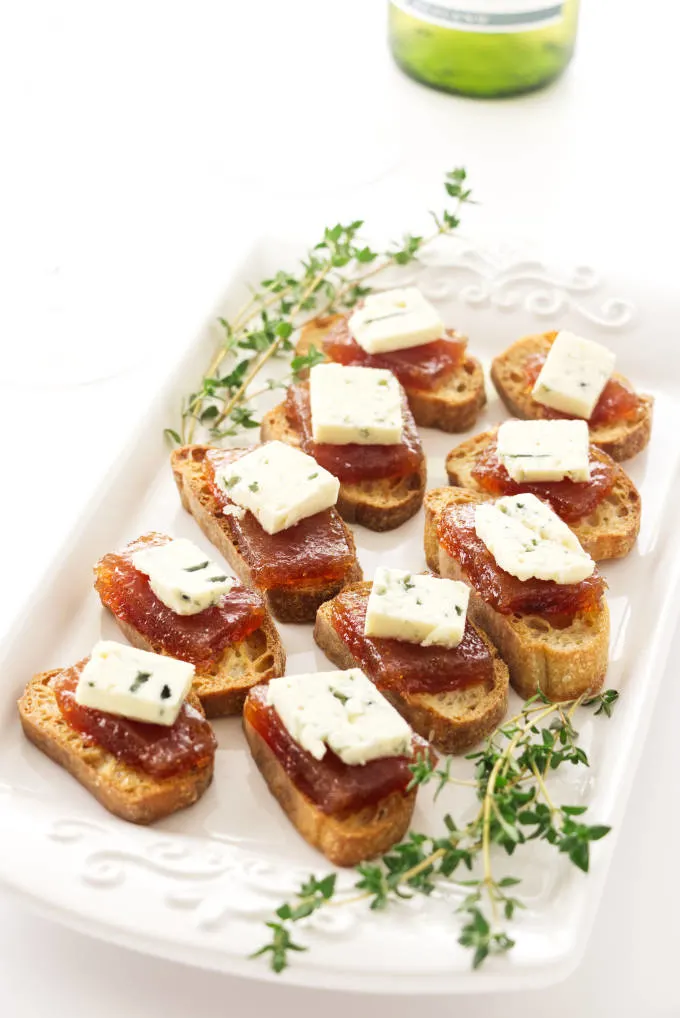 The combination was delicious and as I examined the pear paste package a light went off in my head as I realized I had a package of the same stuff at home. My package was quince paste and it had been included in the annual Christmas basket from Burl. We had not even opened it as it was unfamiliar and, truthfully, it did not sound very exciting.
When I returned home from shopping I hunted down that package of quince paste, opened it up and tasted it with blue cheese on a cracker.
I did a little research on quince paste and discovered that it is very popular in Spain so I dug out my book, The Foods of Spain by Claudia Roder and there was a recipe for quince paste, also known as membrillo. But, I wanted pear paste and still had four or five pears sitting on the counter top and I almost always have blue cheese which really goes well with pears.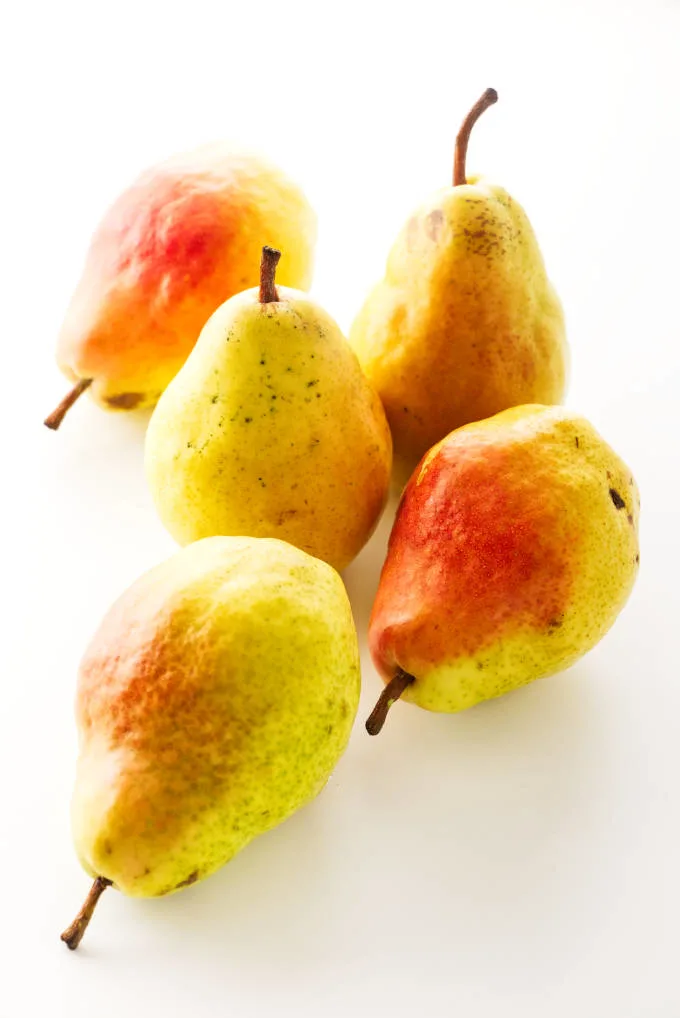 This recipe has been adapted from my, The Foods of Spain cookbook and London Eats and it is a small batch using only four pears.
Pears are a little low in pectin and I added liquid pectin to boost the gel factor a bit to ensure that it set up well. It didn't take long to peel, core and poach the pears but the cooking part, on a simmer, was slow and I had to force myself to be patient until it was really thick.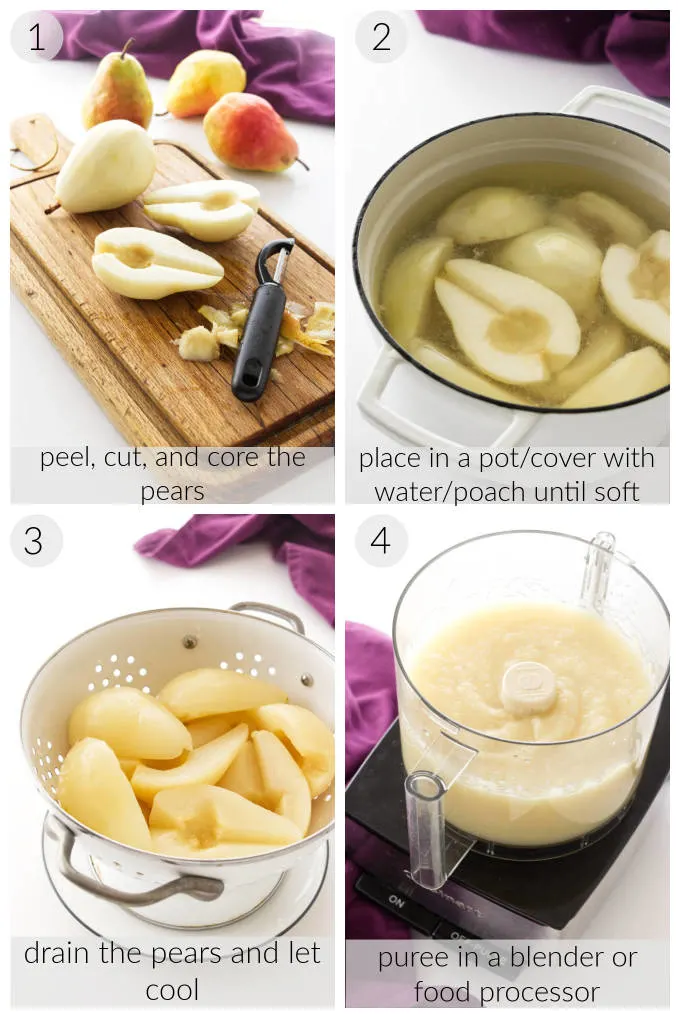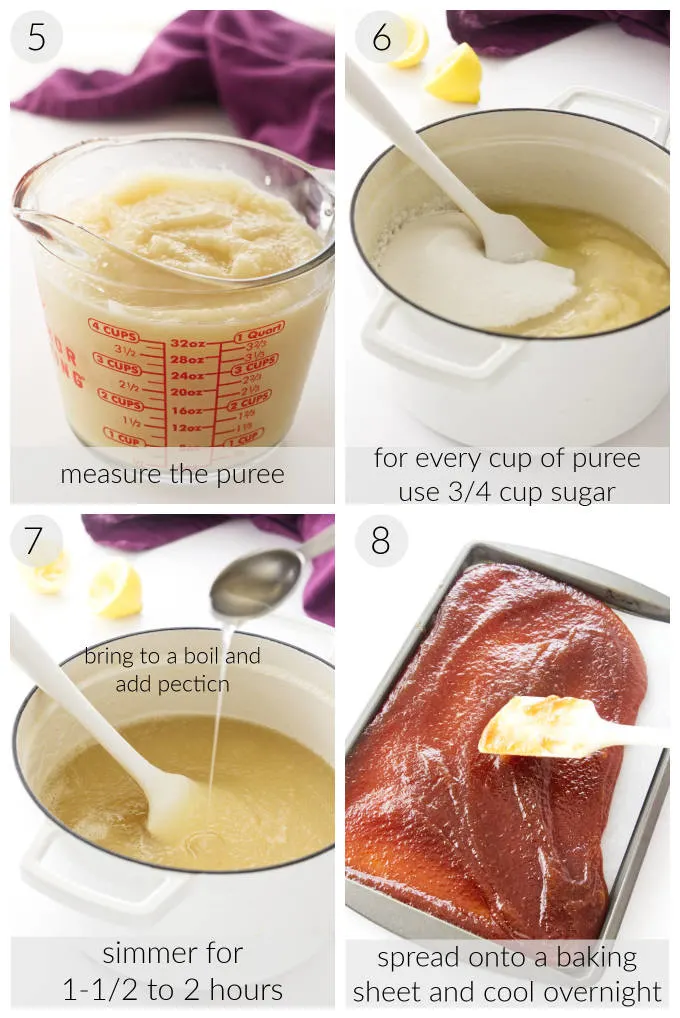 When it was finally so thick that a spoon left a mark on the bottom of the pan that didn't immediately cover over, I poured it into a small sheet pan that I had lined with parchment paper, smoothed it out to about a 1/4-inch thickness and let it cool and firm up overnight.
The pear paste was set and firm the next morning and I sliced it, right through the parchment paper, into sections that would fit and store in a plastic container.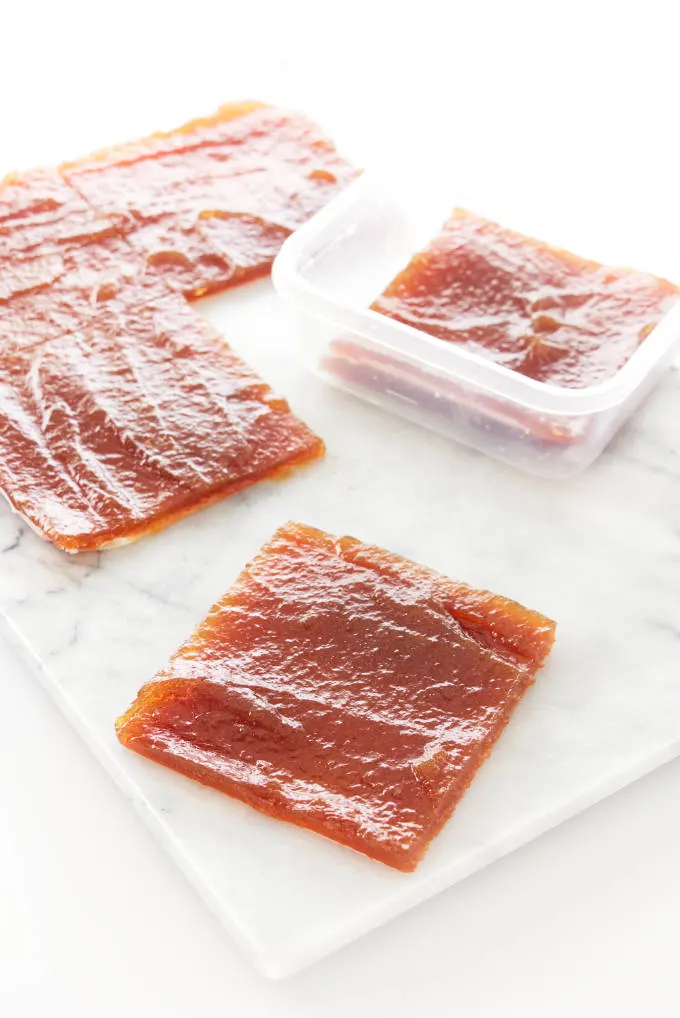 The sections stacked nicely with the parchment paper dividing each section. Later that evening, Don and I cracked open a nice cold bottle of sauvignon blanc wine and we enjoyed our appetizers of pear paste with blue cheese and crackers. Oh, so good….you must make this pear paste and blue cheese appetizer.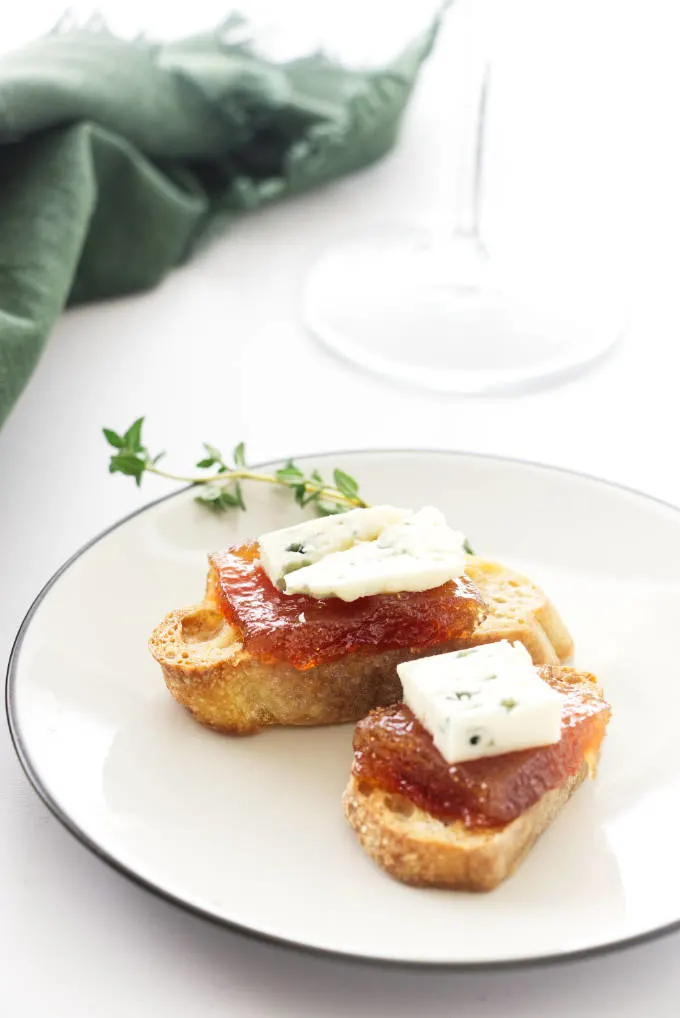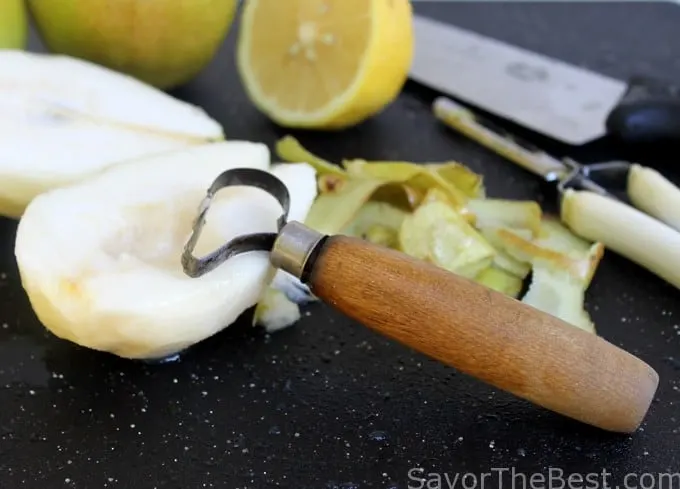 In the early 1970's when I was going through my 'home canning' phase, my mom gave me her old pear coring tool that she had for years. It is getting a little bit loose and wobbly now after so much use but it sure does a good job with these pears.
Connect With Savor the Best:
Please follow us on our social media accounts
Facebook * Instagram * Pinterest * Youtube * Twitter
Did you make this recipe? We would love to hear from you. Drop us a comment below.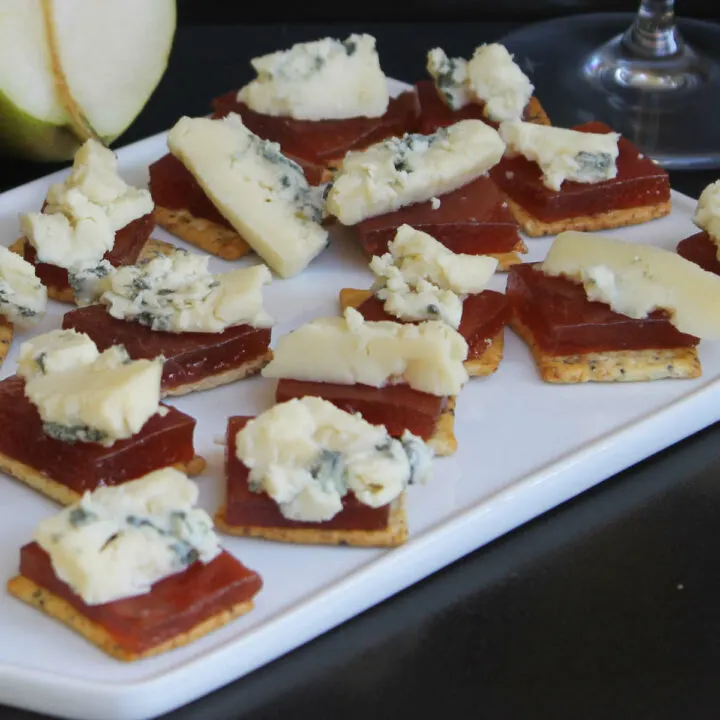 Pear Paste
Cook Time:
2 hours
30 minutes
Total Time:
2 hours
50 minutes
Pear Paste, pears cooked to a thick jelly and served as an appetizer with blue cheese and crackers.
Ingredients
See Notes below:
4 large pears (about 3-1/4 pounds)
1-1/2 to 2 cups (300-400 grams) sugar, this will vary according to the amount of pear puree
Juice of 1 lemon
2 tablespoons liquid pectin (See Notes for substituting powdered pectin)
Instructions
Wash and peel the pears, cut in half and remove the core and pit from each one and place in a large saucepan with enough water to cover them. Over medium-high heat, bring the water to a boil then reduce the heat to simmer and poach the pears until they are slightly softened.
Place the poached pears in a colander to drain and allow them to cool for 10 or 15 minutes. Add the cooled pears to your blender or food processor and puree them. Measure the pear puree and add to a heavy-bottomed wide skillet or dutch oven
For every 1 cup of puree you need to add 3/4 cup of sugar. Add the lemon juice to the puree and sugar, stirring to dissolve the sugar and bring to a boil over medium-high heat. Boil for one minute, then reduce the heat to a simmer and add the liquid pectin. Continue simmering the mixture, string frequently. The mixture will gradually get to be very thick and turn a dark orangey color. This will take about one-and-a-half to two hours and when you can pull a wooden spoon through it and it leaves an open streak on the bottom of the pan that takes a few seconds to fill in, remove it from the heat.
Pour the hot mixture into a prepared 13x9x1/2 size baking sheet that has been lined with parchment paper. Smooth it out evenly in the pan and allow it to cool overnight. It should be about 1/4-inch thick.
Divide the pan of pear paste into sections, do not remove the parchment paper, and stack each section into a storage container that has a lid. Add a piece of parchment paper to the top and cover with the container lid. This will keep in the refrigerator for several months, very similar to a jar of jelly.
When ready to serve, remove as many sections as needed and cut into the shape/size of your crackers and serve with cheese.
Notes
Do not double the recipe for pear paste but make two separate batches
Liquid pectin and powdered pectin can be interchanged, however, the measurements are not the same. Using a conversion rate of 4 tsp. of powdered pectin for every 2 tbsp. of liquid pectin required.
Combine powder pectin with the fruit and juice at the beginning of the recipe but do not add the sugar at the same time. Bring fruit and pectin to full boil for 1 minute. Then add the sugar and stir until completely dissolved. Continue with recipe.
Nutrition Information:
Yield:

20
Serving Size:

1
Amount Per Serving:
Calories:

112
Total Fat:

0g
Saturated Fat:

0g
Trans Fat:

0g
Unsaturated Fat:

0g
Cholesterol:

0mg
Sodium:

3mg
Carbohydrates:

29g
Fiber:

2g
Sugar:

25g
Protein:

0g
Nutrition information is a guideline only, is calculated automatically by third party software, and absolute accuracy is not guaranteed.