This pork and beef meatloaf has a surprise ingredient. A mixture of beef and pork make up the base of this recipe. Bacon packs in more flavor and prunes add a hint of sweetness. it is a surprising combination that gives richness and depth of flavor to an all-time favorite recipe.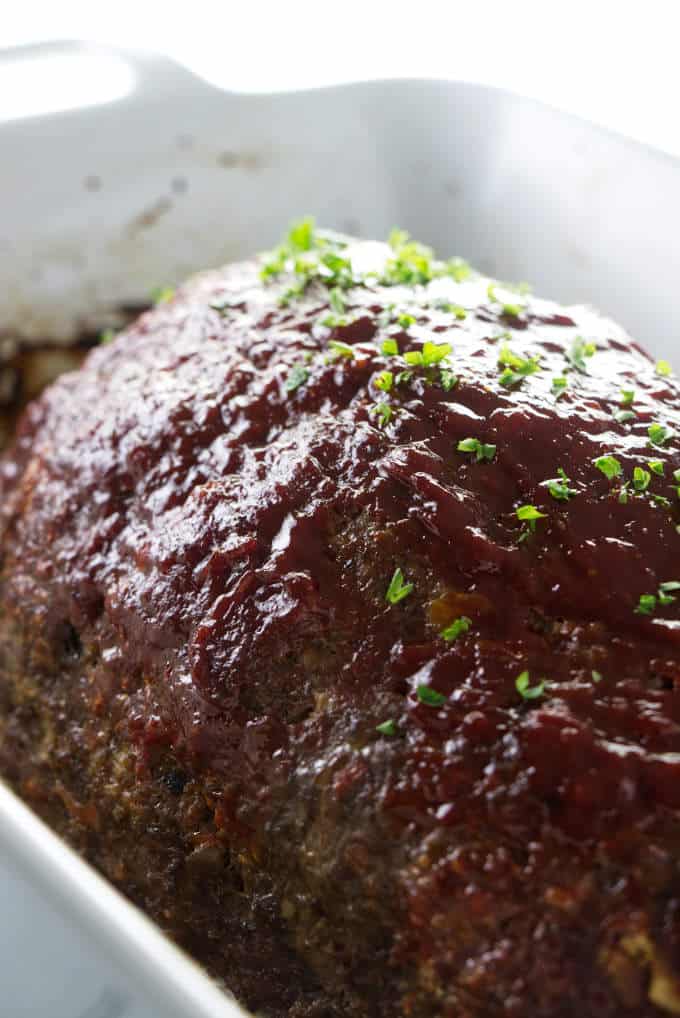 What's not to love about comfort food that has a twist to the flavor profile? There are a few extra steps to this recipe compared to our classic onion soup meatloaf, however, it is an easy recipe that is worth the extra time.
It makes a large portion that will feed plenty of people, or better yet, there will be plenty left over for sandwiches. This recipe was adapted from Epicurious.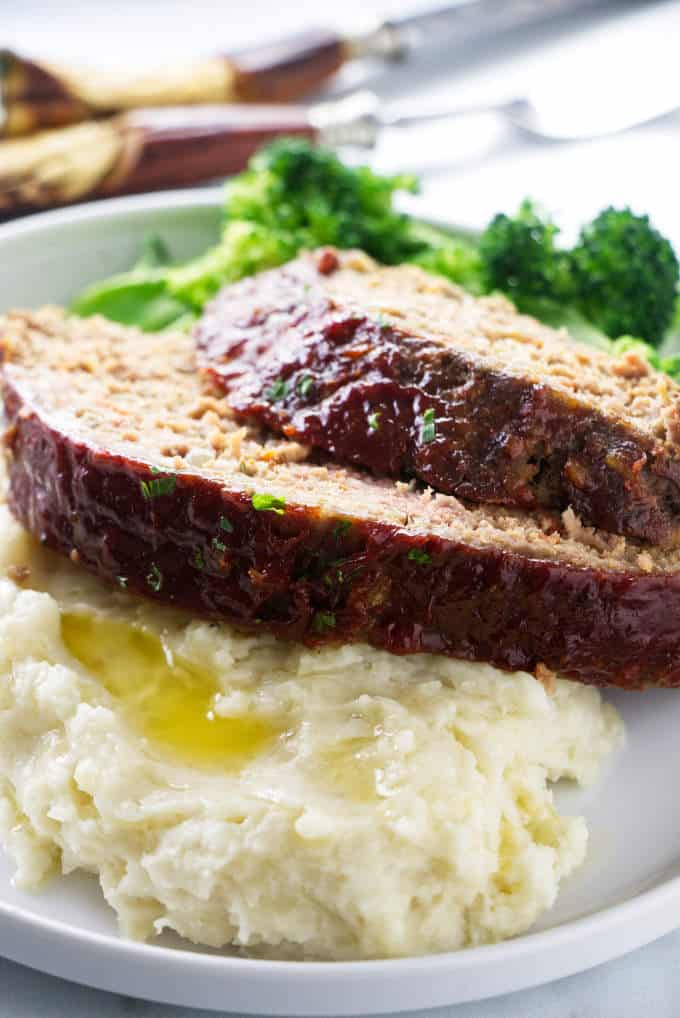 Pork and beef meatloaf
The higher proportion of fat in this recipe gives the meatloaf an extra tender texture. It also means there will be more fat and liquid to drain off when it bakes. Placing the meatloaf in a larger pan will help contain the liquids as the meatloaf cooks.
If you want to keep the meatloaf off of the bottom of the pan, you could place it on a rack and suspend it above the juices. I find it easier to use a turkey baster to suction out the juices and fat.
A bonus to using a larger pan is that the sides of the meatloaf have a chance to create a nice crust for extra texture. If you don't have a larger pan you can shape some tin foil. That is how I managed to get the correct shape for our Instant Pot Meatloaf.
What you need for this recipe
Breadcrumbs and milk. When you combine these two ingredients it is called a panade. The breadcrumbs soak up the milk and make a paste-like consistency that will help create a tender, moist meatloaf. It is also how we made our Italian meatballs.
Onion, garlic, celery, and carrot. These four ingredients add flavor and texture to the meatloaf. Saute the veggies to soften them and bring out some sweetness.
Worcestershire sauce: it adds a little umami flavor.
Cider vinegar: the vinegar adds a little tang and complements the sweet and savory flavors.
Salt and pepper: basic but necessary seasonings.
Bacon. Who doesn't love bacon?
Prunes: This is a surprise ingredient but they add a hint of sweetness and compliment the pork.
Eggs. You only need 2 eggs to help bind everything together.
Ground Beef. Make sure you select ground beef with at least 15% to 20% fat content.
Ground Pork. Ground pork doesn't always have the fat percentage labeled on it but it is generally high enough in fat content.
For more beef and pork combinations, try our Asian teriyaki meatball appetizers.
How to make this meatloaf.
Here is a quick breakdown and some tips for making this meatloaf. Make sure you scroll all the way down to the printable recipe card for all the details.
Soak the breadcrumbs.
Saute the veggies then combine them with the seasonings and breadcrumbs.
Blend the prunes and bacon in a food processor until they form a paste.
Mix all the ingredients into the ground pork and beef.
Place the mixture into a baking dish and shape it into a loaf.
Make the glaze and spread over the top of the meatloaf.
Bake. Drain the fat. Enjoy!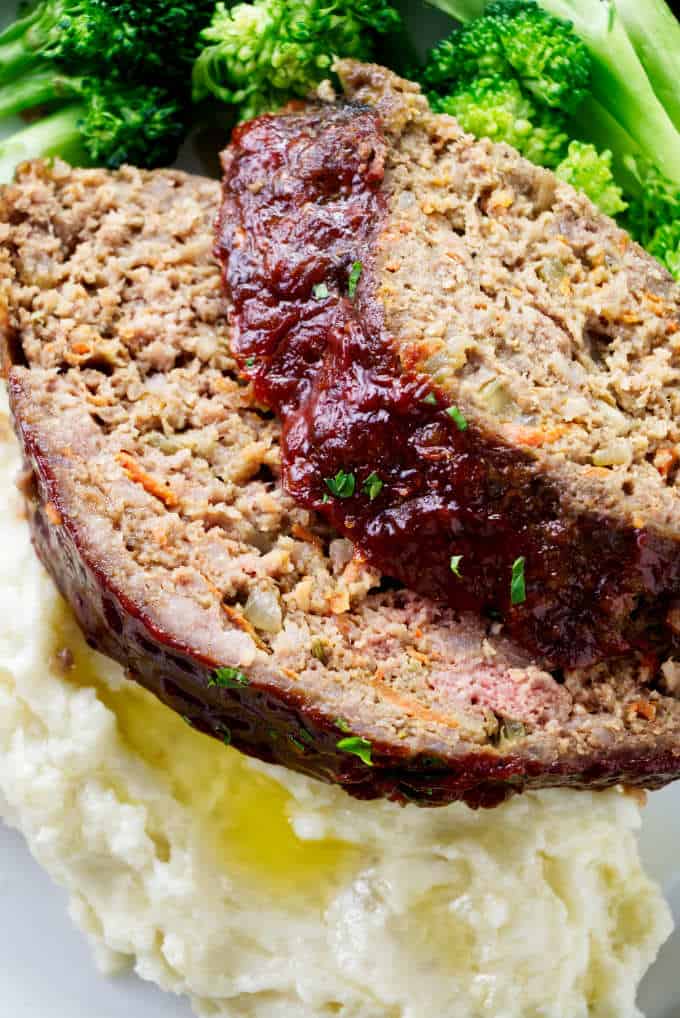 Tips for success:
This meatloaf will cook off quite a bit of fat and juices so make sure you put it in a large pan. We used a 13 x 9-inch baking dish which gave plenty of room for all the juices. If you put it in a regular loaf pan then the juices will spill over the sides as it cooks. You could also form the meatloaf on a cookie sheet however the shallow sides will make it easy to spill the hot juices when you transfer the pan.
To help prevent the meatloaf from falling apart make sure you pack it tightly when you shape it into a loaf.
Don't over-mix the mixture after you add the ground meat.
If you want a nice brown crust, don't cover the meatloaf as it cooks.
What to serve with this meatloaf
This is a meat and potatoes kind of dinner. Make some ranch mashed potatoes, or some Potatoes Au Gratin to serve with this dinner. Steamed broccoli or honey-roasted carrots would complete the meal.
SOME OTHER RECIPES WE ARE SURE YOU WILL LOVE:
Caramelized onions is another delicious side to serve along with this meatloaf.
Mashed red potatoes with horseradish is also a great side dish that goes well with the hearty flavors of pork and beef.
This mushroom marsala sauce goes well on everything, including meatloaf and mashed potatoes.
CONNECT WITH SAVOR THE BEST!
Be sure to follow us on our social media accounts
Facebook * Instagram * Pinterest * Twitter * Youtube
Did you make this pork and beef meatloaf? We would love to hear from you. Drop us a comment below.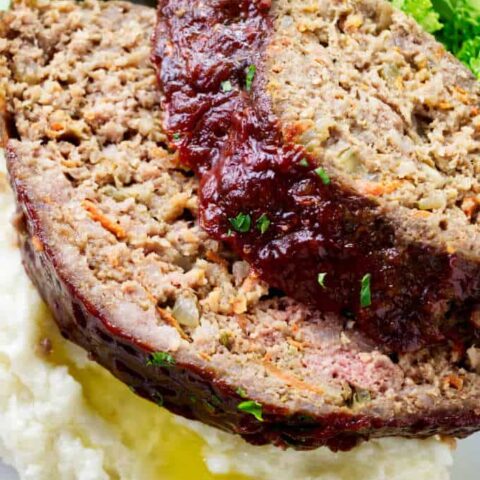 Pork and Beef Meatloaf
Yield: 8 to 10 servings
Prep Time: 20 minutes
Cook Time: 1 hour
Total Time: 1 hour 20 minutes
Pork, beef and prunes give a delicious twist to a classic recipe with a blend of sweet and savory.
Ingredients
1 cup fresh bread crumbs
½ cup whole milk
2 tablespoons butter, or olive oil
1 medium onion, finely chopped
4 garlic cloves, minced
1 medium celery rib, finely chopped
1 medium carrot, finely chopped or shredded
3 tablespoons Worcestershire sauce
1 tablespoon cider vinegar
½ teaspoon ground allspice
2 teaspoons salt
2 teaspoons pepper
6 slices of bacon (uncooked)
10 pitted prunes
1-½ pounds ground beef chuck
½ pound ground pork
2 large eggs
1/3 cup finely chopped parsley
For the Glaze
1/3 cup ketchup
1/4 cup brown sugar
2 teaspoons Worcestershire sauce
Instructions
Preheat the oven to 350°
Place the bread crumbs and milk in a large mixing bowl. Set it aside to soak.
Heat the butter or olive oil in a large saucepan over medium heat then add the onion, garlic, celery, and carrot. Place a lid on the pan and cook for 8 to 10 minutes until tender. Remove from heat and stir in Worcestershire sauce, vinegar, allspice, salt, and pepper. Add this mixture to the breadcrumb mixture in the mixing bowl and stir well.
Place the prunes and bacon in a food processor fitted with a chopping blade and process until finely chopped and the mixture forms a mass. Add to the bread crumb/onion mixture then stir in the beef, pork, eggs and parsley.
Place the mixture in a 13 by 9-inch baking dish and form it into a 9 by 5-inch loaf shape.
Mix the ingredients for the glaze and spread half of the glaze on the meatloaf.
Bake for 60 to 75 minutes or until a meat thermometer registers 155°. Brush the rest of the glaze on the meatloaf during the last 5 minutes of the bake time.
Remove from the oven and let rest for 10 minutes then carefully drain off the liquid and fat that formed while cooking.
Notes
A lot of fat and juices will accumulate as the meatloaf cooks. Place it in a large pan so there is room for all the juices. We used a 13 x 9 baking dish. If you use a regular loaf pan, the juices will spill over the sides.
When you shape the meatloaf, pack it down firmly so it doesn't fall apart as it cooks.
When you add the ground meat, make sure you don't over-mix the mixture or the meatloaf will not be as tender.
If you like a nice brown crust on the meatloaf, do not cover it. If you like the edges soft then cover the meatloaf with aluminum foil halfway through the baking time.
Nutrition Information:
Yield: 10
Serving Size: 1
Amount Per Serving:
Calories: 310
Total Fat: 15g
Saturated Fat: 6g
Trans Fat: 0g
Unsaturated Fat: 8g
Cholesterol: 93mg
Sodium: 836mg
Carbohydrates: 25g
Fiber: 2g
Sugar: 12g
Protein: 18g
Nutrition information is a guideline only, is calculated automatically by third-party software, and absolute accuracy is not guaranteed.
This recipe was originally posted on May 9, 2014. It has been updated with new photos.