This molcajete guacamole (aka mortar and pestle guacamole) is simple, quick, and has only six ingredients! Every creamy bite is infused with Mexican-inspired flavors and a little kick of heat!
Smashing the onion, garlic, and cilantro instead of just chopping them will release more flavors, and the jalapeno adds a hint of spice without making it too hot.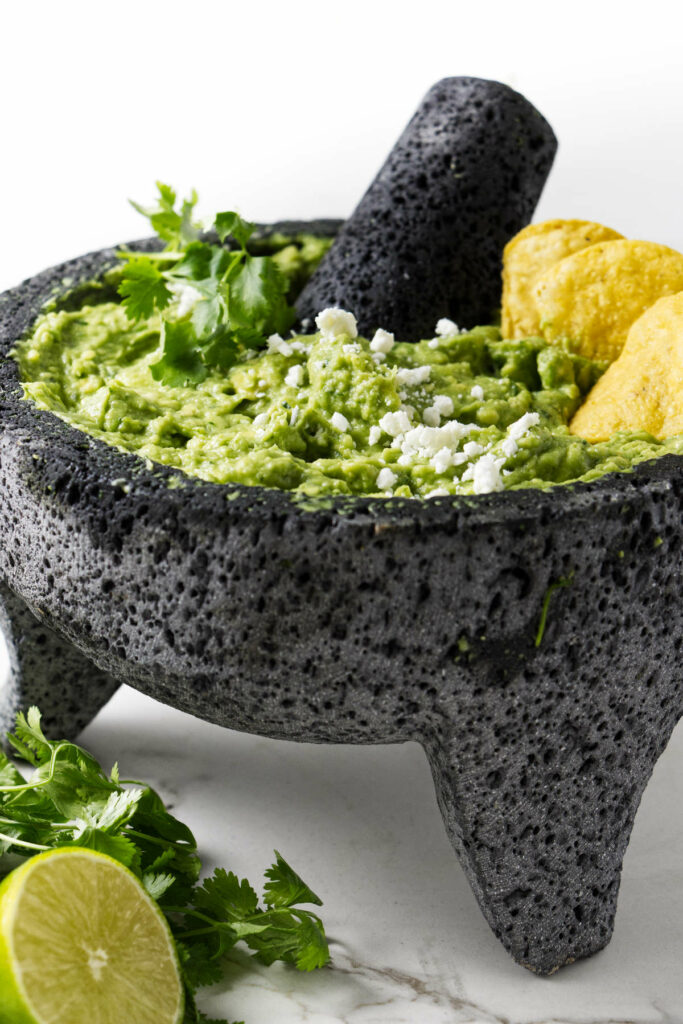 If you've ever been to an authentic Mexican restaurant, you may have had your guacamole served in a molcajete or mortar. Using a mortar and pestle helps release the flavors from aromatic ingredients like onions, jalapenos, and cilantro and infuse them into each bite of guacamole.
While you can make guacamole with just the back of a fork and a bowl, if you make it often, I highly recommend investing in a quality mortar and pestle or a traditional molcajete for the best flavor and experience.
Why This Recipe Works
Quick and easy. The mortar and pestle make it easy to mash and combine the aromatic ingredients used in guacamole. Within 5 to 10 minutes you'll be ready to dive right into a bowl of guac!

Loaded with flavor. Making a paste using the onion, jalapenos, cilantro, garlic, and lime before adding the avocado helps infuse every bite with a savory, spicy, garlicky flavor. This is how you make an authentic guacamole recipe.

Simple Ingredients. This guacamole has only six ingredients, all of which are fresh, healthy, and easy to get your hands on.
Guacamole is one of the most versatile recipes. It goes great with all your favorite Mexican recipes like tamales, enchiladas, and tacos, plus it is a perfect snack for parties and game-day get-togethers. It also makes a great sandwich spread, topper for salads, and dip for chips, crackers, and veggies.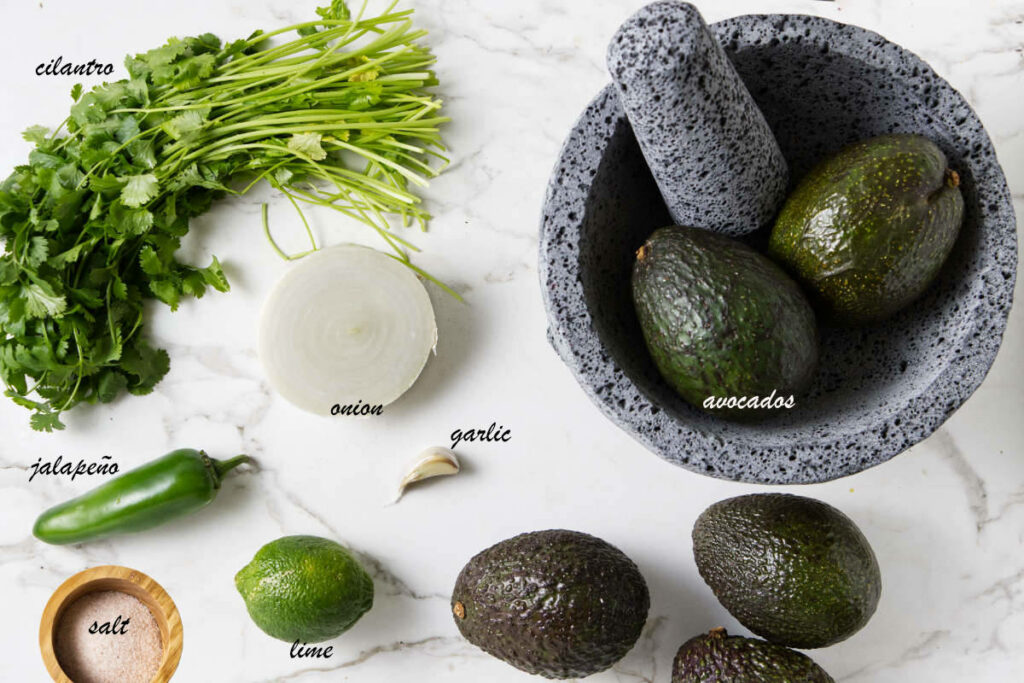 Ingredients Needed
Here is a list of the ingredients you will need for this guacamole recipe. Scroll down to the printable recipe card for all the details.
Onion. Sweet white onion is my favorite to use in guacamole. You can use red or yellow onions, but their flavor may be overpowering.

Jalapeno peppers. Be sure to remove the seeds (unless you like it extra spicy!) and just reduce the amount of jalapeno pepper for less heat, or swap jalapeno peppers for serrano chile peppers if you want your guacamole to have more of a kick.

Cilantro. While I love the complex citrus earthiness that cilantro adds, you can leave it out if you're part of the population that thinks this green leafy herb tastes more like soap. In this case, substitute with fresh parsley and a pinch of ground cumin.

Garlic. Use fresh garlic cloves.

Lime. While fresh lime juice works best, you can substitute it with bottled if that's all you have available. Two tablespoons of lime juice are equal to the juice in one lime.

Fresh avocados. To know if your avocados are ripe, they should give slightly when gently pressed.

Salt.
How to Make Guacamole in a Molcajete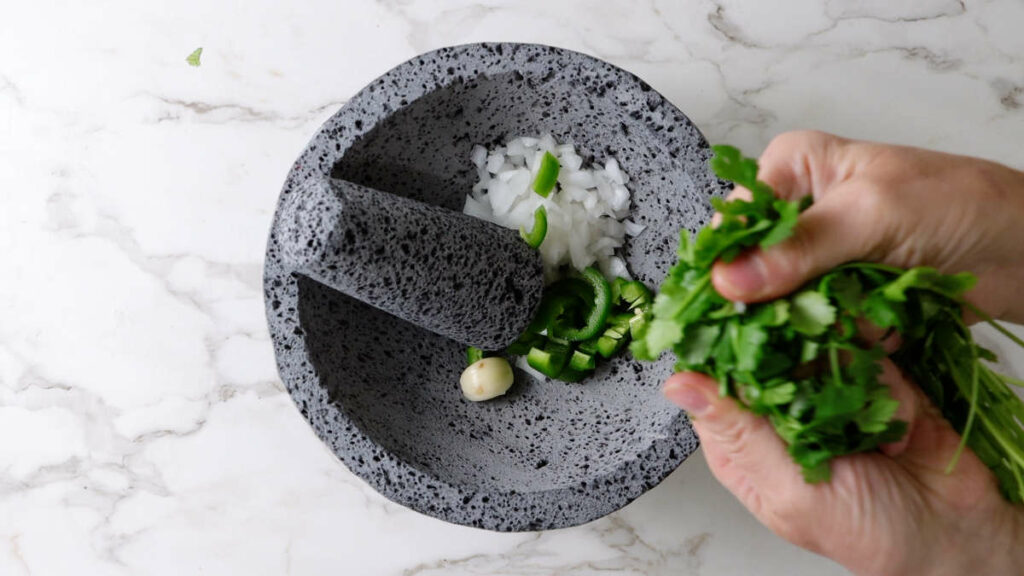 Add the onion, jalapeno, garlic, cilantro, salt, and lime juice to the bowl of a molcajete or mortar and pestle.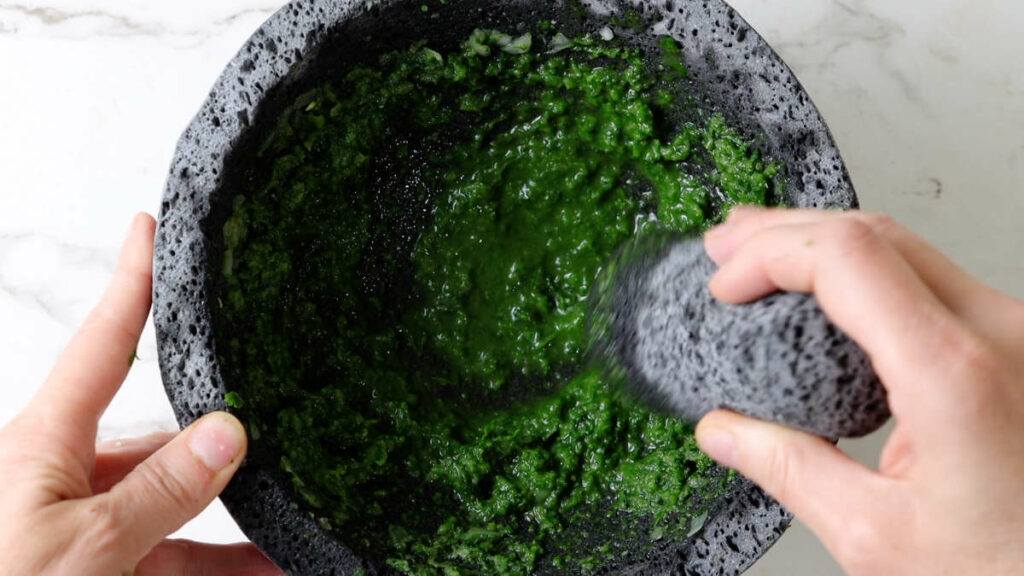 Use the pestle (or tejolote) to mash the ingredients into a paste.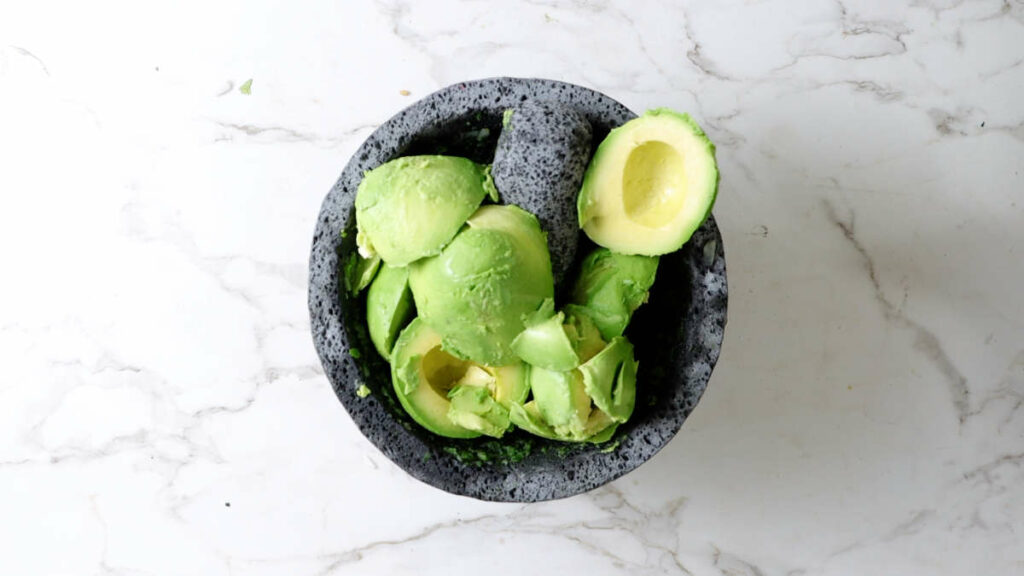 Add the avocados and use the pestle to mash them. Try to leave some chunks of avocado for texture.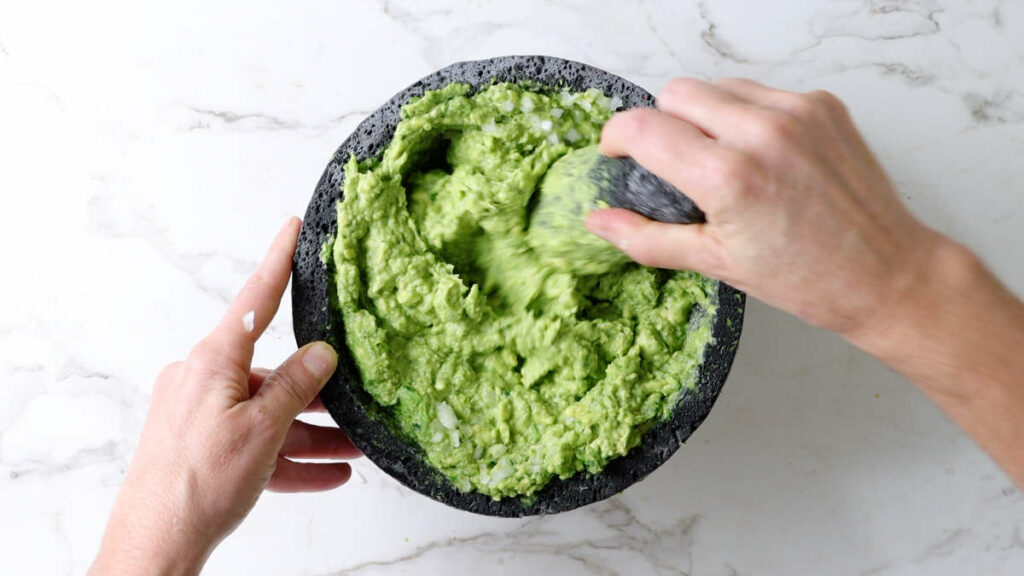 Taste the mixture, then season with additional salt or lime juice if desired.

Optional: You can stir in diced tomatoes or pico de gallo for a little color.
Serve immediately or press plastic wrap directly on top of the guacamole to keep the air from turning the guac brown. Store it in the refrigerator for up to two days.
Tip: If your molcajete or mortar is too small for all of the avocados, just use it to make a paste from all the other ingredients. Transfer the paste to a larger bowl and mash in the avocados (a potato masher works well for this).
Tips for Success
Keep your guacamole fresh by keeping all air away from the dip. Press the guacamole down into its container so there are no air bubbles. Then, press plastic wrap down on top, so all of the guacamole is tightly covered. You can add an extra lid on top if desired.

Choose perfectly ripe avocados. One easy way to know if your avocados are just right (ripe enough but not too ripe) for your guacamole is to do a stem check.

Gently press on the side of the stem with your thumb. If the stem easily falls from the avocado and the flesh underneath (where the stem used to be) is light green, your avocado is probably perfect. If the flesh is dark brown or blackened, it's likely too ripe.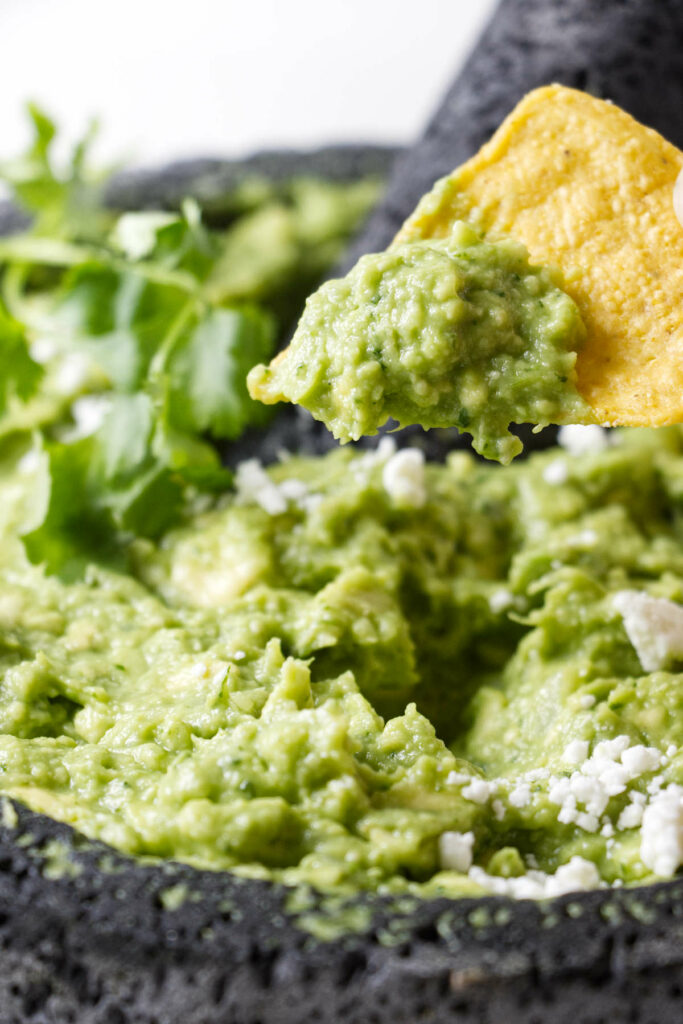 Variations
While this recipe is delicious as is, you can always adapt your guacamole recipe to fit your own personal preferences. Here are just a few possibilities.
Add diced tomato, pico de gallo, or salsa.
Turn up the heat by swapping jalapeno peppers for serrano peppers.
Swap cilantro for parsley.
Add corn or black peppers to the dip.
Sprinkle on cheese such as queso fresco, cheddar, or cotija.
What to serve with guacamole
Traditionally guacamole is served alongside a big bowl of tortilla chips. While this is a perfect way to enjoy it, you can also try these other foods to dip in your guac.
Fresh and raw veggies: carrots, celery, peppers, cucumbers, and cauliflower are a few good choices
Crackers
Pretzels
Cocktail shrimp
Bagel chips
Frequently Asked Questions
What is a molcajete?
A molcajete is a Spanish term for mortar and pestle. While mortar and pestle can be made from a number of materials such as wood, granite, or marble, traditional molcajetes are carved from volcanic rock.
Can you store guacamole in a molcajete?
Yes! A molcajete makes the perfect serving dish for guacamole. In between servings, just place plastic wrap directly on the guac in the molcajete and refrigerate. It will keep for 1-2 days.
Can I make guacamole without a mortar and pestle?
While a mortar and pestle is an easy way to add maximum flavor to your homemade guacamole, you can still make it if you don't have one. You can use a food processor, the back of a fork and a mixing bowl, or put everything into a plastic bag and mash it up with your hands!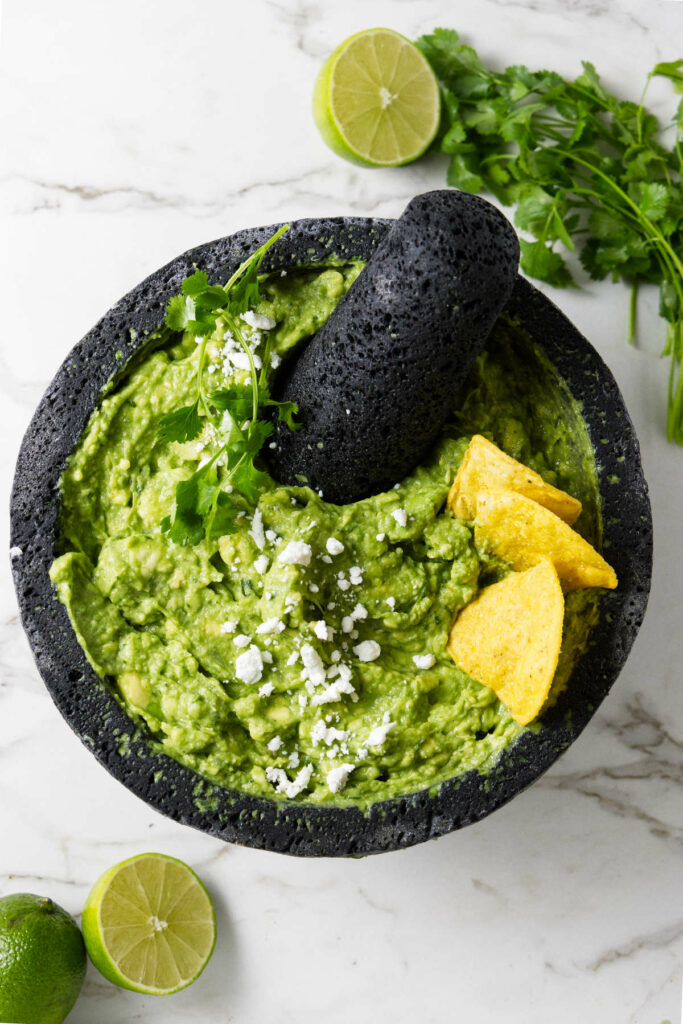 Helpful Tools
Some of the following are affiliate links. We may receive a small commission if you click on these links and purchase something. You don't pay any extra, but it will help us keep the lights on.
More Mexican-Inspired Recipes You'll Love
Homemade crab enchiladas are stuffed with fresh lump crab meat and slathered in a creamy white cheese sauce that's as addictive as it is amazing.
I bake these shredded beef chimichangas for all the flavor without the extra grease. Seasoned shredded beef, peppers, onions, and cheese all wrapped up in a crispy tortilla. A spoonful of guacamole goes perfectly with each bite!
These spicy pulled pork empanadas are easy to make, full of chilis, peppers, onions, and flavorful shredded pork, all stuffed inside of a buttery, flaky crust. Serve them with some mole sauce or red chile sauce and some refried beans for a delicious meal.
Connect With Savor the Best:
Please follow us on our social media accounts
Facebook * Instagram * Pinterest * Youtube * Twitter
Did you make this recipe? We would love to hear from you. Drop us a comment below.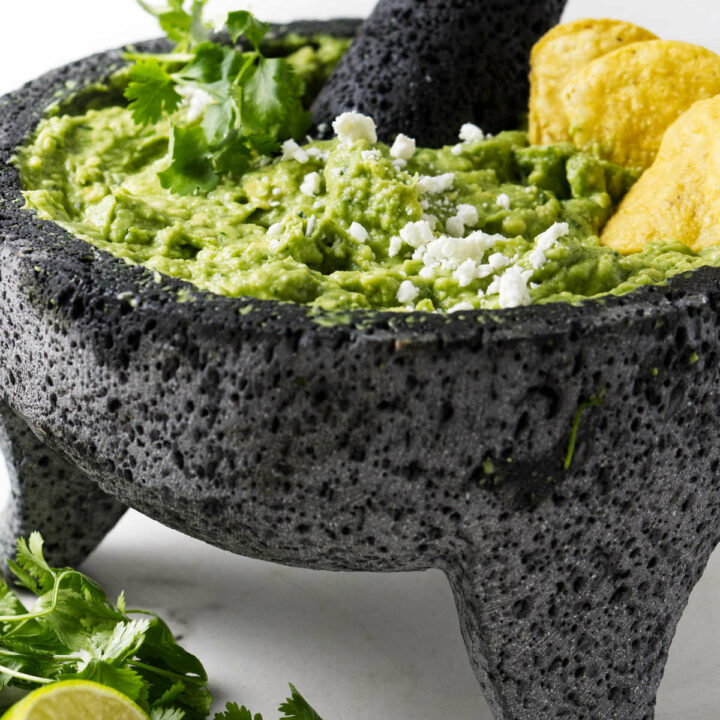 Molcajete Guacamole (Mortar and Pestle)
Using a molcajete or mortar and pestle will give you the best guacamole you have ever had. Smashing the ingredients releases the natural oils and flavors in a way that you just can't achieve by chopping with a knife.
This is guacamole done right, and it doesn't take a lot of ingredients. If you have ever had tableside guacamole at a restaurant, this is how they make it!
If you don't have a molcajete, simply use a mortar and pestle instead. If it isn't large enough to hold all the ingredients, no problem! Make a paste from the onions and herbs, then transfer it to a bowl and mash it with the avocados.
Ingredients
½ of a white onion, diced
1 to 2 jalapeños, diced
⅓ cup cilantro leaves
1 to 2 garlic cloves
1 to 2 limes, juiced
¾ teaspoon salt
4 to 5 avocados
Instructions
Make a Paste
Place about 3 to 5 tablespoons of diced onions in the molcajete or in the bowl of a large mortar and pestle. Add the jalapeños, garlic cloves, cilantro, lime juice, and salt.
Use the pestle (tejolote) to grind and smash the mixture into a paste.
Finish the Guacamole
Add the avocados and mash them with the pestle.
Taste the guacamole and season with additional salt or lime juice if desired.
Stir in additional diced onions if desired.
Serve immediately or press plastic wrap directly on top of the guacamole to keep the air from turning it brown. Store in the refrigerator for up to two days.
Notes
If you want to kick up the heat, substitute serene peppers for the jalapeños.
You can stir in diced tomatoes or pico de gallo for a little color.
If you don't care for cilantro, substitute it with parsley and a pinch of ground cumin powder.
If your molcajete or mortar is too small for all the avocados, just use it to make a paste from all the other ingredients. Transfer the paste to a larger bowl and mash in the avocados.
Nutrition Information:
Yield:

40
Serving Size:

2 tablespoons
Amount Per Serving:
Calories:

42
Total Fat:

4g
Saturated Fat:

1g
Trans Fat:

0g
Unsaturated Fat:

3g
Cholesterol:

0mg
Sodium:

42mg
Carbohydrates:

3g
Fiber:

2g
Sugar:

0g
Protein:

1g
Nutrition information is a guideline only, is calculated automatically by third-party software, and absolute accuracy is not guaranteed.