This Instant Pot refried beans recipe is quicker and easier than cooking the dish on a stovetop. It's a great way to make a large batch of beans that you can use in a variety of meals, plus it's a budget-friendly dish packed with protein.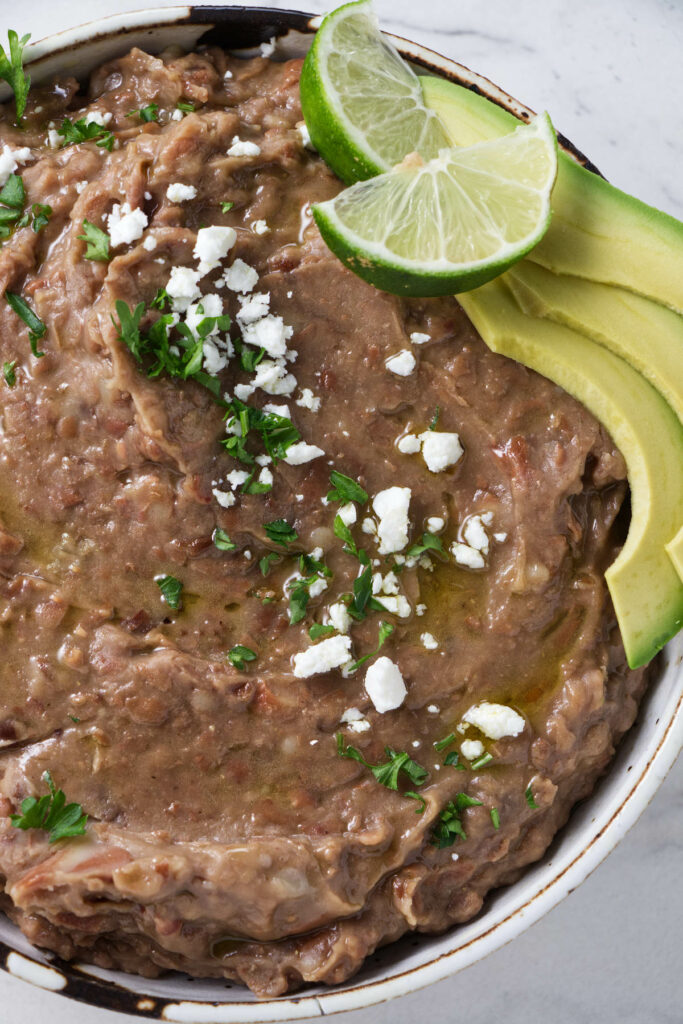 These Mexican refried beans are perfect for your next Taco Tuesday and they make an excellent dip for tortilla chips. Serve it as a side dish with our Mexican chicken casserole or steak ranchero or use it as a pizza sauce for Mexican pizza. And if you love Tex Mex cooking, try our fish tacos and shrimp Diablo.
Why This Recipe Works
The Instant Pot cooks dried pinto beans faster and you don't have to watch the pot or stay in the kitchen while they cook.

The recipe makes a big batch, so you can freeze some for another night.

You can mash the beans in the Instant Pot and keep them on a warm setting until time to serve.

Cooking the beans in a stock with onions and garlic adds extra flavor to the dish.

Using dried beans is more economical than store-bought canned beans.

Having a type of fat is crucial when making refried beans, and we give you a couple of options.

We recommend using olive oil rather than processed oils (such as canola oil), but bacon fat is also delicious in this recipe. And if you are with us on the bacon thing, check out these Instant Pot pinto beans.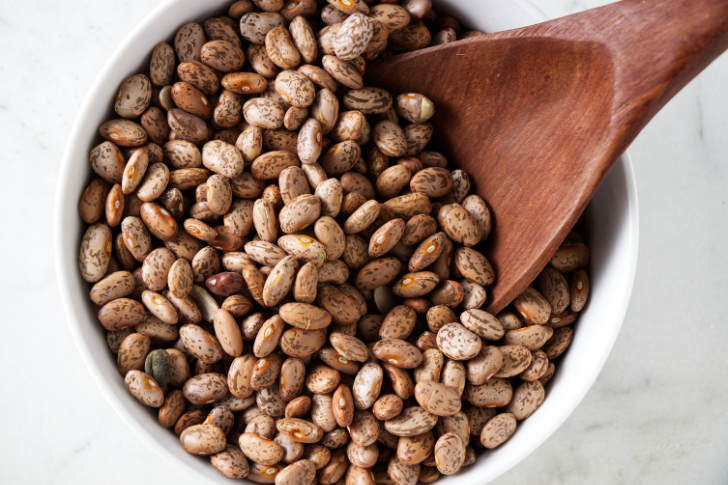 The Ingredients
Here is a list of the ingredients you will need to make pressure cooker refried beans. Scroll down to the printable recipe card for all the details.
Dry pinto beans. We used one pound of beans in this recipe.

Chicken broth. If want to go the extra mile, make your own bone broth.

Onion and garlic. The onion and garlic cloves cook in the broth with the beans and get super soft so you can mash them into the mixture.

Bay leaves. The bay leaves add a subtle flavor and aroma to the beans.

Salt. Don't skip the salt, it enhances the flavor. If you are trying to cut back try lite salt.

Fat. Canned refried beans use lard but we like using olive oil or bacon fat.

Spices. We used garlic powder, cumin, onion powder, and cayenne pepper.
How to Make It
Here is a brief overview to get an idea of what to expect with the recipe. Scroll down to the printable recipe card for all the details.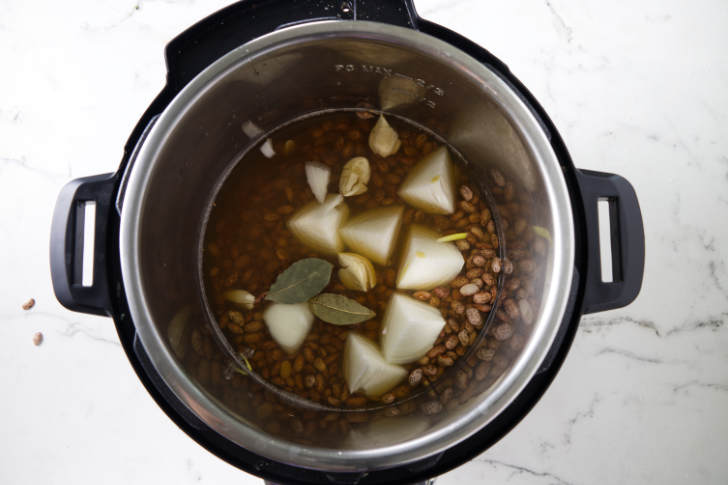 Add the dried beans, broth, onion, garlic, bay leaves, and salt to the Instant Pot. Cook on high pressure then let the pot release pressure naturally.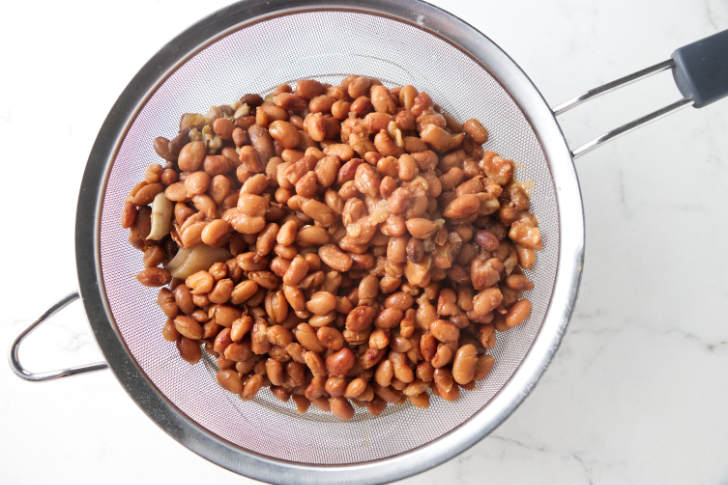 Drain the beans through a metal strainer. Let the liquid collect in a bowl and reserve it for later.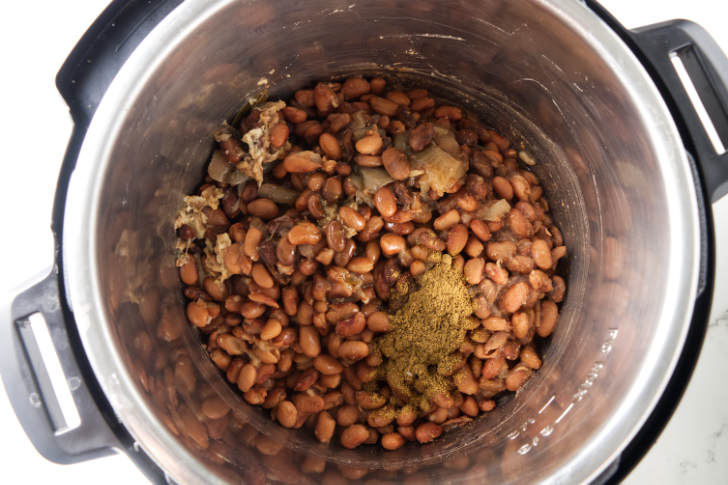 Add the spices and either the bacon fat or olive oil to the beans.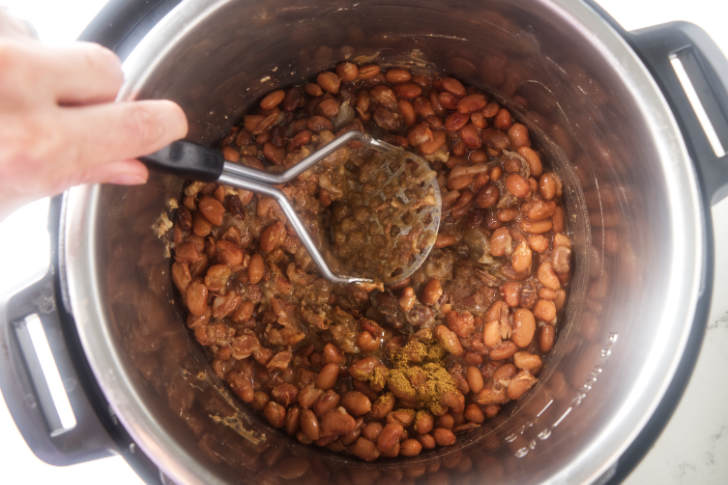 Use a potato masher to mash the beans. Add a little of the cooking liquid (about 1/4 cup at a time) until you get your desired consistency.
Tip: If you like your refried beans really smooth and creamy, you can use an immersion blender or place the beans in a food processor or standard blender.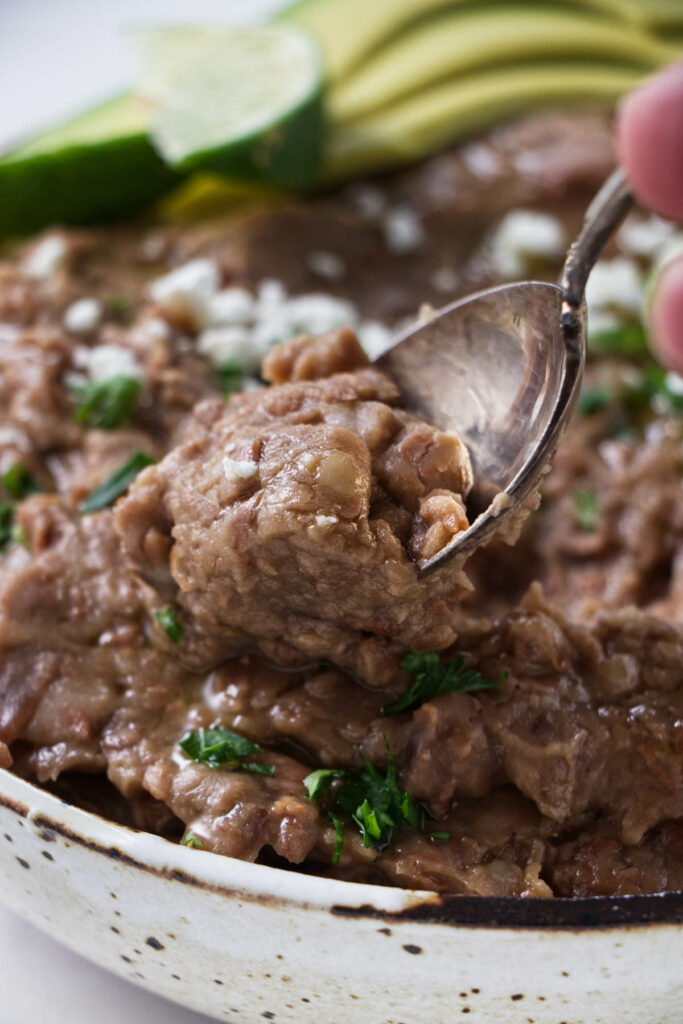 Tips for success
If you want smooth refried beans but don't have an immersion blender, use a food processor or regular blender instead.

Reserve some cooking liquid. The refried beans will thicken up as they cool and you can stir the extra liquid into the beans.

Buy new pinto beans if you're unsure when you bought the ones sitting in your pantry. The older the beans are, the longer they will need to cook. If they are too old, they won't get soft.

Cook the beans with the onions, garlic, and bay leaves for added depth of flavor.

Use the refried beans within three days, or store them for up to six months in the freezer.

Make it your own and enhance the flavor with spices. Even a dash of chili powder or a sprinkling of cotija cheese can turn homemade refried beans into a perfect side dish.

After the cooking time is finished, let the Instant Pot do a natural release.
Frequently asked questions
Are refried beans deep-fried?
No. Refried beans are pan-fried (in this case, cooked in an Instant Pot), seasoned pinto beans mashed into a paste.
What are refried beans made of?
Most of the time, refried beans are made with pinto beans. However, some recipes use black beans, kidney beans, or even a mixture of beans as we did in our 15 bean soup.
Do you eat refried beans hot or cold?
You can serve refried beans hot, room temperature, or even cold. It all depends on the dish or appetizer you put together. Try them in a hot bacon bean dip or serve them cold similar to hummus. They have a creamier texture when hot.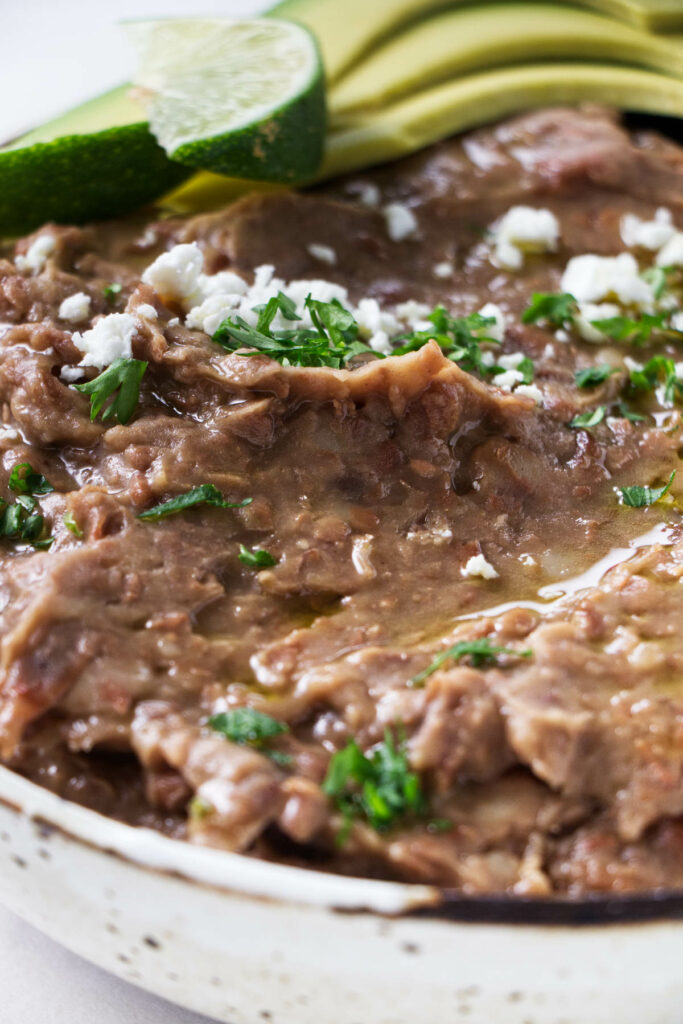 Instant Pot refried beans are delicious, easy to make, and cheap. Feel free to experiment with the seasonings and maybe even stir in roasted poblano peppers, jalapenos, or zucchini salsa to enhance the flavor of your refried beans. There's no turning back to canned refried beans from the store once you make them yourself.
Helpful Tools
Some of the following are affiliate links. If you click on these links and purchase something, we may receive a small commission. You don't pay any extra but it will help us keep the lights on.
Some Other Recipes We Are Sure You Will Love:
Put your refried beans to good use by topping them on our taco baked potatoes entree. Our beef taco salad in tortilla bowls recipe is a lighter entree option.
Try our crowd-pleasing white chicken enchiladas and serve them with a homemade bean dip for a delicious weeknight dinner. And, our pork tamales are sure to hit the spot if you're in the mood for a Mexican-inspired dish.
You will love our slow cooker turkey chili. It starts with dry beans and we added malt beer for an extra layer of flavor.
Connect With Savor the Best:
Please follow us on our social media accounts
Facebook * Instagram * Pinterest * Youtube * Twitter
Did you make this recipe? We would love to hear from you. Drop us a comment below.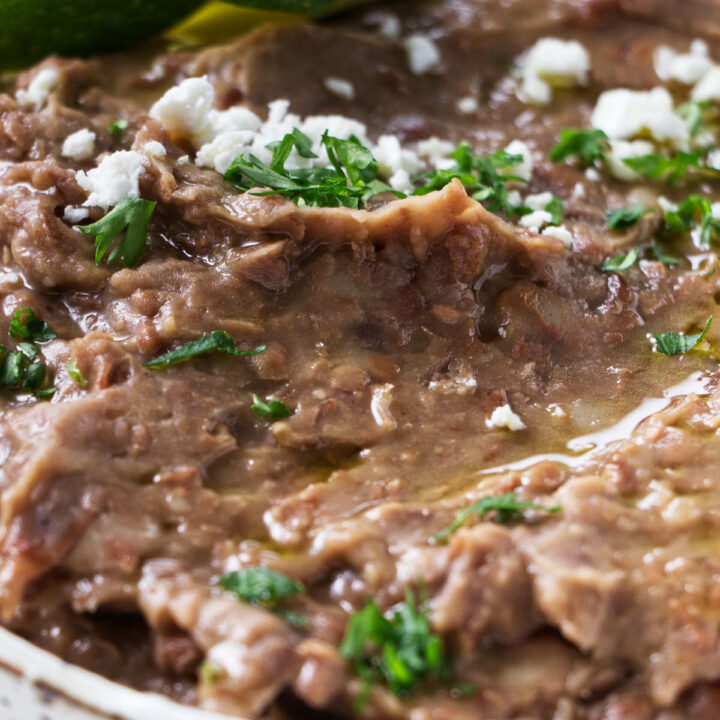 Instant Pot Refried Beans
Additional Time:
20 minutes
Total Time:
1 hour
10 minutes
It is easy to make homemade Instant Pot refried beans. This from-scratch version tastes so much better than the canned variety. You can use a healthy fat like olive oil or add an extra layer of flavor by using bacon fat. Plus, you can customize them to your liking by adding in different spices.
Ingredients
1 pound dry pinto beans (about 2 cups)
4 cups chicken broth
3 cups water
1 onion, quartered
4 to 5 garlic cloves
2 bay leaves
1 teaspoon salt
3 tablespoons olive oil or melted bacon fat
1 teaspoon garlic powder
1 teaspoon cumin
1 teaspoon onion powder
1/4 to 1/2 teaspoon cayenne pepper
Instructions
Sort through the pinto beans to make sure there aren't any pebbles. Give the beans a rinse and place them in the Instant Pot.
Pour in the chicken broth and water then toss in the quartered onion, garlic cloves, bay leaf, and salt.
Secure the lid and make sure the valve is in the sealed position. Cook on high pressure for 45 minutes.
Allow the pressure to release naturally for 15 minutes. After 15 minutes release the rest of the pressure manually and open the lid. Check the consistency of the beans. If they are not soft enough, cook them for an additional 5 to 10 minutes on high pressure. Older beans may need more cooking time.
Remove the bay leaf and discard. Leave the cooked onion and garlic cloves in the pot. They will be soft after cooking them and they will mash right into the beans.
Set a strainer over a large bowl. Use heat resistant gloves to lift out the inner pot and pour the beans into the strainer. Save the liquid.
Return the beans to the inner pot. Add the olive oil or bacon fat, garlic powder, cumin, onion powder, and cayenne pepper.
Drizzle in about 1/4 cup of the reserved liquid. Use a potato masher to mash the beans until they have a chunky texture.
Add a bit more of the reserved liquid 1/4 cup at a time as you mash the beans. They will get thicker as they cool so save any liquid that you don't use.
If you want a smooth consistency, use an immersion blender to get a creamy and smooth texture.
Taste the beans and add additional salt or spices if desired.
Notes
If you want smooth refried beans and you don't have an immersion blender, you can use a food processor or a standard blender. You will need to stop and stir frequently if you use a standard mixer.
When you mash the beans while they are still hot, they will have a spreadable consistency but they will thicken as they cool. If you don't use all of the reserved cooking liquid when you mash the beans save it for later. You may want to add more liquid when the beans cool a bit.
You can store the refried beans in the fridge for three days or in the freezer for six months.
The older your pinto beans are, the longer it will take them to get soft. If your beans are older than 5 years, they may not get completely soft even if you add additional cooking time.

Flavor variations/ additions

Add any of the following suggestions to change up the flavor of the refried beans.
Nutrition Information:
Yield:

8
Serving Size:

1
Amount Per Serving:
Calories:

266
Total Fat:

7g
Saturated Fat:

1g
Trans Fat:

0g
Unsaturated Fat:

5g
Cholesterol:

3mg
Sodium:

739mg
Carbohydrates:

39g
Fiber:

9g
Sugar:

2g
Protein:

13g
Nutrition information is a guideline only, is calculated automatically by third-party software, and absolute accuracy is not guaranteed.