Black beans make an incredibly delicious and ultra affordable side dish. An Instant Pot makes them readily available for any day of the week. Granted, canned black beans offer maximum convenience and time savings but dried beans have the best texture and they are more affordable. This recipe for Instant Pot black beans is so easy and it is quick enough to whip up on a weeknight. Grab your IP and make this easy and healthy side dish that goes well with just about any meal.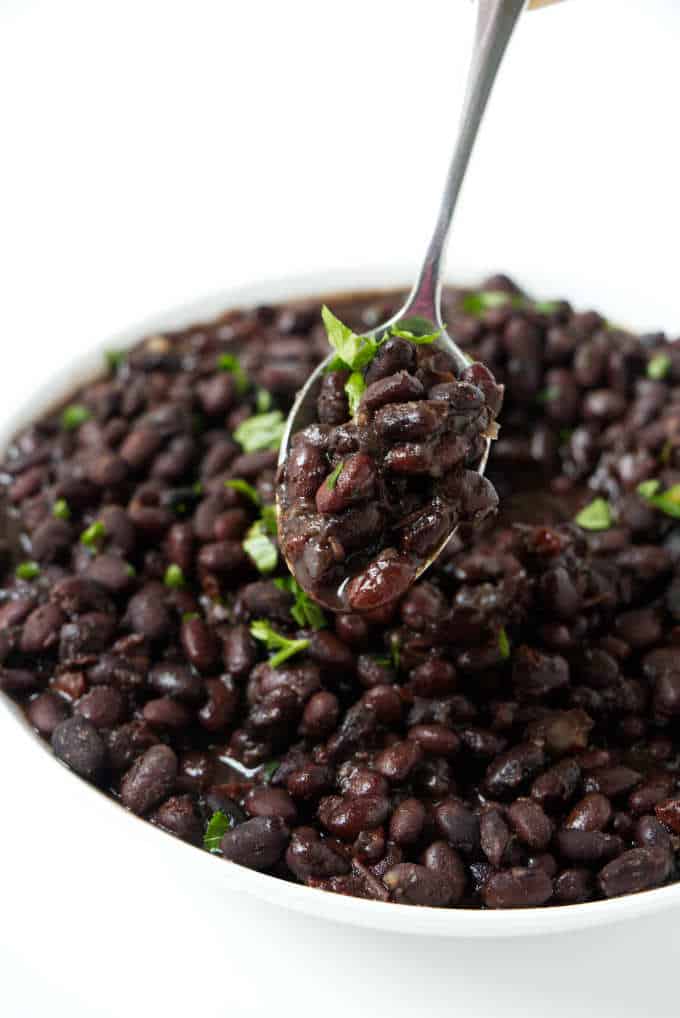 I love using my Instant Pot to cook dried beans. Even if you don't soak the beans, they will cook quickly. That's one of the benefits of an Instant Pot.
What to eat with black beans:
Black beans are incredibly versatile and make a great side dish to nearly any meal. For a healthy dinner try serving them with some grilled chicken and steamed broccoli. It makes an easy dinner that is low in fat and high in fiber. If you throw in some sourdough bread, you can sop up the juices from the black beans.
You can also incorporate black beans into your recipes. Try them in any of the following:
Soups and stews
Salads
Casseroles
Dips
Chili
Rice bowls
Tacos
Enchiladas
Do you need to soak beans before pressure cooking?
You don't need to soak your beans before you pressure cook them but it's not a bad idea. Soaked beans will cook even quicker and they will come out with a creamier texture. If you soak them in saltwater then there will be fewer split beans.
We give cooking directions for dry or soaked beans in this recipe. The video shows the beans cooking without a pre-soak. It is how I usually pressure cook my dried beans, however, when I plan in advance I will take the time to soak them first. There are some benefits to soaking dried beans.
Benefits of soaking beans:
Improves digestibility
Decreases cooking time
Improves the texture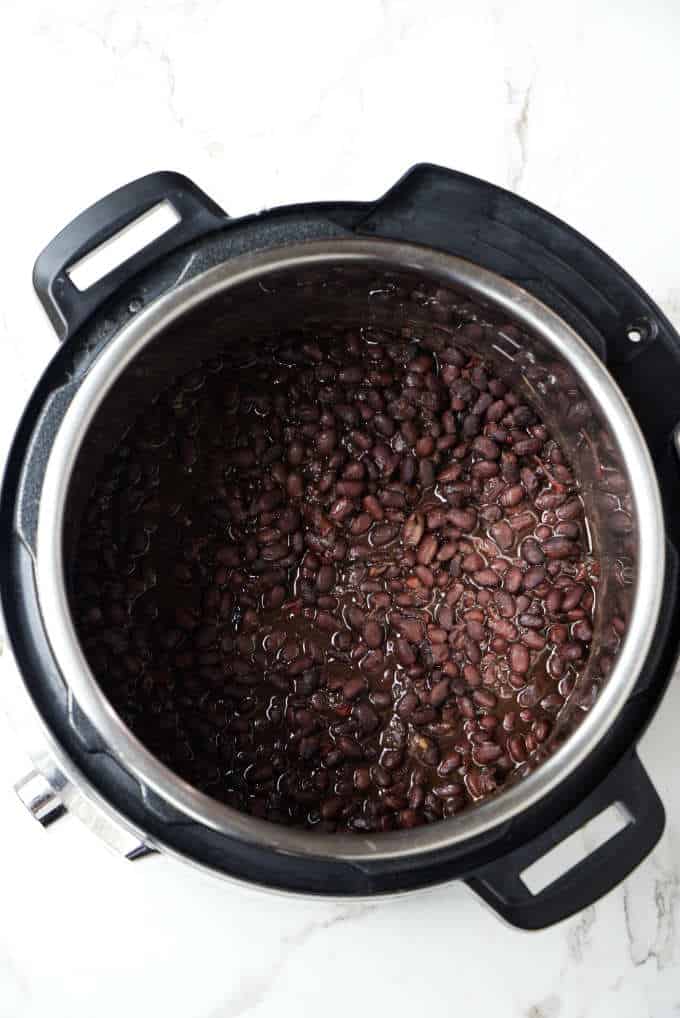 How to prepare Instant Pot black beans:
Pick out pebbles and broken beans.
Rinse the dried beans.
Sauté the vegetables and garlic in the IP.
Add the broth and deglaze the pot.
Add the black beans and seasoning.
Cook on high pressure, then let the pot release pressure naturally.
Taste and season if desired.
How do you cook dried beans fast?
The Instant Pot (or any other type of pressure cooker) is a great way to cook dried beans very quickly. If you want to speed the cooking time up even more then soak the beans overnight. Ultimately, soaking the beans will add a significant amount of prep time but it is all 'hands-off'. As long as you plan ahead it is very easy.
How long does it take to cook beans in an Instant Pot?
The amount of time it takes to cook dried beans in an Instant Pot will depend on the type of beans you have. It takes 35 minutes to cook black beans in the Instant Pot. If you soak the black beans first, it will only take 15 minutes to cook them.
What is the ratio of beans to water?
You will not need as much water when you cook black beans in the Instant Pot. Here are the ratios for black beans:
stove-top black beans
1 cup black beans to 3 cups water.
Instant Pot black beans:
1 cup black beans to 1.5 cups water.
I am using chicken broth in this recipe for extra flavor but you can use water if you want. Also, I increased the amount of liquid just a little because I like the extra juices that it makes.
How much does 1 pound of dried beans make?
One pound of dried beans will make 6 cups of cooked beans. If that seems like a lot then keep in mind that you can freeze cooked beans.
You can also cut this recipe in half but we don't recommend cooking less than 1 cup of black beans in an Instant Pot. The Instant Pot needs a minimum volume to function properly.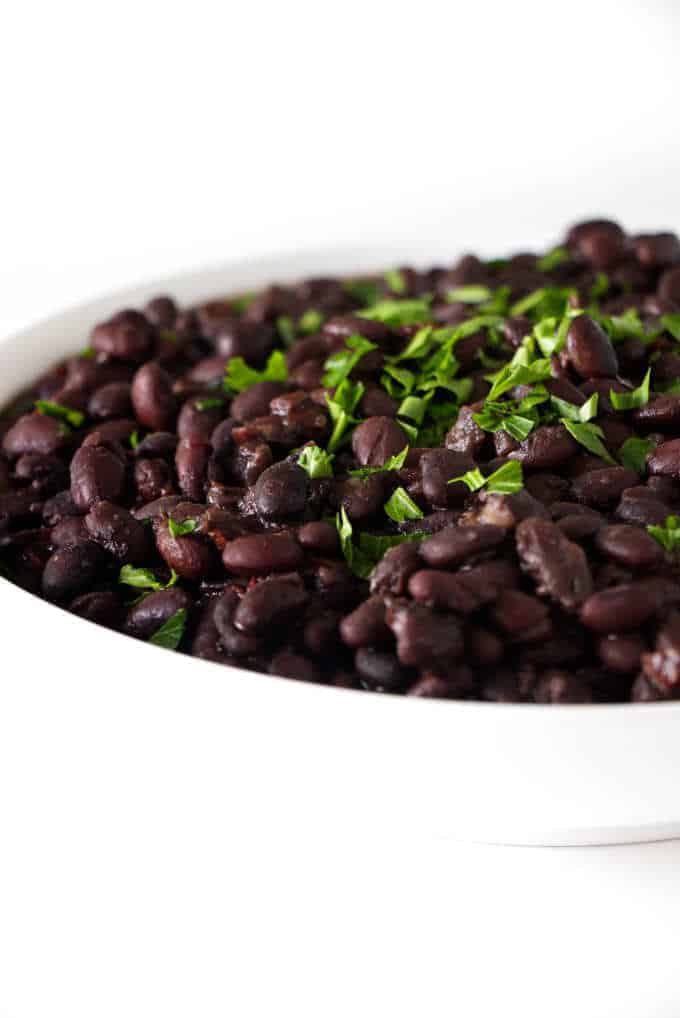 How many cups are in a pound of dried beans?
There are two cups in one pound of dried black beans.
How to substitute dried beans for canned beans in a recipe.
If you want to substitute dried beans for canned beans then here are some helpful tips.
Canned beans are the same as cooked beans.
A 15-ounce can of black beans has 1-3/4 cups (or 1-1/2 cups drained)
1 cup of dried beans will make 3 cups of cooked black beans.
3/4 cup of dried beans will cook to about the same amount as a 15-ounce can of beans.
The easiest way to substitute dried beans for a can of black beans is to cook a batch of dried beans. When finished cooking, measure 1-3/4 cups of cooked beans for every can of beans your recipe calls for.
Why use dried beans instead of canned beans?
Dried beans are less expensive.
You can control the amount of sodium when you cook dried beans.
Dried beans have a creamier texture.
SOME OTHER RECIPES WE ARE SURE YOU WILL LOVE:
Red beans and ham is a childhood favorite and a great way to use a leftover ham bone. It makes an easy and affordable meal. All you need is a side salad but we think a slice of sourdough bread is an absolute necessity.
Our chipotle pork chili beans has tender chunks of pork smothered in a thick, spicy sauce of beans. A bowl of these beans goes well with a splash of lime and a dollop of sour cream.
Our Greek Dolmades with Cannelloni beans are stuffed with ground lamb, vegetables and rice. The tender, buttery Cannelloni beans have a delicious flavor from the dolmas.
CONNECT WITH SAVOR THE BEST!
Be sure to follow us on our social media accounts
Facebook * Instagram * Pinterest * Twitter * Youtube
Did you make this recipe? We would love to hear from you. Drop us a comment below.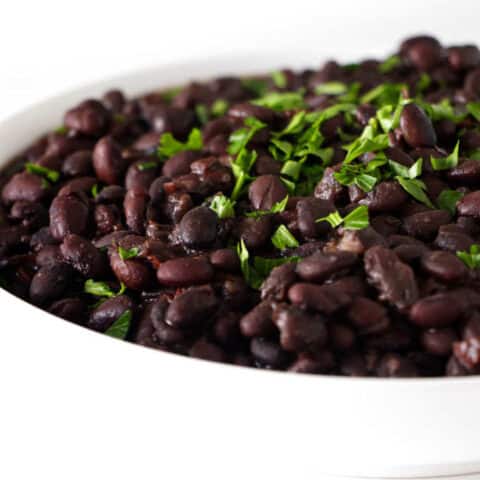 Instant Pot Black Beans (video)
Yield: 6 servings
Prep Time: 12 minutes
Cook Time: 35 minutes
Total Time: 47 minutes
Cook dried black beans in less than half the time with an Instant Pot. These black beans are rich and full of flavor and they are the perfect side dish to any meal.
Ingredients
2 tablespoons vegetable oil
1 yellow onion, diced
1 red bell pepper, diced
4 to 5 cloves of garlic, finely minced
3-3/4 cups broth (vegetable or chicken broth)
1 pound dry black beans
2 whole bay leaves
1-1/2 teaspoons cumin powder
1 teaspoon salt
Instructions
Rinse the dried beans and pick out any pebbles if you find them.
Set the Instant Pot to 'saute' and add the vegetable oil.
When the oil is hot, add the onion and bell pepper and saute until soft. Add the garlic and stir for 30 seconds.
Add the broth and deglaze the pot (scrape off the brown bits of onion on the bottom of the pot).
Add the black beans, bay leaves, salt, and cumin then seal the lid.
Cook on high pressure for 35 minutes.
Let the Instant Pot release pressure naturally, about 15 to 20 minutes.
Remove the bay leaves, taste the beans and add more seasoning if needed.
Recommended Products
As an Amazon Associate and member of other affiliate programs, I earn from qualifying purchases.
Nutrition Information:
Yield: 6
Serving Size: 1
Amount Per Serving:
Calories: 335
Total Fat: 6g
Saturated Fat: 2g
Trans Fat: 0g
Unsaturated Fat: 9g
Cholesterol: 14mg
Sodium: 775mg
Carbohydrates: 51g
Fiber: 13g
Sugar: 3g
Protein: 19g
Nutrition information is a guideline only, is calculated automatically by third-party software, and absolute accuracy is not guaranteed.