San Sebastian Cheesecake, or sometimes called a Basque burnt cheesecake, is a Spanish cheesecake with a distinctive burnt top and creamy texture. It's lighter and fluffier than other cheesecake recipes, with an almost custard-like filling. This is a cheesecake unlike any other, and it's the best cheesecake if you're looking for a dessert that's easy, effortless, and sure to impress.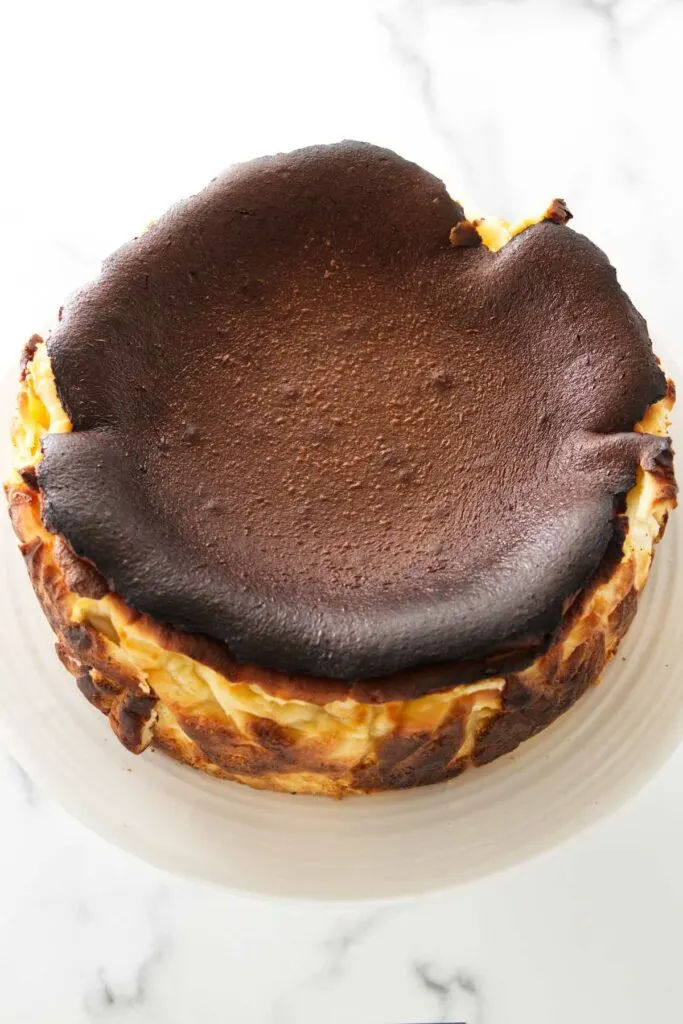 San Sebastian Cheesecake Origin
San Sebastian cheesecake originates from the town of San Sebastian in the Basque region of Spain (also known as Basque country). This is why it's also often referred to as a Basque burnt cheesecake.
If you've never tried a San Sebastian cheesecake, you should first know that it is totally unique!
It differs from a New York cheesecake (and other regular cheesecakes) in a number of ways.
San Sebastian cheesecake bakes at a high temperature (no need for a water bath), the top gets beautifully burnt and caramelized, and the cheesecake is completely crustless. (Another reason why this easy cheesecake recipe is a great recipe for cheesecake-baking novices!).
We could never turn down a classic slice of cheesecake (with extra strawberry topping, please!) or an elegant twist on cheesecake like our Mini Goat Cheese Cheesecakes, but there's something extra special about this San Sebastian vanilla cheesecake recipe.
It's one-of-a-kind and appropriate for any occasion.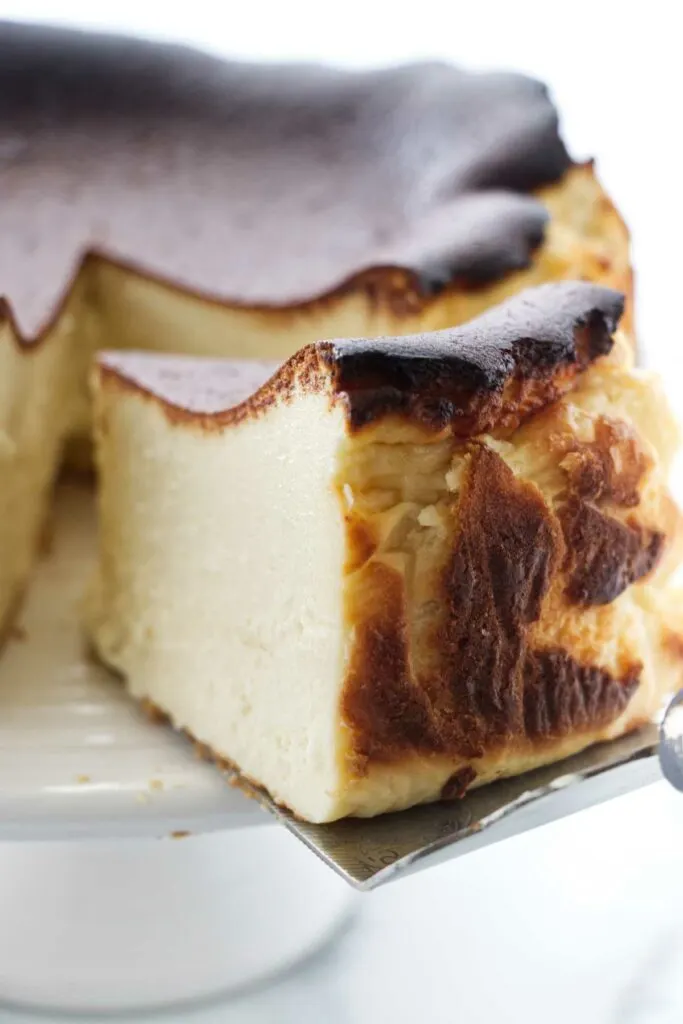 Why This Recipe Works
The differences between a Basque-style cheesecake and a New York style cheesecake are, well, everything!
The taste, appearance, and texture of this cake is what really sets it apart.
This recipe makes an ultra creamy cheesecake due to heavy whipping cream added to the batter. The top of the cheesecake not only gets dark and caramelized, but it also puffs up during the bake and sinks a little afterward, which gives the cake a pretty, rustic look.
Here's why you'll love it:
San Sebastian cheesecakes have a rich vanilla flavor, caramelized top, and silky-creamy texture.
With only five ingredients and no crust prep required, this is the best cheesecake to make if you're looking for a low-effort dessert!
It's a unique cheesecake that works for any occasion, whether it's a dinner party, birthday or a holiday gathering.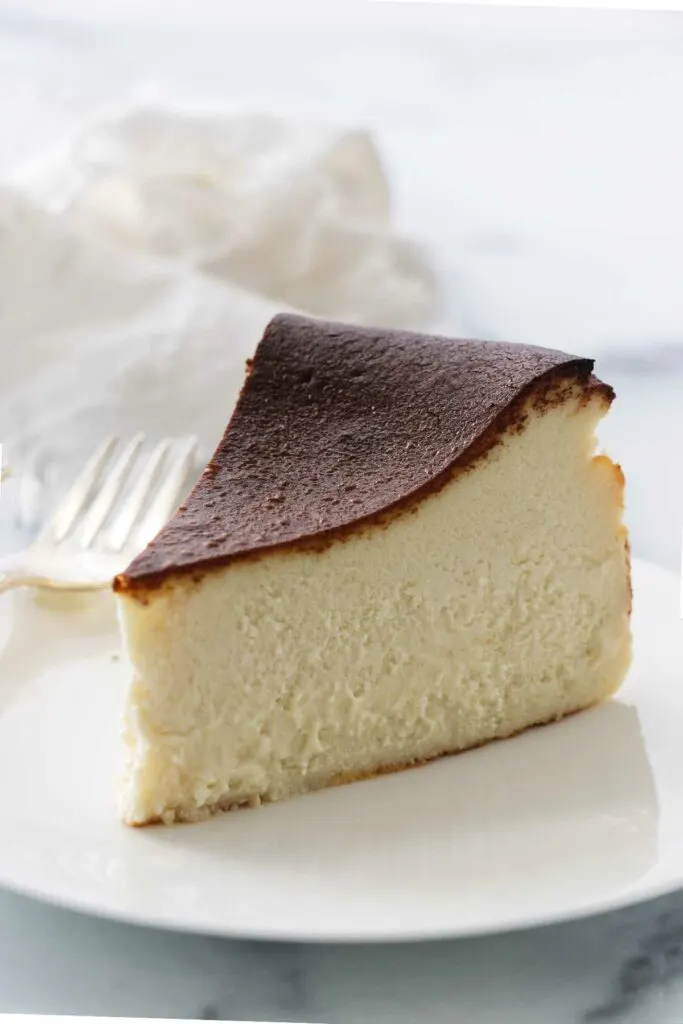 Ingredients for San Sebastián Cheesecake
To make this recipe, you will need the following ingredients:
Cream cheese. ​For the best results, use full-fat cream cheese (block style) and make sure it's softened to room temperature. This is extra important because cold cream cheese will create a lumpy batter.
Granulated sugar. ​This gives the cheesecake the perfect amount of sweetness. The sugar caramelizes on the sides and top of the cheesecake when it's baking- YUM.
Eggs. Five large eggs plus one egg yolk are key to getting a custard-like texture and flavor.
Salt. ​A small amount to bring out the rest of the flavors.
Vanilla extract. ​Pure vanilla extract will give the best flavor.
Heavy cream. This helps create a light, custard-y texture unlike the dense texture of a traditional cheesecake.
All-purpose flour. Sifted into the batter, a little bit of flour gives the cheesecake structure.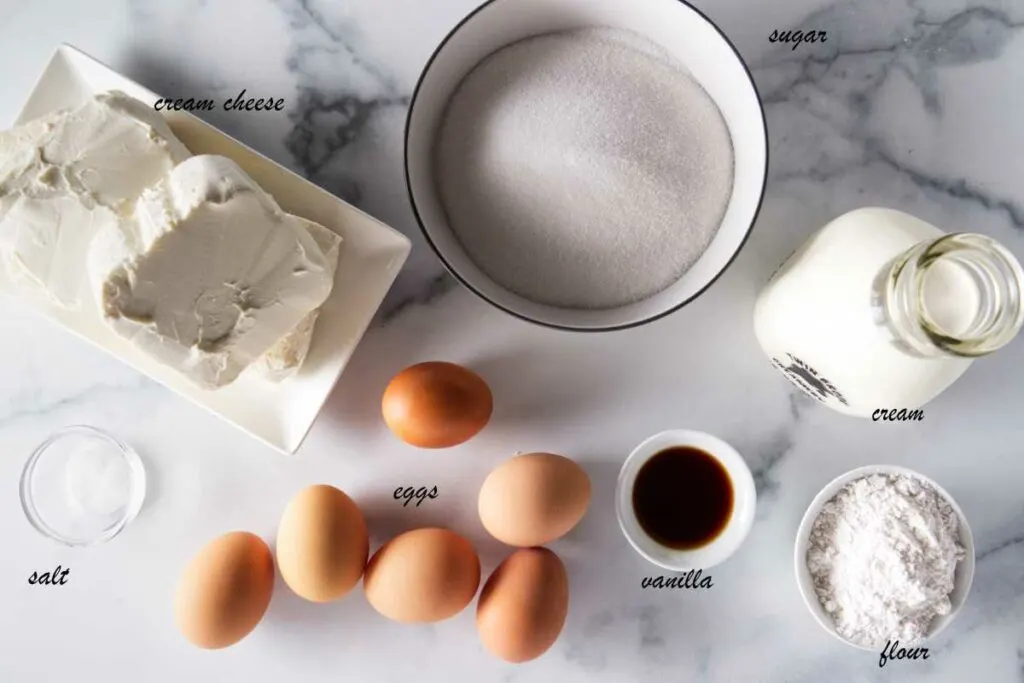 As for equipment, you will need an electric mixer, an 8-inch springform pan, a sifter, and parchment paper for this recipe.
An Easy San Sebastián Cheesecake Recipe
Here's a look at the process for this creamy, crustless cheesecake. As always, scroll to the bottom of the page to view the printable recipe card. It will include all of the ingredient amounts and detailed instructions.
Preheat & Prep Pan: Before starting the recipe, preheat the oven and line an 8-inch springform with parchment. Make sure it has a 3-inch overhang.
Make the batter: Beat the cream cheese and sugar until smooth. Add the eggs then the salt, vanilla, and cream. Fold in the flour.
Bake: Pour the batter into the pan. Tap to remove air bubbles then bake until it has a dark caramel color.
Cool & Chill: Let it come to room temperature then chill in the fridge for 6 hours or overnight.
Recipe Variations
Who says you can't have your cake and eat it too—especially when it is the iconic San Sebastian baked cheesecake? While the classic recipe is a slice of heaven on its own, sometimes a little twist can make a familiar dish even more exciting.
We're all about honoring the age-old techniques that have stood the test of time, but we also can't resist tinkering just a bit to discover something new.
I rarely take photos when I am in recipe-testing mode, so the photos of the variations have not made it to the blog yet. But rest assured, each of these San Sabastian cheesecakes stay true to the creamy, crustless magic of the iconic Spanish cheesecake recipe.
Lemon Blueberry San Sebastian Cheesecake
Follow the base recipe, adding the lemon zest along with the salt and vanilla. After sifting the flour into the batter and folding, gently fold in 1-1/2 cups of fresh blueberries. Bake as directed. Drizzle the top with blueberry sauce.
Chocolate Marble San Sebastian Basque Cake
Prepare the base recipe and place one-third of the batter in a separate bowl. Mix 4 ounces of melted chocolate into the smaller portion. Alternate spoonfuls of the plain and chocolate batters into the pan. Use a skewer to create a marble effect. Bake as directed.
Spiced Pumpkin Basque Cheesecake
Reduce the cream to 3/4 cup. Add one can (15 ounces) of pumpkin puree and two teaspoons of pumpkin pie spice when you add the cream. Mix until fully incorporated. Continue with the original recipe and bake as directed.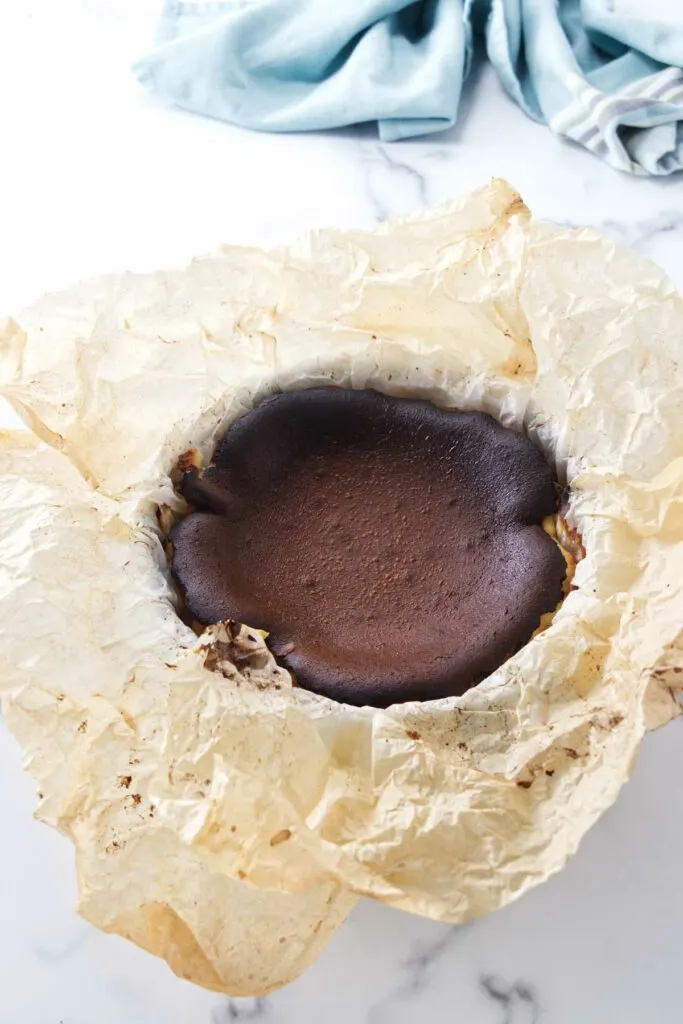 Pro Tips for Success
If you dampen and crumple the parchment paper, it'll make it easier for you to line the pan. Make sure there is at least a 2-inch overhang since this recipe rises significantly while baking.
For best results with this recipe use room temperature ingredients. This allows everything to blend well and will prevent lumps in your batter.
Before baking the cheesecake, tap the pan filled with batter on the countertop to cause any air bubbles to rise to the top. With a toothpick, prick as many of the bubbles as possible.
Check the top for color after it has baked for 35 minutes. The top should start to get brown. Watch the color, and if it is darkening more than you prefer, you can lay a sheet of parchment paper across the top during the rest of the bake time.
Store leftover cheesecake in the refrigerator for up to 7 days in an airtight container or covered with plastic wrap.
For a gluten free version, you can swap the all purpose flour for an all-purpose gluten free flour blend.
Serving Suggestions
A slice of San Sebastian cheesecake is delicious as-is, but if you want to kick things up a notch with this recipe, here are a few delicious topping ideas!
Helpful Tools
Here are a few items we used in our recipe. Some of the following are affiliate links. If you click on these links and purchase something, we may receive a small commission. You don't pay any extra but it will help us keep the lights on.
More Dessert Recipes to Fall in Love With:
If this creamy San Sebastián recipe has you reaching for your mixer, you're in for a treat with these additional dessert recipes.
Connect With Savor the Best:
Please follow us on our social media accounts
Facebook * Instagram * Pinterest * Youtube * Twitter
Did you make this recipe? We would love to hear from you. Drop us a comment below.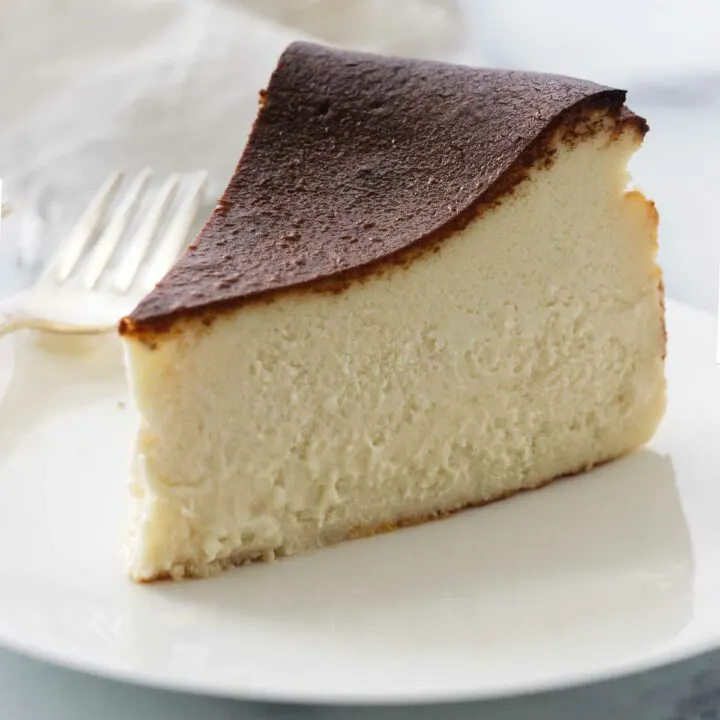 Creamy San Sebastián Cheesecake
A San Sebastian Cheesecake is a creamy crustless cheesecake made with only five ingredients. The key to this recipe is the high baking temperature, which caramelizes the top and sides.
Ingredients
4 pkgs. (8 oz. each) cream cheese, room temperature
1-½ cups (300 grams) granulated sugar
5 eggs, room temperature, plus 1 egg yolk
½ teaspoon salt
1 tablespoon vanilla
1-½ cups heavy cream
¼ cup all-purpose flour
Instructions
Preheat the oven to 425°F and line an 8-inch springform pan crosswise with 2 pieces of damp, crumpled parchment paper. Allow a 3-inch overhang of parchment paper above the pan edge. (see notes)
In a large mixing bowl of a stand mixer using the paddle attachment, or an electric hand-held mixer, add the cream cheese and sugar. Beat on medium speed for 2-3 minutes until the sugar has dissolved and the mixture is smooth and creamy. You will need to stop the motor a couple times and scrape the bottom and sides of the bowl.
With the mixer speed on low, add the eggs, one at a time, and beat for 15 seconds to incorporate each egg before adding the next egg. Stop the motor occasionally to scrape down the bowl.
Stop the motor again and add the salt, vanilla and the cream; then mix on low speed until fully incorporated, about 2 minutes. Scrape down the sides and bottom of the bowl.
Sift the flour over the batter and with a spatula fold the flour into the batter. Repeat with the remaining flour, folding until smooth and well blended.
Pour the batter into the prepared pan, tap the pan on a solid surface to bring any air bubbles to the top. Place the cheesecake on a parchment lined sheet pan and transfer to the oven and bake for 45 minutes. The color should be a dark, caramel color when fully baked.
Remove the cheese cake from the oven while the center is still a little loose and jiggly, place the pan on a cooling rack and allow to cool for 1-2 hours, then transfer to the refrigerator to chill for 6 hours or overnight.
When ready to serve, remove from the refrigerator 1 hour before slicing. Use a thin, sharp knife dipped in hot water and wiped dry for each slice.
Notes
Dampening and crumpling the parchment paper makes it easier to line the pan. Allow a 2-inch overhang of parchment paper as the cake will rise while baking.
For best results use room temperature ingredients.
Before baking, tap the batter-filled pan on the countertop to cause any air bubbles to rise to the top. Use a toothpick to prick as many of the bubbles as possible.
Check the color after it has baked for 35 minutes. If it is darkening more than you prefer you can lay a sheet of parchment paper across the top.
Recipe inspired by Bon Appetit.
Nutrition Information:
Yield:

10
Serving Size:

1
Amount Per Serving:
Calories:

143
Total Fat:

11g
Saturated Fat:

6g
Trans Fat:

0g
Unsaturated Fat:

4g
Cholesterol:

136mg
Sodium:

219mg
Carbohydrates:

4g
Fiber:

0g
Sugar:

1g
Protein:

7g
Nutrition information is a guideline only. It is calculated automatically by third-party software, and absolute accuracy is not guaranteed.