Our layered pumpkin cheesecake bars make the perfect dessert for pumpkin lovers everywhere. The 4 contrasting layers look spectacular enough to serve to guests at a dinner party and yet it makes an ideal dessert for a casual meal. Bring these layered pumpkin cheesecake bars to your next potluck. I promise they won't last.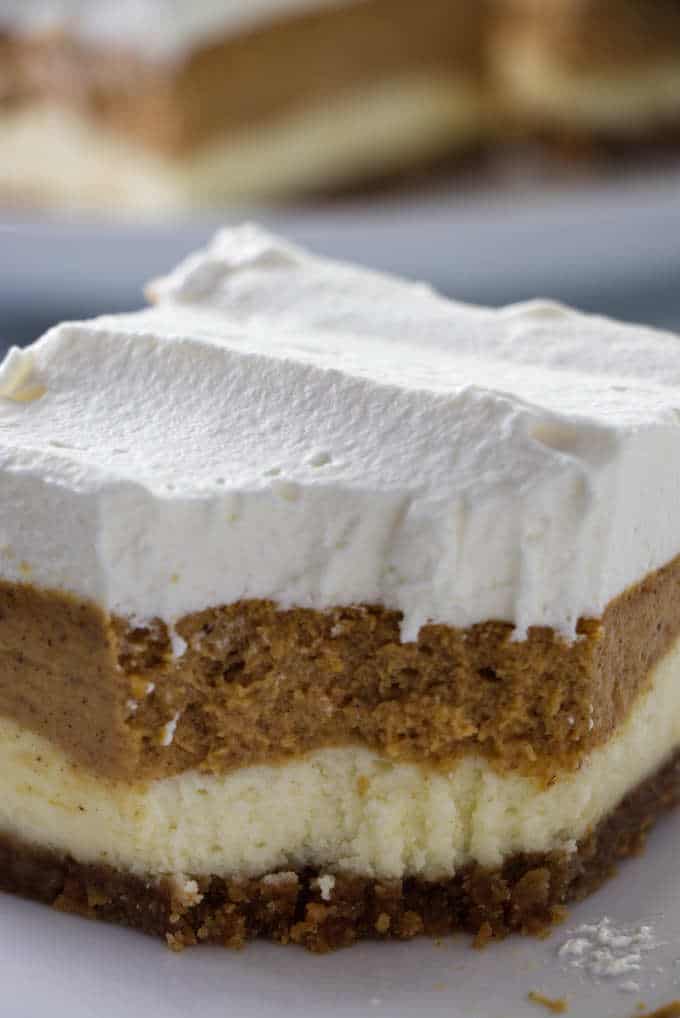 Four layers, 1 epic dessert.
There are actually 4 layers in this cheesecake bar recipe. Two of the layers are cheesecake but they are sandwiched by a bottom and a top for ultimate decadence. Here's what you get:
Crisp, buttery, graham cracker crust.

Rich vanilla cheesecake.

Creamy pumpkin spice cheesecake.

Light, fluffy, whipped cream topping.
These pumpkin cheesecake layer bars will serve a crowd. We made the recipe to fit in a 13 x 9-inch baking dish and it will serve 12 to 16 people. Perfect for a holiday gathering.
If you don't have 12 people to serve then you won't mind having leftovers for a couple of days. They will actually keep in the fridge for 5 days but I doubt they will last that long.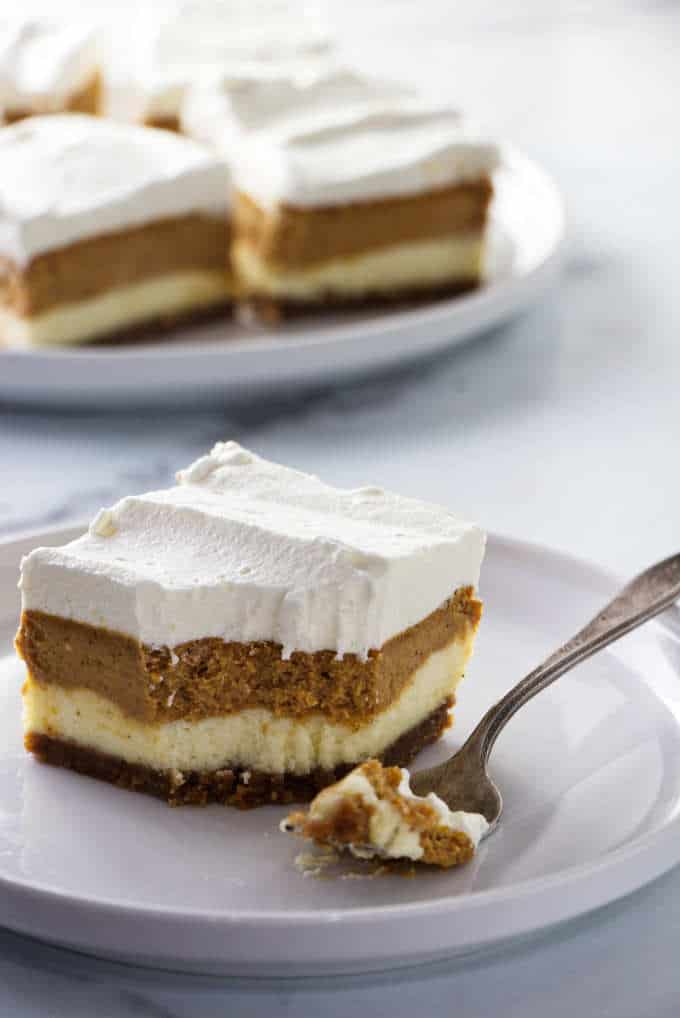 The graham cracker crust.
The first layer for these cheesecake bars is a rich, crisp, buttery graham cracker crust. You really only need 3 ingredients to make a graham cracker crust:
Graham crackers
Butter
Sugar
But we added two more ingredients and we LOVE how this crust turned out.
Flour. The flour helps make the graham cracker crust even crisper.
Salt. A little pinch of salt really turns the volume up on the flavor.
Pack the graham cracker crust down firmly in the pan and then bake it before you add the cheesecake layers.
Baking the crust first will make it crisp and turn it from crumbs to a crispy graham cracker cookie layer.
The cheesecake layers.
You only need to make one batter for both of the cheesecake layers.
Step 1: Mix the first 4 ingredients
Cream cheese. Blend the cream cheese until it is smooth before you add the sugar.
Sugar
Vanilla extract
Eggs. Don't add the eggs until you get the cream cheese and sugar blended really well. Add the eggs one at a time so they emulsify into the mixture.
Step 2: Divide the cheesecake mixture into 2 bowls.
Bowl #1: Stir in the sour cream. This is the vanilla cheesecake layer.
Bowl #2: Stir in the spices and pumpkin puree. This is the pumpkin cheesecake layer.
Step 3: Pour the cheesecake layers.
Pour the vanilla cheesecake over the graham cracker crust and smooth it out. Next, carefully spoon the pumpkin cheesecake layer over the vanilla layer. Add the second layer carefully so the two layers don't blend together.
Step 4: Bake the cheesecake.
Place the pan in the oven and bake until the edges are set. The middle should still be slightly jiggly but it will firm up as the cheesecake cools.
If you have a larger pan that the 13 x 9-inch cheesecake fits inside then you could make a water bath to cook the cheesecake in. This is an optional step but the cheesecake will turn out creamier if you use a water bath. Why? Because the water bath will insulate the edges of the cheesecake and keep it from overbaking while the center finishes baking.
If you don't have a larger pan to make a water bath then don't worry, these layered pumpkin cheesecake bars will still be delicious.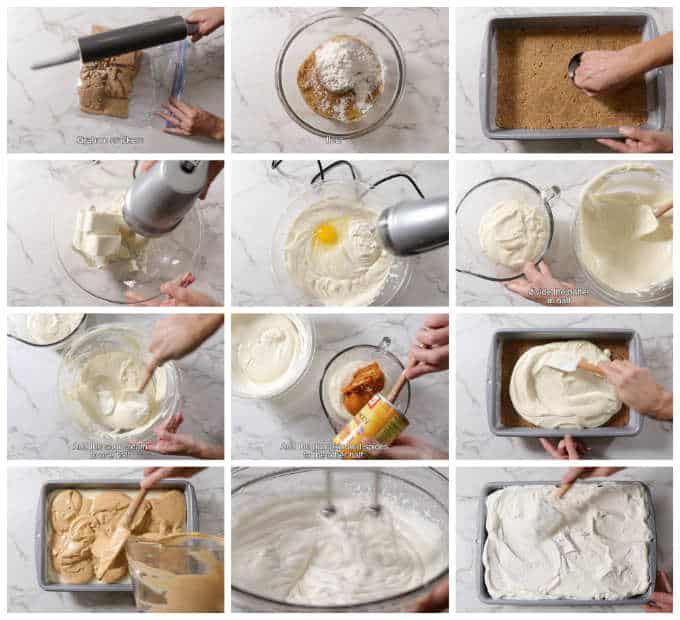 The whipped cream layer.
The last layer is the light and fluffy whipped cream. When you whip the cream make sure it is very cold. It will also whip better if you have a cold mixing bowl and beaters.
I usually stick my mixing bowl and beaters in the freezer for about 5 minutes before whipping cream. The fat globules in the cream will hold air much better if the cream is cold.
Make sure you let the cheesecake cool down completely before you top it off with whipped cream.
Can you freeze these pumpkin cheesecake layer bars?
Yes, you can freeze these cheesecake bars for up to 3 months.
Make sure you keep them in an airtight freezer-proof container.

Cool the cheesecake completely before freezing.

Thaw the cheesecake overnight in the fridge.

For best results freeze the cheesecake bars without the topping so the topping doesn't get smashed.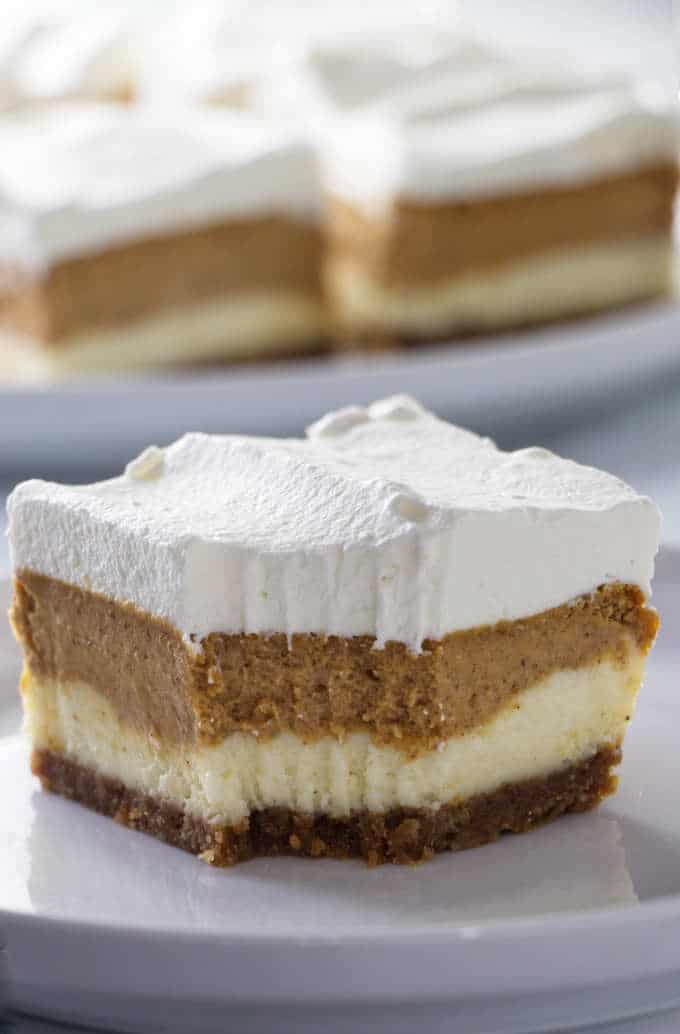 SOME OTHER RECIPES WE ARE SURE YOU WILL LOVE:
This spiced pumpkin cheesecake is perfect for holiday dinner parties. You can bake it a few days in advance and keep it covered in the fridge until the party starts.
This Pumpkin Flan Napolitano with Rum Caramel Sauce is an amazing Fall dessert. If you really want to impress your guests and serve them something a bit different, you must try this.
This Chocoflan cake is a double layer bundt cake that makes an impossibly delicious dessert. The two layers swap places in the oven just like a magic trick.
With all these desserts on your bucket list, you will need to plan a lot of parties this holiday season. Enjoy!
Connect With Savor the Best:
Please follow us on our social media accounts
Facebook * Instagram * Pinterest * Youtube * Twitter
Did you make this recipe? We would love to hear from you. Drop us a comment below.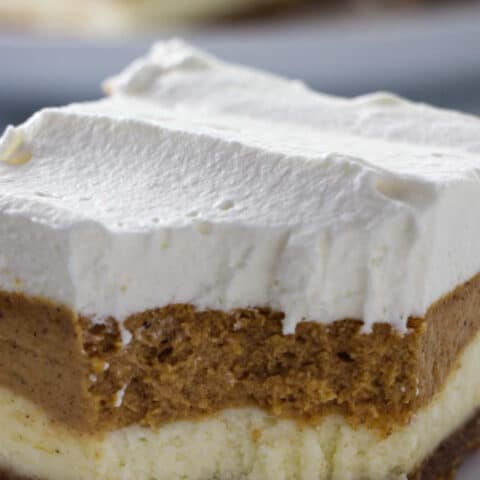 Layered Pumpkin Cheesecake Bars
Total Time:
1 hour
10 minutes
A crisp buttery graham cracker crust gets topped off with two layers of creamy cheesecake. The vanilla layer is lightened up with sour cream and the pumpkin cheesecake layer has cinnamon and pumpkin pie spices. Start with one cheesecake batter and split it to make two different flavors.
Ingredients
Crust:
14 whole graham crackers
12 tablespoons butter, melted
1/2 cup brown sugar
3 tablespoons flour
pinch of salt
Cheesecake layers:
32 ounces cream cheese, softened
1-2/3 cup granulated sugar
1 teaspoon vanilla extract
4 eggs
1/2 cup sour cream
2 teaspoons pumpkin pie spice
1/2 teaspoon cinnamon
1 (15 ounce) can pumpkin puree
Whipped Cream topping:
2 cups heavy whipping cream
1/4 cup powdered sugar
1 teaspoon vanilla extract
Instructions
Preheat the oven to 325°F and spray a 13 x 9-inch baking dish with non-stick spray.
Place the graham crackers in a sealable bag and pound them with a rolling pin until you have fine, even crumbs. Dump the graham cracker crumbs into a mixing bowl and add the butter, sugar, flour, and salt then stir until well combined.
Spread the mixture evenly into the baking dish and press it down firmly. Bake for 12-15 minutes until it is a light golden brown. Set aside to cool while you make the filling layers.
Place the cream cheese in a large mixing bowl and beat on medium speed until very smooth. Scrape the bowl down a couple of times to get it all mixed.
Add the sugar and vanilla extract and beat for another 1 to 2 minutes until well combined and smooth. Add the eggs, one at a time, and beat until just combined.
Transfer 1/2 of the batter to another mixing bowl and stir in the sour cream then spread the mixture over the crust.
Add the pumpkin pie spice, cinnamon,, and pumpkin puree to the remaining cheesecake mixture and spread it on top of the vanilla layer (see notes).
Bake until the edges are set and the center is slightly jiggly, about 40 to 45 minutes.
Let the cheesecake cool completely on a wire rack for about 2 hours.
While the cheesecake cools, add the whipped cream, sugar, and vanilla extract to a mixing bowl and beat on medium speed until combined then increase the speed to high and beat until stiff peaks form.
Spread the whipped cream over the cheesecake bars then slice and serve.
Notes
You can also make the graham cracker crust in a food processor by pulsing the crackers until they turn into crumbs then add the rest of the crust ingredients and pulse until combined.
Use a large spoon to carefully dollop the pumpkin layer on top of the vanilla layer before you spread it out. This will prevent the layers from swirling together.
The cheesecake bars freeze well. Seal in an airtight container and freeze for up to 3 months.
The whipping cream will whip better if it is chilled along with the bowl and the beaters.
If you have a pan large enough for the 13 x 9-inch pan to fit inside then I recommend using it to make a water bath to cook the cheesecake bars in. A water bath will help the cheesecake cook more gently and insulate the edges from being cooked too fast.
Nutrition Information:
Yield:

16
Serving Size:

1
Amount Per Serving:
Calories:

637
Total Fat:

34g
Saturated Fat:

20g
Trans Fat:

1g
Unsaturated Fat:

11g
Cholesterol:

132mg
Sodium:

277mg
Carbohydrates:

80g
Fiber:

1g
Sugar:

71g
Protein:

6g
Nutrition information is a guideline only, is calculated automatically by third party software, and absolute accuracy is not guaranteed.